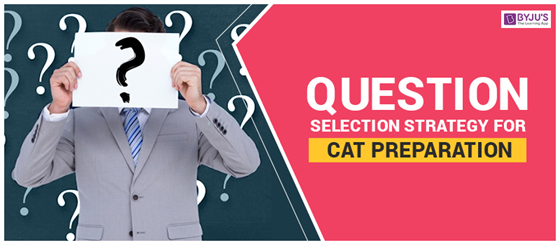 CAT preparation doesn't end with you knowing everything to the letter. The most crucial part of cracking CAT is to know your strengths and choose the right questions to answer. Here are a few tips which will help you strategize the right test-taking strategies and crack CAT in the first attempt.
Start with the Easy Ones
While solving the question paper, start with the section that you are well versed with. It will not only help you maintain a required pace but will also boost your confidence.
RC Passages and Vocabulary
Reading Comprehension Passages comes from fields of study that can differ from Politics, Economics to Philosophy and literature. Since the RC passages consist of both factual and inferential questions, it is suggested to first attempt paragraphs from subjects that you are comfortable with.
When attempting a vocabulary based question it is important to know the meaning of the word. These types of questions will require the least amount of your time. It advisable to not waste time while solving them. Always remember you either know it or you don't.
Logical Reasoning and Para jumbles
LR and Para jumbles don't require an extensive amount of preparation. These questions help you score that extra mark which will help you crack CAT. Just remember to go through the options thoroughly and eliminate the incorrect answers.
Data Interpretation and Quantitative Aptitude
Strong calculating abilities is required to solve CAT Data Interpretation question and quantitative questions. It is advisable to brush up calculation skills specifically for these sections of the CAT exam. However, for those who are weak in maths, it is advisable to choose the easy questions. Every set of DI consists of a few questions that don't require extensive calculations but just close inspection of the data presented. Never miss out on those questions and just use your presence of mind.
Smart Question Selection
You should not only know which question to attempt but also have a strategy to leave questions unanswered. In case of doubt and unfamiliarity, it is always advisable to leave the question. Afterall nobody expects you to solve all 100 questions. Learning when to skip and move ahead is one of the most crucial factors in cracking CAT.
Don't keep your Nemesis till the end
While solving the question paper, make sure to answer the toughest sections in between sections rather than leaving it till the end. Leaving it till the end will only add pressure and might hamper your performance. It's always better to attempt a section that you are more comfortable with for gaining marks and making up for the previous section.
Be Positive and Focussed
Always have a calm and positive set of mind before the examination. A calm mind will help you solve analytical questions better and you'll get better results.
Paper solving approach differs from person to person. There is no stone set rule. These tips can be used to make an effective plan of action to crack CAT. The CAT aspirants are suggested to keep visiting BYJU'S to get the latest notifications, syllabus and questions papers of the CAT exam.