It is assumed that if your fundamentals are feeble then you require a break from taking tests now. Spend seven days giving at least 8 hrs a day adapting all the fundamental ideas and various shortcut strategies. To begin with, endeavour to clean your aptitudes in regard to the essential ideas and after that, progress in comprehending the questions.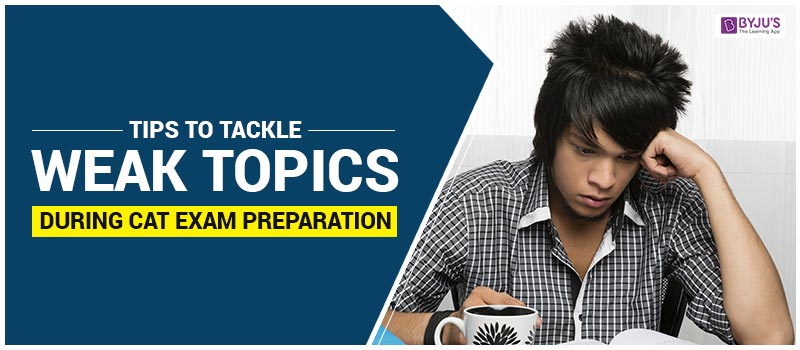 Check various CAT preparation books which will be valuable in skimming from fundamental level inquiries to CAT level inquiries easily. Alongside these books, it is suggested that you allude to the "BYJU'S CAT" online course to exceed expectations in all the sections. The video instructional exercises help you in securing the ideas quickly and applying them effortlessly.
The significance of strategies to solve the CAT questions are high; this course will help you in this situation as well. You will learn many tips and tricks to accelerate your level of understanding of troublesome inquiries.
Some of the most important tips to tackle weak topics during CAT exam preparation are given below.
Understand the Reason For Weaknesses
To deal with your shortcomings, you initially need to discover the reasons which prompt shortcomings are. When you comprehend the reasons, you will think that it is substantially less demanding to take care of the issues.
Never Ignore the Weak Topics
Not having the capacity to invest satisfactory energy in these ranges, because of which your execution gets defaced. The arrangement of endeavouring inquiries from various territories would fluctuate starting with one test-taker then onto the next and harmony would develop just over some undefined time frame.
Be Careful while choosing Questions
Off base prioritization and determination of inquiries are the reasons why you wind up picking 'incorrect' problems on that day. You should be more careful and comprehend that wrong lifts can unsettle up even the best of understudies.
Taking Mock Tests Effectively
Continue giving CAT mock tests at the interim of seven days. Instead of focussing on improving scores, analyse and recognize your powerless regions. Then take a shot at them, return to the part and endeavour to take care of extreme issues from that section.
With these tips, CAT aspirants can easily tackle their weak topics and secure an excellent score in the exam. Candidates are suggested to keep visiting BYJU'S and get acquainted with more such tips and strategies. CAT aspirants are also provided with the latest notifications, syllabus, previous year questions and various sample papers to help them prepare more effectively.