The Council for the Indian School Certificate Examinations also known as CISCE is a national level private educational board in India which was established in the year 1958. It conducts the Indian Certificate of Secondary Education (ICSE) and the Indian School Certificate (ISC) board examination for 10th standard and 12th standard respectively. CISCE has announced that it will decrease the pass marks criteria for ICSE and ISC examinations.
Candidates writing the ICSE 2018 examination are the first batch since CISCE has decided to reduce the pass marks criteria of ICSE students from 35% to 33%.
The passing criteria for Indian School Certificate (ISC) have also been reduced by the councils. The pass mark cut-off for ISC has been reduced to 35% from 40%.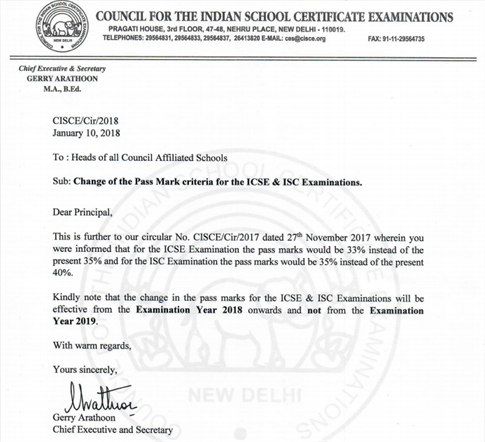 The Indian School Certificate (ISC) examination started on 7th February with the Physics Practical exam. The ISC exam will end on 2nd April 2018 with the subject psychology.
CISCE normally declared the timetable and exam dates for ICSE and ISC examination in December. But this session, the council announced the exam dates and timetables in mid-January.
Students must note that the change in pass marks cut-off for Class 10 and Class 12 board exam will be effective from the year 2018 onwards and not from the year 2019.
Stay tuned with BYJU'S to get the latest news and notification on ICSE and ISC examination along with the exam syllabus, timetable, question papers and other important details.