Shakespeare said, " What's in a name?". He is one of the legendary thinkers and writers the world has ever seen. But, what if you have the tag named "IIT" on you? Will your life still be the same? Unquestionably, the answer would be NO.
The IIT Brand
The 16 IITs spanning across India , namely IIT Bombay, Chennai ,Delhi ,Kanpur ,Kharagpur ,Guwahati, Roorkee ,Bhubaneswar , Hyderabad, Gandhinagar, Indore , Jodhpur, Mandi, Patna, Ropar,Varanasi are regarded as world-class institutes for engineering and pure sciences , and are considered to be the best resources to enhance India's scientific impact. The students have to go through cut-throat competition as the JEE (Joint Entrance Examination), which is conducted for taking in students to these IITs leads to a selection rate of 0.1% only. Out of the 4,00,000 students who take the exam every year, only around 8,000 manage to get through.
The facts mentioned above are self-explanatory of the status that IITs hold. But, it is imperative that we have an idea of the underlying facts that brings IITs to the forefront on an international stage.
Standard Of Education
A 4-year course of BTech is the most popular course taken by students at IIT. They also offer a 5-year dual degree course integrating Master of Science or Master of Arts. The creamy layer of engineering aspirants is taken into the IITs through the JEE. Similarly, the intake of faculty to the IITs is also no less stringent. Each professor at IIT is required to hold a PhD degree in his respective field. With excellent professors and well-designed format of course and curriculum, the IITs produce engineers of unmatchable calibre.
World Class Facilities
Each IIT has the following facilities :
Central libraries of a superior standard which are open throughout the day (mostly from 9:00 am to 11:00 pm, which varies with each IIT)
Residential facility at hostels within the campus, with single rooms available for the final year, and P.G students.
Sports ground for basketball, cricket, football, hockey, volleyball, lawn tennis, badminton, athletics, and swimming pools for aquatic events. Each hostel has separate grounds for the different sports
24*7 100Mbps internet connection with no usage limits.
The campus also has hospitals, shopping centres, temples along with beautiful gardens and scenery.
Placements At IIT
The top companies in the world always look out for students who pass out from the IIT. Some of the noteworthy companies that are keen on offering jobs to IITians are Google, Facebook, Amazon, Goldman Sachs, Deutsche Bank, McKinsey, Microsoft, American Express, Yahoo, Qualcomm, Samsung, Siemens, Texas Instruments and much more. These companies are the world leaders in their respective fields. Acquiring a job at one of these will not only give an exponential growth to your career financially but will also enable you to learn immensely.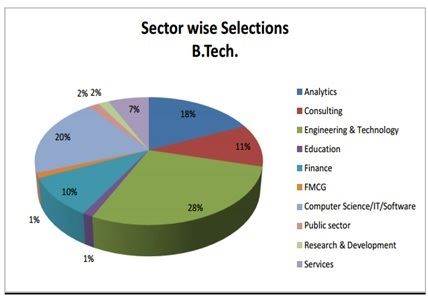 The pie chart shows the report of placements at IIT Bombay in the year 2014-15

Average Salary
Finance companies such as Goldmann Sachs, Tower Research Capital, World Quant, etc offer over 20 lakhs per annum (pa) average salary.
Tech companies like Google, Facebook, Sony etc offer huge salaries mostly to computer science students in the range of 10-20 lakhs per annum.
The major consultancy firms like Booz, Bain, McKinsey etc offer 11-12 lakhs per annum.
There are other companies too like tech, analytics, software development firms, etc which offer approximately 4-9 lakhs per annum.
In 2015, the placement of a third-year computer science student from IIT-Indore to Google, for a yearly salary of 1.7 crores has caught the attention of the world.
Noteworthy Alumni
The number of eminent people from IIT who made it big in life is huge. Some of them, about whom we all must of heard of are
N.R.Narayan Murthy (co-founder and former chairman of Infosys)
Sachin Bansal and Binny Bansal (founders of Flipkart)
Sundar Pichai (CEO, Google)
Manohar Parrikar ( Current Defense Minister of India)
Arvind Kejriwal (Current Chief Minister of Delhi)
Raghuram Rajan (Current Governor of Reserve Bank of India)
How World Leaders Describe IIT


Have immense respect for academic and humanitarian work carried out by the IIT alumni – President Bill Clinton.


IITs are world class institutes, and the impact of IIT has been worldwide- Bill Gates, Founder of Microsoft.



IIT is a world treasure -Amartya Sen, Nobel Laureate.
The aforementioned facts about IITs showcase the glaring truth that there is no other engineering institution in India that is on par with them. As they say"You create your own opportunities". So, take the first step towards your success.
We, at BYJU'S, leave no stone unturned, to ensure that the students achieve what they dream of. The video sessions and study material at Byju's are very effective and will provide you with the best learning experience. Download BYJU'S Learning App and fall in love with learning!