Electric current is the movement of charges through the wire. Current is measured in Amperes. For the charge to flow through the circuit, the circuit must be a closed circuit. In other words, the path from the power supply through the circuit, back to itself must be uninterrupted. The current flows through the circuit if there is a potential difference.
You can learn about electric current by following the attached link. Meanwhile, students can also check the important formulas for this topic below.
Current Electricity Formulas
1. Current
I = neAVd
n is the number of free electrons per unit volume
A is the area of cross-section
e is the charge of the electron
Vd is the drift velocity
2. Current Density
j = i/A = σE
i is the current
A is the cross-sectional area
E is the electric density
σ is the conductivity
3. Drift speed
4. Resistance of the wire
R =ρl/A, where ρ=1/σ
ρ is the resistivity
σ is the conductivity
5. Temperature dependence of resistance
R=R0(1+ αΔT)
R0 is the original resistance
R is the resistance at temperature T
α is the temperature coefficient of resistance
6. Ohm's law
V=IR
V is the voltage
I is the current
R is the resistance
7. Kirchhoff's Law
(i) Junction Law: The algebraic sum of all the currents directed towards a node is zero.
i.e.,∑node Ii=0.
(ii) The Loop Law: The algebraic sum of all the potential difference along a closed loop in a circuit is zero.
i.e., ∑loop ΔVi=0.
8. Resistance in parallel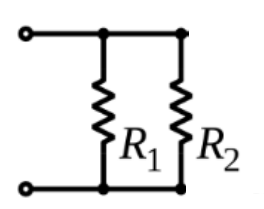 1/Req = 1/R1 +1/R2
9. Resistance in series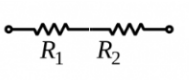 Req = R1 +R2
10. Wheatstone bridge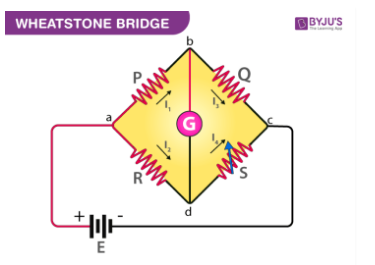 In a balanced Wheatstone bridge
P/Q = R/S
11. Electric Power
P = V2/R=I2R =IV
12. Galvanometer as an Ammeter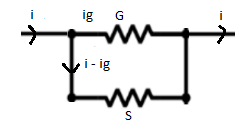 igG = (i – ig)S
13. Galvanometer as a Voltmeter

VAB= ig(R+G)
14. Charging of capacitors
q(t) = CV(1- e-t/RC)
15. Discharging of capacitors
q(t) = q0e-t/RC
16. Time Constant in RC circuit
τ = RC
17. Peltier effect
Peltier effect (emf) = ΔH/ΔQ = Peltier heat/Charge transferred
18. Seeback effect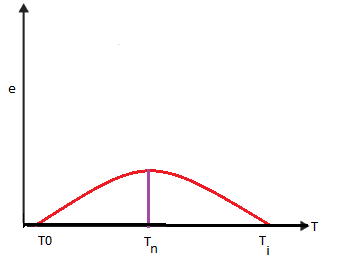 (i) Thermo-emf : e=aT+1/2bT2
(ii) Thermoelectric power : de/dt=a+bT
(iii) Neutral temperature: Tn = -a/b
(iv) Inversion temperature : Ti= -2a/b
Tn is the neutral temperature
Ti is the inversion temperature
T0 is the temperature of the cold junction
a and b are the parameters of the materials used
19. Thomson effect
emf e = ΔH/ΔQ = Thomson heat/Charge transferred = σΔT
20. Faraday's law of electrolysis
The mass deposited is
m= Zit = (1/F)Eit
Where i is current, t is the time, Z is electrochemical equivalent, E is the chemical equivalent, and F = 96485 C/g is Faraday constant.