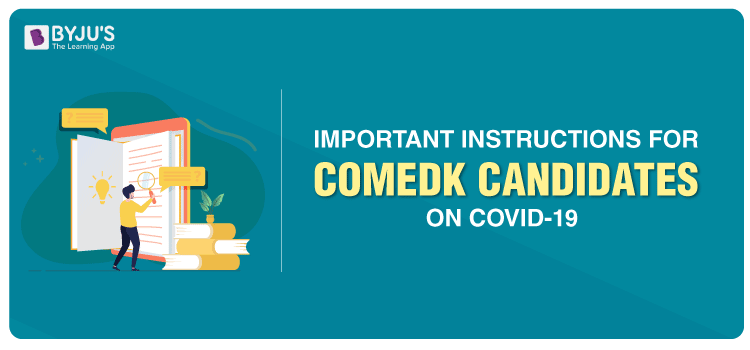 There are some precautionary measures that candidates need to follow at COMEDK exam centre. The guidelines have been released by the exam authority along with the COMEDK admit card on its official website. Candidates can go through these instructions and avoid any confusion that may arise when they reach the exam centre.
The list of COMEDK guidelines is given below. 
Covid-19 Guidelines for COMEDK 2020
1. Candidate must maintain social distancing starting from the point of entry in the exam venue until his/her exit from the exam venue.
2. Aarogya Setu app is mandatory for all the candidates and should be installed on the candidate's mobile phone. The Aarogya Setu dashboard must show the candidate's risk factor. In case, the candidate does not have a smartphone, he/she will have to provide a signed declaration to this effect and same should be shown to the security guard at the time of entry to the exam centre.
3. The temperature will be checked at the entry gate of the exam venue via Thermo Gun. The entry of candidates will be given as per reporting Time given on admit card (and/or)Will be informed via SMS on their registered mobile number prior to the exam date in order to maintain social distancing at the centre.
4. Candidates showing COVID-19 symptoms WILL NOT be allowed entry into the exam venue. Only those candidates will be allowed inside the exam venue whose temperature is within the acceptability limit as approved by competent authorities
5. Candidates must bring their own Mask, Gloves, Personal hand sanitizer(50ml), transparent water bottle, pencil and the exam-related documents viz. Test admission ticket, original ID card and 2 passport size photographs.
6. Candidates need to follow directions given by representatives at the exam centre and should stand in circles marked at the entry points 
7. At Registration Desk, the candidate will be directed to sanitize his/her hands using provided sanitizer. A photograph will be captured during the registration process.
8. Candidates must report at the exam venue strictly as per the time slot mentioned in the test admission ticket (and/or) informed via SMS on their registered mobile number before the exam date. It is expected that candidates strictly adhere to this time slot as entry into the test centre will be provided based upon the individual's time slot only.
Click to Download: COMEDK 2020 COVID-19 Guidelines PDF