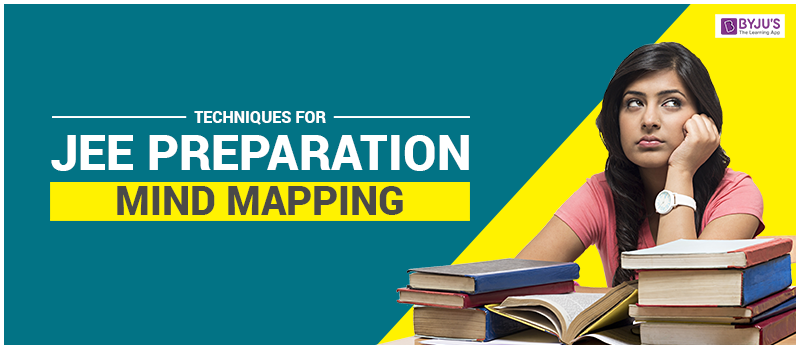 While preparing for highly competitive exams like JEE Mains, JEE Advanced you are bombarded with lots of information during your preparation. Even after you have reached some level of confidence with respect to your foundation and development, you may have a hard time in collating these kinds of large information inflow. There are several techniques to help students in organizing the information and bring them to the foreground whenever it is required in JEE Exams. One of these techniques is Mind Mapping, first developed by Tony Buzan.
What Is Mind Mapping?
Mind mapping is a technique which allows you to organize the information, that you store by controlling how information is processed by the brain; following which, you learn and know where to get it out from. All mind maps have a general pattern, a central idea or concept from which branches stem out, each of which have their own branches.
There are different ways to build mind maps using lines, symbols, colours, different shapes to create "maps" out of your ideas. Your imagination, a blank sheet of paper large enough to accommodate your map and a few coloured pens are enough. Making the map visually appealing helps you to remember these maps more easily, but that does not mean you have to spend a lot of time in beautifying these. The concepts used in making mind maps depends completely on your convenience. Boring concepts can be made more visual using a visual representation, or different formulae pertaining to a topic can be visualized using a map.
How To Make A Mind Map?
The main thing to remember while creating a mind map is to make it as simple as possible but use all kinds of visual hacks to help your brain remember these maps. The steps to assist you in creating your own mind map have been listed below:
Use a sheet in a landscape orientation (for more space) and start at the centre to emphasize the central key idea or topic. Use an image or a small illustration if possible because the brain has an easier time remembering images.
Try using colours as much as possible. A single colour is monotonous and is boring to the brain. For the same reason, use different types of lines to connect the key idea to the branches and another type of line connecting branches to twigs.
The brain works very well in associating stuff. So make sure that the concepts connected to your twigs are connected to the branches which are connected to the central idea.
Use symbols and images as much as you can and make your shapes appealing as well. Use cross-linking wherever required as well connect ideas with each other.
Effective Ways To Remember Mind Maps
There are different ways to remember the mind map you have created. Some of them have been listed below:
Remember the keyword and let your brain form the associations.
Create your mind map such that it has a general shape and form branches and twigs at important places. While remembering the map, fill in all the information you remember and the remaining can be formed by association.
Use different colours for different branches so this will make remembering easier.
Stay tuned with BYJU'S to know more about JEE Mains and JEE Advanced Syllabus, Eligibility, Application form, Previous years question papers and more.