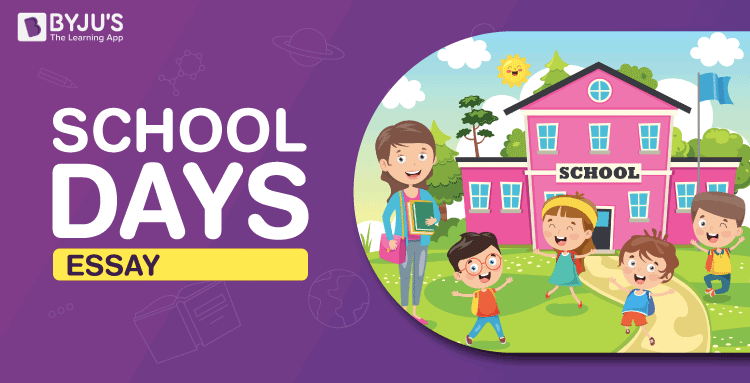 Introduction
The first day at school is exciting and, at the same time, a struggle for young children. All those days where they woke up, played and slept as they wished were now going to end. Undoubtedly, they are enthusiastic about going to school with a new bag and books, but they also have to make every effort to put away the feelings of missing home. We will learn more about school days in this school days essay.
If children cry on the first day of school because they miss their parents, the memories of school days are what make them nostalgic on their last day. Such is the impact created by school days on children that they find it hard to move on to the next phase of life. The short essay on school days will describe what makes school life the best, and children can write an essay based on this guide.
Importance of School Life
Once children start going to school, it is the place where they will spend most of their time for over 14 years. So, it is natural that they feel nostalgic about school whenever any mention of it is made. Moreover, a strong bond is formed between other students, and this friendship is sure to last for many years.
School days are also the best days to gather knowledge as well as learn basic etiquettes and skills, which make children better people. With lessons, assignments, sports day, games, and cultural events, school days are filled with many activities that help in the development of their character, mind and body. Along with teaching right from wrong, school days also instil good habits in children. Let us see an experience about school life in this school days essay.
My School Days
I remember my school days being jovial and fun while learning many lessons about life. Even though I was able to acquire knowledge from textbooks, it was the lessons of friendship, teamwork, hard work, discipline, and sharing that I learnt outside the classroom that remained close to my heart. My school days usually began by running off to the classroom before the first bell, and I would fight with my friends to sit in the first row of the class.
I was an average student during my school days, and I had great fun studying as well as participating in many events and activities at the school. While I enjoyed sports day, annual day and literary fests, I also liked studying in labs as I was able to perform many experiments and projects. The short essay on school days will not be complete without talking about the role of friends in school life.
Each year, I got new friends and teachers with whom I shared my dreams, doubts and worries. There were days when we studied together in the library and days when we asked the teachers to let us go out to play. Along with playing silly pranks on others, we used to go to the school canteen and get hot puffs and sweets as birthday treats. We also shared our lunch boxes and tiffins and complimented the food made by our mothers. My school days were filled with such happy memories, and I am grateful to my school for shaping me as a good student.
Frequently Asked Questions on School Days Essay
Q1
Why are school days considered to be the best part of our lives?
School days are the best days of our lives because we cannot go back to school after a certain age, and the friendships that we have made; the lessons that we have learnt in school stay with us for a long time. We can also remain carefree during school days as we do not have many responsibilities.
Q2
What do we learn during school days?
School days offer us many learning opportunities. Apart from the knowledge we get from textbooks, we learn the value of friendship, hard work and honesty, along with important life lessons and skills during school days.