MP Board conducts public exams for Class 10 and 12. Students who wish to score good marks will need to prepare well for the exams. Along with the other resources and study materials, the blueprint of MP Board Class 10 will help the students to study well for the exams. Students can refer to the MP Board Class 10 Blueprint and plan their studies for best effect.
From the MP board 10th blueprint 2021-22, students will be able to check the question pattern, types of questions and section-wise marks distribution of the MP Board pariksha in detail. They will get familiar with the exam pattern and the marking scheme, as well. This will help the students of MP Board to prepare well for the exams.
Download MP Board Class 10 Blueprint PDF
Students can now click in the table given above and download the MP Board 10th blueprint 2021-22 of Maths, Science, English and Social Science. This can help them to strategize and start studying in the right way for the exams. There is also a sample paper attached with answer sheet along with the blueprint, which the students can access to get an idea about the paper pattern, marking scheme etc.
Students can also access the MP Board Class 10 Maths solution along with other resources to prepare for the exams.  We also offer MP Board Class 10 Topper Answer Sheets for the students to refer.
Exam Pattern for MP Board Class 10th Mathematics Paper:
Total marks: 80 marks
Total questions (with internal options): 18 +5 = 23 questions
Type of questions: Very Short, Short, Long and Essay Answer types
Exam duration: 3 hours
Check out the chapter wise Marks Distribution of Class 10 Maths: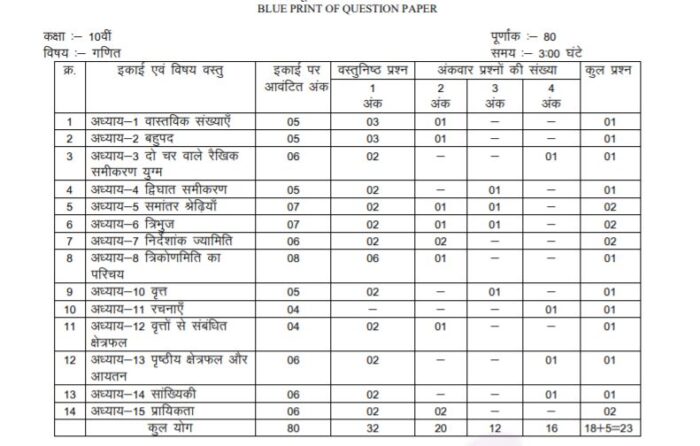 Exam Pattern for MP Board Class 10 Science Paper:
Total marks: 80 marks
Total questions (with internal options): 22 questions
Type of questions: Objective, Very Short, Short, Long and Essay Answer types
Exam duration: 3 hours
Also, find the chapter wise Marks Distribution of Class 10 Science in Hindi: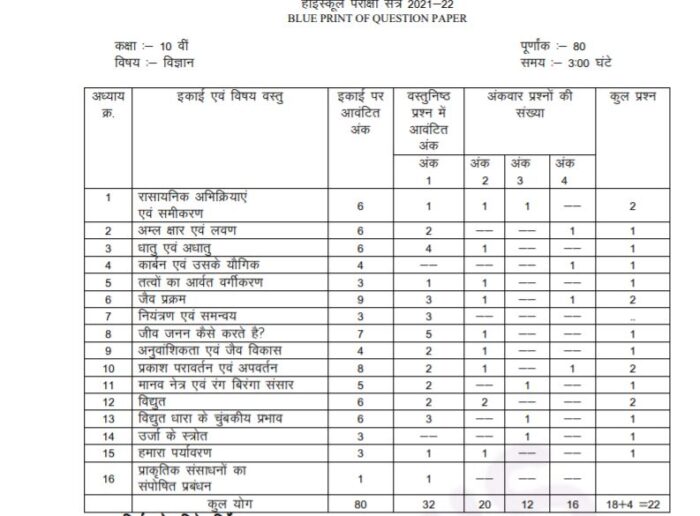 Exam Pattern for MP Board Class 10 Social Science Paper:
Total marks: 80 marks
Total questions (with internal options): 23 questions
Type of questions: Objective, Very Short, Short, Long and Essay Answer types
Exam duration: 3 hours