MSBSHSE Solutions For SSC (Class 10) Science Part 2 Chapter 10 Disaster Management is the best study material that can be used by the students to score high marks in exams. Maharashtra Board Solutions for Class 10 is designed by our subject experts after thorough research. The solutions facilitate a thorough understanding of the concepts for the students.
Chapter 10 from Part 2 Class 10 Science deals with the concepts related to the topic Disaster Management. These solutions, with detailed step by step answers to the questions are created based on this topic. Other related concepts discussed include types of disaster, effects of disaster, mock drill and so on.
These MSBSHSE for Class 10 (SSC) solutions provide explanations of the important exercises from the Maharashtra Board Science Textbooks for SSC Part 2. The Maharashtra State Board Solutions for Chapter 10 Science Part 2 is a very good resource for the students to learn the chapter for the exams.
Maharashtra Board SSC (Class 10) Science Part 2 Chapter 10- BYJU'S Important Questions & Answers
1. What is a disaster?
Answer: Several dangerous events that take place many times in the environment are called disasters. A few of the main natural disasters are floods, wet and dry famine, cyclones, earthquakes, volcanoes and so on. These are 'all of a sudden' troubles to mankind. These events cause sudden changes in the environment, thereby causing damage to it.
2. How is disaster classified? Draw the chart depicting classification of disasters.
Answer: Disaster can be classified into catastrophic disasters. Examples are Cyclones in Odisha, catastrophic earthquakes of Gujarat and Latur, frequently buzzing cyclones in coastal Andhra Pradesh, etc., which resulted in total chaos, huge loss of life and property in respective regions. Nevertheless, despite all these, life has always returned to normal within a short span of time. However, there are disasters that make an impact for a long duration. After effects of these disasters are either severe or severity increases with time. Examples include Famine, various problems of crop, strikes of workers, rising levels of the oceans, desertification and so on.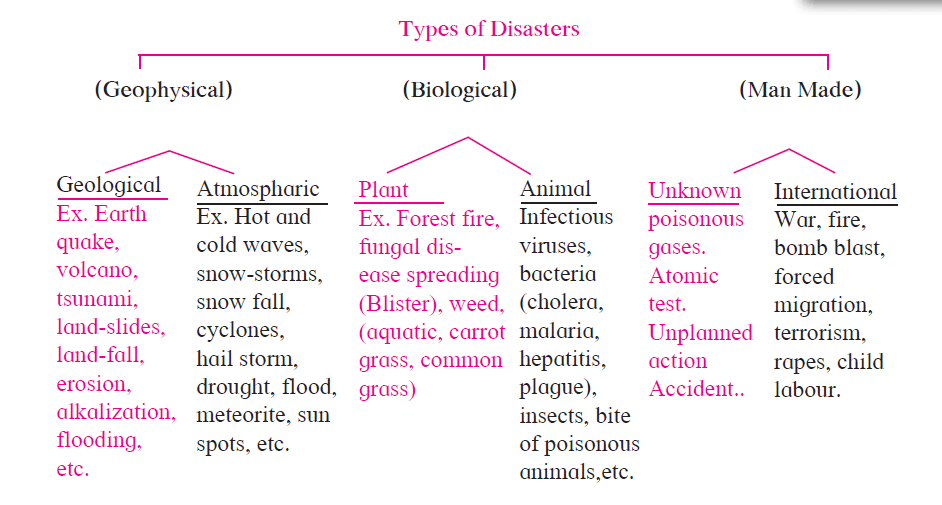 3. What are some effects of disaster?
Answer: Floods cause collapse of bridges, flooding of coastal villages, shortage of food, while collapsing of houses, developing cracks in land are some effects of earthquakes. Even disasters such as forest fires adversely affect the environment. Disasters affect the economy of the nation. For example, if any port is destroyed, there are long-lasting effects on the economy because of the huge expenses involved in reconstructing it. Disasters also leave an effect on social leadership. If the leadership is not strong enough, citizens could be confused and this in turn could affect their participation in the rescue and rehabilitation activities. Administrative issues could arise during disasters and if local governing bodies are affected, the related departments would not be able to respond to the disaster problems properly. Since all the concerned departments are affected by disasters, the entire system is liable to collapse.
4. Which are the six points that determine the nature and scope of the disaster?
Answer: Taking into consideration the scope of the disaster, the important facts are thought over, as follows:
1. Pre-disaster phase
2. Warning phase
3. Emergency phase
4. Rehabilitation phase
5. Recovery phase
6. Reconstruction phase
5. Depending on the nature and scope of disaster, which are the three aspects of disaster important for common citizens?
Answer: Taking into consideration the nature and scope of disaster, only three aspects of disasters are important for common citizens. They are 1) Phase of emergency 2) transitional phase and 3) Reconstruction phase.
6. What are the objectives of disaster management?
Answer: Given here are some objectives for disaster management:
1. Dispose human life suffered by human beings during the calamity and the release of the people
2. Supply essential commodities of the people to reduce the effect of the disaster
3. Restore human life in the region by creating reconciliation in disaster
4. Rehabilitate disaster victims
5. Consider a protective measure in disasters, such disaster will not reach in future and take care to reduce their intensity
7. What are the main aspects of the disaster management cycle?
Answer: The main aspects of the disaster management cycle are given below:
Step 1- Preparation: Plan is prepared to minimize the destruction in any disaster, if it occurs.
Step 2- Redemption: Plan for minimizing the damage to the society and the country
Step 3- Preparedness: A plan is chalked out to get a quick response from public and administration
Step 4-Impact of disaster: Intensity of various aspects of disaster and disaster management is reviewed
Step 5-Response: Response to the disaster is to be given immediately after the incident. This factor is followed by the disaster strike in this cycle
Step 6- Resurgence: An important link between emergency measures and national progress, it is a stage used for the welfare and rehabilitation of the nation
Restoration: an important link between measures after disaster and national development, it is useful for progress of nation and rehabilitation
8. Draw a flow chart indicating the structure of disaster management authority.
Answer: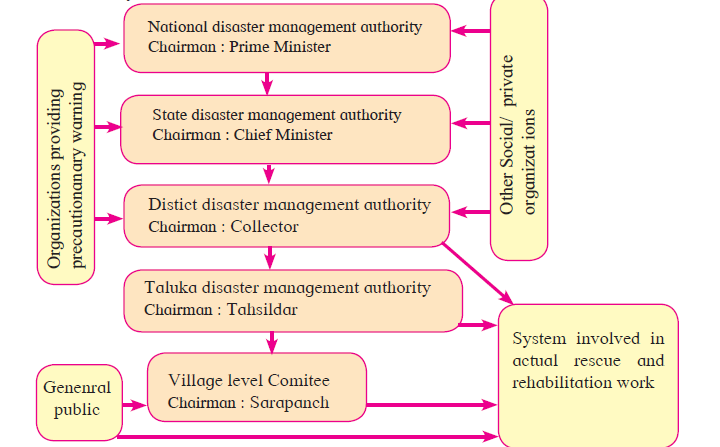 Stay tuned to BYJU'S to get more updates about msbshse and its study materials. Students can also refer to the 10th question paper maharashtra board to prepare for exams.

Frequently Asked Questions on Maharashtra Board Solutions for Class 10 Science Part 2 Chapter 10 Disaster Management
Can we use these Maharashtra Board Class 10 Science Part 2 Solutions Chapter 10 to prepare for the exams?
Yes, these solutions are very useful to prepare for exams. We highly recommended the class 10 students to practise these solutions after revising the chapters. These questions can also act as the perfect guide for Class 10 students during their board exam preparation because it is created by qualified subject teachers as per the latest class 10 Science Part 2 Syllabus.
Can we download Maharashtra Board Class 10 Science Part 2 Solutions Chapter 10?
Yes, students can now easily download the solutions from the link given. We have provided here the solutions as a scrollable PDF, and have mentioned the clickable link for the students to access the PDF version for future reference. Meanwhile, these questions and the solutions are also made available online on our webpage.
How can we learn for exams with Maharashtra Board Class 10 Science Part 2 Solutions Chapter 10?
Students are advised to solve the questions first and then to refer the solutions to check their answers. Identifying the mistakes early on helps to avoid making them during exams. It is also the best tool to gauge one's preparation level and to learn better time management.