Flashcards for NEET Chemistry are designed to boost your NEET preparation. Find below flashcards for the chapter "Alcohols, Phenols and Ethers". These flashcards are prepared as per the NEET syllabus. These are helpful for aspirants of NEET and other exams, during last-minute revision. It covers all the important points that are frequently asked in the exam. Check BYJU'S for the full set of Flashcards and Study material for NEET Chemistry.
| | | |
| --- | --- | --- |
| Name of the NEET Sub-section | Topic | Flashcards Helpful for |
| Chemistry | Alcohols, Phenols and Ethers | NEET Exams |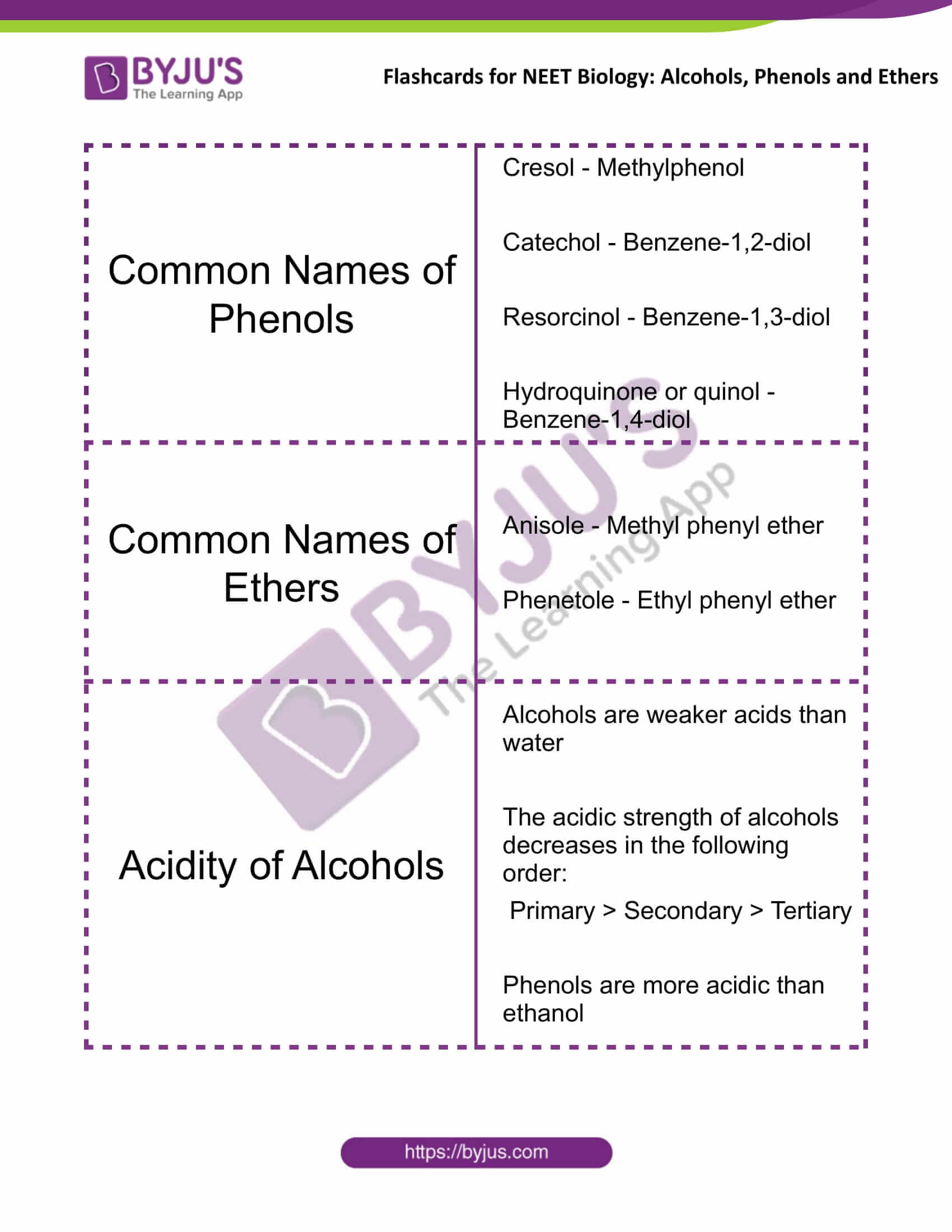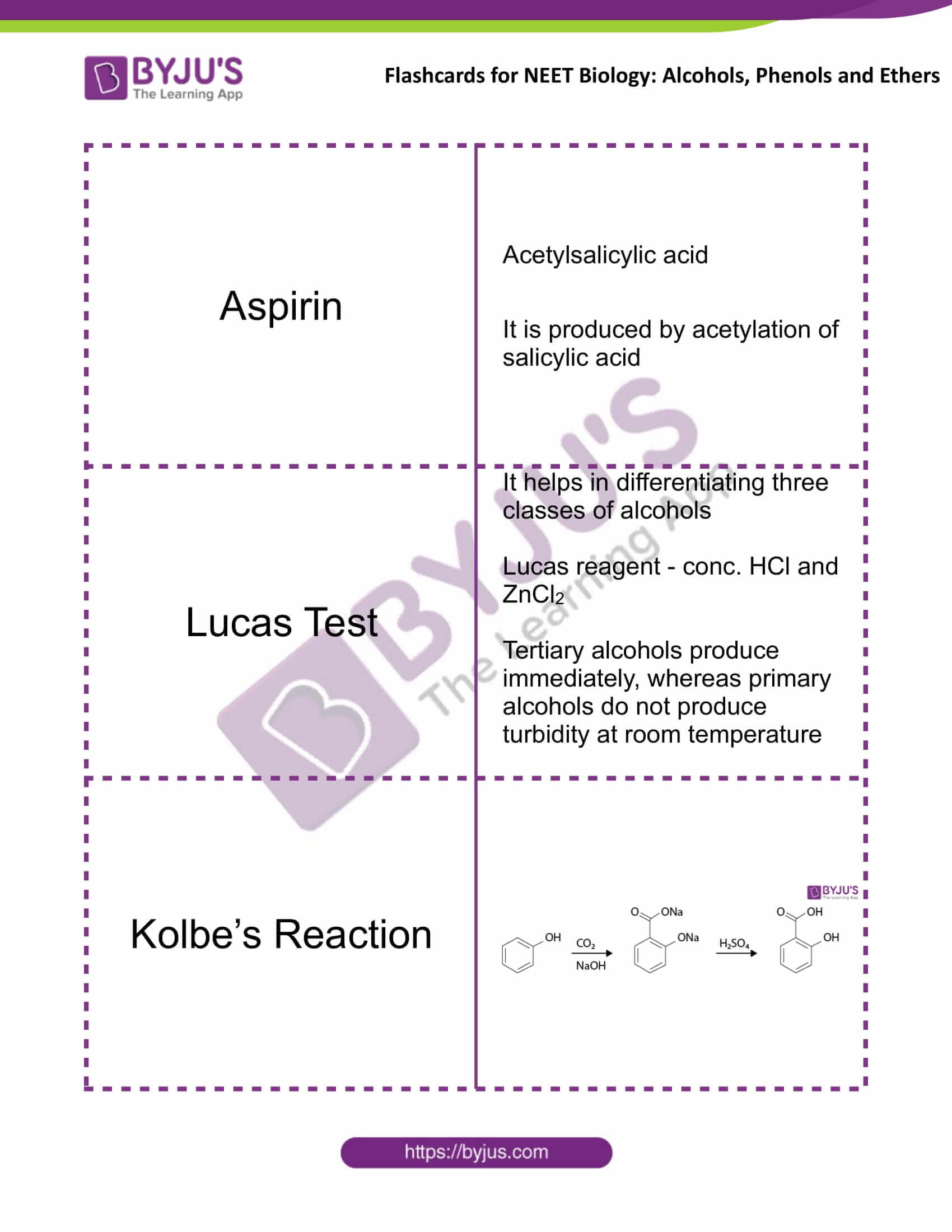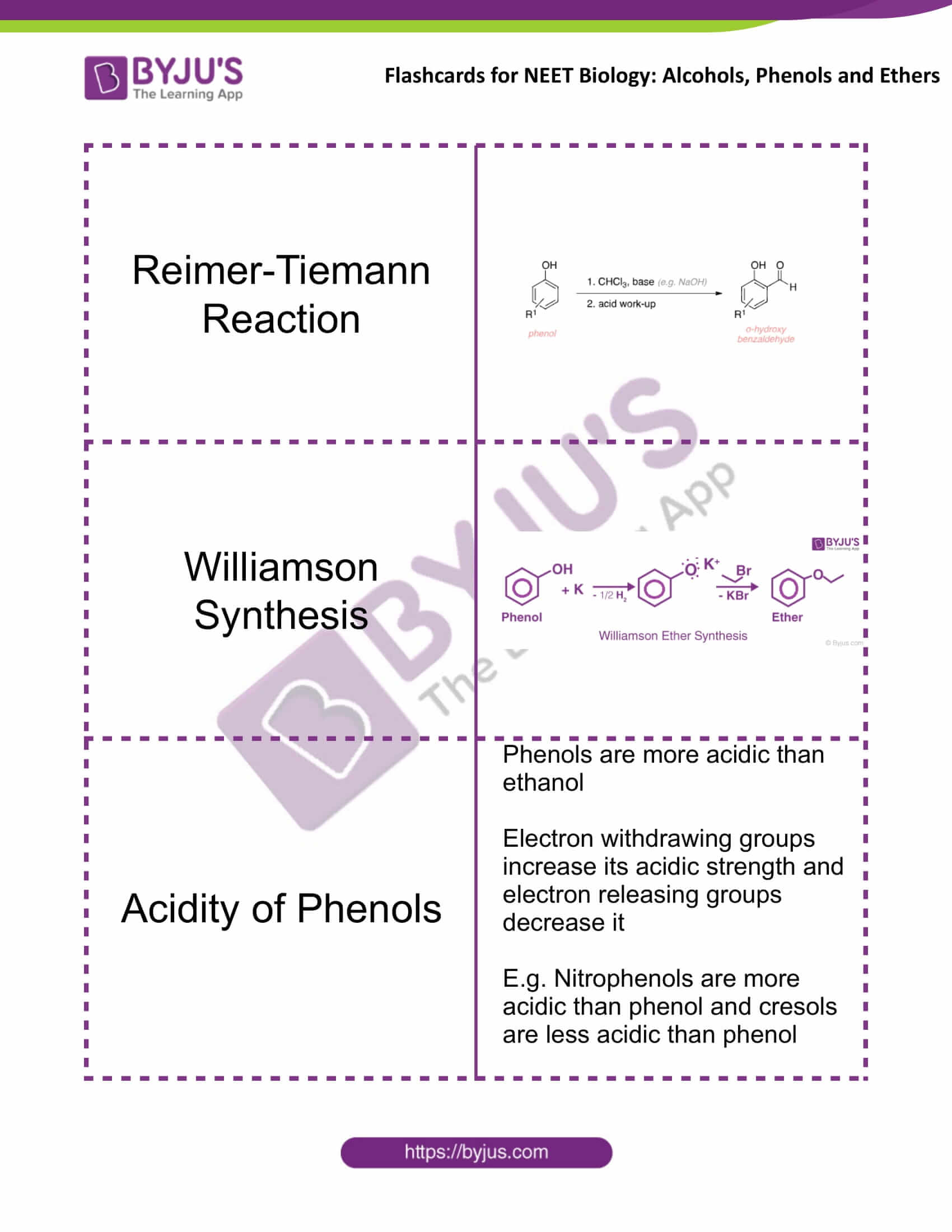 Alcohols, Phenols and Ethers

Common Names of Phenols

Cresol – Methylphenol

Catechol – Benzene-1,2-diol

Resorcinol – Benzene-1,3-diol

Hydroquinone or quinol – Benzene-1,4-diol

Common Names of Ethers

Anisole – Methyl phenyl ether

Phenetole – Ethyl phenyl ether

Acidity of Alcohols

Alcohols are weaker acids than water

The acidic strength of alcohols decreases in the following order:

Primary > Secondary > Tertiary

Phenols are more acidic than ethanol

Aspirin

Acetylsalicylic acid

It is produced by acetylation of salicylic acid

Lucas Test

It helps in differentiating three classes of alcohols

Lucas reagent – conc. HCl and ZnCl2

Tertiary alcohols produce immediately, whereas primary alcohols do not produce turbidity at room temperature

Kolbe's Reaction

Reimer-Tiemann Reaction

Williamson Synthesis

Acidity of Phenols

Phenols are more acidic than ethanol

Electron withdrawing groups increase its acidic strength, and electron releasing groups decrease it

E.g. Nitrophenols are more acidic than phenol, and cresols are less acidic than phenol
Get access to the full set of flashcards for NEET Chemistry, only at BYJU'S.