Flashcards for NEET Chemistry are designed to boost your NEET preparation. Find below flashcards for the chapter "Chemical Bonding and Molecular Structure". These flashcards are prepared as per the NEET syllabus. These are helpful for aspirants of NEET and other exams during last-minute revision. It covers all the important points that are frequently asked in the exam. Check BYJU'S for the full set of Flashcards and Study material for NEET Chemistry.
| | | |
| --- | --- | --- |
| Name of the NEET Sub-section | Topic | Flashcards Helpful for |
| Chemistry | Chemical Bonding and Molecular Structure | NEET Exams |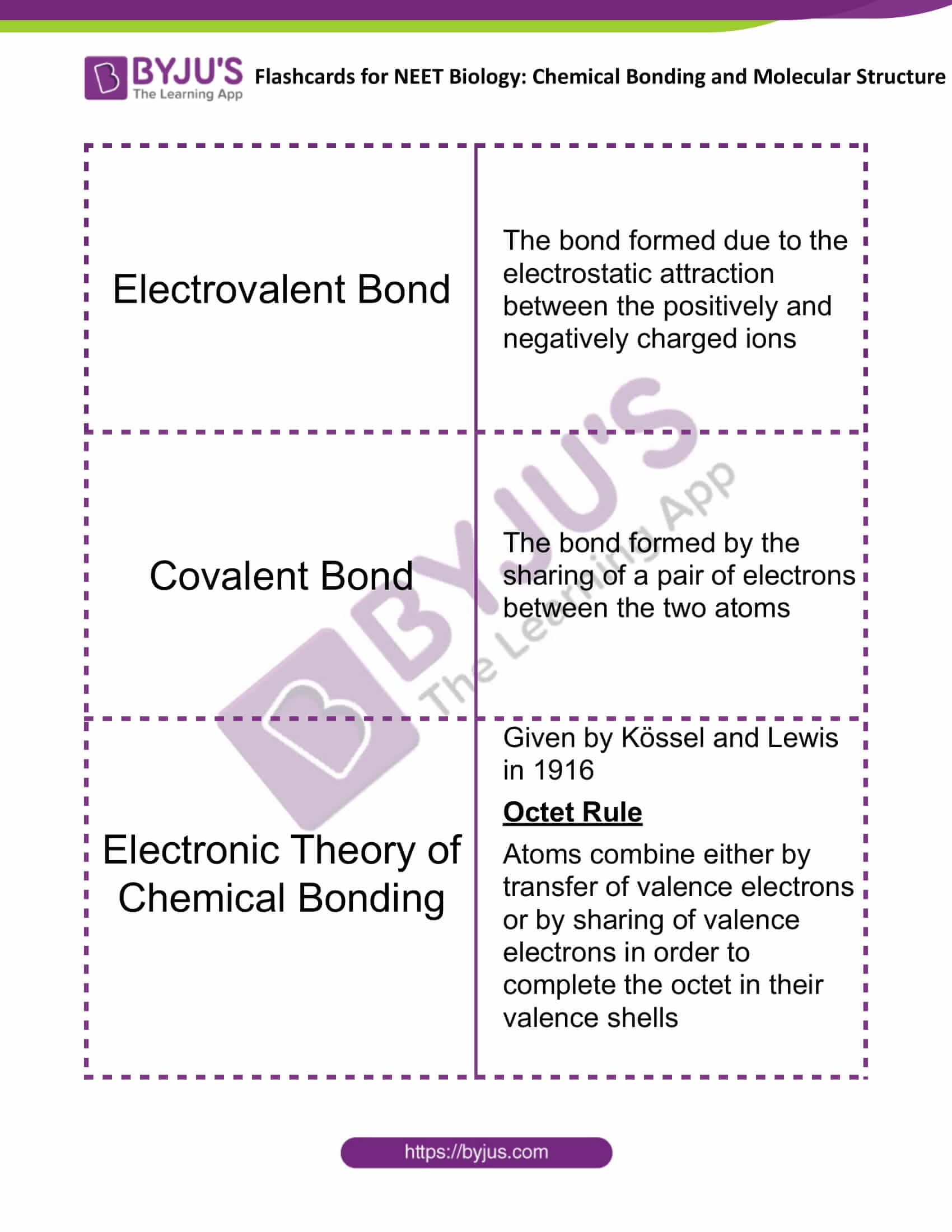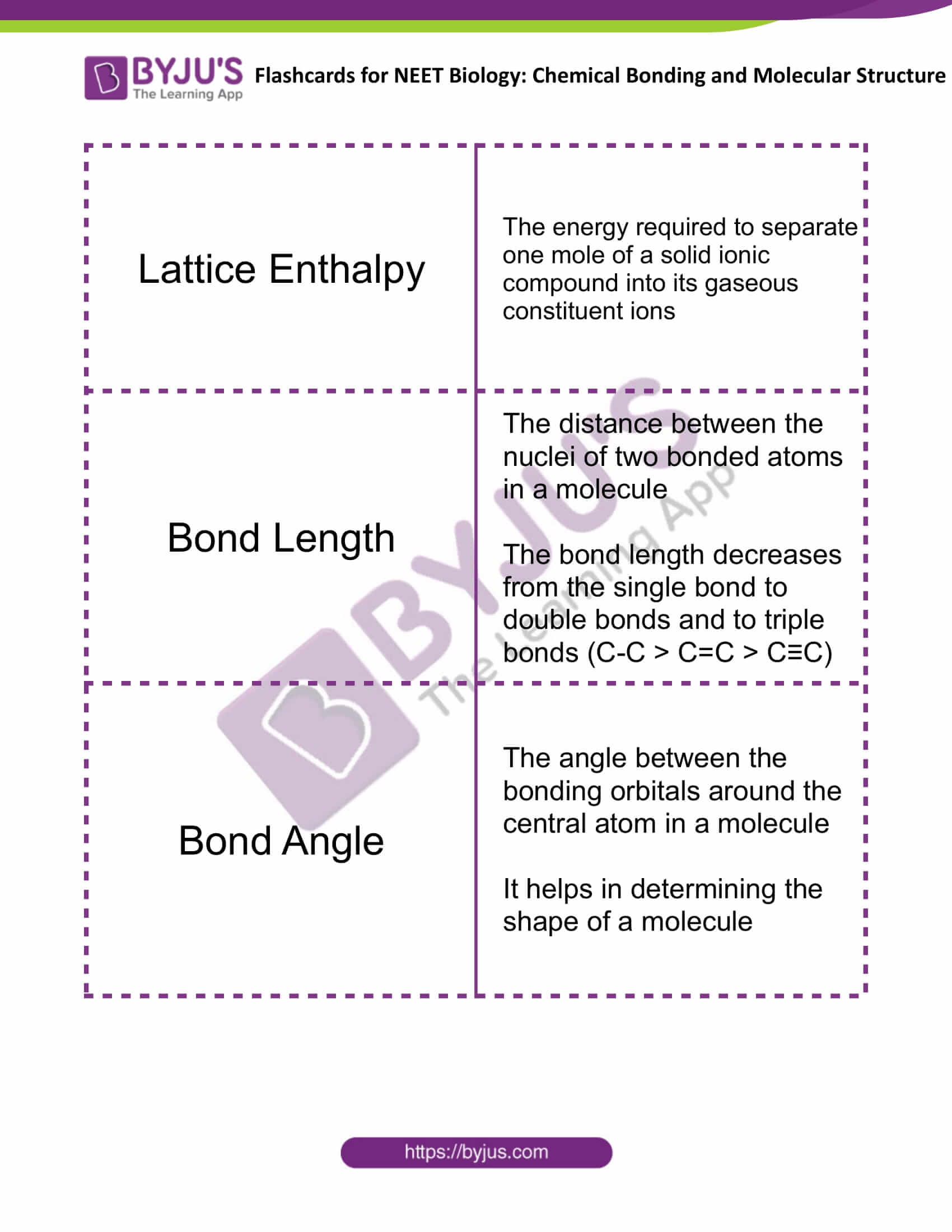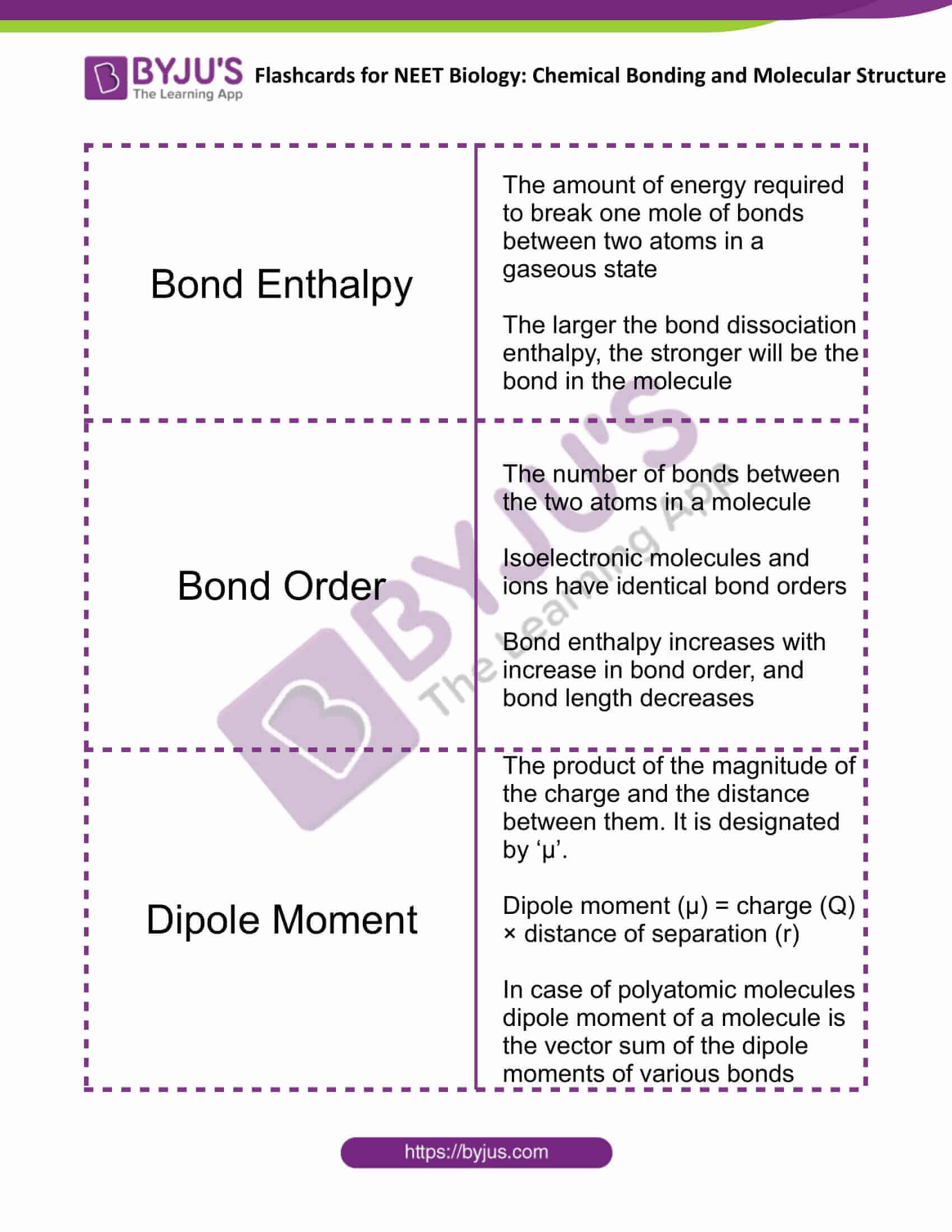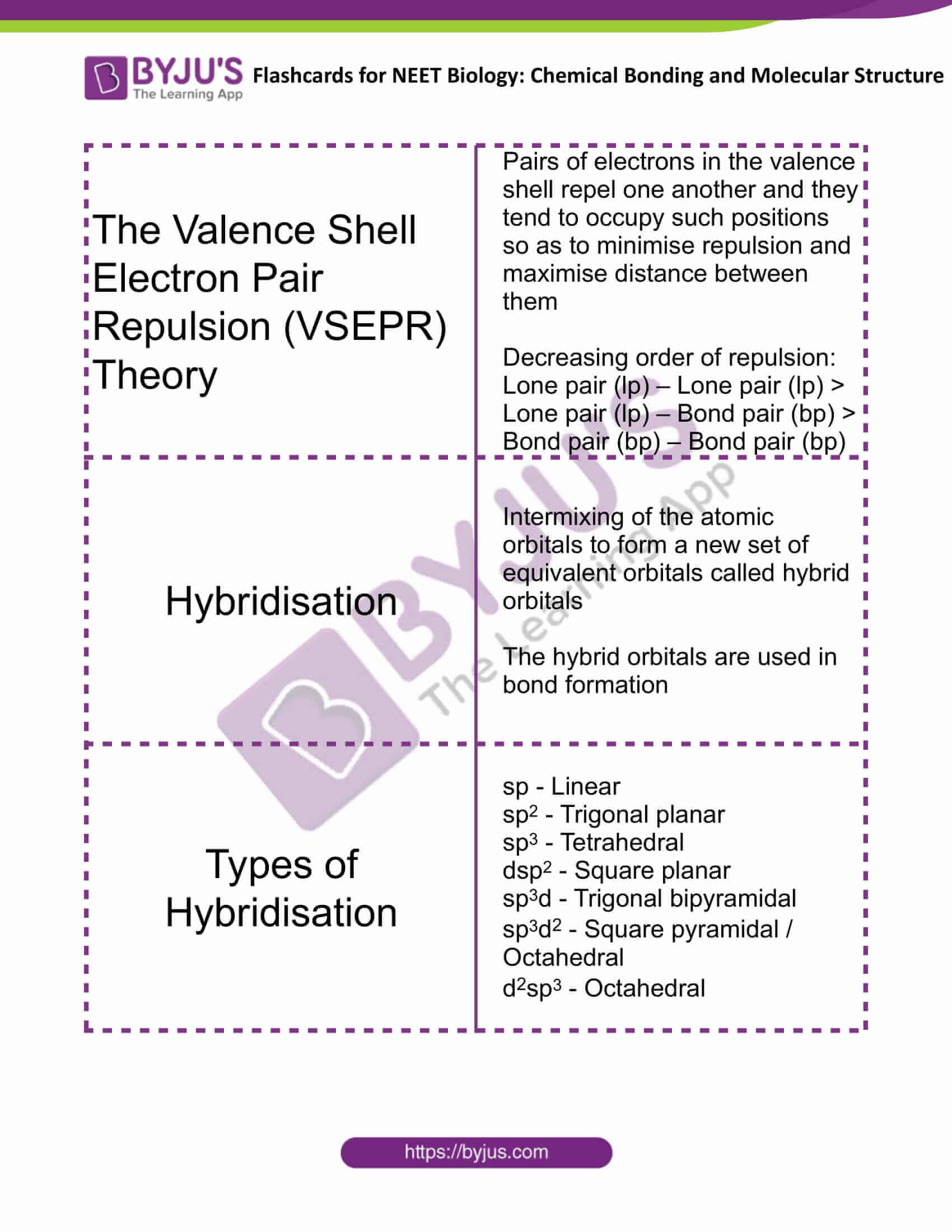 Chemical Bonding and Molecular Structure
Electrovalent Bond
The bond formed due to the electrostatic attraction between the positively and negatively charged ions
Covalent Bond
The bond, formed by the sharing of a pair of electrons between the two atoms
Electronic Theory of Chemical Bonding
Given by Kössel and Lewis in 1916

Octet Rule

Atoms combine either by transfer of valence electrons or by sharing of valence electrons in order to complete the octet in their valence shells

Lattice Enthalpy
The energy required to separate one mole of a solid ionic compound into its gaseous constituent ions
Bond Length
The distance between the nuclei of two bonded atoms in a molecule

The bond length decreases from the single bond to double bonds and to triple bonds (C-C > C=C > C≡C)

Bond Angle
The angle between the bonding orbitals around the central atom in a molecule

It helps in determining the shape of a molecule

Bond Enthalpy
The amount of energy required to break one mole of bonds between two atoms in a gaseous state

The larger the bond dissociation enthalpy, the stronger will be the bond in the molecule

Bond Order
The number of bonds between the two atoms in a molecule

Isoelectronic molecules and ions have identical bond orders

Bond enthalpy increases with an increase in bond order, and bond length decreases

Dipole Moment
The product of the magnitude of the charge and the distance between them. It is designated by 'μ'.

Dipole moment (μ) = charge (Q) × distance of separation (r)

In the case of polyatomic molecules dipole moment of a molecule is the vector sum of the dipole moments of various bonds

The Valence Shell Electron Pair Repulsion (VSEPR) Theory
Pairs of electrons in the valence shell repel one another and they tend to occupy such positions, so as to minimise repulsion and maximise the distance between them

Decreasing order of repulsion:

Lone pair (lp) – Lone pair (lp) > Lone pair (lp) – Bond pair (bp) > Bond pair (bp) – Bond pair (bp)

Hybridisation
Intermixing of the atomic orbitals to form a new set of equivalent orbitals called hybrid orbitals

The hybrid orbitals are used in bond formation

Types of Hybridisation
sp – Linear

sp2 – Trigonal planar

sp3 – Tetrahedral

dsp2 – Square planar

sp3d – Trigonal bipyramidal

sp3d2 – Square pyramidal/Octahedral

d2sp3 – Octahedral
Get access to the full set of flashcards for NEET Chemistry, only at BYJU'S.
Recommended Video: