Flashcards for NEET Chemistry are designed to boost your NEET preparation. Find below flashcards for the chapter "Chemistry in Everyday Life". These flashcards are prepared as per the NEET syllabus. These are helpful for aspirants of NEET and other exams, during last-minute revision. It covers all the important points that are frequently asked in the exam. Check BYJU'S, for the full set of Flashcards and Study material for NEET Chemistry.
| | | |
| --- | --- | --- |
| Name of the NEET Sub-section | Topic | Flashcards Helpful for |
| Chemistry | Chemistry in Everyday Life | NEET Exams |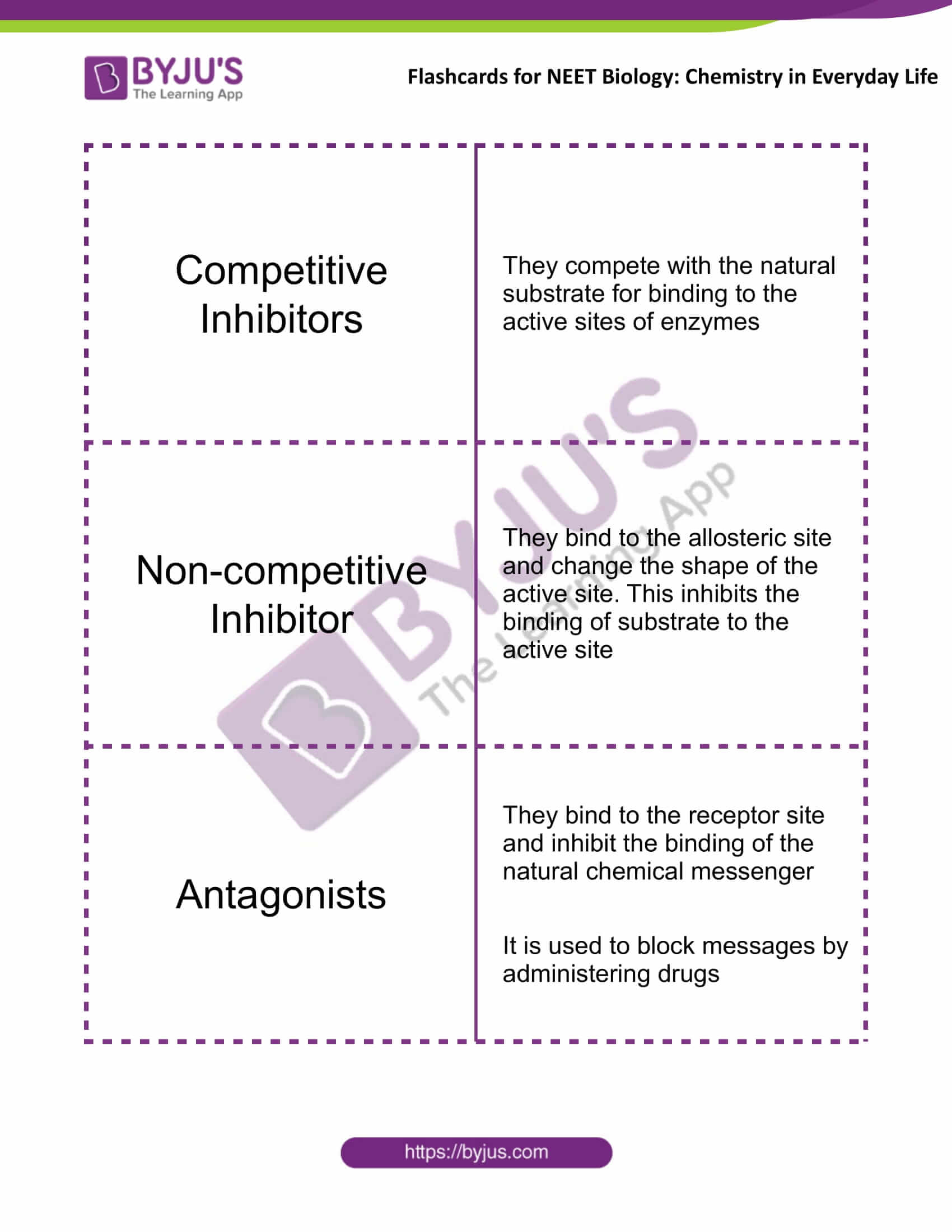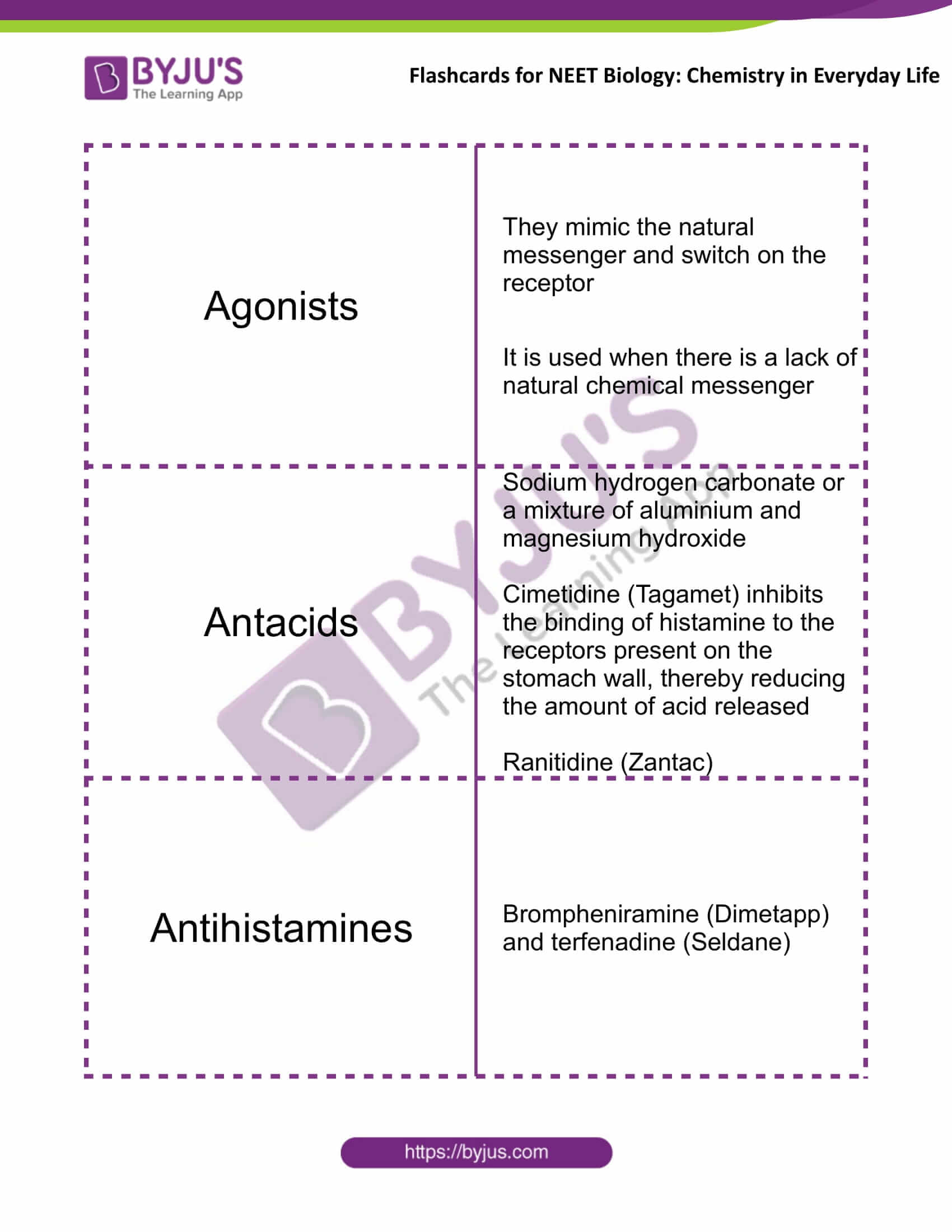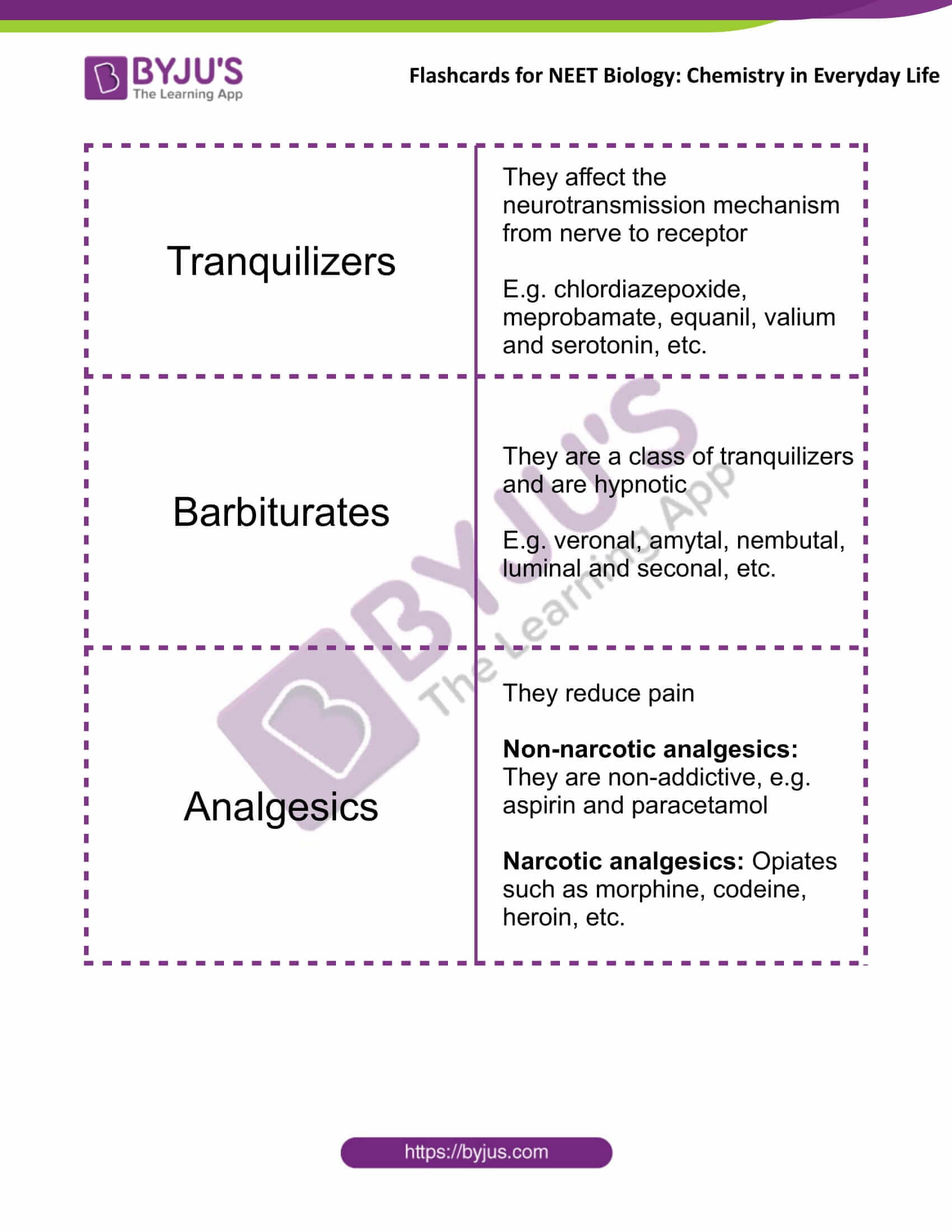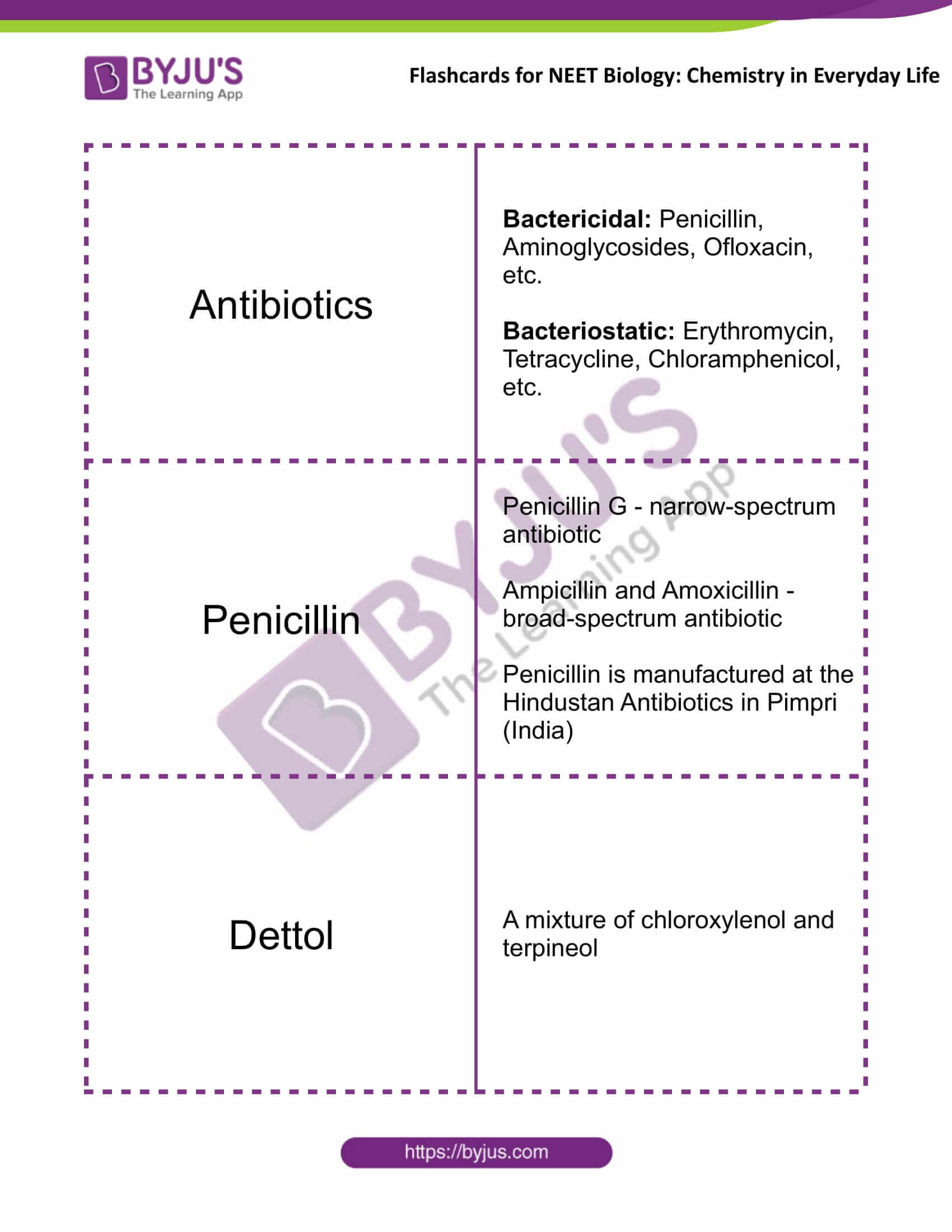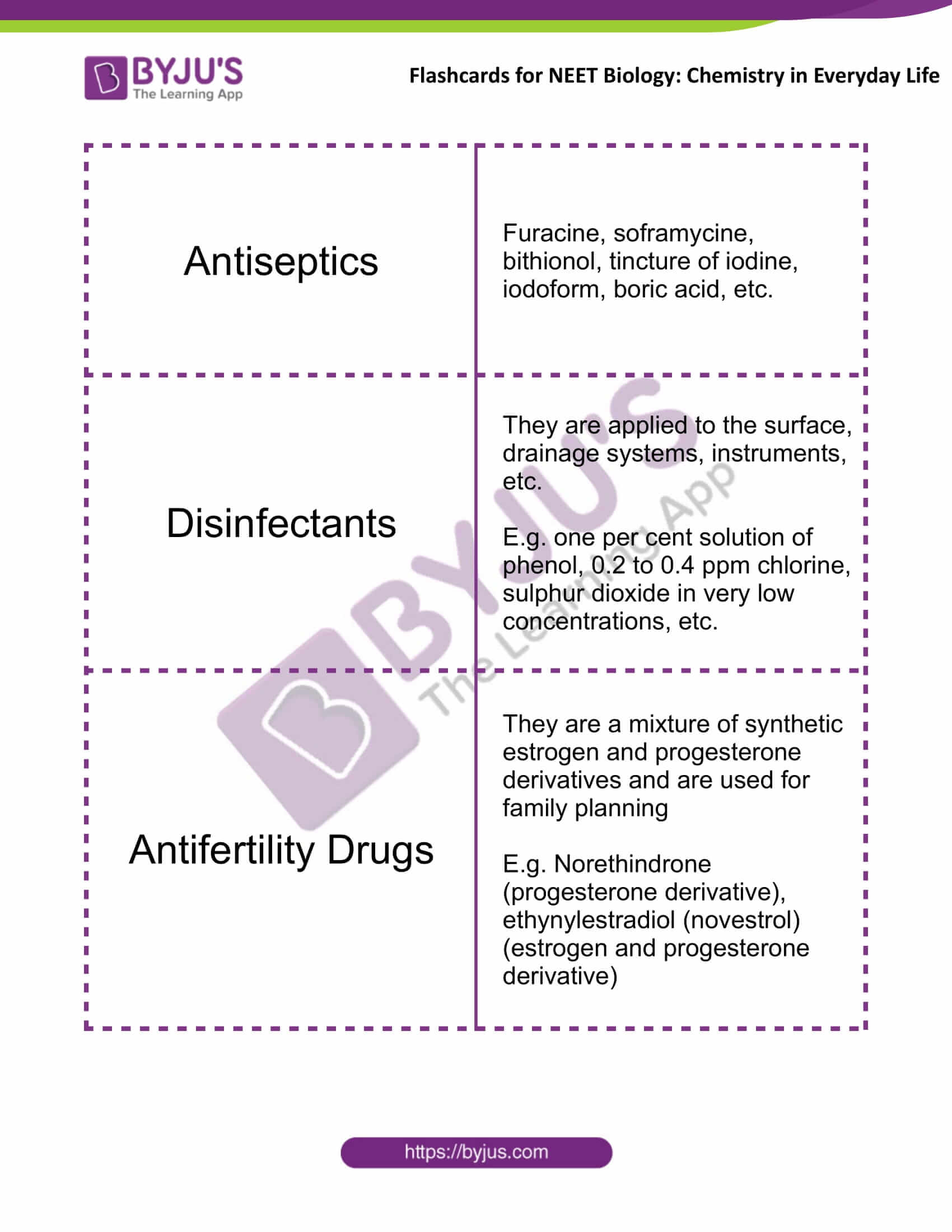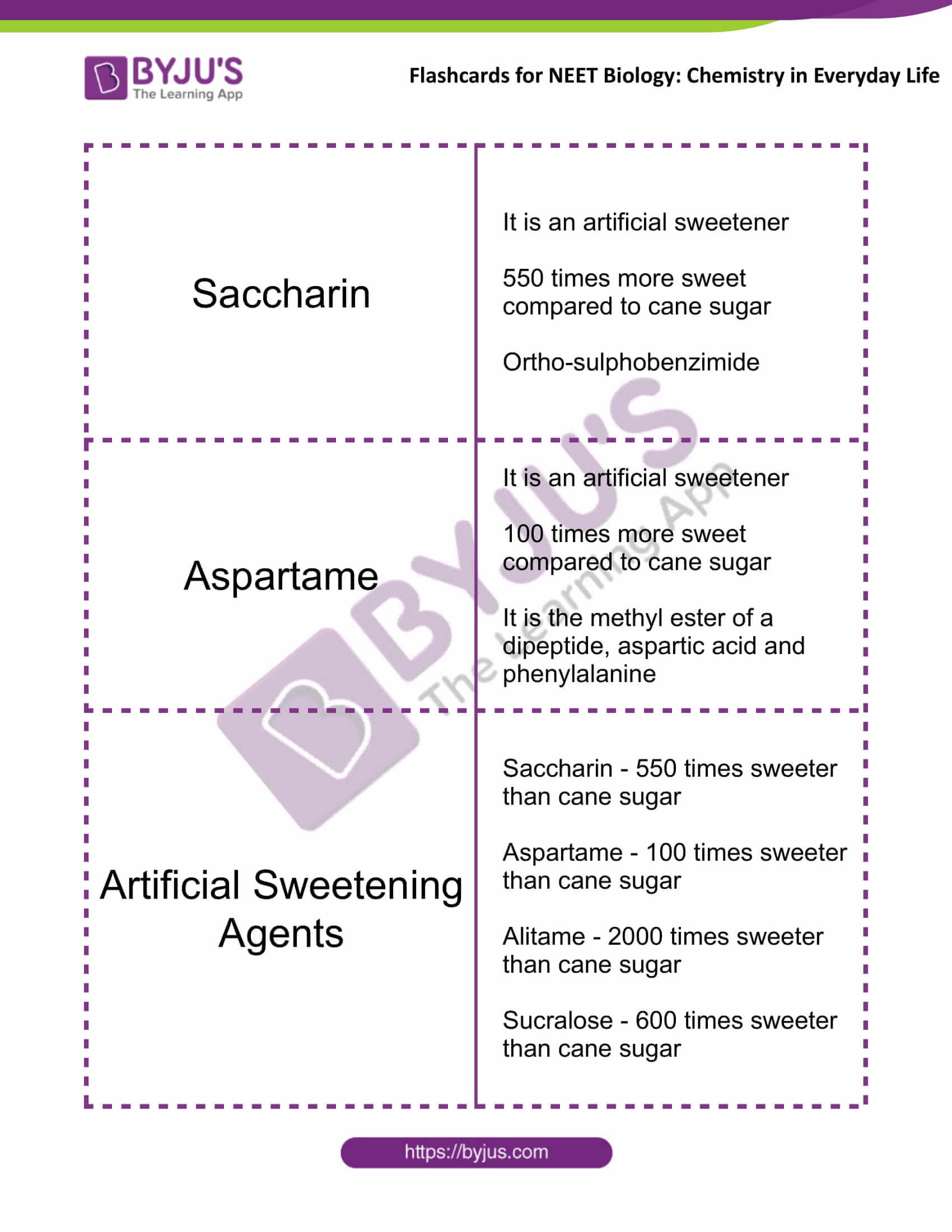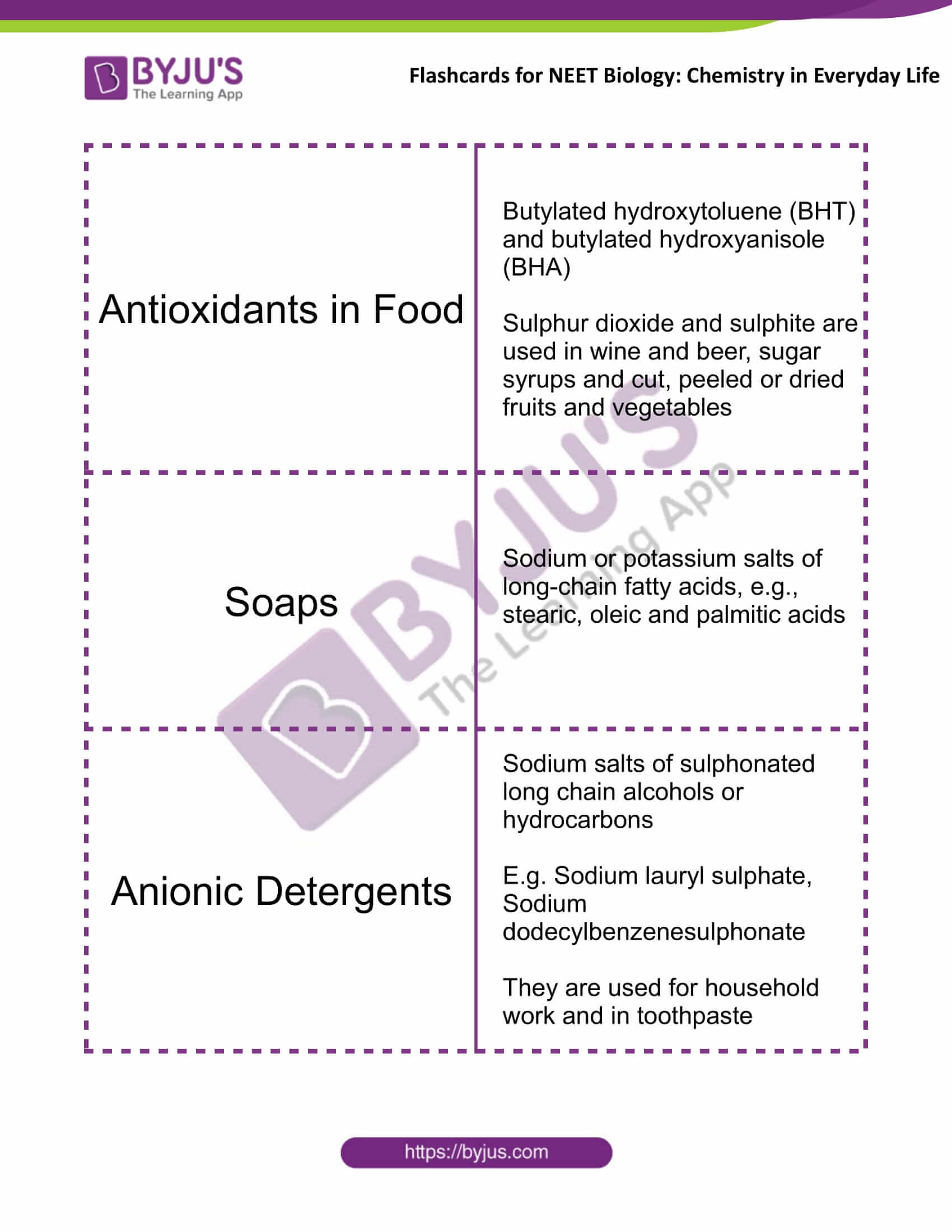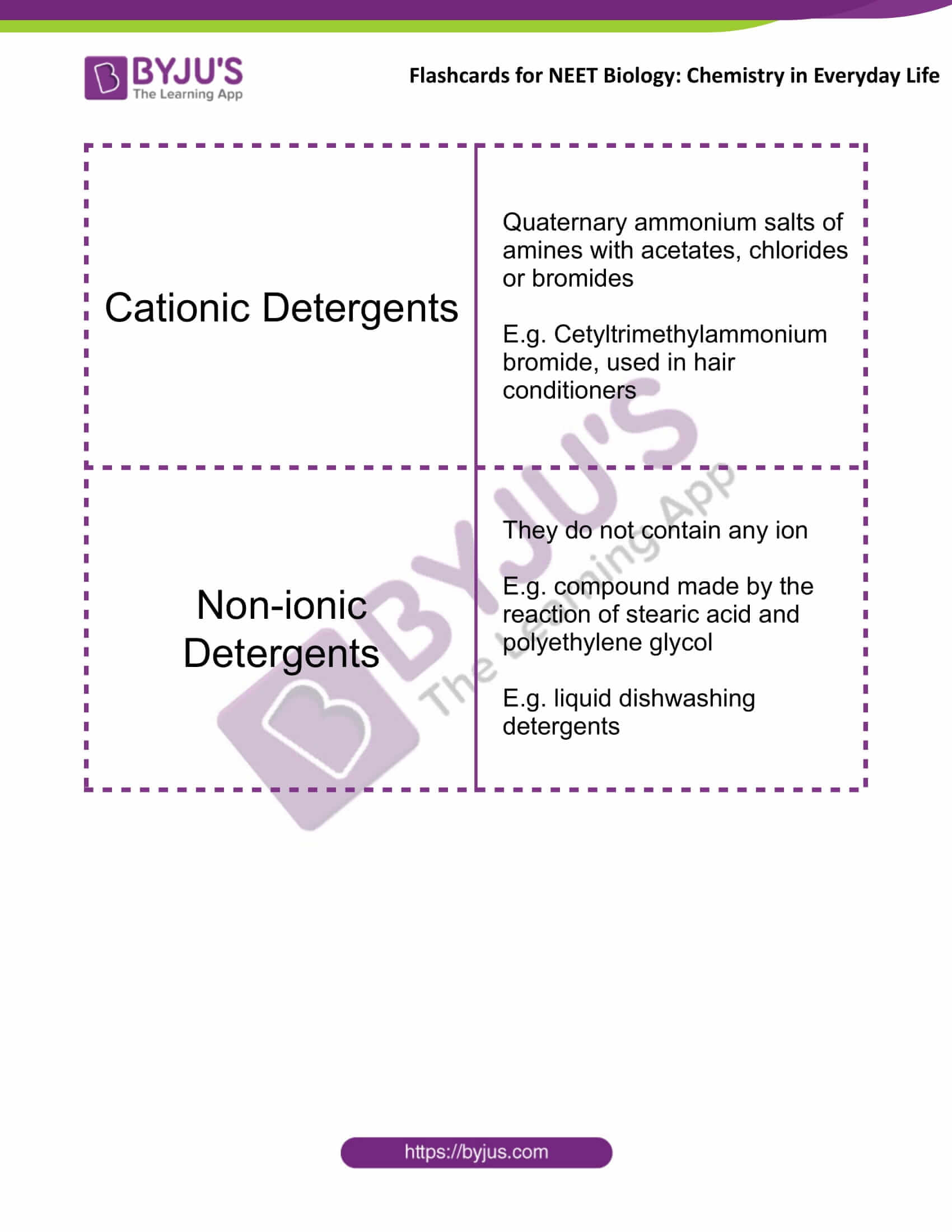 Chemistry in Everyday Life

Competitive Inhibitors

They compete with the natural substrate for binding to the active sites of enzymes

Non-competitive Inhibitor

They bind to the allosteric site and change the shape of the active site. This inhibits the binding of substrate to the active site

Antagonists

They bind to the receptor site and inhibit its binding of the natural chemical messenger

It is used to block messages by administering drugs

Agonists

They mimic the natural messenger and switch on the receptor

It is used when there is a lack of natural chemical messenger

Antacids

Sodium hydrogen carbonate or a mixture of aluminium and magnesium hydroxide

Cimetidine (Tagamet) inhibits the binding of histamine to the receptors present on the stomach wall, thereby reducing the amount of acid released

Ranitidine (Zantac)

Antihistamines

Brompheniramine (Dimetapp) and terfenadine (Seldane)

Tranquilizers

They affect the neurotransmission mechanism from nerve to receptor

E.g. chlordiazepoxide, meprobamate, equanil, valium and serotonin, etc.

Barbiturates

They are a class of tranquilizers and are hypnotic

E.g. veronal, amytal, nembutal, luminal and seconal, etc.

Analgesics

They reduce pain

Non-narcotic analgesics: They are non-addictive, e.g. aspirin and paracetamol

Narcotic analgesics: Opiates such as morphine, codeine, heroin, etc.

Antibiotics

Bactericidal: Penicillin, Aminoglycosides, Ofloxacin, etc.

Bacteriostatic: Erythromycin, Tetracycline, Chloramphenicol, etc.

Penicillin

Penicillin G – narrow-spectrum antibiotic

Ampicillin and Amoxicillin – broad-spectrum antibiotic

Penicillin is manufactured at the Hindustan Antibiotics in Pimpri (India)

Dettol

A mixture of chloroxylenol and terpineol

Antiseptics

Furacine, soframycin, bithionol, tincture of iodine, iodoform, boric acid, etc.

Disinfectants

They are applied to the surface, drainage systems, instruments, etc.

E.g. one per cent solution of phenol, 0.2 to 0.4 ppm chlorine, sulphur dioxide in very low concentrations, etc.

Antifertility Drugs

They are a mixture of synthetic estrogen and progesterone derivatives and are used for family planning

E.g. Norethindrone (progesterone derivative), ethynylestradiol (novestrol) (estrogen and progesterone derivative)

Saccharin

It is an artificial sweetener

550 times more sweet compared to cane sugar

Ortho-sulfabenzamide

Aspartame

It is an artificial sweetener

100 times more sweet compared to cane sugar

It is the methyl ester of a dipeptide, aspartic acid and phenylalanine

Artificial Sweetening

Agents

Saccharin – 550 times sweeter than cane sugar

Aspartame – 100 times sweeter than cane sugar

Alitame – 2000 times sweeter than cane sugar

Sucralose – 600 times sweeter than cane sugar

Antioxidants in Food

Butylated hydroxytoluene (BHT) and butylated hydroxyanisole (BHA)

Sulphur dioxide and sulphite are used in wine and beer, sugar syrups and cut, peeled or dried fruits and vegetables

Soaps

Sodium or potassium salts of long-chain fatty acids, e.g., stearic, oleic and palmitic acids

Anionic Detergents

Sodium salts of sulphonated long-chain alcohols or hydrocarbons

E.g. Sodium lauryl sulphate, Sodium dodecylbenzenesulphonate

They are used for household work and in toothpaste

Cationic Detergents

Quaternary ammonium salts of amines with acetates, chlorides or bromides

E.g. Cetyltrimethylammonium bromide, used in hair conditioners

Non-ionic Detergents

They do not contain any ion

E.g. compound made by the reaction of stearic acid and polyethylene glycol

E.g. liquid dishwashing detergents
Get access to the full set of flashcards for NEET Chemistry, only at BYJU'S.