Flashcards for NEET Chemistry are designed to boost your NEET preparation. Find below flashcards for the chapter "Environmental Chemistry". These flashcards are prepared as per the NEET syllabus. These are helpful for aspirants of NEET and other exams during last-minute revision. It covers all the important points that are frequently asked in the exam. Check BYJU'S for the full set of Flashcards and Study material for NEET Chemistry.
| | | |
| --- | --- | --- |
| Name of the NEET Sub-section | Topic | Flashcards Helpful for |
| Chemistry | Environmental Chemistry | NEET Exams |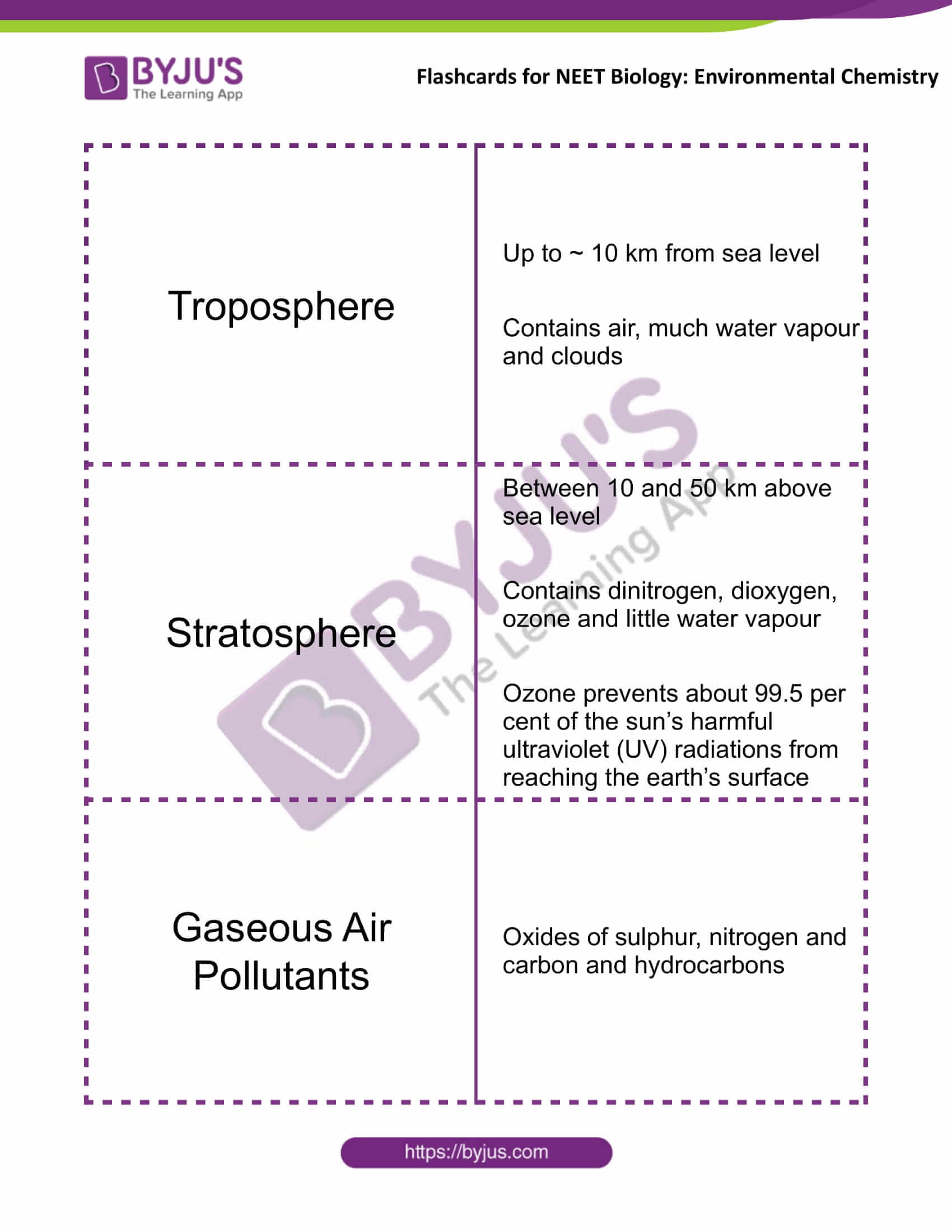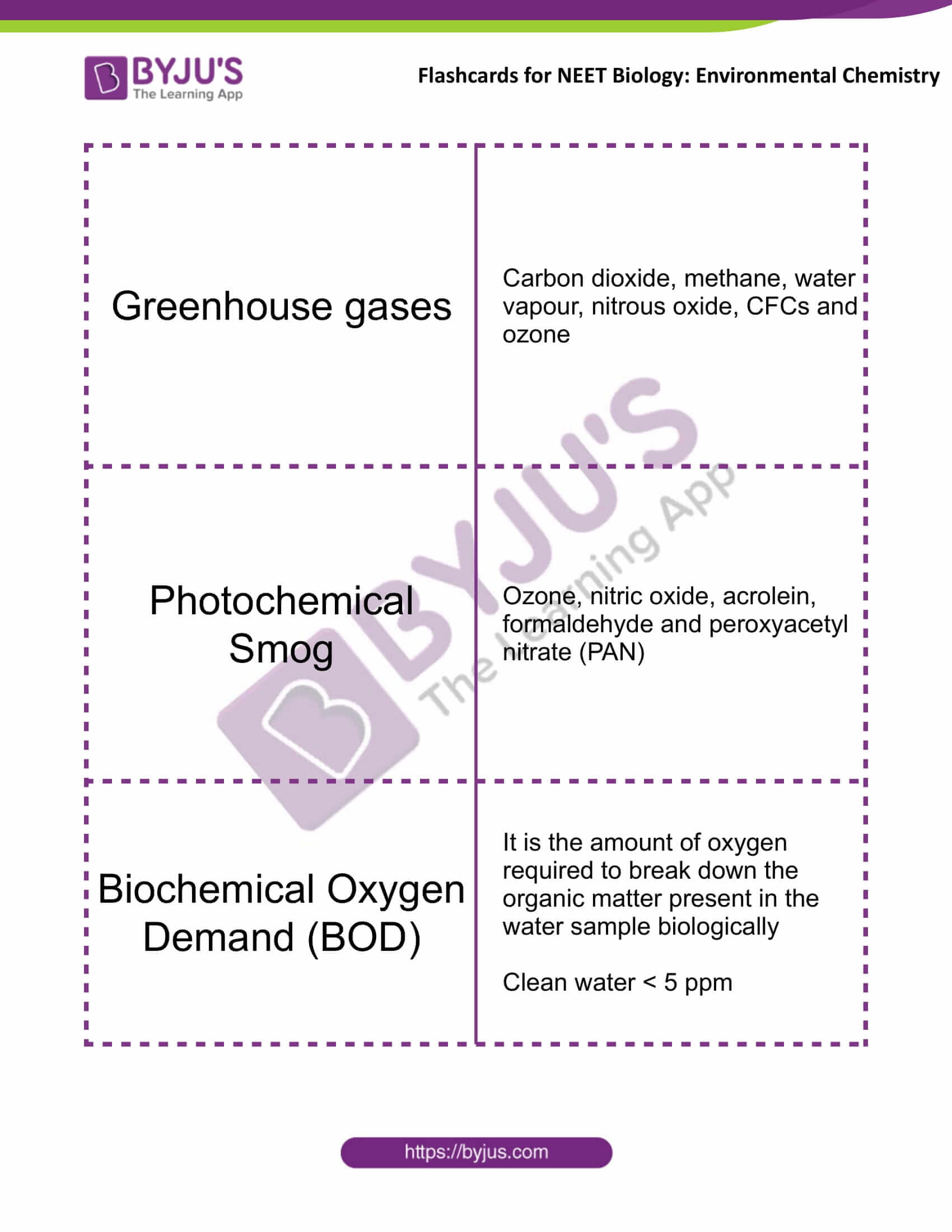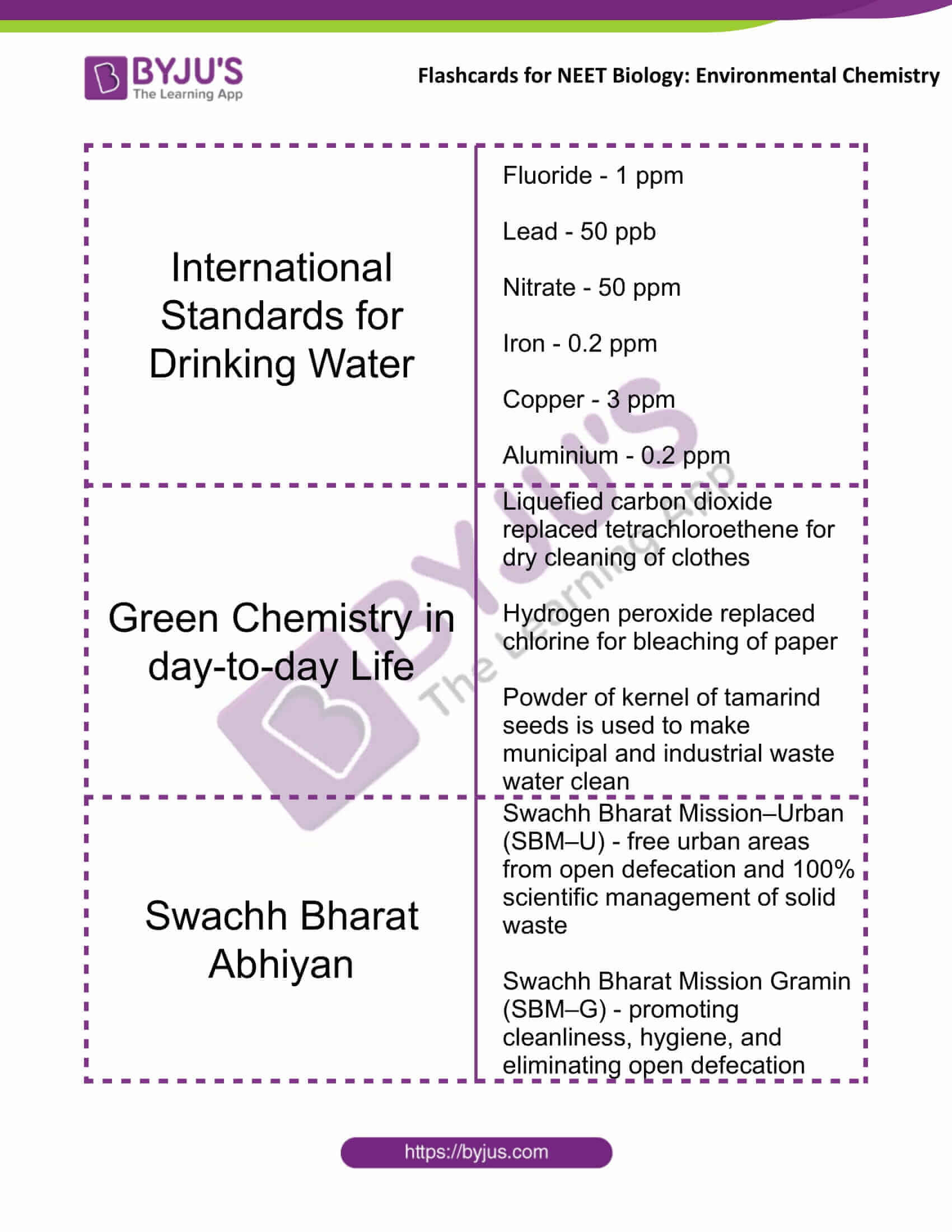 Environmental Chemistry

Troposphere

Up to ~10 km from sea level

Contains air, water vapour and clouds

Stratosphere

Between 10 and 50 km above sea level

Contains dinitrogen, dioxygen, ozone and little water vapour

Ozone prevents about 99.5 per cent of the sun's harmful ultraviolet (UV) radiations from reaching the earth's surface

Gaseous Air Pollutants

Oxides of sulphur, nitrogen and carbon and hydrocarbons

Greenhouse gases

Carbon dioxide, methane, water vapour, nitrous oxide, CFCs and ozone

Photochemical Smog

Ozone, nitric oxide, acrolein, formaldehyde and peroxyacetyl nitrate (PAN)

Biochemical Oxygen Demand (BOD)

It is the amount of oxygen required to break down the organic matter present in the water sample, biologically

Clean water < 5 ppm

International Standards for Drinking Water

Fluoride – 1 ppm

Lead – 50 ppb

Nitrate – 50 ppm

Iron – 0.2 ppm

Copper – 3 ppm

Aluminium – 0.2 ppm

Green Chemistry in day-to-day Life

Liquefied carbon dioxide replaced tetrachloroethene for dry cleaning of clothes

Hydrogen peroxide replaced chlorine for bleaching of paper

Powder of kernel of tamarind seeds is used to clean municipal and industrial wastewater

Swachh Bharat Abhiyan

Swachh Bharat Mission – Urban (SBM–U) – free urban areas from open defecation and 100% scientific management of solid waste

Swachh Bharat Mission – Gramin (SBM–G) – promoting cleanliness, hygiene, and eliminating open defecation
Get access to the full set of flashcards for NEET Chemistry, only at BYJU'S.