Flashcards for NEET Chemistry are designed to boost your NEET preparation. Find below flashcards for the chapter "Polymers". These flashcards are prepared as per the NEET syllabus. These are helpful for aspirants of NEET and other exams, during last-minute revision. It covers all the important points that are frequently asked in the exam. Check BYJU'S, for the full set of Flashcards and Study material for NEET Chemistry.
| | | |
| --- | --- | --- |
| Name of the NEET Sub-section | Topic | Flashcards Helpful for |
| Chemistry | Polymers | NEET Exams |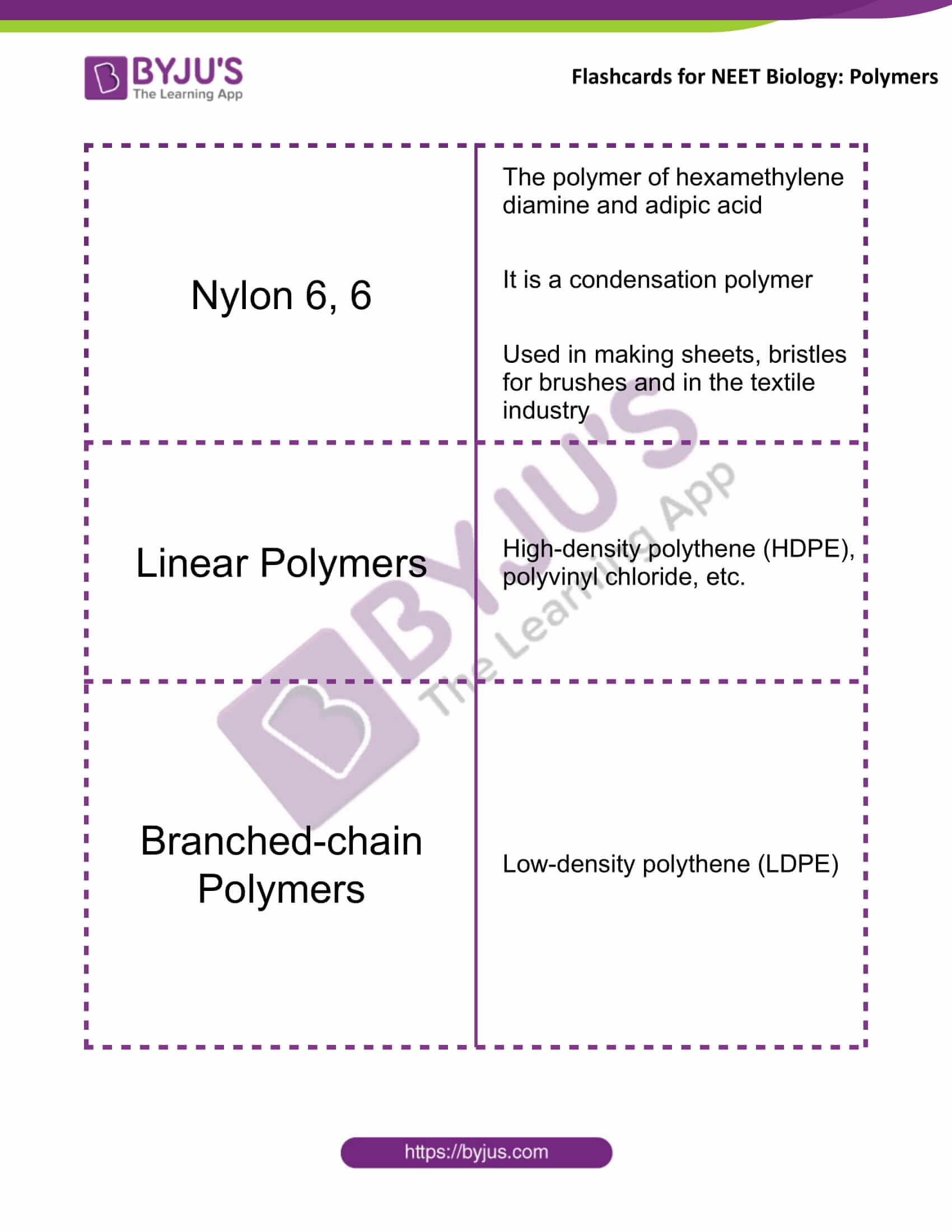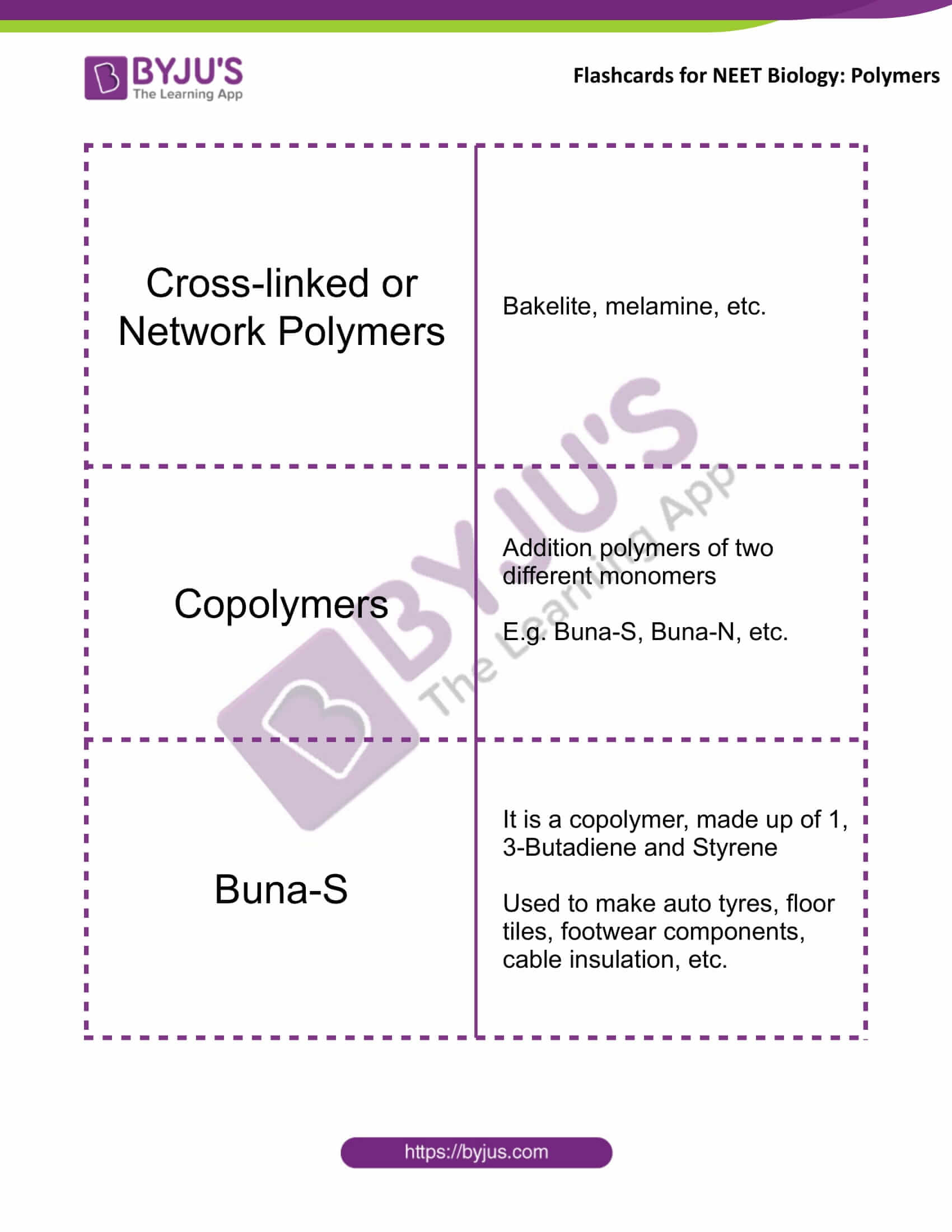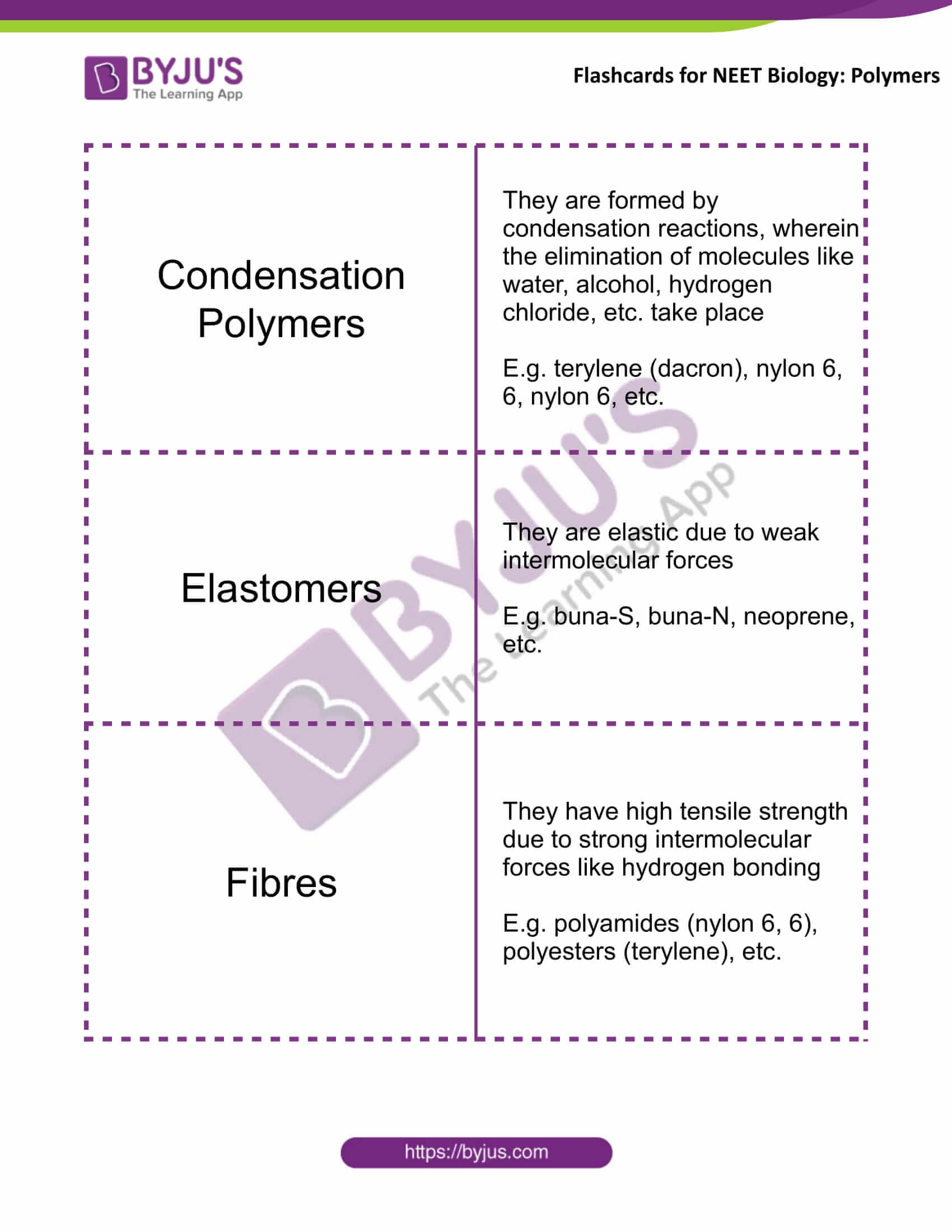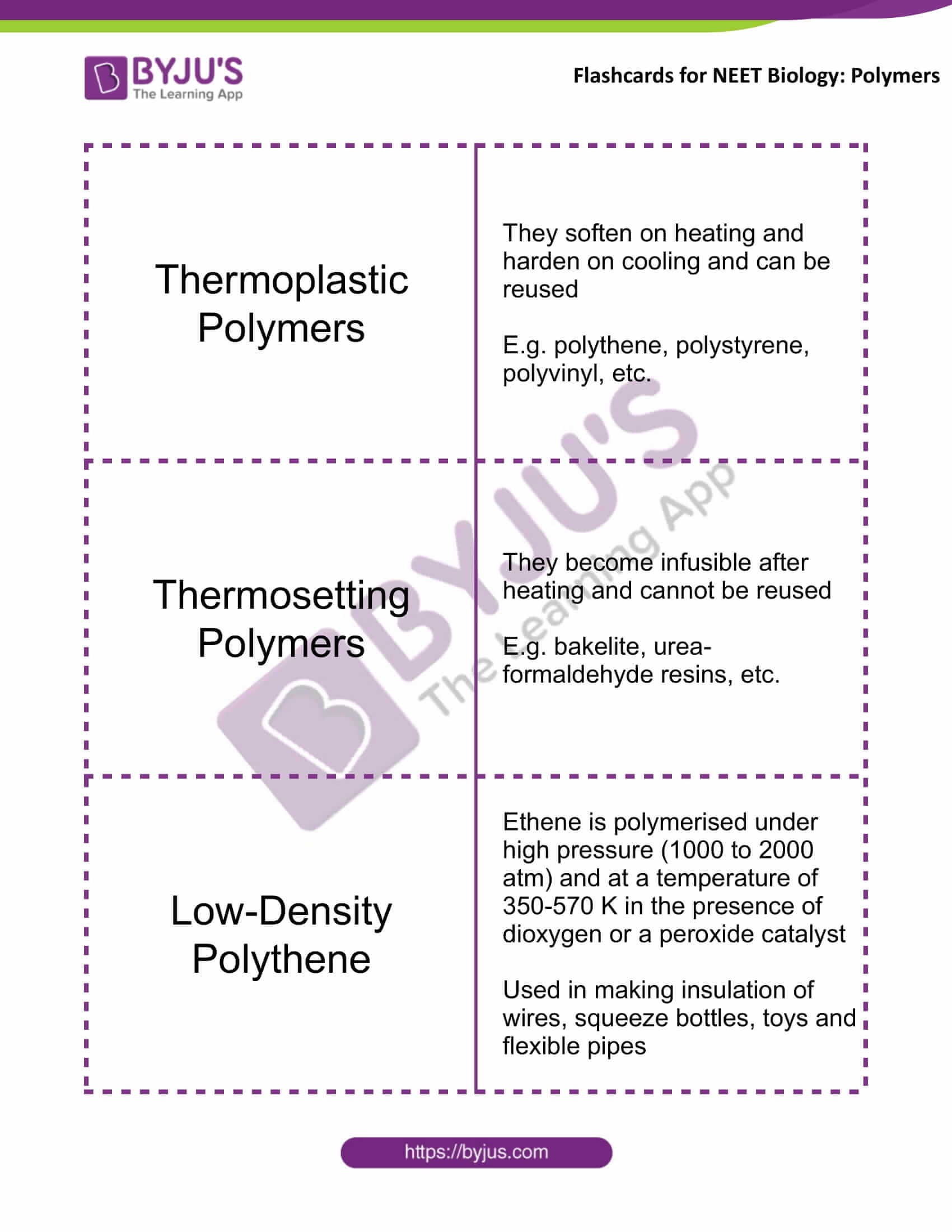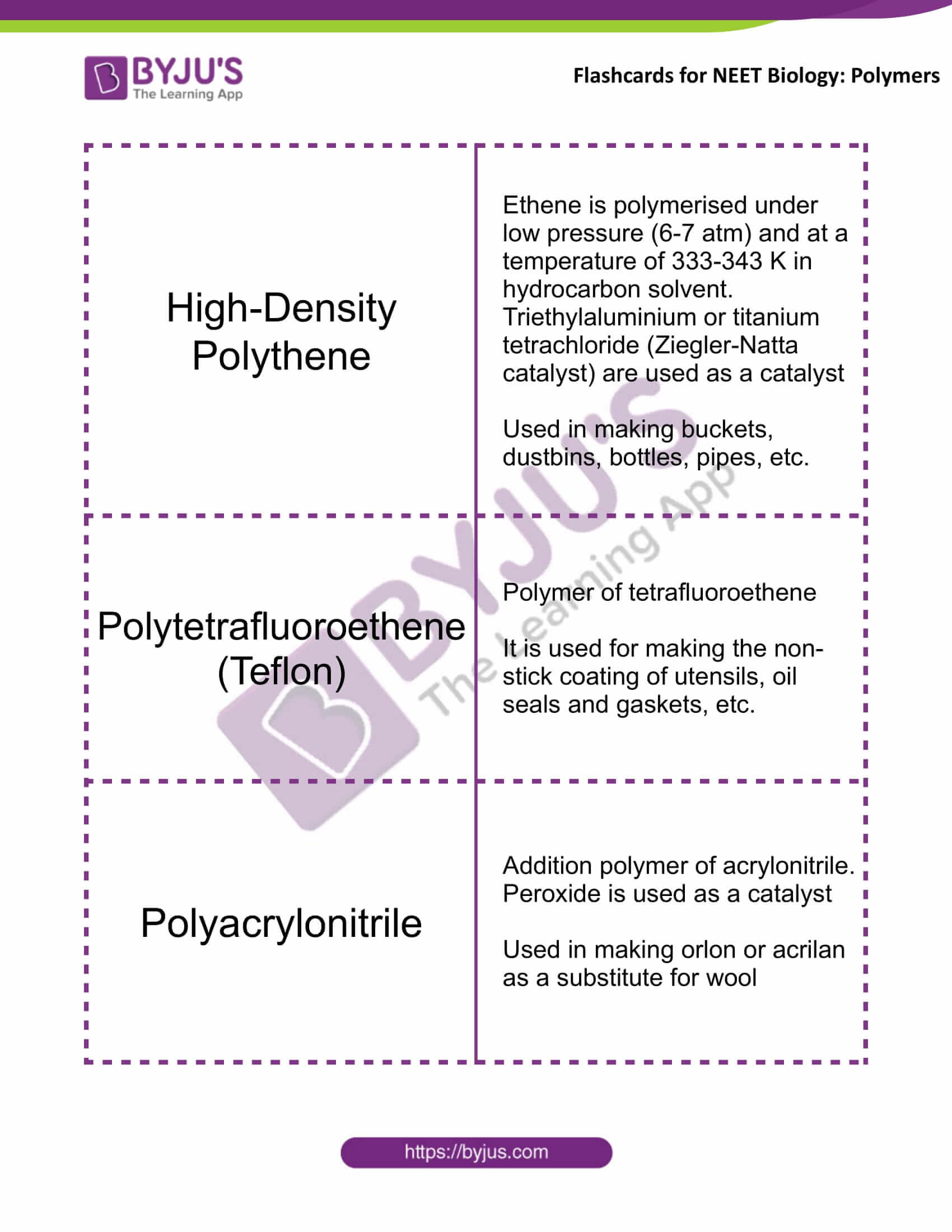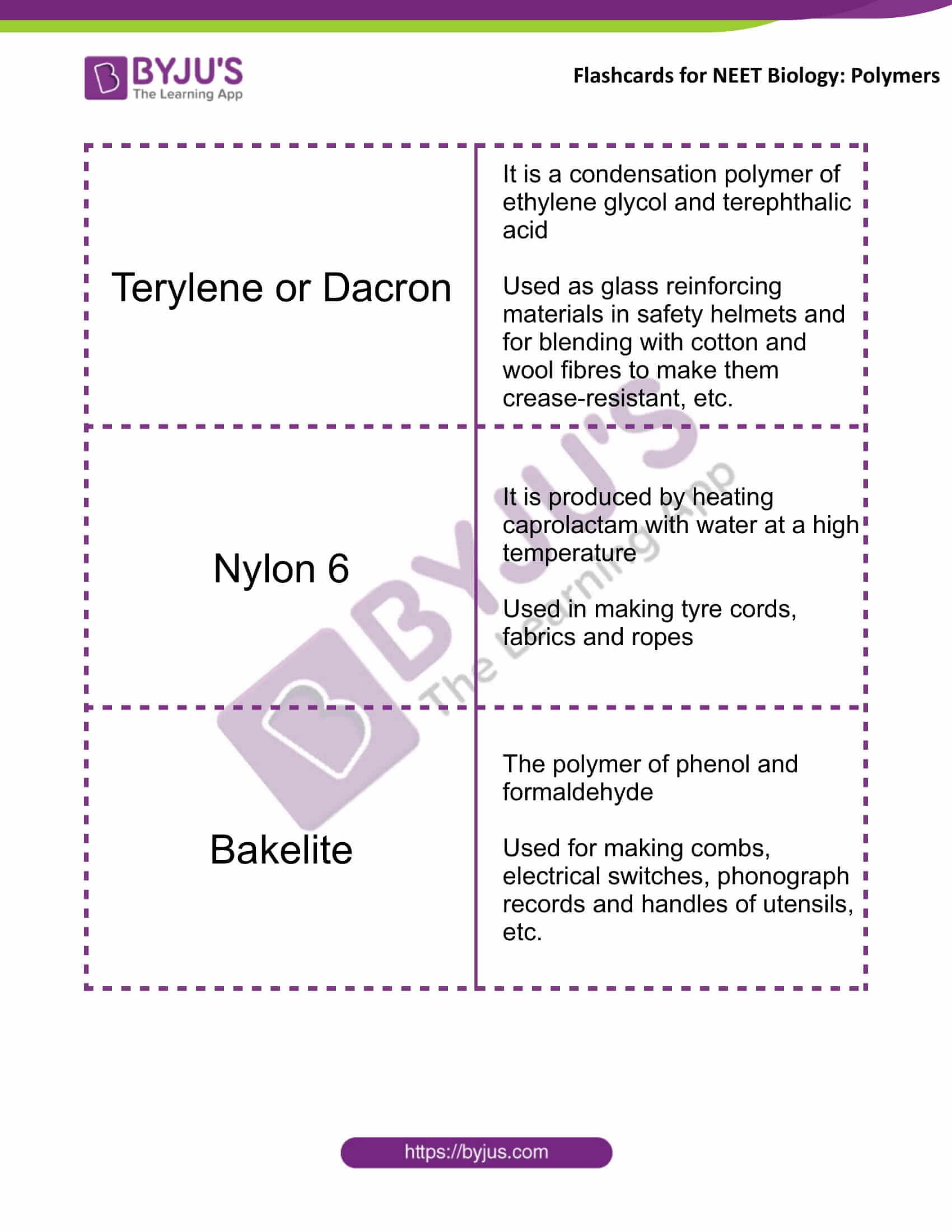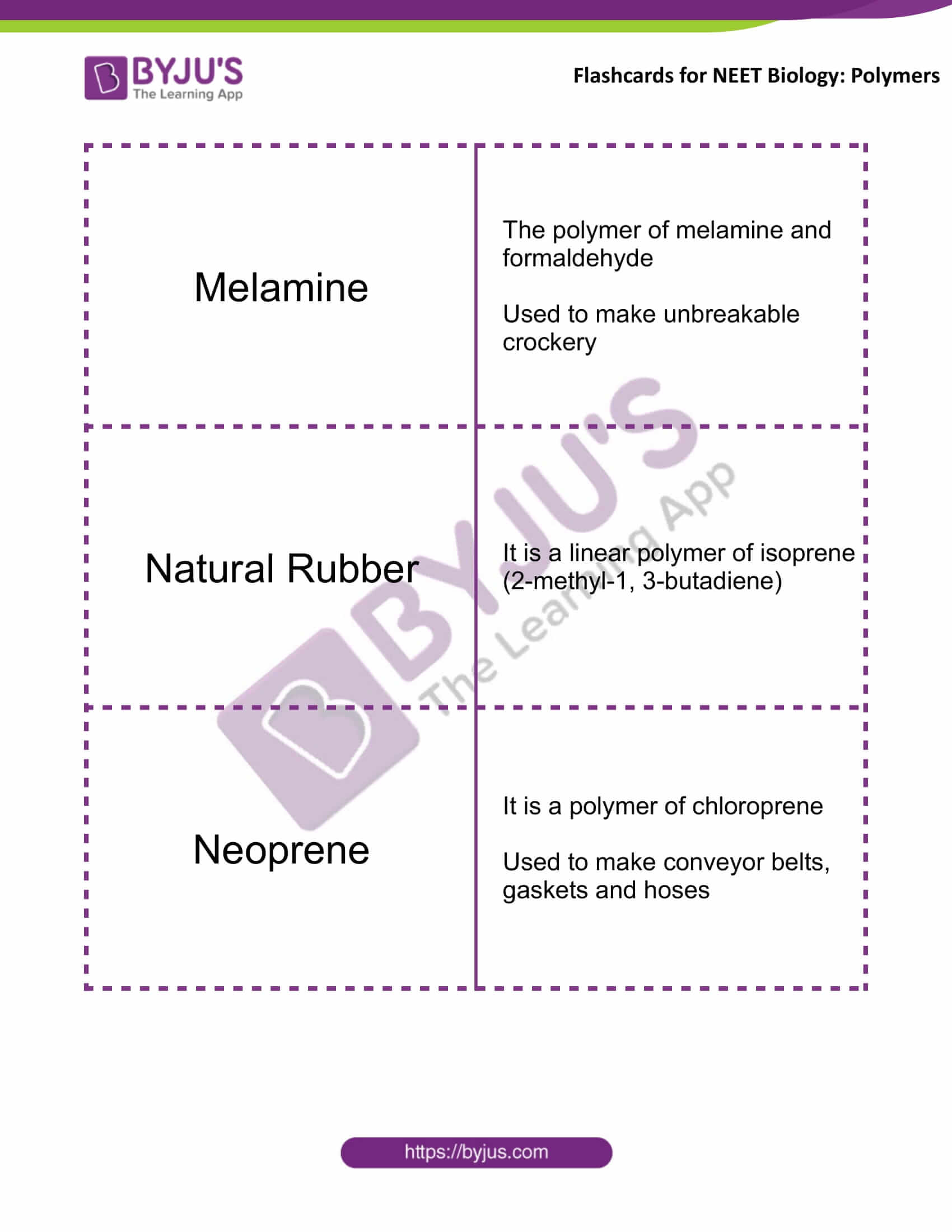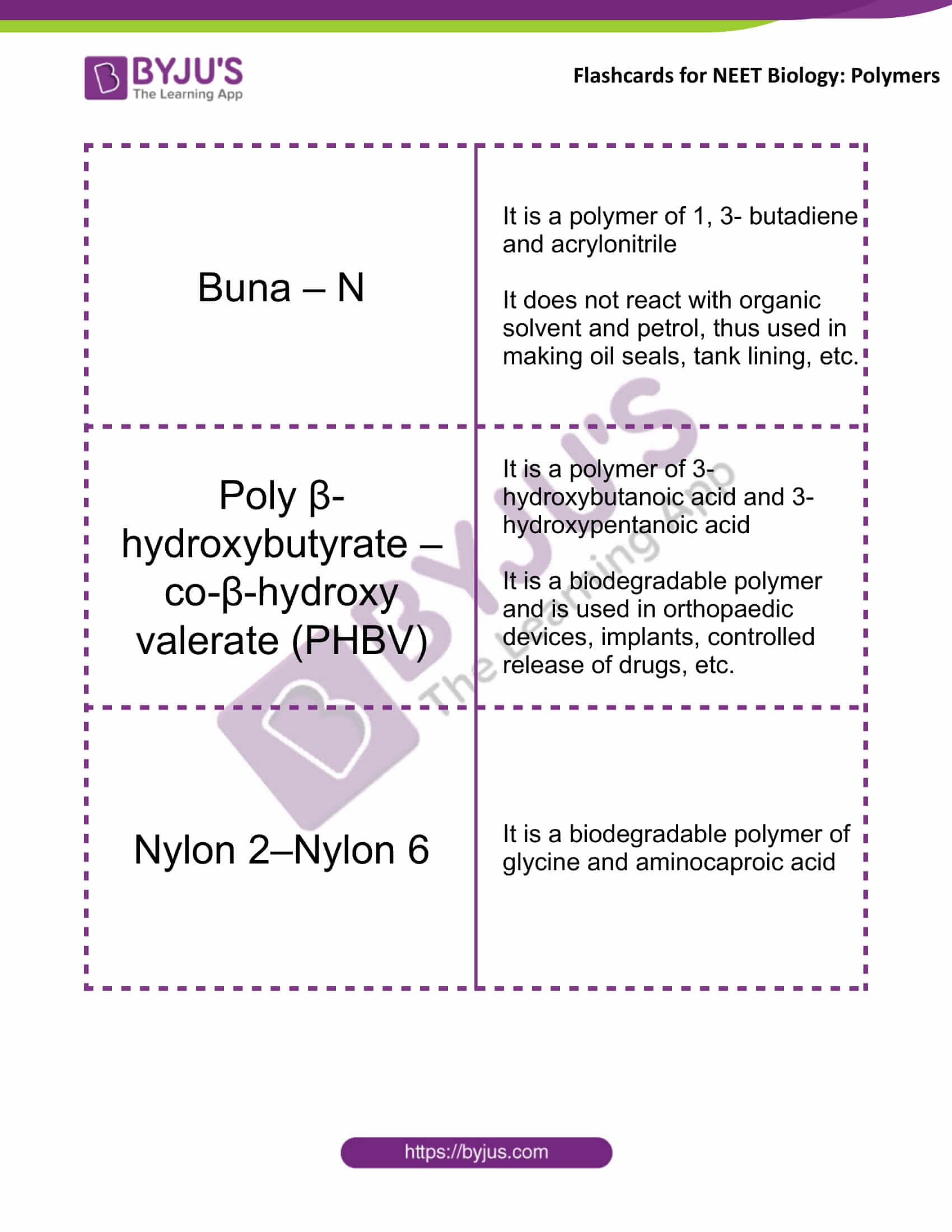 Polymers

Nylon 6, 6

Polymer of hexamethylene diamine and adipic acid

It is a condensation polymer

Used in making sheets, bristles for brushes and in the textile industry

Linear Polymers

High-density polythene (HDPE), polyvinyl chloride, etc.

Branched-chain Polymers

Low-density polythene (LDPE)

Cross-linked or Network Polymers

Bakelite, melamine, etc.

Copolymers

Addition polymers of two different monomers

E.g. Buna-S, Buna-N, etc.

Buna-S

It is a copolymer, made up of 1, 3-Butadiene and Styrene

Used to make auto tyres, floor tiles, footwear components, cable insulation, etc.

Condensation Polymers

They are formed by condensation reactions, wherein the elimination of molecules like water, alcohol, hydrogen chloride, etc. take place

E.g. terylene (dacron), nylon 6, 6, nylon 6, etc.

Elastomers

They are elastic due to weak intermolecular forces

E.g. buna-S, buna-N, neoprene, etc.

Fibres

They have high tensile strength due to strong intermolecular forces like hydrogen bonding

E.g. polyamides (nylon 6, 6), polyesters (terylene), etc.

Thermoplastic Polymers

They soften on heating and harden on cooling, and can be reused

E.g. polythene, polystyrene, polyvinyl, etc.

Thermosetting Polymers

They become infusible after heating and cannot be reused

E.g. bakelite, urea-formaldehyde resins, etc.

Low-Density Polythene

Ethene is polymerised under high pressure (1000 to 2000 atm) and at a temperature of 350-570 K in the presence of dioxygen or a peroxide catalyst

Used in making insulation of wires, squeeze bottles, toys and flexible pipes

High-Density Polythene

Ethene is polymerised under low pressure (6-7 atm) and at a temperature of 333-343 K in a hydrocarbon solvent. Triethylaluminium or titanium tetrachloride (Ziegler-Natta catalyst) are used as a catalyst

Used in making buckets, dustbins, bottles, pipes, etc.

Polytetrafluoroethene (Teflon)

Polymer of tetrafluoroethene

It is used for making the non-stick coating of utensils, oil seals and gaskets, etc.

Polyacrylonitrile

Addition polymer of acrylonitrile. Peroxide is used as a catalyst

Used in making orlon or acrilan as a substitute for wool

Terylene or Dacron

It is a condensation polymer of ethylene glycol and terephthalic acid

Used as glass reinforcing materials in safety helmets and for blending with cotton and wool fibres to make them crease-resistant, etc.

Nylon 6

It is produced by heating caprolactam with water at a high temperature

Used in making tyre cords, fabrics and ropes

Bakelite

The polymer of phenol and formaldehyde

Used for making combs, electrical switches, phonograph records and handles of utensils, etc.

Melamine

The polymer of melamine and formaldehyde

Used to make unbreakable crockery

Natural Rubber

It is a linear polymer of isoprene (2-methyl-1, 3-butadiene)

Neoprene

It is a polymer of chloroprene

Used to make conveyor belts, gaskets and hoses

Buna – N

It is a polymer of 1, 3- butadiene and acrylonitrile

It does not react with organic solvent and petrol, thus used in making oil seals, tank lining, etc.

Poly β-hydroxybutyrate – co-β-hydroxy valerate (PHBV)

It is a polymer of 3-hydroxybutanoic acid and 3- hydroxypentanoic acid

It is a biodegradable polymer and is used in orthopaedic devices, implants, controlled release of drugs, etc.

Nylon 2–Nylon 6

It is a biodegradable polymer of glycine and aminocaproic acid
Get access to the full set of flashcards for NEET Chemistry, only at BYJU'S.