Flashcards for NEET Chemistry are designed to boost your NEET preparation. Find below flashcards for the chapter "The d- and f-Block Elements". These flashcards are prepared as per the NEET syllabus. These are helpful for aspirants of NEET and other exams, during last-minute revision. It covers all the important points that are frequently asked in the exam. Check BYJU'S for the full set of Flashcards and Study material for NEET Chemistry.
| | | |
| --- | --- | --- |
| Name of the NEET Sub-section | Topic | Flashcards Helpful for |
| Chemistry | The d- and f-Block Elements | NEET Exams |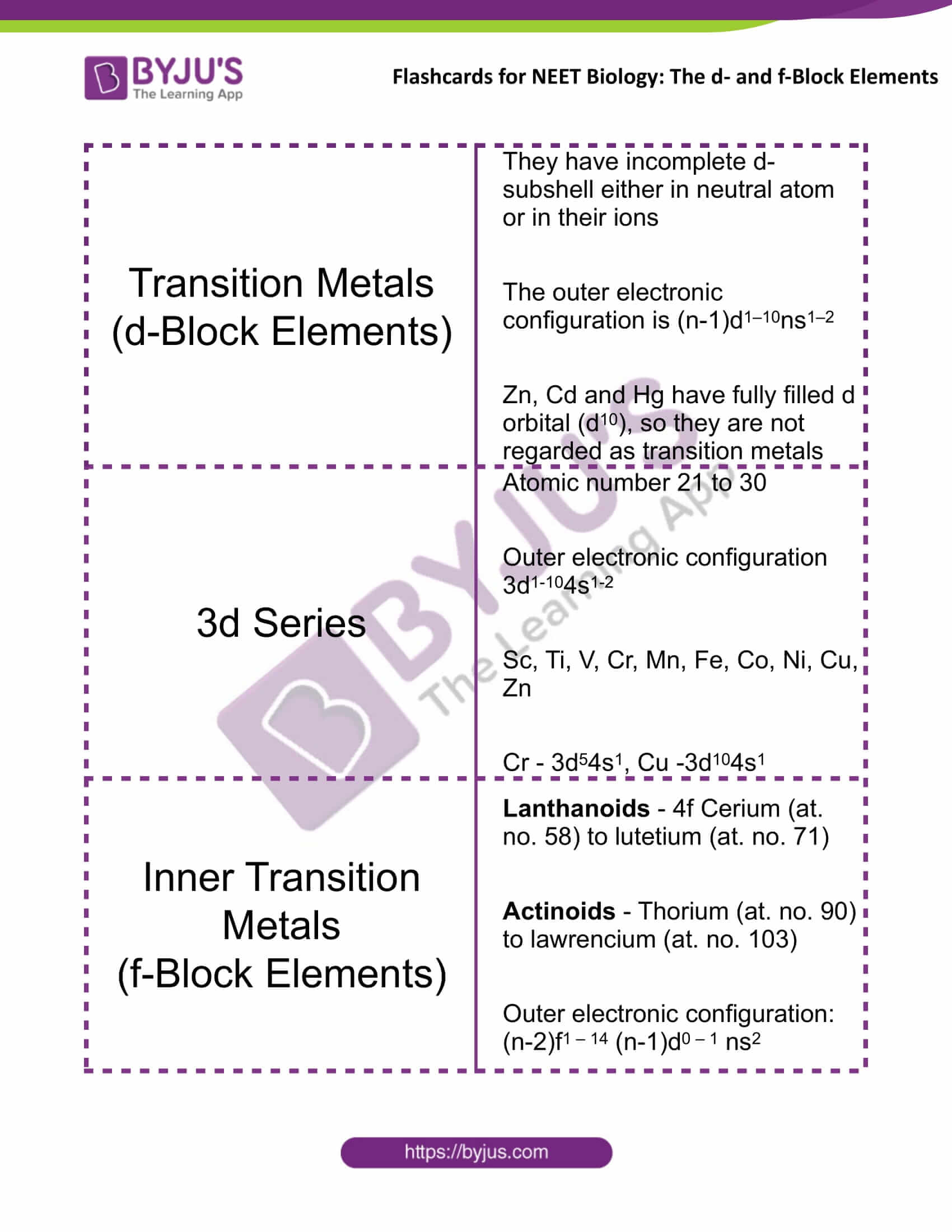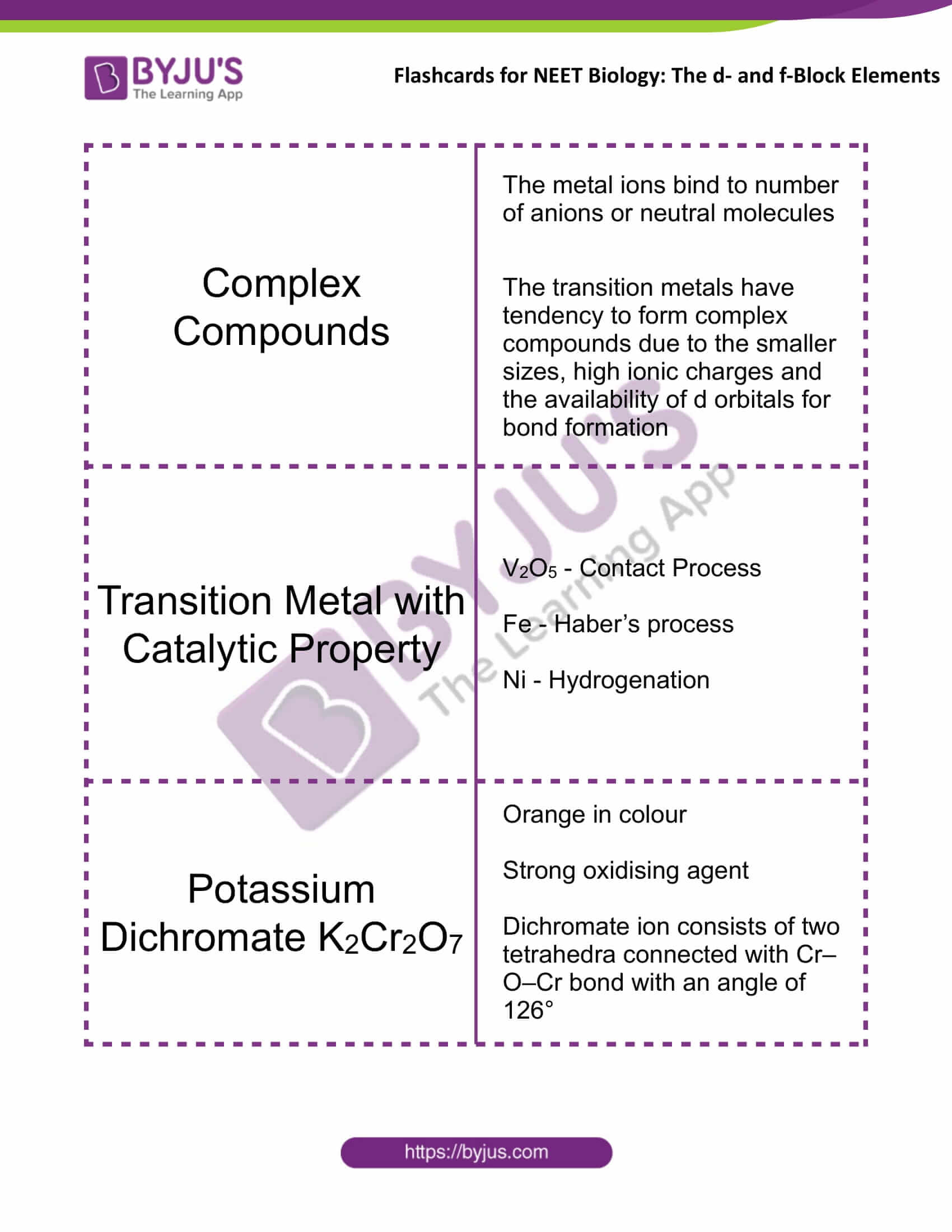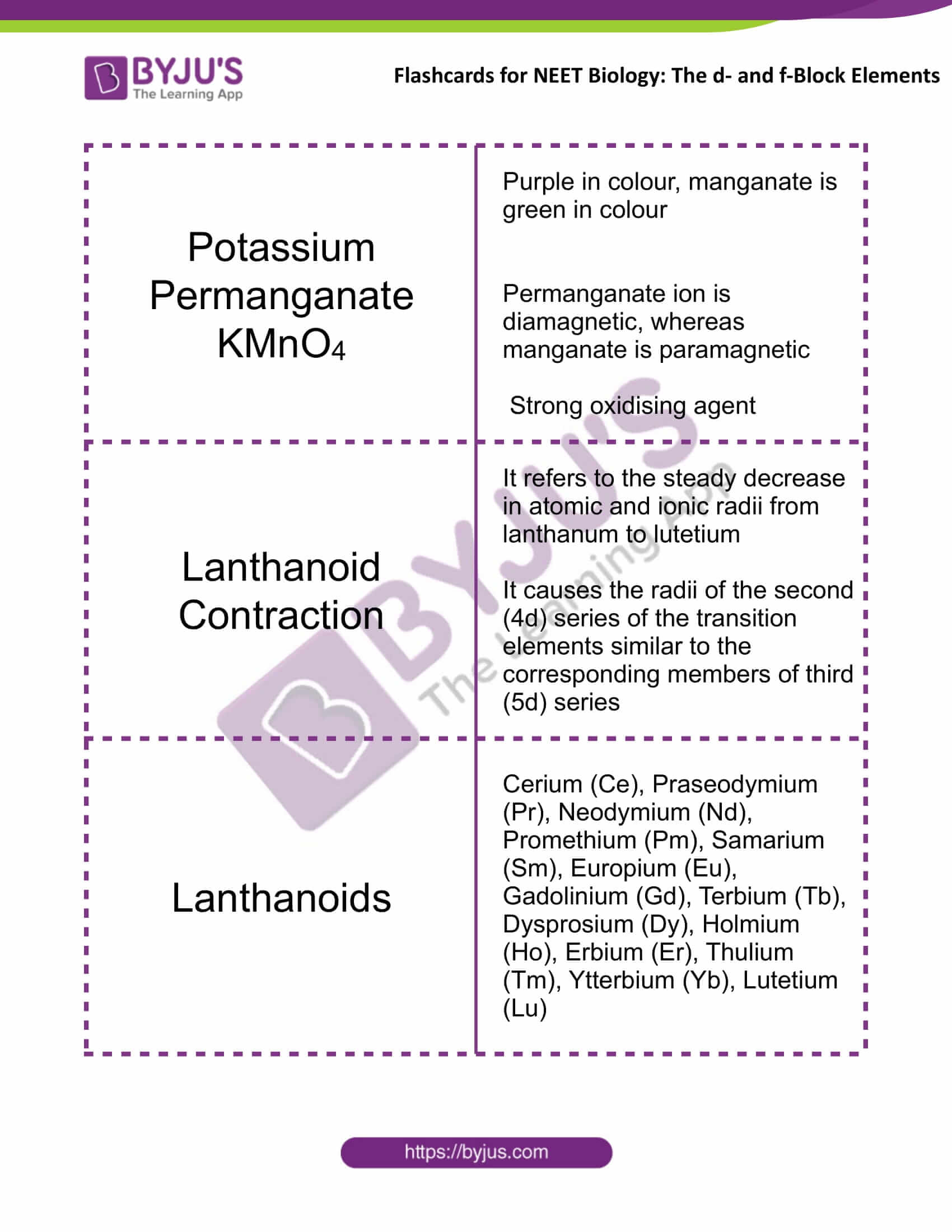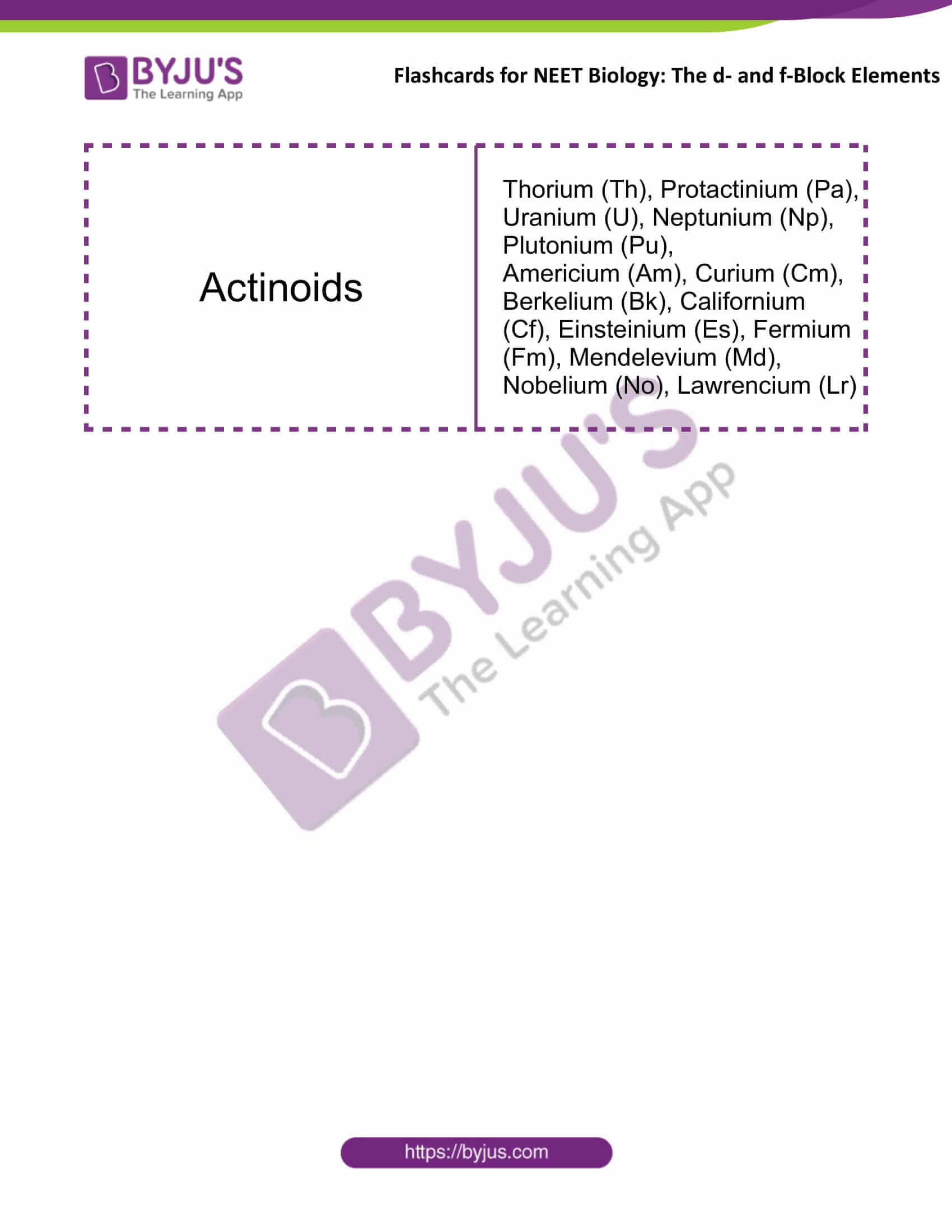 The d- and f-Block Elements

Transition Metals

(d-Block Elements)

They have incomplete d-subshell either in neutral atom or in their ions

The outer electronic configuration is (n-1)d1–10ns1–2

Zn, Cd and Hg have fully filled d orbital (d10), so they are not regarded as transition metals

3d Series

Atomic number 21 to 30

Outer electronic configuration 3d1-104s1-2

Sc, Ti, V, Cr, Mn, Fe, Co, Ni, Cu, Zn

Cr – 3d54s1, Cu – 3d104s1

Inner Transition Metals

(f-Block Elements)

Lanthanoids – 4f Cerium (at. no. 58) to lutetium (at. no. 71)

Actinoids – Thorium (at. no. 90) to lawrencium (at. no. 103)

Outer electronic configuration: (n-2)f1–14 (n-1)d0 – 1 ns2

Complex Compounds

The metal ions bind to number of anions or neutral molecules

The transition metals have tendency to form complex compounds due to the smaller sizes, high ionic charges and the availability of d orbitals for bond formation

Transition Metal with Catalytic Property

V2O5 – Contact Process

Fe – Haber's process

Ni – Hydrogenation

Potassium Dichromate K2Cr2O7

Orange in colour

Strong oxidising agent

Dichromate ion consists of two tetrahedra connected with Cr–O–Cr bond with an angle of 126°

Potassium Permanganate KMnO4

Purple in colour, manganate is green in colour

Permanganate ion is diamagnetic, whereas manganate is paramagnetic

Strong oxidising agent

Lanthanoid Contraction

It refers to the steady decrease in atomic and ionic radii from lanthanum to lutetium

It causes the radii of the second (4d) series of the transition elements similar to the corresponding members of third (5d) series

Lanthanoids

Cerium (Ce), Praseodymium (Pr), Neodymium (Nd), Promethium (Pm), Samarium (Sm), Europium (Eu), Gadolinium (Gd), Terbium (Tb), Dysprosium (Dy), Holmium (Ho), Erbium (Er), Thulium (Tm), Ytterbium (Yb), Lutetium (Lu)

Actinoids

Thorium (Th), Protactinium (Pa), Uranium (U), Neptunium (Np), Plutonium (Pu), Americium (Am), Curium (Cm), Berkelium (Bk), Californium (Cf), Einsteinium (Es), Fermium (Fm), Mendelevium (Md), Nobelium (No), Lawrencium (Lr)
Get access to the full set of flashcards for NEET Chemistry, only at BYJU'S.