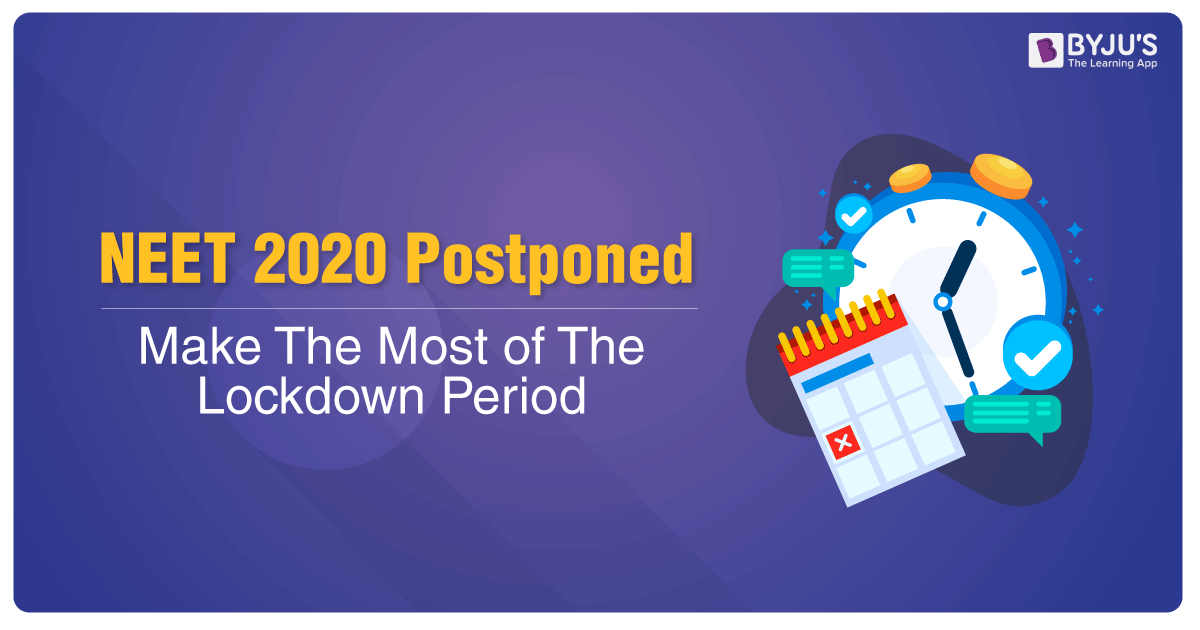 The National Testing Agency (NTA) with its latest notice cleared the air and announced the postponement of NEET 2020 exams in view of the COVID-19 breakout, prioritizing the health and safety of students and citizens.
Earlier, NEET 2020 was scheduled to take place on 3rd May 2020 with the admit card release date being 27th March 2020. However, with the delay, NTA had stated that the exam would be conducted on 13th September 2020. In the same notification, it also mentioned that more details on the release of the NEET Admit card and the exam date would be announced after 15th April after assessing the situation, along with providing ample time for students to be prepared for the examinations, hence students can rest assured.
In the wake of exams being postponed due to the outbreak of the Corona pandemic and hence the nationwide lockdown, students must look at how it is a win-win situation for them rather than the downside of it. With the surplus time, students who are to appear for the NEET exams are urged to make the most of this time, smartly.
Here, we bring to you a list of 4 things that you can follow to make the most of this lockdown and come back with a bang and make the cut
Go The Extra Mile With Your Revisions
By now you would have got a clear understanding of concepts and hence conceptual clarity. But since the syllabus is vast, covering syllabi of classes 11 & 12, it is recommended to go back to NCERT textbooks and go through every line carefully. There are chances you would have missed out on something important which could appear in the exams. You do not want to regret now that there is ample time available for NEET 2021 aspirants.
Notes in Place
While following the first step, there are chances you missed out on topics, jot down these points. Prepare notes. Apart from this, it is important to make note of the important formulae, reactions, diagrams separately and call it your notes. Here you can highlight concepts, use mnemonics, map and interlink concepts simplifying your job, furthermore so that just a few days, moments before your exams, you can simply skim through these solidifying your learning.
Tip: While making notes be sure not to replicate what is provided in textbooks/sources. Read and understand and write down in your own words.
Healthy Mind In A Healthy Body
While we often hear about the importance of having a sound mind, students often tend to ignore this aspect. Students are advised to include a few hours of relaxation in their daily plans. Mere studying without any breaks will drain you out and affect your mental health. Occasionally indulge in some form of activities, taking a walk, playing your favourite sport etc. This ensures the brain is relaxed and is rejuvenated for the next course of action.
Get Ready For The Big Day
Revise exhaustively, practice thoroughly from the previous years' papers, sample papers, take up mock tests. Remember, consistency is the key. Practice on a daily basis, have your own strategies to tackle exams as per convenience and meet your daily goals. Keep going!
Explore more at BYJU'S for the latest on NEET and other related sources.
Related Links