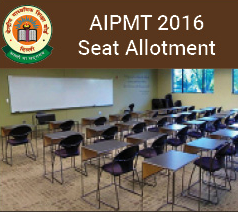 The seat allotment of the All India Premedical/Pre-Dental Test 2016 will be declared in three stages since counselling is scheduled in three rounds. The Medical Counselling Committee, which is the counselling authority, will release AIPMT 2016 seat allotment result after every round of counseling. The AIPMT 2016 seat allotment consist of details of the name of the allotted medical or dental college and courses (MBBS/BDS) at that rank. Candidates can check their AIPMT 2016 seat allotment result from the online window.
Candidates have to report to medical or dental college according to the AIPMT 2016 seat allotment result for admissions. MBBS and BDS seat Allotment through AIPMT 2016 will be performed entirely on the basis of the candidate's rank in ALL India merit list and their preference for medical or dental college.AIPMT 2016 Counselling Timeline and allotment result
The AIPMT 2016 counselling will be scheduled in rounds. The counseling will start tentatively in the month of July and conclude in September with transfer unfilled seats to respective states. Below table shows tentative AIPMT 2016 counselling timeline and allotment result.
| | | |
| --- | --- | --- |
| AIPMT 2016 Counselling Rounds | Counselling Time | Allotment Result |
| Round 1 | July | July |
| Round 2 | August | August |
| Round 3 and final round | September | September |
The AIPMT 2016 Process of Counselling has the following steps
Registration, Filling up of Choices
3 Rounds of Seat Allotments
3 Rounds of Result Declaration of Seat Allotment
Reporting at the allotted institutes after seat allotment
AIPMT 2016 Counselling ScheduleThe schedule of counseling will be issued later. However, candidates can check the tentative schedule of AIPMT 2016 Counselling from below
| | |
| --- | --- |
| Event | Date |
| Registration Choice, Filling and Locking | 2nd Week of August, 2016 |
| Seat Allotment Process Round – 1 | 3rd Week of August, 2016 |
|  Round 1 Seat Allotment Result | 3rd Week of August, 2016 |
| Round 1 – Reporting at the Allotted Medical/Dental College | 3rd Week of August, 2016 |
| Seat Allotment Process Round 2 | 1st Week of September, 2016 |
|   Round 2 Seat Allotment Result | 1st Week of September, 2016 |
| Round 2 – Reporting at the Allotted Medical/Dental College | 1st Week of September, 2016 |
| Seat Allotment Process Round 3 | 2nd Week of September, 2016 |
|  Round 3 Seat Allotment Result | 2nd Week of September, 2016 |
| Round 3- Reporting at the Allotted Medical/Dental College | 2nd Week of September, 2016 |
| Transfer of vacant seats to State Quota | 3rd Week of September, 2016 |
AIPMT 2016 – Tentative MBBS and BDS Seats The seat matrix will be declared by MCC along with the schedule of AIPMT Counselling 2016. Since it's expected to be the same as last year, here are the below AIPMT year seat matrix
| | |
| --- | --- |
| AIPMT Counselling for MBBS and BDS | Number of Available seats for AIPMT Counselling |
| MBBS Seats | Around 3179 Seats in 159 Medical Colleges |
| BDS Seats | Around 250 seats in 28 Dental Colleges |