NEET short for National Eligibility cum Entrance Test is a pen-paper exam carried out across the country. This examination enables students to seek admissions to different medical courses across medical institutes. The minimum educational requirement for this exam being clearing class 12 with majors in Physics, Chemistry, Biology/Biotechnology and also English which is deemed as compulsory subjects.
Recommended Video: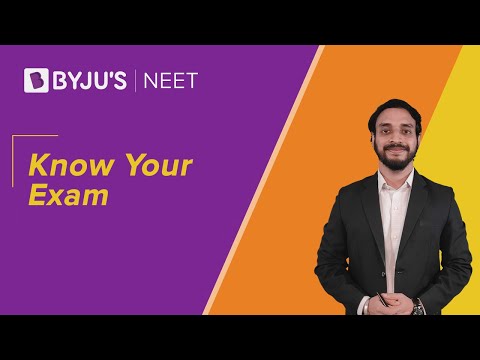 NEET serves as the single-level entrance exam for almost all the medical programmes. Previously, admissions to BSMS, BAMS, BHMS, BUMS courses were dependent on merit list formulated by different states authorities after conducting their entrance exams separately. But now, NEET serves as a qualifying exam for most of the courses across the country. The latest addition being AYUSH courses. From NEET 2018 onwards it was announced that admissions to AYUSH courses would also be through NEET on the specification provided. The latest news on this being that the Supreme court upheld the decision of making NEET the qualifying course for AYUSH courses.
With so many courses coming under the stride of NTA for NEET, it is imperative for NEET to be challenging this time around. NEET 2020 saw close to 15.97 registrations. With the stakes being so high, competition fierce and limited number of seats available, it would only reflect wisely on students to have back up plans in case mainstream medical courses is not an option.
Also see: NEET Preparation
So What Are The Options After Class 12 Then?
If you are a medicine enthusiast, there are many options available. Let us start from the obvious ones and cover them all.
1. MBBS – Bachelor of Medicine and Bachelor of Surgery
In order to seek admission into the MBBS course, a candidate must have cleared Class 12 exams with 50% marks in sections – English, Physics, Chemistry and Biology. In addition to class 12, clearing NEET exams is the criteria.
MBBS is a five-year degree programme covering the following basic subjects – Biochemistry, Physiology, Human Anatomy, Microbiology, Pathology, Pharmacology. This course provides hands-on training for five long years where students get to interact with patients directly and hence enhance the knowledge of different diseases.
To make a career in MBBS, these skills are necessary:
Passionate about medicine
A good team player
Always at their feet
Prioritizing patients over personal life
Compassionate
Upscale your skills and knowledge
Presence of mind is a must
Ability to deal with patience
The syllabus envisions to instil standard protocols of examining, history taking, differential diagnosis and overall management of patients. Apart from including a one-year long internship program and clinical care, one also gets acquainted with staff, ward management and also counselling sessions.
See More: What After NEET?
2. BDS – Bachelor of Dental Surgery
Next in line is the BDS course which is a UG course in dentistry. This again is a 4-5 year-long degree without an internship. The educational requirements remain the same as MBBS. One becomes a dentist upon successful completion of this course. Different forms of treatment in BDS includes – Dental anatomy, dental materials, surgical treatments, oral pathology and histology, Endodontics, community dentistry, radiology and oral medicine.
3. BAMS – Bachelor of Ayurvedic Medicine and Surgery
This course covers the basics of Ayurveda enabling medical aspirants to obtain in-depth knowledge of Ayurvedic sciences, covering fundamentals of various streams supported by thorough practical guidance. Through this programme, one can become a successful Ayurvedic Physician, a research scholar in Ayurvedic sciences, a teacher, a surgeon. For this, the minimum educational requirement is clearing – Higher Secondary School Certificate Examination post 12 years with streams being Physics, Chemistry and Biology.
4. BHMS – Bachelor of Homeopathic Medicine & Surgery
This UG course is a 5.5 year-long bachelor degree in Homeopathic education with 4.5 years of the academic session and 1 year of internship is covered. This is an alternative form of medicine regulated by the National Institute of Homeopathy gaining popularity in India and also overseas. For these courses, NEET is the qualifying exam from 2018 onwards as per instructions laid by the Ministry of AYUSH. The go-to for long-term disorders has been homoeopathy even though allopathy is accepted globally. Therefore, it is the best alternative to pursue a career in. The educational requirements for this course are the same as that of the MBBS course.
5. BUMS – Bachelor of Unani Medicine and Surgery
This UG programme in the stream of Unani medicine and surgery includes knowledge of Unani science. One comes to be known as an Hakim (doctor) after the successful completion of this course. Being one of the most popular degrees in Unani sciences, it is adequate to find a job after 5.5 years of study inclusive of a year-long internship session. The educational requirements again remain the same, preference is given to those students who are proficient in the Urdu language.
6. BPT – Bachelor of Physiotherapy
It is a 4.5 year-long course inclusive of a 6-month long internship programme covering the fundamentals of Human Anatomy, Clinical biochemistry, Exercise Therapy, Human Physiology and Electrotherapy. In addition to this, some other clinical courses covered here are general surgery, general medicine, orthopaedics, neurology and cardiorespiratory to practice Physiotherapy. The minimum academic requirement remains the same as the MBBS course.
7. BSMS – Bachelor of Siddha Medicine and Surgery
This UG programme in Siddha school of medicine is one of the most ancient amongst the AYUSH courses (AYUSH – (Ayurvedic, Yoga, and Naturopathy, Unani, Siddha and Homeopathy). This is a 5.5-year-long programme inclusive of a year-long internship session that is mandatory. The educational criteria remain the same.
Watch this space at BYJU'S for more on NEET.
Related Links: