Blood Vessels are the tubular shaped structures and part of the human circulatory system which is mainly involved in the transportation blood and other essential products to the entire body.
Blood Vessels of Heart and Body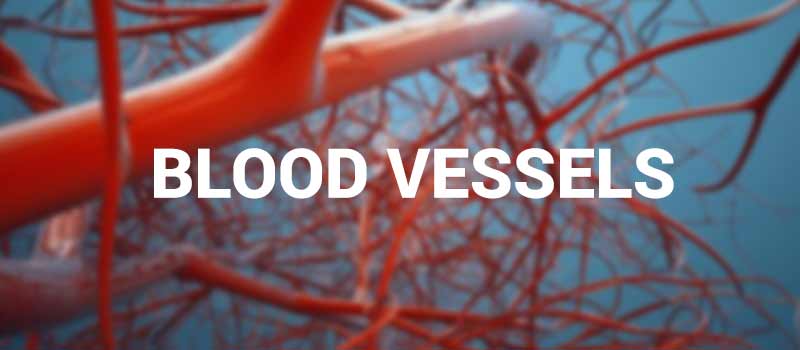 The heart is a muscular organ that pumps blood through blood vessels to entire parts of the body. Overall, a human heart pumps around 14,000 liters of blood for every 24 hours.  A blood vessel helps in transporting blood, oxygen, and other nutrients to the cells and also ensures that waste products and carbon dioxide are thrown away from the cells. It also plays a vital role in controlling blood pressure. Heart ensures affluent supply of blood by providing essential nutrients and oxygen that is required by the body's tissue.
Types of Blood Vessels
Arteries
Capillaries
Veins
Sinusoids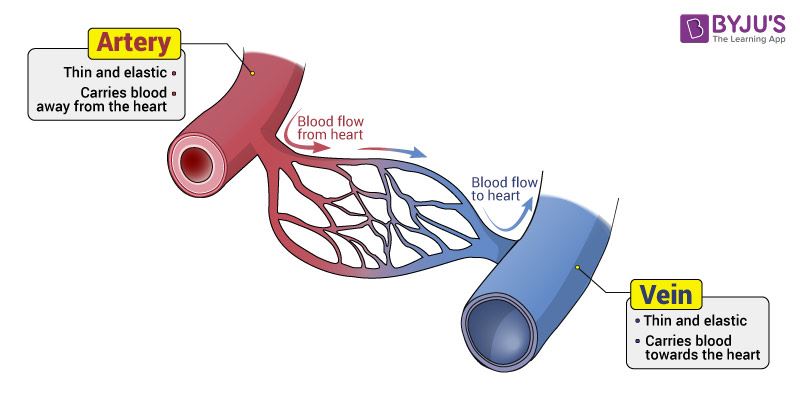 Arteries: Its function is to carry blood from the heart. They are very flexible and strong. They eventually branch into smaller branches called arterioles.
Capillaries: It allows the switching of chemicals and water between the tissues and blood. They are very thin and tiny. Exchange of blood takes place between blood tissues and capillaries. This function takes place in capillary beds. Connective tissues are also found occasionally.
Veins: It carries blood from the capillaries back towards the heart. They have much slighter walls compared to arteries.
Sinusoids: They are very small vessels located within the bone marrow, liver and spleen.
Layers of Blood Vessels
Both arteries and veins consist of three layers.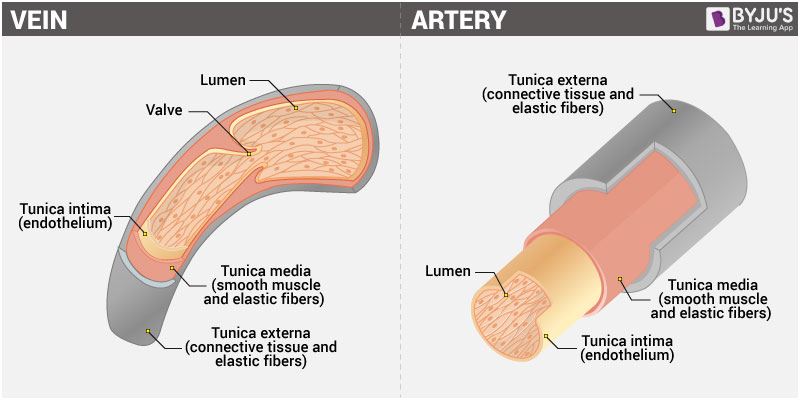 Tunica Intima: It is one of the innermost and thinnest layers of arteries and veins. It comprises of endothelial cells. They are in direct contact with the flow of blood. It intern consists of three layers. I.e. Inner Layer, Middle Layer, and Outer Layer.
Tunica Media: It is one of the thickest layers of arteries. Its function is to control the caliber of the vessel.  It also consists of connective tissue and polysaccharide substances.
Tunica Adventitia: It controls the caliber of the vessel. It is surrounded by the tunica media. It comprises of collagen and also supported by the lamina.
To learn more about Blood Vessels, visit BYJU'S.