The spirochaetes phylum includes three genera namely – Treponema, Borrelia and Leptospira. They all are pathogenic, gram-negative bacteria.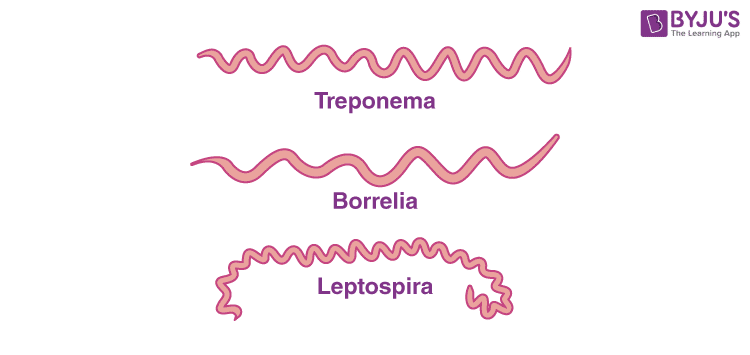 Treponema
The Treponema genus includes spiral-shaped, gram-negative bacteria. The well-known pathogenic species of this genus is Treponema pallidum. It causes syphilis, yaws and bejel. This species is transmitted only among humans. Also, there is another species called Treponema paraluiscuniculi which causes syphilis in rabbits.
Borrelia
There are 52 known species of bacteria under the genus Borrelia. Approximately 20 of those species can cause Lyme disease. Lyme disease is a zoonotic disease caused by Borrelia and transmitted by ticks. Borrelia garinii, Borrelia afzelii and Borrelia burgdoferi are a few species that cause Lyme disease or Borreliosis.
Relapsing fever is another vector-borne disease caused by approximately 25 species of Borrelia. Lice or ticks are the vectors for this disease. Borrelia recurrentis is a well known species that causes this relapsing fever.
Leptospira
Leptospira includes saprophytic as well as parasitic bacteria. They are spiral bacteria with approximately 0.1-micrometre diameter and 6-20 micrometres in length. These bacteria proliferate throughout binary fission. They are well distributed throughout the world (except in Antarctica). Stagnant water bodies with almost neutral pH are their ideal habitat.
Leptospira weilli, Leptospira kirschneri are some species known to cause leptospirosis disease. It is a type of blood infection caused by most species of the genus Leptospira.
Also Read: Gram-negative bacteria
Difference between Treponema, Borrelia and Leptospira
Treponema

Borrelia

Leptospira

Family

Spirochaetaceae
Spirochaetaceae
Leptospiraceae

Disease

It is a spirochaete that primarily causes syphilis, and also other diseases like bejel and yaws.
It is a spirochaete responsible for relapsing fever and Lyme disease.
It is a spirochaete that primarily causes leptospirosis.

Character

Mostly obligate anaerobes and some are microaerophiles.
Mostly obligate anaerobes and some are aerotolerant.
Obligate aerobes.

Shape

Regular spiral shape with tapering ends.
Irregular in shape with wide coils.
They have closely wound coils with hooked ends.
Also see: Difference between Aerobic and Anaerobic bacteria
Frequently Asked Questions
What are spirochaetes?
Spirochaetes is a phylum that includes most of the helically coiled, gram-negative bacteria. They have a distinctive double membrane (diderm bacteria) and flagella. Their flagella are also known as axial filaments. Most of the spirochaetes are anaerobes while some are aerobes (Leptospira). Also, many organisms in this phylum are pathogenic in nature.
What is syphilis?
Syphilis is caused by Treponema pallidum. It is a sexually transmitted infection. The infection can be characterised into the primary, secondary, latent and tertiary stages. This can even be transmitted to a baby via an infected mother, and is termed congenital syphilis. Penicillin is used to treat this bacterial disease.
Extended Reading: Syphilis
What are L.interrogans?
The Leptospira species can be broadly classified into two types – L.interrogans and L.biflexa. The L.interrogans group include pathogenic and parasitic bacteria. The L.biflexa group includes the free-living saprophytic bacteria.
Keep exploring BYJU'S Biology for more exciting topics.