The fundamental principles of chemistry have had an impact on every aspect of human life. Chemistry principles have been applied to benefit humanity. The materials like soaps, detergents, household bleaches, tooth pastes, etc. come to your mind when you think of cleanliness. Sickness and diseases make us think about medicines (chemicals). Chemicals include explosives, fuels, rocket propellants, building and electronic materials, and so on. Chemistry has had such an impact on our lives that we are unaware that we are constantly exposed to chemicals.
Download Class 12 Chemistry Worksheet on Chapter 16 Chemistry in Everyday life PDF – Set 2
👇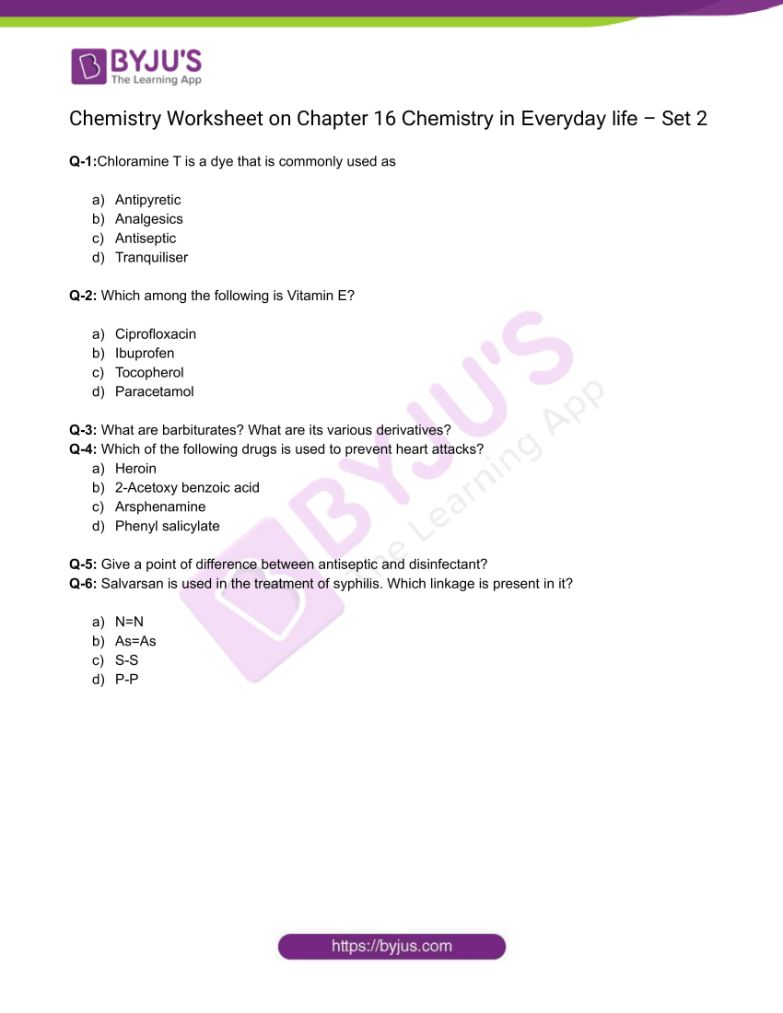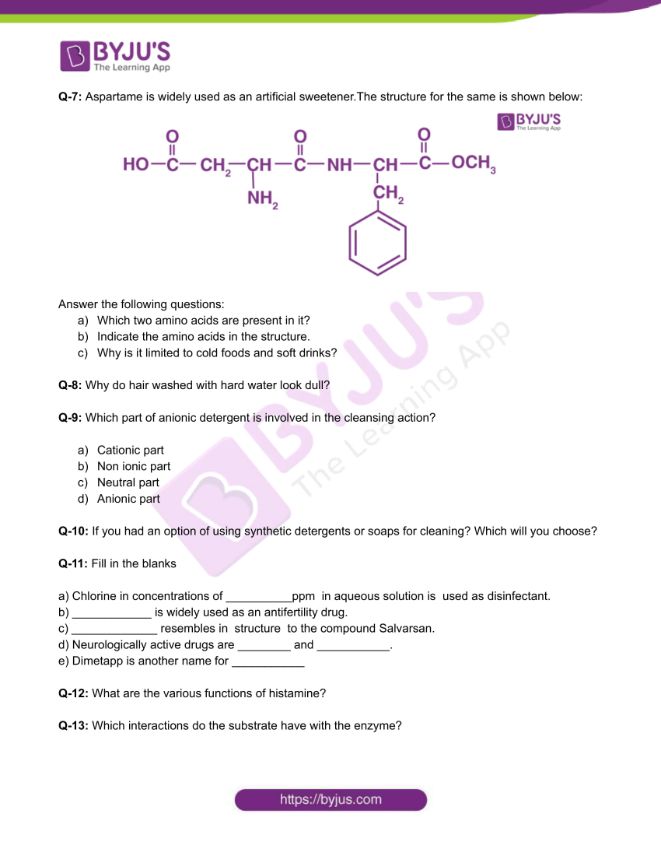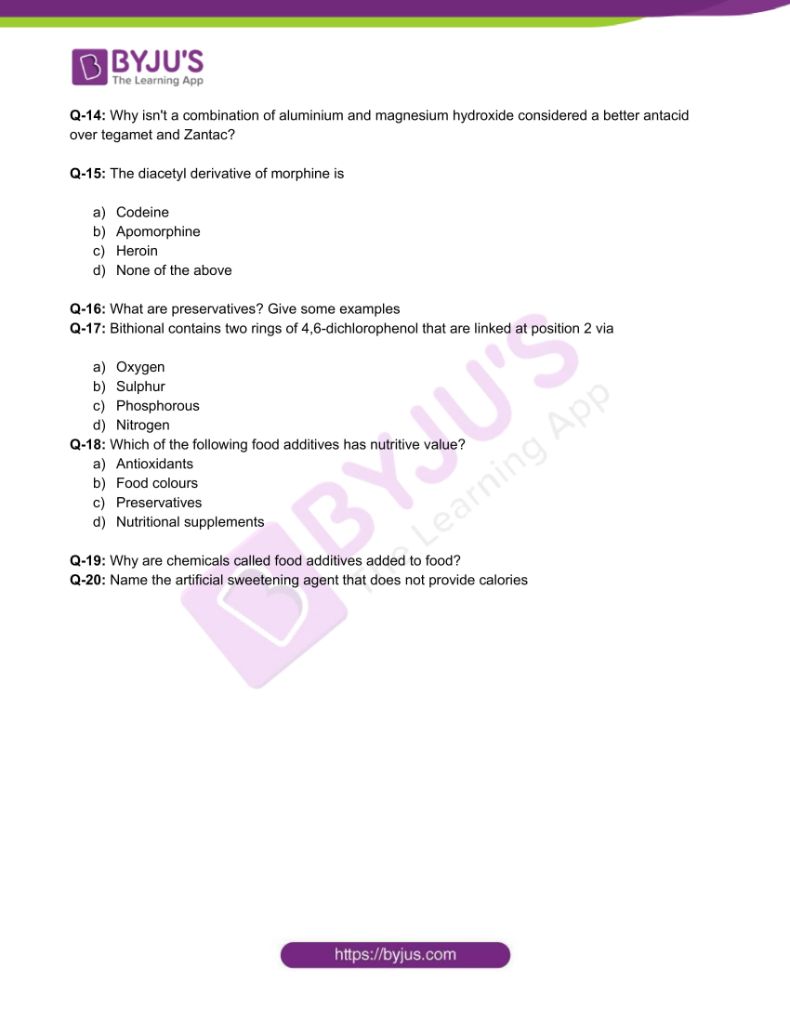 CBSE Class 12 Chemistry Chapter 16 Chemistry in Everyday life Worksheet – Set 2
Q-1:Chloramine T is a dye that is commonly used as
Antipyretic
Analgesics
Antiseptic
Tranquiliser
Q-2: Which among the following is Vitamin E?
Ciprofloxacin
Ibuprofen
Tocopherol
Paracetamol
Q-3: What are barbiturates? What are its various derivatives?
Q-4: Which of the following drugs is used to prevent heart attacks?
Heroin
2-Acetoxy benzoic acid
Arsphenamine
Phenyl salicylate
Q-5: Give a point of difference between antiseptic and disinfectant?
Q-6: Salvarsan is used in the treatment of syphilis. Which linkage is present in it?
N=N
As=As
S-S
P-P
Q-7: Aspartame is widely used as an artificial sweetener.The structure for the same is shown below:

Answer the following questions:
Which two amino acids are present in it?
Indicate the amino acids in the structure.
Why is it limited to cold foods and soft drinks?
Q-8: Why do hair washed with hard water look dull?
Q-9: Which part of anionic detergent is involved in the cleansing action?
Cationic part
Non ionic part
Neutral part
Anionic part
Q-10: If you had an option of using synthetic detergents or soaps for cleaning? Which will you choose?
Q-11: Fill in the blanks
a) Chlorine in concentrations of __________ppm in aqueous solution is used as disinfectant.
b) ____________ is widely used as an antifertility drug.
c) _____________ resembles in structure to the compound Salvarsan.
d) Neurologically active drugs are ________ and ___________.
e) Dimetapp is another name for ___________
Q-12: What are the various functions of histamine?
Q-13: Which interactions do the substrate have with the enzyme?
Q-14: Why isn't a combination of aluminium and magnesium hydroxide considered a better antacid over tegamet and Zantac?
Q-15: The diacetyl derivative of morphine is
Codeine
Apomorphine
Heroin
None of the above
Q-16: What are preservatives? Give some examples
Q-17: Bithional contains two rings of 4,6-dichlorophenol that are linked at position 2 via
Oxygen
Sulphur
Phosphorous
Nitrogen
Q-18: Which of the following food additives has nutritive value?
Antioxidants
Food colours
Preservatives
Nutritional supplements
Q-19: Why are chemicals called food additives added to food?
Q-20: Name the artificial sweetening agent that does not provide calories.
Download the PDF to access answers to the Chemistry Worksheet for Class 12 Chemistry Chapter 16 Chemistry in Everyday life Set -2.
Download PDF
Read Also: