PRODUCTION POSSIBILITY CURVE
PRODUCTION POSSIBILITY CURVE
(1) MEANING

It is a graphical representation of all the possible combinations of two goods which an economy can produce with available technology and full and efficient use of its given resources.

(2) SHAPE OF PPC

It is downward sloping and concave to the point of origin.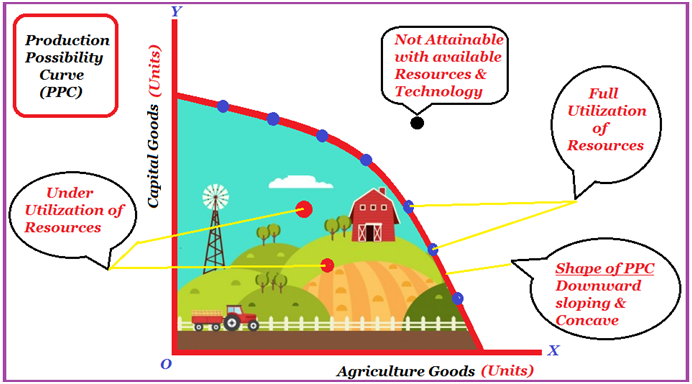 (3) REASONS OF SUCH SHAPE OF PPC

It is downward sloping because few units we sacrifice for another. As there exist an inverse relationship between change in the quantity of one commodity and change in the quantity of then other commodity
PPC is concave shaped because more and more units of one commodity are sacrificed to gain an additional unit of another commodity.

(4) UNDER UTILIZATION OF RESOURCES

(Any Point UNDER the PPC)

 

But if there is unemployment or inefficiency in resource utilization then we will produce at any point inside PPC.
Must Read: How to Study Economics Effectively