IIT-Bombay (Indian Institute of Technology Bombay) will be organising the JEE Advanced exam in 2022. With JEE candidates seeking clarity regarding the 2022 entrance exam, IIT Bombay eventually announced the JEE Advanced 2022 exam date. According to the details on the official website, IIT Bombay officially confirmed that the JEE Advanced (2022) examination is scheduled to be held on Sunday, August 28, 2022. The exam authority has posted the examination schedule at jeeadv.ac.in.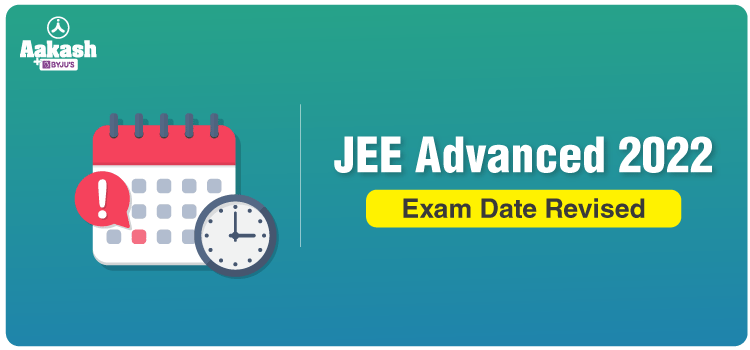 As per the revised JEE Advanced 2022 exam date, Paper 1 will be conducted from 9:00 am to 12:00 pm on Sunday, August 28, 2022, and Paper 2 will be conducted from 14:30 to 17:30 (i.e., 2:30 pm to 5:30 pm) on the same day. 
IIT Bombay mentioned that the examination date would remain unchanged even if it is declared a public holiday. All PWD candidates with disabilities are eligible for one hour of extra time for each paper. However, they must fill and submit the requisite form during enrollment to avail of this compensatory time and/or benefit from the services of a scribe (amanuensis). Thus, for these candidates, the end time will be 13:00 IST for Paper 1 and 18:30 IST for Paper 2. 
Also, check:
JEE Advanced 2022 New Schedule
Along with the exam date, IIT Bombay released the revised schedule for JEE Advanced 2022. All the important dates for the new schedule of JEE Advanced 2022 are given below:
S. No
Activity
Day, Date and Time (IST)

1

Registration for JEE (Advanced) 2022

Sunday, August 07, 2022 (10:00 IST) to

Thursday, August 11, 2022 (17:00 IST)

2

Last date for fee payment of registered candidates

Friday, August 12, 2022 (17:00 IST)

3

Admit Card available for downloading

Tuesday, August 23, 2022 (10:00 IST) to

Sunday, August 28, 2022 (14:30 IST)

4

Choosing of scribe by PwD candidates

Saturday, August 27, 2022

5

JEE (Advanced) 2022
Sunday, August 28, 2022

Paper 1: 09:00-12:00 IST

Paper 2: 14:30-17:30 IST

6

Copy of candidate responses to be available on the JEE (Advanced) 2022 website

Thursday, September 01, 2022 (10:00 IST)

7

Online display of provisional answer keys

Saturday, September 03, 2022 (10:00 IST)

8

Feedback and comments on provisional answer keys from the candidates

Saturday, September 03, 2022 (10:00 IST) to

Sunday, September 04, 2022 (17:00 IST)

9

Online declaration of final answer keys

Sunday, September 11, 2022 (10:00 IST)

10

Result of JEE (Advanced) 2022
Sunday, September 11, 2022 (10:00 IST)

11

Online registration for Architecture Aptitude Test (AAT) 2022

Sunday, September 11, 2022 (10:00 IST) to

Monday, September 12, 2022 (17:00 IST)

12

Tentative Start of Joint Seat Allocation (JoSAA) 2022 Process

Monday, September 12, 2022

13

Architecture Aptitude Test (AAT) 2022

Wednesday, September 14, 2022 (09:00-12:00 IST)

14

Declaration of results of AAT 2022

Saturday, September 17, 2022 (17:00 IST)
Important Latest Update About JEE Advanced 2022