Knowing the MP Board Class 10 Science Syllabus is the first step to preparing most effectively for the board exams, as Science is a very important subject for Class 10 Students of MP Board. Science deals with the prediction, description, analysis and deep understanding of why a natural phenomenon or process occurs. Scientific literacy is a necessity in today's day and age. MPBSE has designed the class 10 Science syllabus, laying stress to the fact.
Here we give you an overview of the MP Board 10th Class Science Syllabus 2021-2022.
Find the screenshot of chapter details in Hindi from the current academic year, as well.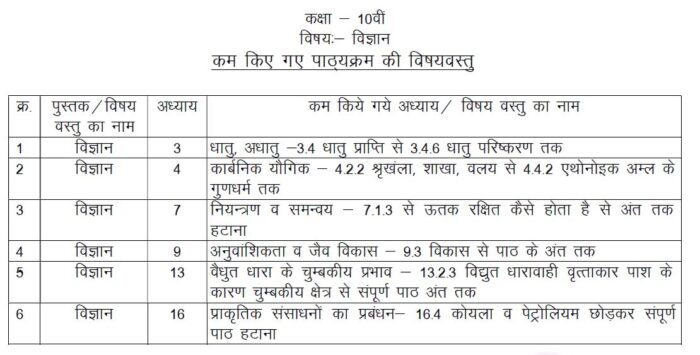 We also provide details of the deleted portions from the previous academic year for reference.
I Chemical Substances-Nature and Behaviour
II World of Living
III Natural Phenomena
IV Effects of Current
V Natural Resources
There are a few of the reasons in order to understand why science is part of our curriculum. See here:
To acquire skills such as critical thinking and problem-solving
Develops questioning ability in young minds
Helps students draw lines and relevance between nature and theoretical knowledge acquired
To come up with new scientific inventions beneficial to mankind
Succeeding is the syllabus for class 10 by the MP Board for the academic year – 2018 -19. Students can also access the mp board 10th blueprint 2020.