NEET 2022 is a pan-India competitive medical entrance examination conducted by the NTA (National Testing Agency) for admissions to MBBS and BDS colleges across the country. Every year, NEET witnesses a sharp increase in the number of applications. Statistically, 15,97,435 students registered for NEET–UG 2020 and 13,66,945 candidates appeared to take up the test, while 7,71,500 students qualified for the test. Likewise, for NEET 2021, 16,14,777 candidates registered. Students at times get overwhelmed given the statistics.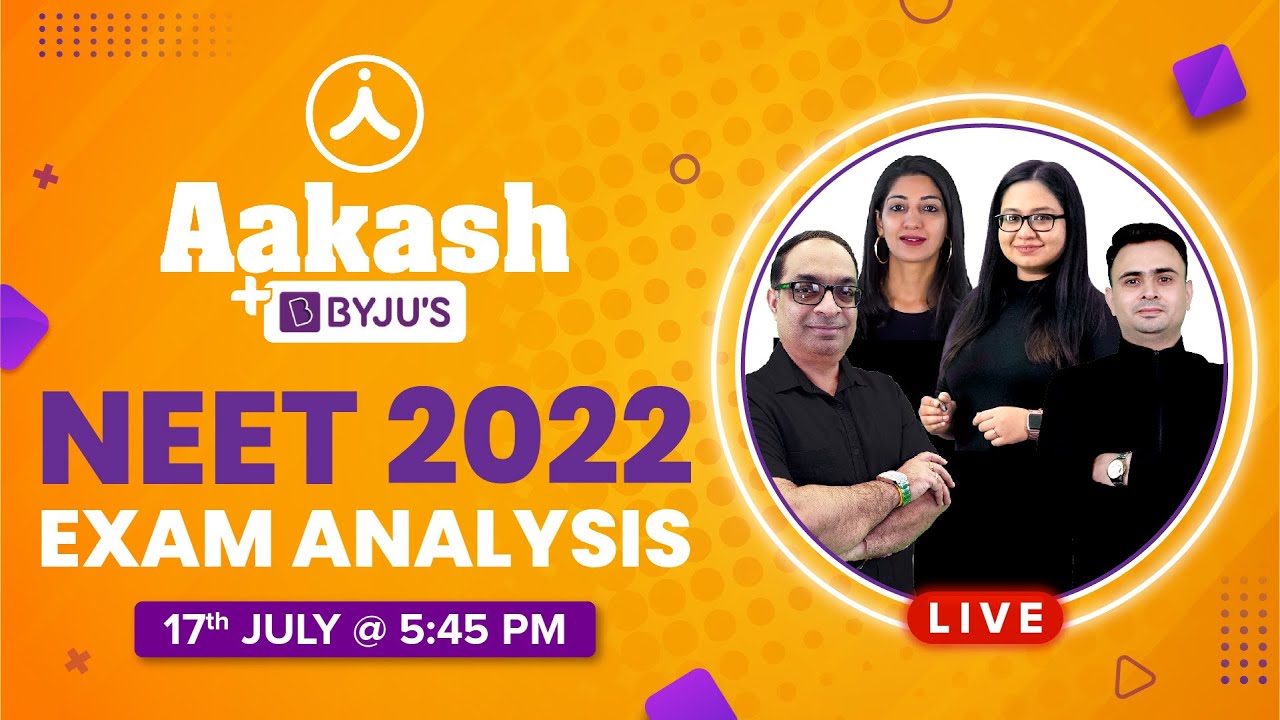 To crack NEET, extensive preparation with the highest possible level of dedication and hard work becomes a necessity. With the added pressure on students to perform equally well, even at the board exams, a systematic study plan with a balanced approach combined with unmitigated hard work becomes a prerequisite to crack NEET.
NEET aspirants must be well aware of the basic eligibility criteria to participate in NEET before applying for it. Candidates are required to score a minimum of 50% in Physics, Chemistry and Biology to be eligible to take up NEET. For complete details on the same, visit NEET Eligibility criteria 2022.
Following that, candidates are required to be well acquainted with the NEET exam pattern, a gist of which is shared below, take a look:
NEET Exam Pattern 2022
Number of Questions
180 questions (MCQs)
Exam Mode
Offline mode only (pen and paper-based mode)
Type of questions
Objective type questions with 4 options and 1 correct answer
Duration of Exam
The exam duration is 200 minutes (3 hours 20 minutes)
Subjects
Questions are asked from Physics, Chemistry, and Biology (Botany & Zoology)
Language
The question paper is asked in 13 languages –  English, Hindi, Assamese, Bengali, Gujarati, Kannada, Malayalam, Marathi, Odia, Punjabi, Tamil, Telugu, and Urdu.
Marking Scheme
4 marks are awarded for each correct answer.
Negative Marking
1 mark is deducted for each wrong answer
| | | |
| --- | --- | --- |
| Subjects | Number of questions | Total Marks |
| Physics | 45 | 180 |
| Chemistry | 45 | 180 |
| Zoology | 45 | 180 |
| Botany | 45 | 180 |
| Total- | 180 | 720 |
For each correct answer, 4 marks shall be awarded. 1 mark shall be deducted for every incorrect response. Marks shall not be deducted if a question is left unattempted. In NEET 2022, each subject shall have 2 sections – Section A (35 questions) and Section B (15 questions). Out of these 15 questions, any 10 questions can be answered.
The questions that appear under each of the subjects in NEET are formulated in a way such that they purport to be very challenging. However, they are simpler if you have a sound knowledge of the basics. Consequently, it is imperative for every aspiring candidate of NEET to prepare every section thoroughly and focus on strengthening the basics.
Here are a few tips that will help you crack NEET 2022:
Tips To Crack NEET 2022
CREATE A LIST OF TOPICS IN AN ORDER BASED ON SIGNIFICANCE/PRIORITY
After making a detailed analysis of the significance of each topic in NEET, although there might be a slight variation each year, prepare a list of these topics separately for each subject, in descending order, starting with the most important topic. Then, remember to cover these topics in the same order, by creating strong foundations for each topic. Having said that, the last topics on the list shouldn't be avoided.
GET A GRIP
Often, the students preparing to study medicine find it a little hard to solve numerical problems, i.e., in physics and chemistry. But, this is all that they need to remember – 'Get a Grip' on the concepts. Always have this in mind to get each and every concept featuring in each topic implanted into your mind so that the numericals or questions you have to later encounter feels like a 'piece of cake' to you.
SOLVE PREVIOUS YEARS' QUESTION PAPERS
'Practice makes perfect', is the apt thing to have said. The more you practice, the more the number of questions you will be able to answer/attempt, hence higher are your chances to crack the test.
In a competitive exam as NEET, correctly solving the maximum questions possible is of utmost importance. This is because, each question can bring a difference of around 2000-3000 ranks between candidates, depending upon how many candidates are writing the exam.
TAKE MOCK TESTS REGULARLY
Most people wait for them to finish studying all the topics and then start giving mock tests. Please remember, this is the most wrongly adopted approach. It will take a lot of time to finish studying the portions. By then, you might have to appear for NEET, and you would not have practised any mock test. This may not have pleasant consequences. By taking regular mock tests, you will be able to understand all the mistakes you are making in preparation and will be able to continuously improve.
CREATE QUICK NOTES
For Physics and Chemistry,  you can make quick notes on formulae and concepts to revise and refer to when you are nearing the NEET. For Biology, you can make quick notes on important terms and definitions for the same purpose.
REVISE THOROUGHLY
It is not easy to remember hundreds of terms and definitions in Biology. Similar is the case with Physics and Chemistry. So, revision is vital to recapitulate and refresh what you had already studied a while ago.
KEEP FIT IN THE BODY AND MIND
'Health is wealth' and remember to take care of your health and keep calm and composed in your mind so that you can prepare yourself to take over the Herculean task of cracking the NEET.
Good Luck!
Recommended Video:
Tips to Solve NEET Questions in a Minute – NEET Turbo | NEET 2022/2023 Exam Strategy