Assam HSLC Board conducts the Class 10 HSLC or High School Leaving Certificate Exams in the State of Assam. The Secondary Education Board, Assam or SEBA is the one responsible for carrying out all the activities like formulating the SEBA Board Class 10 Syllabus, designing the curriculum, and doing all related work. Class 10 is considered a turning-point in a student's life. This phase of life shapes the future of students for their next successive years. This is the stage where a student sits for their first board exam. Marks obtained in Class 10 Assam HSLC Board exam is a deciding factor in the future of the students. Assam HSLC  thus lays the huge stepping stone for their educational path, as most of the concepts introduced in class are discussed further at length in higher classes.
Update: It was announced on 17th November, 2021 that the Assam Higher Secondary Education Council (AHSEC) and the Board of Secondary Education, Assam (SEBA) will be merged from 2022, and will work as a single unit. Along with this, all the High Schools will be upgraded to Higher Secondary Schools too in the State.
Table of Contents
We at BYJU'S have provided syllabus, model papers, textbooks and previous year question papers for SEBA Board Class 10 students. Students can access all necessary study materials of Assam HSLC Assam for free, provided in downloadable PDF format. SEBA Board Class 10 is an important stage in a student's education.
Latest Notifications
The timetable of the HSLC Examination, 2022 for Class 10 has been released by SEBA, on their official website.

Click here to view the timetable

.

The Board of Secondary Education, Assam (SEBA) had announced that the students who could not attend the Half-yearly examinations, 2021 held in October, would be given another chance to appear for the aforementioned examinations, within 15th December, 2021.
About the Assam HSLC Board 
The Secondary Board of Education, Assam (SEBA) conducts Class 10 or HSLC Exams every year. The High School Leaving Certificate Examination (Class 10 Exam) is held in the month of February/March. The subjects of Assam HSLC Board are given below. Students can get themselves acquainted with the exam pattern and prepare for the HSLC Exams with the help of the Assam State Board (SEBA) Exam Pattern.
The Assam Act, XXV of 1961 (Assam Secondary Education Act, 1961) was passed to establish a Board of Secondary Education in the state to supervise, regulate, and develop Secondary Education in Assam. The Act came into force with effect from January 29, 1962, with the publication of the Government of Assam, Education Department Notification. Thus the Board of Secondary Education, Assam (commonly known as SEBA) came into existence on March 14, 1962.
Functions of the Assam HSLC Board
The Assam HSLC Board performs the following activities:
Forming, and implementing the rules and regulations in accordance with the guidelines set by the State and Central board

Implementing the syllabus/curriculum of all the grades

Implementing the Exam schedule, textbooks and type

Creation of textbooks and conduction of Examinations
Overview of the Assam HSLC Board 2021-22
| | |
| --- | --- |
| Exam Name | Assam High School Leaving Certificate Examination, 2022 |
| Conducted by | Board of Secondary Education, Assam |
| Exam Dates | March 15, 2022 – March 31, 2022 |
| Exam Duration | 2 hours |
| Number of Students | Around 3.5 lakhs |
| Official Website | https://sebaonline.org/ |
| Tentative Result Date | May/June 2022 |
Assam HSLC Board Exam Resources
Surfing through this article will get you access to the following links for Mathematics and Science for Class 10 by the UP 10th Board. These are useful resources for the UP 10th Board Exam. From the syllabus to the textbooks and all previous year papers or Sample Papers, we have provided all the reference materials as required for the UP 10th Board Exams.
Practising previous year question papers will help the students to understand the question type, marking scheme. At the same time, while trying to solve the question papers, students will realise the weak areas and improve them to make them strong. Therefore, students are stress-free and confident about the Exam. The links will help you download the Assam SEBA Board 2020 Exam Paper Analysis.
Assam HSLC Board Subject List
The Assam HSLC Board Class 10 students need to study the below-mentioned subjects for that particular academic session. Students will score high marks based on the subjects provided below. These subjects are important to study to pass their Assam HSLC Board exam. We have mentioned the list of compulsory as well as elective subjects for Assam HSLC students.
Subject
Details
Marks

First Language

Any one of the following Languages (MIL) : Assamese, Bengali, Hindi, Bodo, Urdu, Manipuri, Nepali, Khasi, Garo, Mizo, Hmar. 

or 

English(IL) and any one of the following In Lieu Languages: Assamese (IL), Bengali (IL), Hindi(IL) Manipuri(IL), Bodo(IL), Santhali(IL), (For Karbi Anglong & Dima Hasao districts.)

100

50×2

Second Language 

English

100

General Science

100

General Mathematics

100

Social Science

100

Elective Subjects

Advanced Mathematics (E), Geography (E), History (E), Sanskrit (E), Arabic (E), Persian (E), Santhali (E), Computer Science (E), Fine Arts (E), Music (E), Dance (E), Home Science (E), Woodcraft (E), Garment Designing (E), Weaving and Textile Design (E), Assamese (E), Bengali (E), Hindi (E), Bodo (E), Manipuri (E), IT/ITeS NSQF (E), Retail Trade NSQF (E), Agriculture & Horticulture NSQF (E) Tourism & Hospitality NSQF (E), Health Care NSQF (E), and Private Security NSQF(E).

100
Assam HSLC Board Exam Statistics
Total Number of Students:

The average number of students appearing for the Assam HSLC Board Exams has roughly been around 3.5 lakhs. In 2021, 4,26,553 students appeared for their Assam HSLC Board Exams, which was more than that in 2020, when 3,42,224 students appeared. Here is a comparison of the number of students appearing for the Assam HSLC Exams over the last few years.
| | |
| --- | --- |
| Year | Number of Students Appeared |
| 2021 | 4,26,553 |
| 2020 | 3,42,224 |
| 2019 | 3,36,203 |
| 2018 | 3,37,570 |
| 2017 | 3,72,640 |
| 2016 | 3,81,585 |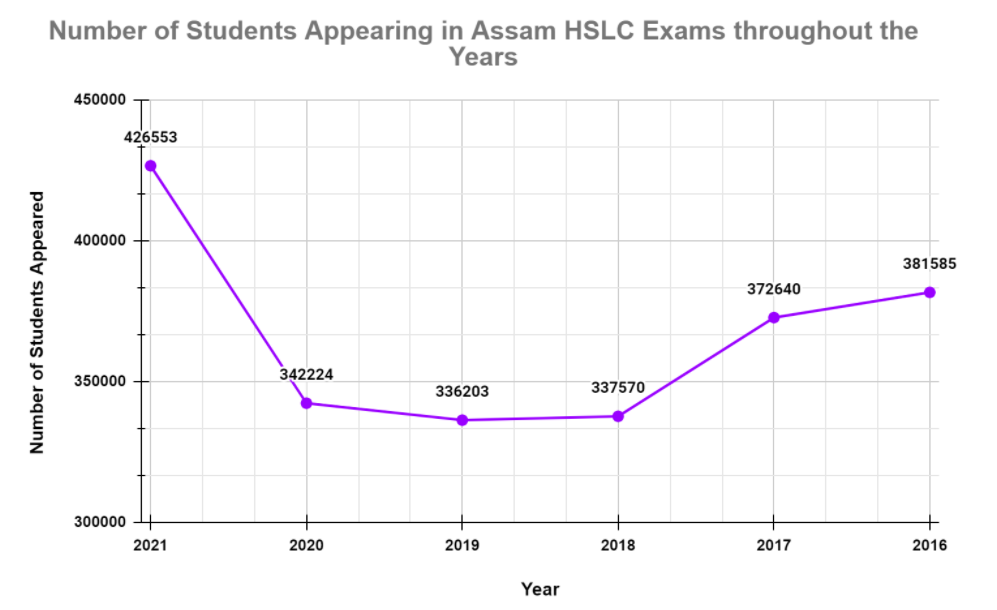 Overall Passing Percent:

The performance of students in Assam HSLC Board has been around 60%. In 2020 the overall pass percentage was 64.8%. However, in 2021, 93.1% of the students appearing for the Assam HSLC Board Exams had successfully qualified, creating a record till date. Below is a comparison of the passing percentage of the students year-wise.
| | |
| --- | --- |
| Year | Overall Pass Percentage |
| 2021 | 93.1 |
| 2020 | 64.8 |
| 2019 | 60.23 |
| 2018 | 56.04 |
| 2017 | 47.94 |
| 2016 | 62.79 |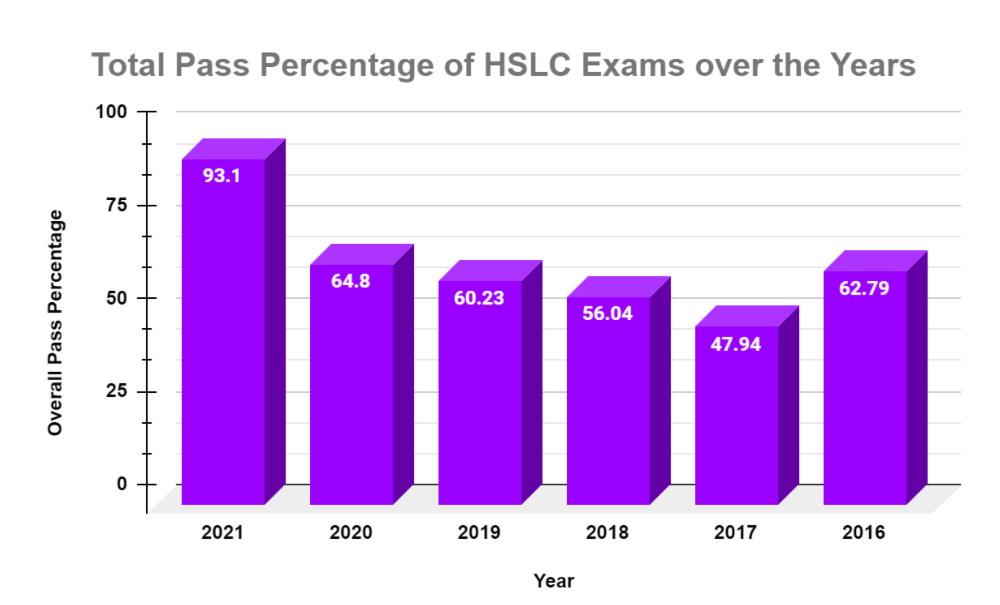 Stay tuned to get the latest updates on AHSEC Board Class 12 Exams, its related study materials and exam resources.