The Free IBPS PO 45 Day crash course will help aspirants preparing for the upcoming Probationary Officer exam scheduled to be conducted in the month of October 2020.
The IBPS PO Exam is conducted every year by the Institute of Banking Personnel Selection and is one of the most sought after exams in the Banking sector.
The official IBPS PO Notification was released on August 4, 2020 and a total of 1417 vacancies have been released for the Probationary Officer post. Aspirants can visit the IBPS website and apply online for this post till 26th August, 2020.
The conducting body provides recruitment and training services to a common standard for public sector banks (PSB). Interested candidates can check the Free IBPS PO 45-Day Crash Course information given below:
Highlights of the Course:
Course commencement: 16th, August 2020
YouTube Live Classes on Reasoning, Data Interpretation, Quantitative Aptitude, English Comprehension and Current Affairs
Class timings:

8 pm to 9 pm (Mon to Fri)
4 pm to 6 pm & 6:30 pm to 8:30 pm (Sat and Sun)
Check out the video below exclusively curated for the FREE Crash Course for IBPS PO Exam 2020: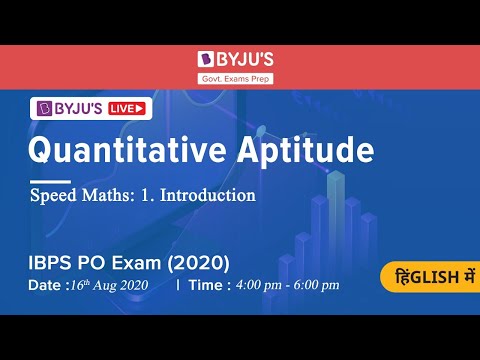 Free 45 – day Crash Course for IBPS PO 2020 – Detailed Schedule:-Download PDF Here
Schedule for the 45-Day Free IBPS PO Crash Course: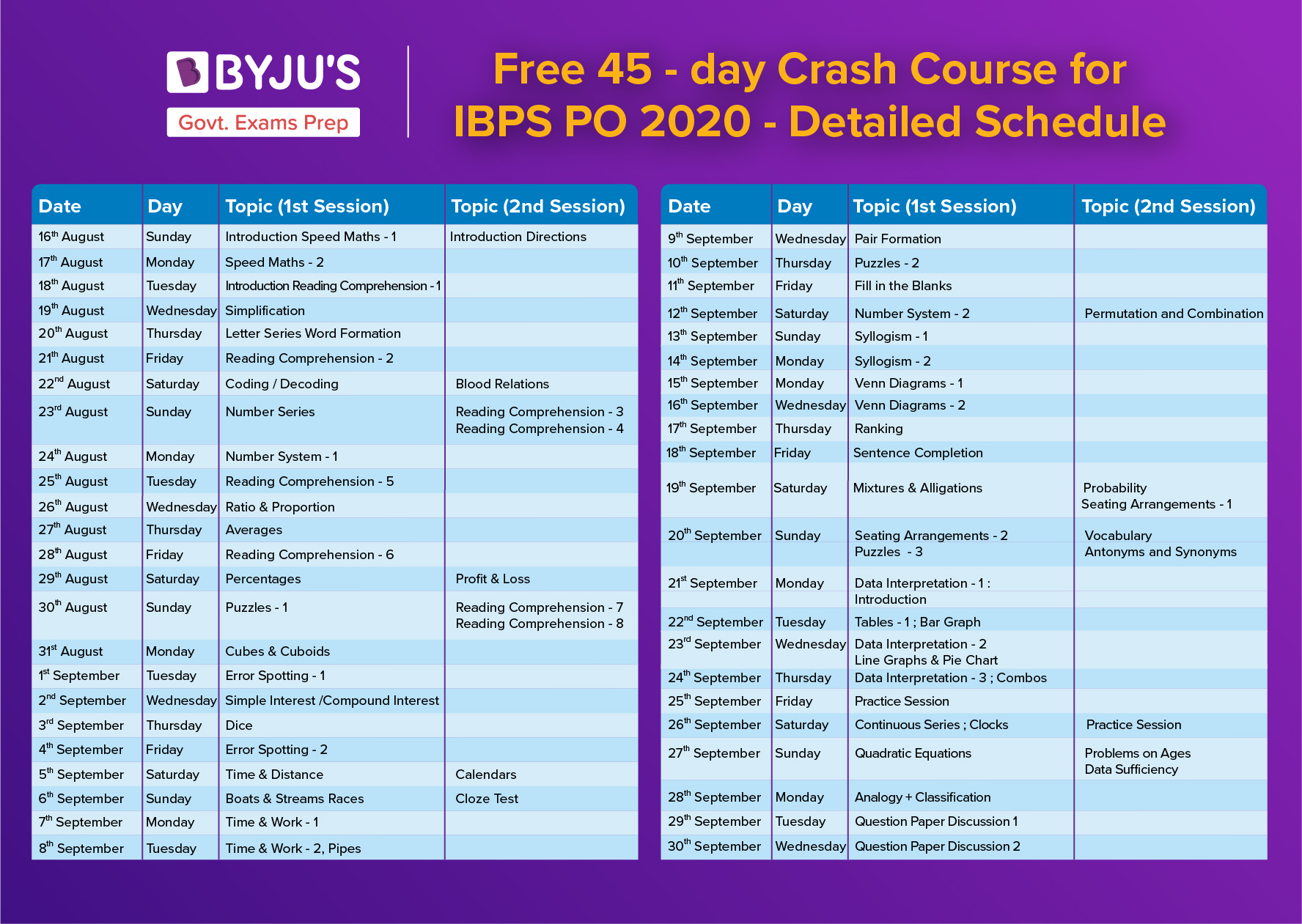 Aspirants are also advised to check the detailed IBPS PO Syllabus at the linked article to get a better understanding of the exam pattern and topics included under each section.
For candidates who are appearing for the Probationary Officer Exam for the first time, this IBPS PO Crash Course will help them take their preparation a step ahead to their dream of cracking the exam.
Also, know the salary structure, pay scale and perks provided to a Probationary Officer, candidates can visit the IBPS PO Salary page.
Free 45 – day Crash Course for IBPS PO 2020 – Detailed Schedule:-Download PDF Here
BYJU'S Preparation Channel for Government Exams 2020
BYJU'S Govt. Exams Prep is your one-stop destination for conceptual clarity and understanding of a spectrum of topics- including Logical Reasoning & Data Interpretation, English Comprehension, Banking Trivia, Quantitative Aptitude, Current Affairs and much more! Now prepare smart and crack a plethora of competitive exams such as SSC, SBI, NABARD, IBPS and many others at a single platform.
All Government exam aspirants can go through our detailed Preparation Strategy for Competitive Exams page.