CBSE Sample Paper for Class 10 Maths is the best resources to prepare for your board exam. Here, our Maths experts have made sample papers available for students so they can prepare well for their exam and score more marks. The CBSE Class 10 Maths Sample Paper 2022 has been made available on the official CBSE website. Along with the sample paper, CBSE has also provided the Marking Scheme and Answer key for the paper. CBSE had introduced the two-level of Maths exam in class 10, i.e. Basic and Standard from the academic session 2019-20. Solving the CBSE Class 10 Maths Sample Paper 2022 will give more clarity to the students and help them prepare in an effective way. Here, we have provided the CBSE Class 10 Sample Paper for Maths exam 2022 along with the marking scheme in PDF format. Moreover, we have also compiled the solved and unsolved Maths Sample paper created by our experts for more practice of the students.
CBSE Class 10 Maths Sample Paper 2022 PDF for Term 1
Students can download the CBSE. Class 10 Maths Sample Paper for Term 1 2021-22 examinations based on the reduced syllabus and latest exam pattern from the table below:
Watch The Below Video for CBSE Class 10 Maths Sample Paper Analysis 2021-2022 Term 1 Exam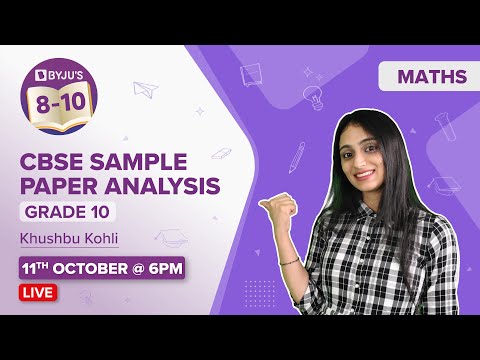 Download CBSE Class 10 Maths Sample Paper 2021 PDF (Latest Pattern)
Click on the link below to get the Maths Class 10 Basic and Standard Sample papers 2021 below.
To practice papers for other subjects of class 10, students must visit the CBSE Class 10 Sample Papers page at BYJU'S.
Official Previous Years' CBSE Sample Papers with Solutions – 2020, 2019, 2018, 2017, 2016
CBSE provides official CBSE sample papers for Class 10 Maths every year before board exams. Solving these sets of CBSE Sample Papers give students an idea on question paper pattern. So, here we have provided class 10 Maths sample papers along with the answer sheet. The marking scheme and answers pdf will provide the answers along with step marking. By going through the solution pdf, students can easily analyse their answer sheet. Also, they get to know the better way of expressing their answers in the answer sheet during exams. Thus, they can improve their performance and increase their marks in the exam.
Scoring in class 10 Mathematics subjects is not difficult if students have a strong grasp over the concepts. They can even score 100% marks in Mathematics subject of class 10 if they practise daily. Once students have solved all the questions from the NCERT Maths textbooks, then they should start practising from CBSE Maths sample paper. It will help them to understand the question paper pattern, marking scheme, time management, etc. These CBSE Class 10 Sample Papers are designed by the team experts, and it covers the entire Maths syllabus. Also, previous year question papers for Class 10 are added in these sample papers to make students practise well.
Solved CBSE Sample Papers for Class 10 Maths Based on Previous Year Pattern
To score high marks in CBSE Class 10 Maths papers, students need to practise different types of mathematical problems. So, here we have provided 4 different sets of CBSE Sample Papers for Class 10 Maths along with solutions. These paper are created by the experts based on the CBSE class 10 exam pattern. Download these sample papers and try to solve them in the allocated time duration. These papers also cover all the Important Questions for 10th Standard Maths.
Below, we have also provided a few unsolved CBSE Class 10 Maths 2021 Sample Papers for students' practice.
CBSE Class 10 Maths Sample Papers for SA1 and SA2
We have also provided CBSE Maths sample paper for SA1 and SA2 exams. Click on the link below to access these sample papers.
Importance of Solving CBSE Class 10 Maths Sample Papers
By solving the CBSE Class 10 Maths sample papers, students will get an idea of exam pattern, the types of questions asked and weightage of each section.
Solving class 10 CBSE sample paper will be good practise for students.
These Maths Sample Papers cover all the important topics and also the questions which are repeated every year.
CBSE Class 10 Maths sample paper will help the students to analyze their performance. This will also help with time management.
This will boost up the students' confidence level.
After this much of practice, students will have a good idea about what to expect in exams.
Keep learning and stay tuned with BYJU'S for the latest update on CBSE/ICSE/State Board/Competitive Exams. Also, download the BYJU'S App for interactive study videos.