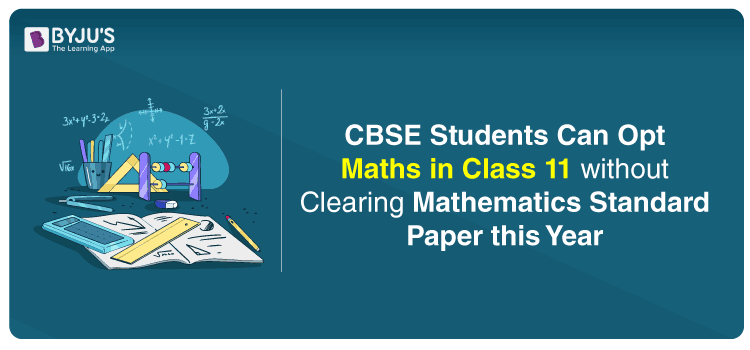 The Central Board of Secondary Education has announced that students who appeared for the Class 10 Basic Mathematics exam have the option to opt for Maths in Class 11 without appearing for the Standard Mathematics paper in the CBSE Compartment Exam. Because of the spread of COVID 19, there was a delay in the conduct of CBSE compartment exam 2020. So, it has been decided by the board that students are given the chance to choose Maths in Class 11 as a one-time exception in the academic year 2020-21 due to the Covid-19 pandemic. Here, we have provided the complete details on CBSE students eligible to take Mathematics (Code-041) in Class XI in the session 2020-21. So, keep reading to know more.
Students can also read out the official notification by downloading the pdf from the link above.
What did CBSE New Notification Say?
It has been decided by the CBSE that Students who have appeared in Mathematics Basic (Code 241) in Class X – 2020 main examination and are desirous of pursuing Mathematics (Code 041) in Class XI in the session 2020-21 can opt Mathematics (Code 041) also in Class XI only in the session 2020-21.
Before permitting Mathematics in Class 11 to such students, the Head of the institution should satisfy that the student has the aptitude and ability to pursue Mathematics in Class 11. This exemption is given as one time measure to facilitate the present batch of students.
What did the CBSE Earlier Rules Say?
As per the circular on Introduction of 2 Level of Maths Exam for Class 10 Students, dated on 10th January 2019, CBSE has offered the two levels of Mathematics exam, i.e. Mathematics Basic and Mathematics Standard. Basic Mathematics was for those students who do not want to continue Maths after Class 10 and Standard Mathematics was for those who want to continue with the Maths subject.
It has been notified by the board that;
1) To continue Mathematics as a subject in class XI/XII and further students need to pass Mathematics-Standard at Class X.
2) A student who qualifies the Mathematics Basic shall be given an option to appear in Mathematics-Standard at the time of compartment exams as per the norms of the board, in case he/she changes his/her mind to pursue Mathematics at the senior secondary level.
This is good news for students who want to opt Maths in Class11. As the academic session has started, students should go through the detailed CBSE Syllabus and then plan their studies accordingly. Also, this year the board has reduced the CBSE Syllabus by 30% for Class 9 to 12 due to the ongoing COVID-19 pandemic.