Timothy Meyer (Vanderbilt University Law School Professor) writes in The Hindu on 28 Mar 2016 about the on-going India's Solar dispute in the WTO and says India may succeed in its solar dispute with the U.S. at the World Trade Organisation if it takes steps to develop its manufacturing capacity to serve domestic demand which is not addressed by global companies.
(Note: In light of the above article it is important from UPSC Main Examination point of view to have full understanding about the issue)
What's the Background of the Issue?
The Jawaharlal Nehru National Solar Mission was launched on the 11th January, 2010 by the then Prime Minister.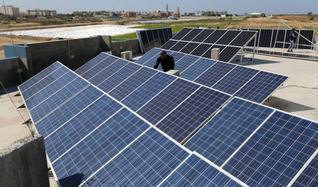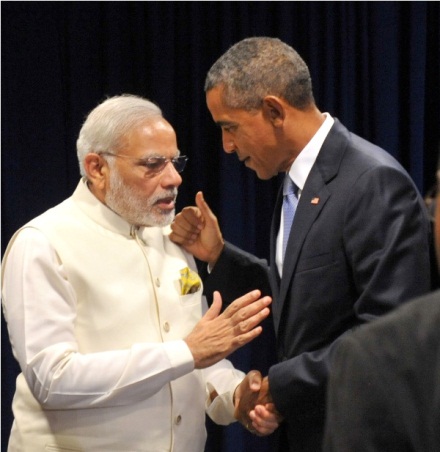 The Mission has set the ambitious target of deploying 20,000 MW of grid connected solar power by 2022 and is aimed at reducing the cost of solar power generation in the country through
Long term policy;
  Large scale deployment goals;
Aggressive R&D; and
Domestic production of critical raw materials, components and products,
The aim was to achieve grid tariff parity by 2022.
(Note:  What is this Grid Tariff Parity by 2022?
When the Solar technology can produce electricity for the same cost as the electricity available on a utility's transmission and distribution grid by the year 2022)
National Solar Mission was set to create an enabling policy framework to achieve this objective and make India a global leader in solar energy.
This has opened up huge market for the private players from all over the world to as it is a big business opportunity in Solar!!
With the new government in power, India has enhanced its commitment towards Renewable energy.
The Union Cabinet chaired by the Prime Minister, Shri Narendra Modi, approved stepping up of India's solar power capacity target under the Jawaharlal Nehru National Solar Mission (JNNSM) by five times, reaching 1,00,000 MW by 2022.
The target will principally comprise of 40 GW Rooftop and 60 GW through Large and Medium Scale Grid Connected Solar Power Projects.
With this ambitious target, India will become one of the largest Green Energy producers in the world, surpassing several developed countries.
It's a welcome act. Then why and where is the controversy?
However to promote local industry, generate employment and give thrust to investment's in "Make in India " Government continued its earlier stand  that solar companies that provide Solar equipment should have certain percentage of components of the solar panels be made in India.
The above clause is what is referred as Domestic Content Requirement (DCR).
(Note: India's Solar Mission offers a subsidy of upto Rs 1 Crore/MW to Solar Developers for sourcing solar components from local manufacturers. It also stipulates that 10 pc of the Solar capacity target of 1,00 ,000 MW by 2022 should be built with domestically manufactured solar modules)
This Domestic content clause is what has become controversy, because many private companies / suppliers of Solar equipment's from USA, China and Europe will now be NOT eligible to benefit from the government's long term guarantee of purchasing solar power if they do not fulfil the above clause.
What's the solution that these private companies wanted to have?
In 2013, the U.S. brought a complaint before the WTO arguing that the domestic content requirement imposed under India's national solar programme is in violation of the global trading rules.
Specifically, it said, India has violated its "national treatment" obligation by unfavourably discriminating against imported solar cells and modules.
The Companies from USA has challenged this clause in World Trade Organisation (WTO).
What is this WTO? Why did they go there?
WTO( HQ- Geneva, Switzerland) is the only global international organization dealing with the rules of trade between nations. It also deals with settling disputes between member governments through its Dispute Settlement Body. A dispute generally arises when a member government believes another member government is violating an agreement or a commitment that it has made in the WTO.
In WTO, there is clause called "National Treatment" according to which, members of WTO pledge that goods whether imported or exported will be treated equally by the government.
India is a member of WTO, By being a member, India agrees to not promote domestic goods and discourage imported goods.
What is India's stand in WTO?
India has used the 'government procurement' justification in WTO rules, which permits countries to derogate from their national treatment obligation provided that the measure was related to "the procurement by governmental agencies of products purchased for governmental purposes and not with a view to commercial resale or use in production of goods for commercial sale".
India also argued that the measure was justified under the general exceptions since it was necessary to secure compliance with its domestic and international law obligations relating to ecologically sustainable development and climate change.
What's is the status as on March 2016?
Last month, WTO Dispute Settlement Panel concluded that India, by imposing a mandatory domestic content requirement, had violated its national treatment obligation.
In so far as the government procurement derogation was concerned, the panel found that the product being subject to the domestic content requirement was solar cells and modules, but the product that was ultimately procured or purchased by the government was electricity.
WTO ruling says India's requirement for companies that sell solar power to the government use only locally-made parts and components in its national solar power program discriminatesS. manufacturers.
The WTO ruling goes against the ethos of our Make in India initiative.
India argued that solar manufacturing capacity is in short supply relative to the demand for solar panels in India and hence it is claims exception under the General Agreement on Tariffs and Trade (GATT) for measures "essential to the acquisition or distribution of products in general or local short supply."
The WTO panel had ruled that the exception only applies when supply, both domestic and international, exceeds demand.
What is India Planning to do now?
India will appeal WTO verdict in solar case filed by the U.S.A
Piyush Goyal Minister of State (Independent Charge) for Power, Coal and New & Renewable Energy said the government is examining options to file a case against the U.S. in the World Trade Organisation based on programs run by American state governments which give protection to domestic manufacturers.
Focus on local demand to win WTO solar dispute, says Timothy Meyer.
Key points:
Local content requirements for renewable energy were quite common at states and local-level in the U.S.A.
Given the breadth of local content requirements within the United States, I would not be surprised if India (or China, which has raised similar concerns) eventually brings a claim against the United States based on these programs says the author.
By focusing its arguments (or future measures) on the goal of developing a manufacturing capacity that serves a domestic demand not adequately served by international markets, India might have greater success," Meyer added.
(Note: Students Must follow the developments in this issue and there are chances of asking about this case or related its info in UPSC Main Examination this year)
Tags: US- India Solar dispute, WTO
FAQ about Focus Local Demand Win WTO Solar Dispute Says Timothy Meyer
What do you mean by grid parity?
Grid parity is the point when the cost of the alterative energy becomes equal to or less than cost of electricity from conventional energy forms like fossil fuels.
What is the target capacity of solar power India intends to install by 2022?
The GoI has set a massive target of achieving 175 GW in renewable energy capacity by 2022.