YOJANA- September 2017: HOUSING FOR ALL
TABLE OF CONTENTS
| | |
| --- | --- |
| Sl. No. | Chapter |
| 1 | Affordable Housing In Urban Areas |
| 2 | Land Acquisition, Rehabilitation and Resettlement |
| 3 | Financing Affordable Housing |
| 4 | Regulating Real Estate Sector |
| 5 | Green Technologies for Affordable Housing |
| 6 | Housing the Poor in Smart Cities |
| 7 | Infrastructure Requirements for Housing for All |
| 8 | Building Durable and Quality Houses in Rural Areas |
Affordable Housing in Urban Areas
Cities are engines of growth and innovation. Urban Indian now form one-third of the population and they produce more than three-fifth of GDP.  Housing is an important sector for the Indian economy as it has linkages with about 269 other industries. Development of the housing sector has a direct impact on employment generation, growth of Gross Domestic Product (GDP) and consumption pattern in the economy. The public housing programme in the country started with the rehabilitation of refugees immediately after the independence and since then, it has been a major focus area of the government as an instrument of poverty alleviation.
It has been increasingly realized across the globe that sustainable housing and urban development have a crucial bearing on the quality of life and social and economic well being of the people.
Housing has been placed at the centre of New Urban Agenda of Habitat III, 2016.
Sustainable and disaster-resilient housing has been recognized as an important lever in meeting the commitments towards Sendai Framework 2015 and Paris Agreement on Climate Change 2016. Goal of Sustainable Development Goal 11 is to make human settlements inclusive, safe, resilient and sustainable.
In line with its commitment to the SDGs, India has launched the Mission of Housing for All by 2022.
Challenges:
According to the data from Ministry of Housing and Urban Poverty Alleviation, there is a shortage of 18.78 million housing units, of these the Economic and weaker section (EWS) alone accounts 56.2 per cent.
It is evident that there is a mismatch in the demand and supply in the housing market, as the Census of India shows that 11.07 million houses were vacant in 2011 in Urban India. Housing Surplus is in the higher income groups while 95% of the deficit is in the Economically Weaker Section (EWS) and Lower Income Group (LIG) categories.
According to the estimates, India's urban population is expected to grow to 814 million by 2020. This will pose a major challenge in providing housing facilities and basic amenities to the population. This may result in the growth of the homeless population.
Scarcity of developed and encumbrance free land, increased cost of construction, lack of private sector participation, absence of viable rental market, inaccessibility to home loans by poor are some of the challenges which need to be addressed for the development of the affordable housing market.
The technological Innovations in low-cost building material and construction practices lack popular acceptance in the market.
Certain regulatory constraints such as long and cumbersome approval process, environment clearance, lack of clarity in building by-laws and implementation of the master plan.
The housing shortage for 2012-17 is estimated to be 18.78 million units in rural areas.
Government initiatives:
The government of India has since Independence, adopted a number of policies and programmes like Low Income Group Housing Scheme (1956), Slum Improvement Clearance Scheme (1956-1972), Environmental Improvement of Urban Slums (1972), National Slum Development Programme (1966), Scheme for Housing and Shelter Up-gradation (1989-1997)Night Shelter (1988-89), Valmiki Ambedkar Awas Yojana (2001) to house the poor. Integrated Subsidies Housing Scheme (1952) for industrial workers and economically weaker sections.
The role of government has switched from that of a provider of housing units to more of a market facilitator.
Recent government initiatives include JnNURM(Jawaharlal Nehru National Urban Renewal Mission), Rajiv AwasYojana(RAY), Rajiv RinnYojana(RRY) and the latest Pradhan Mantri Awas Yojana-Urban (PMAY-U).
Housing for All Mission:
The central government has identified 305 cities and towns under the Housing for All Mission, also called the Pradhan Mantri Awas Yojana, which targets to build 2 crore homes for urban poor by the year 2022.
Pradhan Mantri Awas Yojana- Urban
 PMAY-U was launched in 2015 to provide housing for all by 2022. The scheme provides central assistance to Urban Local Bodies (ULBs) and other implementing agencies through States/UTs. The programme has 4 verticals
Credit Link Subsidy Scheme (CLSS)
In-situ Rehabilitation of existing slum dwellers using land as a resource through private participation.
Affordable Housing in Partnership (AHP)
Subsidy for beneficiary led individual house construction/enhancement.
In the spirit of cooperative federalism, the mission has provided flexibility to states for choosing the best option amongst the four verticals of the mission to meet the demand of housing in their states. It has introduced a built-in flexibility, demand-driven approach and comprehensive Housing for All Plan of Action for all of the ULBs.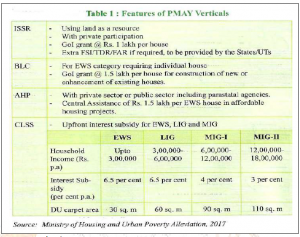 The government has also taken various policy measures to address the challenges of affordable housing:
First National Policy for housing was announced in 1988. The policy was revised in 1994.
New Housing and Habitat policy was announced in 1998. This policy envisaged some major landmark initiatives such as repeal of Urban Land Ceiling and Regulation Act.
The government has also drafted a National Public-Private Partnership Policy for implementing a large number of projects across diverse segments through the private sector.
Tenancy Act has been drafted to catalyze the nascent market for formal rental accommodations.
Various measures have been taken by the government to make affordable housing sector as an attractive investment destination. Real Estate Regulation Act (RERA) was passed, FDI Rules liberalized, Real Estate Investment Trusts (REITs) were introduced and GST was rolled out.

RERA regulates the organized real estate sector with fair, transparent transactions that boost the confidence of investors in addition to protecting the interest of consumers.
GST helps in improving supply chain efficiency.

As a critical supply-side incentive to bring in private investment in the affordable housing sector.
Budget 2016-17 and 2017-18 provided the platform for creating an enabling environment with fiscal concessions such as direct tax benefits under Section 80-IBA of the Income Tax Act, relaxation in FDI and ECB proposals and standardized usage of carpet area definition.
Significant mortgage reforms by way of new broad-based Credit Linked Subsidy Scheme (CLSS) under PMAY-U (Urban) have been introduced.
Marginal Cost of Fund based Lending Rate (MCLR) for speedy transmission of Reserve Bank of India rate cuts to home buyers.
The government has accorded 'Infrastructure Status' to affordable housing, which will make project loans affordable and reduce prices of homes for buyers. It will provide cheaper sources of finance to developers and also open up additional avenues for developers to raise funds.
Convergence of Missions:
The integration of urban schemes help the cities to upgrade themselves faster in terms of meeting the housing demand equipped with necessary infrastructure, both social and physical.
Smart Cities Mission (SCM) is a flagship programme of the Ministry of Urban Development (MoUD). Many of the smart city proposals have included housing under area-based development and have proposed convergence with PMAY-U.
Atal Mission for Rejuvenation and Transformation (AMRUT) could be converged with PMAY to develop necessary infrastructure.
Swachh Bharat Mission (SBM – Urban) aims to eliminate open defecation and eradicate manual scavenging among many other objectives. PMAY with SBM ensures provision of basic facilities related to sanitation.
The Scheme for Shelter for Urban Homeless under Deen Dayal Upadhyay Anthyodaya Yojana – National Urban Livelihood Mission (DAY-NULM) aims to cater to the needs of especially vulnerable segments of the urban homeless.
National Urban Health Mission (NUHM) can converge with PMAY which would lead to overall development.
The housing scheme may also be linked with MNREGA and sanitation programme so that the houses will have a better quality drainage service.
Conclusion
Capacity building for all players at different levels is an important pre-requisite to achieve housing for all by 2022.
States have an important role to play as 'housing and urban development' is a state subject. States must prepare a comprehensive housing plan articulating the institutional and legal structures for enabling the ecosystem to achieve this ambitious task.
Innovation in the housing sector needs focused attention, where practices of low-cost housing and rapid-paced construction technology can be incorporated.
Land Acquisition, Rehabilitation and Resettlement
The Land Acquisition bill has been renamed as the Right to Fair Compensation and Transparency in Land Acquisition, Rehabilitation and Resettlement Bill 2013. The new Act replaces a nearly 120-year-old law enacted during British rule in 1894. It emphasizes Rehabilitation and Resettlement.
The new act concerns only such cases where the land will be acquired by Central or State Authorities for any public purpose.
It calls for taking the consent of 80% of landowners for acquiring land for private projects and of 70% of landowners for public-private projects.
It also tries to lay down a transparent process for land acquisition for industrialization, development of essential infrastructural facilities and urbanization by giving adequate financial compensation to the affected people.
Where land is acquired for urbanization, 20% of the developed land will be reserved and offered to landowning families affected by the project, in proportion to their land acquired and at a price equal to cost of acquisition and the cost of development.
It gives priority to the interests of the farmers, landless labourers, Dalits and tribals.
The consent of Gram Sabha is mandatory for acquisitions in Scheduled Areas under the Fifth Schedule referred to in the Constitution.
The linkages between Land Acquisition, Rehabilitation and Resettlement (LARR) and Housing for All (HFA) assume significance primarily in the context of scarcity of land for planned development and the overwhelming shortage of adequate, affordable housing in India.
LARR cannot just be used as a cynical measure to relocate low-income urban population to peripheral areas transitioning from rural to urban, it would mean that a larger question of how to ensure higher occupancy rates or ensure planned rural, urban and urban development, would remain unaddressed.  'Viability' thus exceeds just the policy attention to cost or benefits. For low- income groups, three aspects of what constitutes Viability are imperative:
Linkages with employment and livelihood
Connectivity (Public transport)
Access to physical and social infrastructure
The critical question therefore is not just how to use LARR Act to ensure redevelopment for affordable housing in urban areas but rather, how to meet the target of Housing for All, using land acquisition or pooling (as feasible) on the one hand, but also multiple other strategies such as in situ up-gradation, credit-linked subsidy, enabling beneficiary led house enhancement and so on. This involves looking at both rural and urban areas as a continuum.
Under the LARR Act, it is possible to carry out Eminent Domain type land acquisition to ensure affordable, adequate housing for all in rural as well as urban areas.
Many states have sought to compensate for these shortcomings by widening their own state housing policies with different and more diverse approaches.
Financing Affordable Housing
To develop housing in the country, there is a need to have well-developed housing finance market. The outstanding amount of housing finance accounts for around 8% of GDP in India as compared with 12 % in China, 29% in Malaysia, 46% in Spain and 80% in the US.
The housing finance market is expected to increase with urbanization. The government is assisted by two regulators, RBI and the National Housing Bank (NHB). RBI regulates
Commercial banks and partially cooperative banks while NHB regulates housing finance companies.
National buildings Organisation (NBO) was established in 1954 and Housing and Urban Development Corporation Ltd (HUDCO) in 1970 to comprehensively deal with housing shortages.
National Housing Bank was established in 1988 to function as a principal agency to promote housing finance institution.
The Central and State governments have been offering tax concessions for the housing sector.
100% of FDI in townships built-up infrastructure, construction development projects and real estate through automatic route has been permitted.
RBI initiated that commercial banks must lend a stipulated amount to housing under priority sector.
Investment made by banks in Mortgage-Backed Securities (MBS) since 2004 has contributed to increasing housing loans.
International agencies are also supporting the cause for Housing for All.

UNDP is committed to working closely with the government on affordable housing.
World Bank has channelled resources through the National Housing Bank to expand access to sustainable housing finance to Low Income Groups.
International Experience:
The recent experience of the USA, Spain, Ireland, and UK substantiates that unsustainable housing booms have led to substantial output losses and banking crisis.
In advanced countries, the main features of finance housing finance are covered bonds and mortgage-backed securities. The government in such countries have a formal mandate to provide affordable housing for LIG.
In case of emerging countries, main lenders in the housing market are banks and covered bonds don't exist.
In the Netherlands, low-income housing assistance is provided only in terms of subsidized rent while in Spain Ownership of property is also subsidised.
In countries like Denmark, Singapore and Sweden, the aim is to make housing affordable for the entire population.
In Bangladesh, the government supports resettlement camps, in addition to Grameen Bank and other microfinance institutions, providing housing credit in rural areas.
In India, there is a gap in the housing finance market which is being addressed mainly by the Central Government.
Regulating Real Estate Sector
The Real Estate (Regulation and Development) Act (RERA), 2016 was passed to regulate the real estate sector, bring transparency and help protect consumer interests. The primary objective of the act is to regulate the real estate sector by forming Regulatory and Adjudicating Authority and thus ensure transparency and purchaser welfare.
The real estate sector comprises of 4 subcategories – Housing, Retail, Hospitality and Commercial. The growth of this sector is well complemented by the growth of the corporate environment and the demand for office space as well as urban and semi-urban accommodations.
The sector contributes to about 9.5% of India's GDP.
RERA will find a common ground for both buyers and developers and will reduce the risks which were faced by the people earlier. It is expected that RERA will bring new hope for home buyers, make the sector transparent and boost the confidence of investors to invest in the Indian Real Estate Market.
Key features of RERA:
It regulates both commercial and residential real estate projects.
It makes registration of real estate projects and agents with the authority mandatory.
No pre-launch will be allowed without getting all approvals from the local authorities and without obtaining registration from the regulator.
The authority can even order "compensation' to consumers in case of misleading advertisements.
It makes it compulsory for the builders to deposit 70% of the amount raised from the buyers into an escrow account.
It seeks to establish fast track dispute resolution mechanism for settlement of disputes through adjudicating officers and Appellate Tribunal.
Promoters are barred from changing the plans and design without the consent of 2/3rd of buyers of the project.
The bill will bring much-needed transparency in the sector. RERA is an effort by the legislature to regulate the unregulated but important Real Estate Sector of India which not only contributes significantly to GDP but also provides employment to many.
Green Technologies for Affordable Housing
Better housing enhances the quality of life of the residents and leads to higher productivity as well as income-generating capabilities. Therefore the affordable housing design should aim to provide a healthy and comfortable environment for the residents. It is of vital importance to build houses that minimize the use of energy, water and mineral resources during their life cycle.
In 2001, India introduced the Energy Conservation Act which led to the development of a first-generation Energy Conservation Building Code (ECBC) for building the sector. Recently, the ECBC has been further revised.
Ministry of New and Renewable Energy (MNRE) offered capital subsidy incentives for purchase and installation of solar water heating and solar lighting equipment in houses.
Design Philosophy:
The design philosophy of affordable housing should incorporate key performance metrics such as indoor air quality, thermal comfort and energy performance index. Affordability should be determined based on the entire life cycle costs. The housing design must also incorporate climate responsive design and encourage the use of local building materials for construction.
Design approach:
Energy-efficient buildings are typically designed using either of the two approaches:
Prescriptive approach: Specifies requirements for each building components.
Performance approach: a detailed energy simulation of the building using stimulation models is performed to assess whether the building meets or exceeds the overall performance criteria for the building.
Prescriptive approach is the most suitable approach for affordable housing design and construction.
Efficient Envelope:
Housing should be designed to minimise the heat gain inside the building. High reflectance roof is one of the cost-effective technologies to reject solar radiation falling on the building. Further, wall, window and roof materials with higher thermal resistance will reduce heat gain inside the building. Reduction in the heat gain improves thermal comfort inside the building and reduces the need to operate active cooling systems. Higher visible light transmission (VLT) leads to more daylight and reduces the energy consumption of artificial lighting. Use of skylight is also an effective approach to achieve suitable daylight inside the building. Integration of solar lighting and water heating can significantly reduce the energy consumption.
External shading devices:
External shading devices can be a cost-effective approach for affordable housing to reduce direct solar radiation and heat gain for the windows. Well designed ventilation can also use outdoor air to provide cooling whenever the environmental conditions are favourable.
Low Energy Technologies:
In extreme climatic conditions, low energy cooling technologies are required in the affordable housing design to keep the residents thermally comfortable and healthy. Evaporative cooling is one of the cost-effective technologies. Integration of solar water heating and lighting can significantly reduce the energy consumption. Energy Management System (EMS) is a very effective measure of energy use of affordable housing. EMS can lead to energy savings and provide necessary energy benchmarks information for the future design of affordable housing.
These good quality affordable housing with green technologies can play a significant role in securing the well-being and economic growth of the country.
Housing the Poor in Smart Cities
Smart Cities Mission (SCM) is a fast track mission mode urban scheme. The launch of two more schemes AMRUT and PMAY addresses some of the other pressing needs of Indian cities like improved quality of services, improved governance and provision for housing.
The SCM guidelines state that its objective is to promote cities that provide core infrastructure and give a decent quality of life to its citizens, a clean and sustainable environment with the application of smart solutions. The Smart Cities focus on "sustainable and inclusive development" and on creating replicable models that will inspire other cities to transform.
The Smart Cities Plan (SCP) consists of an Area Based Development (ABD) plan and a pan-city plan. The ABD aims at transforming a specific area within the city by improving its design, infrastructure, mobility etc. the pan-city plan focuses on improving city governance/ management mainly through the use of smart technology solutions.
Both SCM and AMRUT are expected to have convergence with the mission on Housing for All. In the housing sector, the Smart Cities plans have proposed projects for in-situ slum rehabilitation, slum redevelopment, affordable housing for EWS and LIG, rental housing etc.
There are certain challenges in achieving the goals of housing for poor:
While in-situ redevelopment is the best option for improving the quality of life of slum dwellers, it is not considered as an option or is not possible in some areas. Most often, the slum dwellers are evicted and rehabilitated elsewhere. Inclusive planning is all about accommodating all income groups while redeveloping an area but such planning has not always been a viable strategy.
Sustainability of the dwelling units and their maintenance is another challenge.
People's participation is yet another challenge that SCM must overcome.
It has also been argued that the implementation of SCM through formation of Special Purpose Vehicles (SPV) is anti-poor as the private sector would not be very keen on undertaking housing for the poor.
Infrastructure Requirements for Housing for All
Programmes started for Urban settlement:
The Jawaharlal Nehru National Urban Renewal Mission (JNNURM) was launched in 2005. The two policies under JNNURM targeted housing. Integrated Housing and Slum Redevelopment Programme is a direct housing policy measure.
Affordable Housing in Partnership (AHP) is a market solution-based approach by involving private players.
Rajiv Awas Yojana aimed at providing affordable housing to the urban poor.
Major challenges faced in housing and urban infrastructure are:
Complex and lengthy processes for pre-implementation stage.
Lack of adequate external infrastructure and connectivity. Public transport accounts for only 22% of urban transport in India. The highly inadequate and poor quality of the public transport system in Indian cities poses a major challenge in realising the growth potential of the economy and has an adverse impact on the health and well-being of the people.
Inadequate coverage, intermittent supplies, low pressure and poor quality are some of the most prominent features of water supply in the cities of India.
Pollution of air, water and land has contributed greatly to the proliferation of diseases like dengue, malaria, asthma etc.
The management and disposal of solid waste generated in Indian cities leaves a great deal to be desired.
Corrective steps to be taken:
It is important to ensure potable drinking water to existing and future houses.
Sewage service should keep their network free of obstruction and leakages and treat the entire volume of waste collection in a manner that preserves waterways.
The parliamentary standing committee on Urban Development 2010 recommended a 'congestion tax' on personal vehicles in congested areas. The ministry of urban development indicated that 'in the Indian context, levying of congestion tax may be pre-mature at this stage keeping in view the quantity and quality of the available public transport and the absence of intelligent transport system. Now the time has come to impose the congestion tax to maintain such a chaotic situation and reduce the carbon emission for the living of future generation.
Building Durable and Quality Houses in Rural Areas
In India, nearly 3/4th of the population lives in rural areas. The problems of homelessness and slums is due to inadequate rural habitat and rural employment opportunities.  The problem of housing is more acute in rural areas where the bulk of BPL population lives.
Under the Pradhan Mantri Awas Yojana – Grameen (PMAY – G) one crore houses have been targeted for construction in the first phase. The target for the next phase till 2022 will be decided based on the Socio-Economic Caste Census.
A National Technical Support Agency (NTSA) for Rural Housing will be set up at the national level to support in achieving the target. Sufficient financial resources have been made available in the form of budgetary support and borrowing from the National Bank for Agriculture and Rural Development (NABARD).
Comprehensive online monitoring of the projects will also be conducted through the MIS-Awaas Soft Scheme.
Under PMAY-G the beneficiary is provided unit assistance. The assistance varies with availability of material, poor connectivity, climatic conditions etc.
The programme cost of PMAY-G is shared between the Government of India and the state governments in the ratio of 60:40.
Implementation Support Mechanism:
To provide basic amenities, convergence of existing schemes of both Centre and State/UT government need to be ensured.
Construction of toilet shall be provided to beneficiaries through funding from Swachh Bharat Mission-Gramin, MGNREGA or any other financing source.
The beneficiary of PMAY-G should be provided access to safe drinking water in convergence with National Rural Drinking Water Programme or any other similar schemes.
Convergence with Deen Dayal Upadhyay Gram Jyoti Yojana for providing electricity connection to PMAY-G beneficiary.
Ensure that the PMAY-G beneficiaries get benefits from the schemes by the Ministry of New and Renewable Energy Sources like solar lanterns and solar home lighting system.
The states and UTs should strive to get LPG connections under Pradhan Mantri Ujjawala Yojana.
The solid and liquid waste generated by households needs to be treated. The state/government should converge with Swachh Bharat Mission to ensure management of Solid and Liquid waste.
PMAY-G is a major step forward in bringing together skill India, Digital India, Make in India, Information Technology/Direct benefit Transfer Aadhar platform and Pradhan Mantri Jan DhanYojana. Large scale use of local materials is envisaged along with a complete home with cooking space, electricity provision, LPG, toilet and bathing area, drinking water through convergence. The programme targets poor households and uses information Communication Technology and space technology to further confirm correct selection of beneficiaries and progress of work.