This article throws light on the very pertinent topic of literacy and school education.
The Goal of total literacy
Literacy is an integral and indispensable element of educational development. Literacy can pave way for reduction in population growth, child mortality and poverty, and facilitate in attaining gender parity, sustainable and holistic growth. It provides for nurturance of democratic values and peace among people. Literacy is all the more important to those sections of population, who have been historically neglected. Achieving universal adult literacy is a fundamental goal of adult and continuing education programmes that have been envisaged from time to time. After all, the basic literacy programmes are intended not only to enhance reading and writing capabilities, but also to develop comprehensive life skills to access all developmental resources.
Achievements during 11th Five-year plan period
The provisional results of 2011 Census have revealed that despite an impressive decadal increase of 9.2 percent points in literacy, national literacy levels have risen to no more than 74.0 percent (from 64.8 percent in 2001). Only 15 States/Union Territories, namely Kerala, Lakshadweep, Mizoram, Tripura, Goa, Daman & Diu, Pudducherry, Chandigarh, Delhi, Andaman & Nicobar Islands, Himachal Pradesh, Maharashtra, Sikkim, Tamil Nadu and Nagaland could achieve 80 percent or above literacy rate. The 2011 Census has shown that female literacy has increased much more than male literacy. While male literacy rate increased by 6.86 percent 279 points from 75.26 percent in 2001 to 82.14 in 2011, the female literacy increased by 11.79 percent points from 53.67 to 65.46 percent during the same period. The gender gap which was 21.6 percent points in 2001 has receded to 16.7. Yet the gender gap still remains much above the targeted 10 percent points. Only eight States/Union Territories, namely Chandigarh, Nagaland, Mizoram, Tripura, Meghalaya, Lakshadweep, Kerala and Andaman & Nicobar Islands have been able to reduce the gender gap to ten percent or below. Thus, by the end of the 11th Five Year Plan in 2012, the three Plan Targets would not have been achieved: overall literacy rate being short by five percent points, gender gap yet to be reduced by another 6.7 percent points and social and regional disparities still persisting.
The National Literacy Mission
The National Literacy Mission was initiated by the Government of India on 5th May 1988 with the objective of eradicating illiteracy, by imparting functional literacy among nonliterate population. It was intended to provide three R's – Reading, Writing and Arithmetic. Further, through Total Literacy Campaign (TLC), NLM has adopted several strategies for favorable public opinion and involving people and creating awareness about development issues affecting society. Increase in literacy between 2001-2011 at National level There has been a substantial progress in literacy with the planned intervention and sustained effort from 64.83 per cent in 2001 to 74.04 per cent in 2011, an increase of 9.21
percentage points.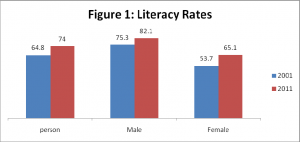 Significantly, there has been a significant jump in the female literacy, from 53.67 per cent (2001) to 65.46 percent (2011) in comparison to the male literacy of 75.26 per cent to 82.14 per cent during the same period. Hence, female literacy increased at a faster of 11.79 per cent than that of males with 6.88 per cent. The gap of 21.59 percentage points reported between male and female literacy rates in 2001 census has been reduced to 16.68 percentage points in 2011. All this indicates that the gender gap is shrinking in the country, which is a positive sign. However, at state level there are large variations in the gender gap and states like Rajasthan, Bihar, Uttar Pradesh, Madhya Pradesh, Chattisgarh and Jharkhand have reported of gap of 20 percentage points between male and female literacy rates. The literacy rates among Scheduled Castes and Scheduled Tribes have increased, but the literacy rate among Muslims is a cause of concern. The government has been making every effort to reduce the disparities through focus on backward areas and groups of population. Saakshar Bharat Adult education is indispensable as it supplements the efforts to enhance and sustain literacy levels through formal education. Despite significant accomplishments of the National Literacy Mission, illiteracy continues to be an area of national concern. In view of this, after a protracted process of countrywide consultation with stakeholders 'Saakshar Bharat' has been devised as the new variant of National Literacy Mission. It is a centrally sponsored scheme of Department of School Education and Literacy (DSEL), Ministry of Human Resource Development (MHRD), formally launched by the Prime Minister of India on the International Literacy Day, 8th September, 2009. The scheme aims to further promote and strengthen Adult Education, specially of women, by extending educational opportunities to those adults who lack access to formal education and have crossed the standard age for receiving such education, now feel a need for learning of any type, including, literacy, basic education (equivalency to formal education), vocational education (skill development), physical and emotional development, practical arts, applied science, sports, and recreation. The scheme has been formulated with the objective of achieving 80% literacy level by 2012 at national level, by focusing on adult women literacy seeking – to reduce the gap between male and female literacy to not more than 10 percentage points.
The mission has four broader objectives:
i. imparting functional literacy and numeracy to non-literates ii. acquiring equivalency to formal educational system iii. imparting relevant skill development programme iv. and promote a leaning society by providing opportunities for continuing education. Principal target of the mission i. to impart functional literacy to 70 million non-literate adults in the age group of 15 years and beyond ii. to cover 14 million SCs, 8 million STs, 12 million minorities & 36 million others iii. to have an overall coverage of 60 million women iv. and to cover 410 districts belonging to 26 States/UTs of the country that have been identified under Saakshar Bharat.
Target groups
The prime target is to impart functional literacy to adults in the age group of 15 years and beyond. The supplementary target is to cover adults under basic education programme and vocational (skill development) programme. The focus is not only on women, but also SCs, STs, Minorities, other disadvantaged groups, and adolescents in rural areas in low literacy states.
INNOVATIONS Curriculum
NLMA is mandated to develop a core curriculum framework for standardization of quality benchmarks in respect of basic literacy and continuing education programme. Accordingly, an expert committee was constituted under the chairpersonship of Dr. Santha Sinha and the committee has submitted its report in March, 2011. To have wider consultations with stakeholders, regional meetings have been organized and the report has been placed in public domain for wider consultation. On the conclusion of consultation process and submission of the final report, Government will finalize the National Curriculum Framework for Adult Education.
National Population Education Programme (NPEP)
NPEP is being implemented as a Centrally Sponsored Scheme in 30 States and Union Territories. It aims to develop awareness and positive attitude towards population and development issues leading to responsible behaviour among students and teachers and, indirectly, among parents and the community at large. Imparting authentic knowledge to learners about Adolescent Reproductive and Sexual Health (ARSH) concerns, inculcating positive attitude and developing appropriate life skills for responsible behaviour are also the objectives of NPEP. NPEP attempts to facilitate the integration of adolescent reproductive and sexual health concerns along with other population and development concerns, like sustainable development, gender equity, changing structures and role of family in the curriculum itself so that it does not become an add on activity to the curriculum. The Programme activities are planned and are being implemented in tandem with the revision and updating going on as a follow up of NCF 2005. Teachers and other educational functionaries were trained/oriented in Adolescence Education as a part of population education for facilitating the integration of adolescence education concerns reflected in the policies and programmes in the content and process of school education and teacher education.
AEP under UNFPA Support
Adolescence Education Programme (AEP) supported by UNFPA is being implemented by 6 national agencies: National Council of Educational Research and Training (NCERT), Council of Boards of School Education (COBSE), National Institute of Open Schooling (NIOS), Central Board of Secondary Education (CBSE), Kendriya Vidyalaya Sangathan (KVS) and Navodaya Vidyalaya Samiti (NVS). The AEP is the extended version of the earlier "Adolescent Reproductive and Sexual Health (ARSH) in Schools" project, launched in October 2004 primarily as an experimental Project. UNFPA is concentrating on consolidating the program in five high priority states (Rajasthan, Madhya Pradesh, Bihar, Orissa, Madhya Pradesh) where the agency has a state presence. Under the project effort are also made to ensure quality assurance by providing professional/s within each school system and establishing a system to recognize better performing schools.
THE GOALS ENVISAGED IN 12TH PLAN
During the Twelfth Plan Period, efforts are to be made to provide basic literacy to 70 million non-literates, basic education to 3 million adults, and vocational skill development training to 20 million adults. Only 127 million adults could be made literate through National Literacy 301 Mission from 1988 to 2009 at an annual average of 5 to 6 million, whereas during twelfth plan the target assumes imparting literacy at an annual average of 14 million adults. Roughly, 10 million literacy centres will be set up through Volunteer teachers to cover the 100 million non-literate adults, and ensure at least 70 million literates. In line with the seamless transition from lower to higher levels of learning continuum towards a literate society, it is aimed to provide three million adults, who may have lost the opportunity of formal schooling, adult education equivalent to V, VIII, X Standard and beyond. Vocational Skill development training would be provided through AVECs and other institutions in public, private and voluntary sector. The entire programme will be aligned with National Vocational Curriculum Framework.