TABLE OF CONTENT
A.

 GS1 Related




B.

 GS2 Related


Polity
1. Subsidise rail losses: PMO  
2. After SC order, focus on chemicals in firecrackers
3. Kerala bats for right to privacy
4. Nine High Courts oppose all-India judicial service
Bilateral Relations
1. Swiss happy with India's data security
2. Pressure on Nepal over Doklam standoff


C.

 GS3 Related


Economy
1. Price of rapacity: On SC rules against illegal mining
Agriculture
1. A field of her own


D.

 GS4 Related


E. 

Concepts-in-News: Related Concepts to Revise/Learn




F. 

Bills/Acts/Schemes/Orgs in News
G. UPSC Prelims Practice Questions
H. UPSC Mains Practice Questions 
Nothing here for Today!!!
In news
The Prime Minister's Office (PMO) has directed the Ministry of Finance to fund the losses incurred by the Indian Railways in operating non-profitable trains on strategic lines and backward areas.
The directive ends a tussle that began following the merger of the Railway and Union Budgets, as the Ministry of Finance had discontinued the practice of providing an annual subsidy to the Railways.
The decision comes as a relief for the Railways which feel that the social service obligation borne by it in running non-profitable lines of national and strategic importance should be funded by the Central government.
The losses on operating strategic lines accounts for a small fraction of the estimated over Rs.34,000 crore borne by the Railways towards social service obligation.
The Standing Committee on Railways in their reports have also recommended that the Railways should get back the money invested in loss-making lines of national importance.
2. After SC order, focus on chemicals in firecrackers
Context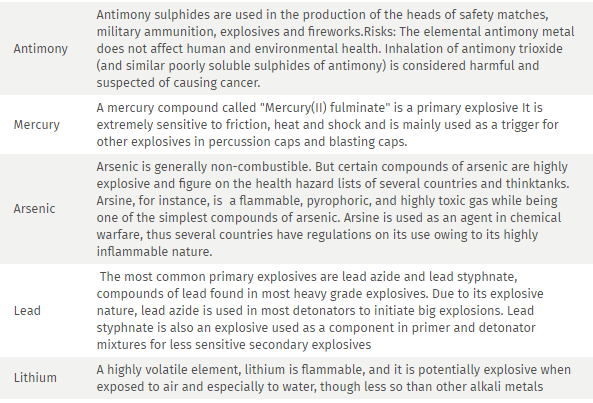 The Supreme Court ban on the use of antimony, lithium, mercury, arsenic and lead in the manufacture of firecrackers to prevent air pollution has turned the focus on what chemicals are used to produce spectacular visual effects and noise.
The court entrusted the Petroleum and Explosive Safety Organisation (PESO) with the responsibility of ensuring compliance particularly in Sivakasi.
The court also noted that no standards have been laid down by the Central Pollution Control Board (CPCB) with regard to air pollution caused by the bursting of firecrackers.
In News

The Tamil Nadu Fireworks and Amorces Manufacturers' Association, which produces most of the fireworks in the country, says none of the specific products banned by the court are used.
Manufacturer response:
Sound and light show is produced by chemicals such as sulphur, aluminium powder and charcoal (used as fuel), besides potassium nitrate and barium nitrate (as oxidising agents).
Aluminium powder, sulphur and potassium nitrate go into noise-making crackers, while barium nitrate (green) and strontium nitrate (red) emit light. Aluminium powder is used in sparklers.
2. Kerala bats for right to privacy
Context
The nine-judge Constitution Bench, led by Chief Justice of India J.S. Khehar-hearing the question of whether the right to privacy is a fundamental right or not.
In news
Privacy should be declared a fundamental right to protect citizens from intrusions by the State. In the modern world, technology has advanced so much that "what is whispered in the closet is heard in the street", the LDF government in Kerala told the Supreme Court.
Misuse of Aadhaar: the Pinarayi Vijayan government supported the case of petitioners that technology would progress so much that data collected through Aadhaar could be used for surveillance, if not now, in the future.
Kerala said privacy, like any other fundamental right, is not "absolute". But it is a fundamental right nevertheless.
Privacy encompassed: personal intimacies of the home, family, marriage, motherhood, procreation, child rearing, feelings, love and passion, etc.
A person's thought process, fantasies, etc., would also necessarily come under his Right to Privacy
2. Nine High Courts oppose all-India judicial service
Context
The Narendra Modi government had given a fresh push to the long-pending proposal to set up the new service to have a separate cadre for the lower judiciary in the country.
The idea was first mooted in the 1960s.
In news
Law and Justice Ministry document highlights:

Nine High Courts have opposed a proposal to have an all-India service for the lower judiciary, eight have sought changes in the proposed framework and only two have supported the idea.
24 High Courts wanted control over the subordinate judiciary.
The High Courts of Andhra Pradesh, Bombay, Delhi, Gujarat, Karnataka, Madhya Pradesh, Patna and Punjab and Haryana "have not favoured the idea of an All-India Judicial Service".

Government suggestion: a NEET-like examination, to recruit judges to the lower judiciary.
Key fact: There were vacancies of 4,452 judges in subordinate courts in the country.
2. Swiss happy with India's data security
In news
Switzerland found India's data security and confidentiality laws "adequate" for entering into an automatic exchange of information pact, which will open a continuous access to details about alleged black money hoarders in once secret Swiss banks.
The Swiss Federal Council ratified automatic exchange of financial account information with India and 40 other jurisdictions to facilitate immediate sharing of details about suspected black money.
2. Pressure on Nepal over Doklam standoff
Context
Prime Minister of Nepal Sher Bahadur Deuba, upcoming visit to Delhi.
Visit is likely to highlight Nepal's position on bilateral issues between India and China.
15th meeting of foreign ministers of the BIMSTEC (Bay of Bengal Initiative for Multi-Sectoral Technical and Economic Cooperation):
The Nepali Prime Minister's visit will be preceded by a visit of External Affairs Minister Sushma Swaraj who will visit Kathmandu to participate in the 15th meeting of foreign ministers of the BIMSTEC (Bay of Bengal Initiative for Multi-Sectoral Technical and Economic Cooperation) on August 10.
India has announced that the visit will have a bilateral component.
Basic information:
BIMSTEC (Bay of Bengal Initiative for Multi-Sectoral Technical and Economic Cooperation)
The Bay of Bengal Initiative for Multi-Sectoral Technical and Economic Cooperation (BIMSTEC) is an international organisation involving a group of countries in South Asia and South East Asia.
These are: Bangladesh, India, Myanmar, Sri Lanka, Thailand, Bhutan and Nepal. The BIMSTEC states are among the countries dependent on the Bay of Bengal.
BIMSTEC has Fourteen priority sectors cover all areas of co-operation. Six priority sectors of co-operation were identified at the 2nd Ministerial Meeting in Dhaka on 19 November 1998. They include the following:
Trade and Investment, led by Bangladesh
Transport and Communication, led by India
Energy, led by Myanmar
Tourism, led by India
Technology, led by Sri Lanka
Fisheries, led by Thailand
After the 8th Ministerial Meeting in Dhaka on 18–19 December 2005, a number of new areas of co-operation emerged. The number of priority sectors of co-operation increased from 6 to 14. The 7 new sectors were discussed in the 1st BIMSTEC Summit and there has been various activities to enhance those co-operations ever since. The sectors are as follows,
Agriculture, led by Myanmar
Public Health, led by Thailand
Poverty Alleviation, led by Nepal
Counter-Terrorism and Transnational Crime, led by India
Environment and Natural Disaster Management, led by India
Culture, led by Bhutan
People to People contact, led by Thailand
Climate change, led by Bangladesh
Category: SCIENCE AND TECHNOLOGY
1. Price of rapacity: On SC rules against illegal mining
Context
The Supreme Court has laid down a benchmark for action against illegal mining
Supreme Court ruling
Lease-holders should pay compensationto the extent of 100% of the price of the quantum of minerals they had illegally extracted, the Supreme Court has gone beyond a mere affirmation of the 'polluter pays' principle.
It has also set a significant benchmark for stringent action against those who indulge in mining without environmental or forest clearance
Current provisions
Central Empowered Committee had recommended compensation to the extent of 30% of the value of the iron ore and manganese ore illegally mined in Odisha.
Court's reasoning that the defaulter or violator should bear the consequences of the illegality, and therefore cannot be allowed the benefit of "pocketing 70% of the illegally mined ore".
Excess extraction in leased area
Court has firmly ruled that any excess extraction within the leased area would also amount to unlawful mining.
It has clarified that every renewal of a mining lease would require such clearance, even if there is no expansion, modernisation or increase in the pollution load.
The apex court has been passing a series of orders on illegal mining activity, notably in Goa and Karnataka.
Main concerns of the court
It has often voiced concern over the extent to which mining laws are being flouted and how illegal mining is depleting the country's natural resources.
It has asked the Centre to revisit its National Mineral Policy, 2008, which "seems to be only on paper and is not being enforced, perhaps due to the involvement of very powerful vested interests or a failure of nerve.
Country is already paying a heavy price for its failure to regulate mining operations in an effective manner.
It has become a source for corruption, excessive exploitation of natural resources and a scourge in the lives of forest dwellers and tribals.
Follow the principles of intergenerational equity, the responsibility of every generation to conserve resources with subsequent generations in mind while exploiting nature
Context
Growing contribution of Indian women in farming and issues related to it
Current Scenario
Presently, women constitute close to 65 per cent of all agricultural workers
Also, 74 per cent of the rural workforce, is female
Why are women not counted as Farmers?
Women are not officially counted as farmers because they are either labelled "agricultural labourers" or "cultivators"
Why: this is because the government does not recognise as farmers those who do not have a claim to land under their name in official records
As many as 87 per cent of women do not own their land, only 12.7 per cent of them do
Reason behind less rights to women in farming system
There are two primary reasons behind this:
First, land being a state subject is not governed by the constitution under a uniform law that applies equally to all citizens but rather is governed by personal religious laws. It tends to discriminate against women when it comes to land inheritance
Second, the cultural aspect hinder women's ownership of land in patriarchal societies cannot be discounted
Why are women with land ownership good for Indian farming society?
According to many studies, women have a greater tendency to use their income for the needs of their households
Land-owning women's offspring receive better nourishment
Land-owning mothers also tend to invest in their children's education
Possible impact of giving land ownership to the women(at micro level)
The chance of propertied women being physically abused is reduced from 49 per cent to 7 per cent due to an increase in the wife's bargaining power
If female farmers are provided security of land tenure, they will be officially recognised as farmers
The way forward
India has the intention to ensure food security for its citizens and boost women's rights
These intentions constitute goals two and five of the Sustainable Development Goals that our country committed to in 2015
Giving more empowerment to women farmers is critical in realising these outcomes
---
Nothing here for Today!!!
E. Concepts-in-News: Related Concepts to Revise/Learn
---
Nothing here for Today!!!
F. Bills/Acts/Schemes/Orgs in News
---
Nothing here for Today!!!
G. Practice Questions for UPSC Prelims Exam
Question 1. Which ministry is responsible for implementation of Foreign Contribution of Regulation Act
Ministry of Finance
Ministry of Home affairs
Ministry of Corporate affairs
None of the above
See
Question 2. Doha Development Round is often in news. It relates to which of the following?
Talks regarding international monetary system
Talks regarding refugee crisis
Talks at WTO regarding world trade
None of the above
See
Question 3. Consider the following statements:
1. Goods and Services Tax Network (GSTN) is a for-profit organisation formed to create a platform for all the concerned parties.
2. The portal will be accessible to the central government which will track down every transaction on its end.
Which of the following statements is/are correct?
1 only
2 only
Both 1 and 2
Neither 1 nor 2
See
Question 4. Which among the following are groundwater pollutants?
Fluoride
Arsenic
Chromium
Lead
Choose the correct answer.
1 and 2
1, 2 and 4
1, 2 and 3
All of the above
See
Question 5. Consider the following statements with reference to XDR-TB
1. XDR-TB is resistant to second-line drugs.
2. Extensively drug-resistant TB (XDR TB) is a rare type of multidrug-resistant tuberculosis (MDR TB) that is resistant to isoniazid and rifampin.
Choose the correct answer.
1 only
2 only
Both 1 and 2
Neither 1 nor 2
See
Question 6. Scientists who recently created a virtual black hole in the lab claimed to have observed 
for the first time a phenomenon predicted by British physicist Stephen Hawking more than 
thirty years ago according to which
some particles can escape black holes
black holes are spheres (3-D) and not two-dimensional as was earlier believed
black holes cannot absorb sound waves classified as hyper-frequency waves
Black holes can weaken and eventually disappear/collapse
See
Question 7. Consider the following statements:
Aadhaar is a 10 digit unique-identity number issued to all Indian residents based on their biometric and demographic data.
Aadhaar is not a proof of citizenship.
Choose the correct statement.
1 only
2 only
Both 1 and 2
Neither 1 nor 2
See
Question 8. Consider the following statements:
Competition Commission of India is a constitutional body.
It is responsible for enforcing The Competition Act, 2002 throughout India.
Choose the correct statement.
1 only
2 only
Both 1 and 2
Neither 1 nor 2
See
G. UPSC Mains Practice Questions
---
GS Paper II


Did the Government of India Act, 1935 lay down a federal constitution? Discuss.
"The Indian party system is passing through a phase of transition which looks to be full of contradictions and paradoxes." Discuss
GS Paper III


Comment on the challenges for inclusive growth which include careless and useless manpower in the Indian context. Suggest measures to be taken for facing these challenges.
What is allelopathy? Discuss its role in major cropping systems of irrigated agriculture.
GS Paper IV


What is 'emotional intelligence' and how can it be developed in people? How does it help an individual in taking ethical decisions?
You are heading a leading technical institute of the country. The institute is planning to convene an interview panel shortly under your chairmanship for selection of the post of professors. A few days before the interview, you get a call from the Personal Secretary (PS) of a senior government functionary seeking your intervention in favour of the selection of a close relative of the functionary for this post. The PS also informs you that he is aware of the long pending and urgent proposals of your institute for grant of funds for modernization, which are awaiting the functionary's approval. He assures you that he would get these proposals cleared. (20 marks | 250 words)
a) What are the options available to you?
b) Evaluate each of these options and choose the option which you would adopt, giving reasons.