TABLE OF CONTENTS
A.

 GS1 Related




B.

 GS2 Related


POLITY AND GOVERNANCE
1. Order challenges SC verdict on privacy: experts
2. Himachal, Kerala and T.N. top development index
INTERNATIONAL RELATIONS
1. U.S. to withdraw troops from Afghanistan


C.

 GS3 Related


ENVIRONMENT
1. Hefty fines if States fail to give plans to clean up rivers: NGT


D.

 GS4 Related




E. 

Editorials


POLITY AND GOVERNANCE
1. Move fast and fix things (Facebook- Privacy Breaches)
INTERNATIONAL RELATIONS
1. Island hopping (India- Maldives Relations)


F. 

Tidbits




G. 

Prelims Fact


1. Rare albino orangutan released back into the wild
2. Odisha's KALIA to attack poverty
H. UPSC Prelims Practice Questions
I. UPSC Mains Practice Questions

Nothing here for today!!!
Category: POLITY AND GOVERNANCE
1. Order challenges SC verdict on privacy: experts
Context
The December 20 order allowing 10 different Central agencies to snoop on people is seen as a challenge to the nine-judge Constitution Bench judgment of the Supreme Court, which directed the government to protect informational privacy of every individual.
In its 2017 judgment, the court had asked the government always to balance individual privacy and the legitimate concerns of the state carefully and sensitively, even if national security was at stake.
Background
The December 20 order allows Central agencies — from the Intelligence Bureau to the Central Board of Direct Taxes to the Cabinet Secretariat (RAW) to the Commissioner of Delhi Police — to intercept, monitor and de-crypt "any information" generated, transmitted, received or stored in "any computer resource".
The government order is based on Section 69(1) of the Information Technology Act, 2000, and Rule 4 of the Information Technology (Procedure and Safeguards for Interception, Monitoring and Decryption of Information) Rules, 2009.
Section 69 of the Information Technology Amendment Act 2008
Section 69 empowers the Central Government/State Government/ its authorized agency to intercept, monitor or decrypt any information generated, transmitted, received or stored in any computer resource if it is necessary or expedient so to do in the interest of the sovereignty or integrity of India, defence of India, security of the State, friendly relations with foreign States or public order or for preventing incitement to the commission of any cognizable offence or for investigation of any offence.
They can also secure assistance from computer personnel in decrypting data, under penalty of imprisonment.
Landmark judgement right to privacy – 2017
Nine-bench constitutional bench in Justice KS Puttaswamy (Retd) Vs. the Union of India delivered landmark judgement and unanimously declared that the Right to Privacy is part of Fundamental Rights.
Right to Privacy is part of Right to life and personal dignity under Article-21 of Indian Constitution. As other fundamental rights, Right to Privacy is also not absolute and there may be some 'reasonable' restrictions.
Unity and Integrity of the nation cannot be ensured without ensuring the dignity of an individual through privacy.
The bench also argued that the state does not have right to decide what one eats, what one should wear; as they are part of his/her Right to Privacy.
The bench also displayed concern about the weak data protection mechanism in India and directed the state to come out with strong data security infrastructure and data protection laws.
The judgement of the Constitutional bench is truly the landmark. This has opened doors to review many other points from a different angle. This also showed that conformist judgements may be a threat to the basic structure of the Constitution and Rights of citizens.
Freedom is an inherent right. If it is provided by the state than it doubles enjoyment of life. Because we have "govt of the people, by the people, for the people" said by great freedom fighter Abraham Lincoln.
2. Himachal, Kerala and T.N. top development index
Context
Himachal Pradesh, Kerala, and Tamil Nadu have been ranked highest in terms of being on track to achieve the United Nations' Sustainable Development Goals (SDG), according to a first-of-its-kind index released by NITI Aayog on Friday.
Details of the report
The index comprises a composite score for each State and Union Territory based on their aggregate performance across 13 of the 17 SDGs. The score, ranging between 0 and 100, denotes the average performance of the State/UT towards achieving the 13 SDGs and their respective targets. The average Indian score was 57.
The SDG Index Score for Sustainable Development Goals 2030 ranges between 42 and 69 for States and between 57 and 68 for UTs.
Among the States, Kerala and Himachal Pradesh are the front runners, with an SDG India Index score of 69. Among the UTs, Chandigarh is the front runner with a score of 68.
Tamil Nadu has a score 66, and is the top scorer on the goals to do with eradicating poverty and also providing clean and affordable energy.
The aim of the index is to instill competition among States to improve their performance across social indices as the States' progress will determine India's progress towards achieving the set goals by 2030
Kerala's top rank is attributed to its superior performance in providing good health, reducing hunger, achieving gender equality and providing quality education.
Himachal Pradesh ranks high on providing clean water and sanitation, in reducing inequalities and preserving the mountain ecosystem.
Sustainable Development Goals
The documentary screened at the Rio+20 conference – "Future We Want" presented the idea of post 2015 development agenda.
Sustainable development Goals (SDGs) is an intergovernmental agreement formulated to act as post 2015 Development agenda, its predecessor being Millennium Development Goals.
It is a group of 17 goals with 169 targets and 304 indicators, as proposed by the United Nation General Assembly's Open Working Group on Sustainable Development Goals to be achieved by 2030. Post negotiations, agenda titled "Transforming Our World: the 2030 agenda for Sustainable Development" was adopted at the United Nations Sustainable Development Summit. SDGs is the outcome of Rio+20 conference (2012) held in Rio De Janerio and is a non-binding document.
17 Sustainable Development Goals
SDG 1: No Poverty
SDG 2: Zero Hunger
SDG 3: Good Health and Well-being
SDG 4: Quality Education
SDG 5: Gender Equality
SDG 6: Clean Water and Sanitation
SDG 7: Affordable and clean energy
SDG 8: Decent Work and Economic Growth
SDG 9: Industry, innovation and infrastructure
SDG 10: Reduced inequalities
SDG 11: Sustainable cities and communities
SDG 12: Responsible production and Consumption
SDG 13: Climate actions
SDG 14: Conserve life below water
SDG 15: Protect the life on land
SDG 16: Peace, justice and strong institutions
SDG 17: Partnerships for the goals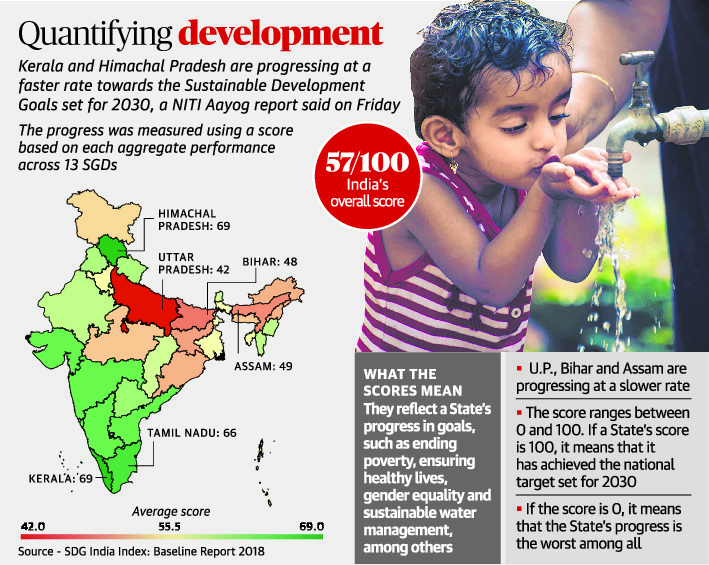 Category: INTERNATIONAL RELATIONS
1. U.S. to withdraw troops from Afghanistan
Context
S. President Donald Trump has decided to pull a significant number of troops from Afghanistan. Reports suggested as many as half of the 14,000 troops in the war-torn country could be leaving.
The move stunned and dismayed diplomats and officials in Kabul who are intensifying a push to end the 17-year conflict with the Taliban. Taliban already controls vast amounts of territory and is causing "unsustainable" Afghan troop casualties.
Background
The Taliban is a Sunni Islamic fundamentalist political movement in Afghanistan which is at present waging war within that country.
It was founded in 1994 and from 1996 to 2001; it was governing the country enforcing a strict interpretation of Islamic or Sharia law.
Many leading Muslims as well as much of the international community were highly critical of the Taliban government and ways.
Taliban then ruled it after 1996 as a totalitarian regime till it was removed by NATO-led coalition in 2001 forming a new democratically elected government political structure.
Hamid Karzai became the first ever democratically elected head of state in 2004 and the current President is Ashraf Ghani, since 29 September 2014.
Even after formation of a democratically elected government and removal of Taliban from power in Afghanistan, it still faces several internal issues and multipronged attacks by groups like Taliban and ISIS (Islamic State of Iraq and Syria).
Taliban still controls very large parts of Afghanistan and insurgency and terrorist forces are still strong in the nation. The control of government is limited only to urban areas and highways in reality.
US led NATO (North Atlantic Treaty Organization) forces have been in Afghanistan in the longest conflict engagement since World War II. They are trying to establish a Government in Afghanistan to a substantial extent and there is a 'Rule of Law'.
Role of India in Afghanistan
India has focused on development of infrastructure and military aid in Afghanistan. India has aided the overthrow of Taliban and became the largest regional provider of humanitarian and reconstruction aid to Afghanistan.
India wants to improve transport connectivity and economic collaboration with countries in Central and South Asia. India has invested billions of dollars in Afghanistan and has worked on projects like Salma Dam.
India is also investing in the expansion of Chabahar port in Southeastern Iran, which will improve its connectivity to Afghanistan and Central Asia.
1. Hefty fines if States fail to give plans to clean up rivers: NGT
Noting that 16 States have submitted "incomplete action plans" pertaining to the cleaning of 351 polluted river stretches in the country, the National Green Tribunal (NGT) has extended the deadline for submitting the action plans to January 31.
The green panel, however, added that in case of non-compliance, hefty compensation will be levied on the States and the Union Territories.
Related Concept – Biochemical Oxygen Demand:
BOD is the amount of dissolved oxygen needed (i.e. demanded) by aerobic biological organisms to break down organic material.
BOD is a proxy for organic pollution. If BOD is higher, the worse is the river. The health of a river and the efficacy of water treatment measures by the States and municipal bodies are classified depending on BOD.
When BOD is greater than or equal to 30 mg/l, it is termed as 'priority 1,' while that between 3.1 & 6 mg/l is 'priority 5.' CPCB considers BOD less than 3 mg/l, an indicator of a healthy river.
Reasons for the river pollution
Rapid urbanisation is widening the gap, since infrastructure planning is not keeping pace with growth in housing.
There is poor infrastructure available in a large number of cities and towns located near rivers.
Managing sewage requires steady funding of treatment plants for all urban agglomerations that discharge their waste into rivers, and also a reliable power supply.
There is failure of several national programs run by the Centre for river conservation, wetland preservation and water quality monitoring.
The sewage and industrial effluents freely flow into the rivers in several cities.
Nothing here for today!!!
Category: POLITY AND GOVERNANCE
1. Move fast and fix things (Facebook- Privacy Breaches)
Larger Background:
Critics point out that Facebook is identified globally for privacy breaches and misinformation campaigns; even to the extent of interfering in the election processes of major democracies.
As a matter of fact, the latest in the series of  of disclosures is the investigation by The New York Times documenting a range of private deals struck by Facebook for reciprocal sharing of user data with the knowledge of top management. Some deals permitted access even to private chats.
Editorial Analysis:
The Indian Perspective:
Critics point out that it is important to consider as to how the underlying cause for our deficient national response is a lack of institutional capacity to respond to such challenges.

As a matter of fact, even prior to the disclosures by Cambridge Analytica, Indian civil society activists had fought against Facebook very publicly on net neutrality.

The company had proposed to offer users without Internet on their phones a platform called "Free Basics", with a bouquet of essential websites.

In December 2015 it argued that by facilitating access to websites beyond Facebook, its intent was purely altruistic.

This deal was opposed on grounds of net neutrality by those who recognised that Facebook would become a gatekeeper to the Internet. The opposition to "Free Basics" won, with a ban on it being imposed by the telecom regulator of India.

However, some experts point out that one subsidiary argument which largely went unnoticed was that Facebook was not clearly stating how it would use the personal data of users on the Free Basics platform.
It is important to note that three years ago, when the net neutrality campaign was on, there was no data protection authority or an office of a privacy commissioner to investigate and independently audit platforms such as Free Basics. Even today such a data protection authority or an office of a privacy commissioner doesn't exist.  
Facebook and its Data Sharing Practices:
Facebook continued building itself as a digital conglomerate. This was done primarily through acquisitions but also data sharing practices, in which any application which got access to Facebook data had to share it back with Facebook.

As a matter of fact, this practice of data hoarding became clear when after acquiring WhatsApp, it changed its privacy policy with effect from September 2016.
Critics point out that Facebook allowed sharing a user's metadata between WhatsApp and Facebook, without clearly explaining what was being shared and how it was being used.
Judicial Interventions:
Further, changes to these terms of service were challenged in a public interest petition in the Delhi High Court, which dismissed this legal challenge, noting among other things that at the time the status of the fundamental right to privacy was disputed, based on an objection by the Central government.

This was appealed against in the Honourable Supreme Court. The Honourable Supreme Court sensed the seriousness in this plea and announced that a Constitution Bench would be constituted.

As a matter of fact, when in August 2017 the right to privacy judgment came, there was hope that it would lead to greater accountability with the horizontal application to private platforms such as WhatsApp and Facebook. Instead, as documented in an order in September 2017, the Union government submitted it had constituted a data protection committee headed by retired Supreme Court judge, Justice B.N. Srikrishna, on the same issue.

Some experts point out that this in a sense, amounts to pushing for a deferral of the hearing.

The WhatsApp-Facebook case is still pending in the Supreme Court.
Perspective on Cambridge Analytica:
By March 2018, the Cambridge Analytica exposé gathered steam.

As a matter of fact, reports by The New York Times and The Observer documented the compromising of personal data of Facebook users to micro-target them with subtle forms of political campaigning without their knowledge.

This was reportedly aimed at influencing their voting preferences and the outcome of elections.

This immediately acquired a cynical hue in India. Also, as a consequence, petty and personal allegations flew in television debates.

Some experts point out that suspicion pointed to the Indian National Congress as per the statement of Christopher Wylie, a Cambridge Analytica whistleblower.

Meanwhile, the government of India, through the Ministry of Electronics and Information Technology, responded in two ways. These are as under mentioned:
First, it wrote to Facebook, with the complete text and responses not made public.

Second,

there were strongly worded press interactions, which included ministerial statements to summon Facebook's Mark Zuckerberg to India.
Further, the Parliamentary Standing Committee on IT in April 2018 also started examining this issue. While the Parliamentary Standing Committee did invite public comments, its proceedings have not been disclosed.

Subsequently, the matter at the ministerial level was referred to the Central Bureau of Investigation, which launched a preliminary investigation in September 2018.

However, critics point out that till date, there is little public information on movement in this investigation.
Concluding Remarks:
It is important to note that many of these problems go much beyond Facebook.

An important question arises: Who will guarantee that such changes serve public welfare? This will certainly not be Facebook. As a matter of fact, this task must fall to public institutions. However, this seems unlikely at present.

Movement on a privacy law has become gridlocked in recent months. A draft law to safeguard it is beset with controversy in a closed drafting process without much transparency. It has no clear path to enactment, and is not listed for the ongoing winter session of Parliament.
Issues of Contention:
The government has prioritised more data collection and privacy-impairing legislation. These include the DNA Technology (Use and Application) Regulation Bill, which is listed for discussion and voting.

Another instance is the political firestorm after Ministry of Home Affairs issued a notification authorising digital surveillance by 10 Central government agencies.

With regards to a data protection law, experts raise the following questions:
What form would it take, and what fine details would it assume?

Will it protect us?
In conclusion, the government must act with urgency.

While we should continue focussing scrutiny on large platforms such as Facebook, it cannot be done just by the smarts and technical negotiations of everyday users.

We also must not forget that Facebook, despite its unethical conduct, is of enduring value to millions of Indians.

Thus, to properly harness digitisation, we now have the challenge of developing and prioritising institutions of governance to protect users. This must start immediately with a strong, rights-protecting, comprehensive privacy law.

At present, however, despite having the second highest number of Internet users in the world, India has little to show as a country in investigatory outcomes, measured regulatory responses or parliamentary processes which safeguard users.

Experts point out that now is the time to 'move fast and fix things'.
Category: INTERNATIONAL RELATIONS
1. Island hopping (India- Maldives Relations)
What's in the news?
Maldivian President Ibrahim Mohamed Solih was on a three-day visit to India this month of December, 2018.  

Experts opine that this development seems to have brought a tumultuous phase in India-Maldives ties to a close.
Backdrop of the Visit:  
It is important to note that this was Mr. Solih's first overseas visit after becoming the President of the Indian Ocean nation of 400,000 people.

Experts point out that Mr. Solih defeated Abdulla Yameen in a surprise victory in the Maldivian presidential elections in September 2018 and, since then, has recalibrated his country's ties with India.

It is believed that while Mr. Yameen had drawn the Maldives closer to China and brutally crushed the Opposition, Mr. Solih's victory has been a shot in the arm for those who favour strengthening democratic forces in the island nation.

Also it is important to note that

Prime Minister Narendra Modi had attended the swearing-in ceremony of Mr. Solih as the President of Maldives in November, 2018.

This was Prime Minister Narendra Modi's first visit to the Maldives as Prime Minister and the first by an Indian head of state since 2011.

Critics point out that even as Mr. Modi enthusiastically reached out to all of India's neighbours after his election in 2014, he remained reluctant to engage with Mr. Yameen. They further point out that Prime Minister Modi's planned visit to the Maldives, in March 2015, was cancelled as the political environment deteriorated under Mr. Yameen.

It is important to note that in a strong endorsement of Mr. Solih's victory,

Mr. Modi underscored that the recent elections in the Maldives represented the collective

aspirations of the people for democracy, the rule of law and a prosperous future.

As a matter of fact, Mr. Modi made it clear that India desired "to see a stable, democratic, prosperous and peaceful Republic of Maldives".
Points of engagement between the two countries:
Experts point out that Mr. Solih's India visit has seen the two sides emphasise their traditionally close bond. He called India the island nation's "closest friend" and "reaffirmed his government's 'India-First' Policy", committing to working together closely with India.
India, for its part, announced a financial assistance package of $1.4 billion for the Maldives in the form of budgetary support, currency swap agreements and concessional lines of credit.
Both India and the Maldives have agreed to ensure that they would keep other's security interests in mind as they consolidate cooperation in the Indian Ocean Region (IOR). Further, they have agreed to strengthen maritime security cooperation in the IOR through coordinated patrol and aerial surveillance.

Also, in an attempt to boost trade ties, Mr. Modi "welcomed the expanding opportunities for Indian companies to invest in the Maldives". Areas such fisheries development, tourism, transportation, connectivity, health, education, information technology, new and renewable energy and communications were earmarked for enhancing bilateral cooperation.
Perspective on China
Experts point out that it is important from India's perspective that Mr. Solih succeeds in the Maldives. Also, under Mr. Yameen, the Maldives had veered too close to China for India's comfort, welcoming Chinese money for major infrastructure projects and signing a controversial free trade agreement (FTA).

India's entreaties for political moderation and closer security ties were summarily ignored.

China's role in the Maldivian economy is under the scanner today amid growing concerns about the money the Maldives owes to China for infrastructure projects undertaken by Chinese construction companies.

These infrastructure projects include the China-Maldives Friendship Bridge, which connects Malé's eastern edge to the western corner of the island of Hulhulé. It is now estimated that China's loans to the Maldives total at least $1.3 billion, or a quarter of the island nation's gross domestic product.

Further, faced with this crisis, the new Maldivian government is looking to India for more budgetary support to help meet its development goals and is also planning to revise the FTA with China.

Currently, the Modi government is also trying to ensure help reaches Male in time so that India regains some of its lost space in the Maldives' foreign policy and politics.

It is important to note that the Maldives has also made it clear that while the neighbourhood will clearly be a priority for the Solih government, China will continue to play an important role as an economic partner.

Thus, experts point out that China is not going to disappear from the Maldivian foreign policy matrix and nor should India expect it to.

However, the logic of geography dictates that India's role will be critical in determining the trajectory of political developments in the Maldives.
Editorial Analysis:
Experts point out that Mr. Solih's government has adopted a different vision as compared to the previous dispensation.

It is an approach anchored in decentralised and people-centric governance.

Further, India seems to enjoy a special place in his worldview.

Mr. Solih stressed that India is "our closest neighbour".

President Ram Nath Kovind reciprocated by tweeting: "India attaches the highest importance to its relationship with Maldives."

It is important to note that Prime Minister Narendra Modi was the only head of government present at Mr. Solih's inauguration, on November 17, 2018.

The joint statement issued during Mr. Solih's visit reflects a fine balance between the interests of both countries.
India's assistance to the Maldives:
To help the Maldives address its budget deficit and development challenges, India has worked out a generous $1.4 billion assistance package. Its break-up and the period for which it is available have not been revealed yet. However, it is learnt reliably that much of the funding may be utilised for people-friendly projects in four domains: health care, education, water and sanitation.
Besides this, India has offered visa facilitation that will allow Maldivians to visit India easily (with reciprocal facilities for Indian visitors to the Maldives); 1,000 "additional" training slots for the next five years; close cooperation on political and diplomatic issues; and support to the Maldives as it seeks to rejoin the Commonwealth and its entry into the Indian Ocean Rim Association (IORA).
The visit resulted in the conclusion of four agreements relating to cooperation for information technology, culture, agri-business, and visa arrangements.
The new government in Male has also given assurances to be fully sensitive to India's security and strategic concerns, in the light of reports that China has gained access to one or more islands for military purposes.
On the valid ground that the security interests of both countries are "interlinked", India and the Maldives have agreed to be mindful of "each other's concerns and aspirations for the stability of the region".
As a matter of fact, both India and the Maldives, now plan "to enhance maritime security" in the Indian Ocean Region.
The expectation in India is that the Indian Navy and Coast Guard will now be able to secure better cooperation from the Maldives for coordinated patrolling, aerial surveillance and capacity building.
Besides, intelligence agencies hope to revert to nurturing better collaboration in combating terrorism and other non-traditional security challenges. This is significant, considering that radicalisation is a live issue there.

A sizeable number of Maldivian young men are reported to have left to join the Islamic State in Syria.

The trade and investment facet of the bilateral relationship is of a modest nature, given the country's small population.

The annual value of bilateral trade is $200 million. India Inc., therefore, needs to be energised to increase its presence in the Maldivian market, despite the setback suffered by a private Indian firm when its contract was cancelled unceremoniously in December 2012.

Experts point out that

Mr. Solih did well by participating in a business event, hosted jointly by India's three apex industry chambers. Mr. Solih's message was clear: the Maldives is open for business again.
The Stakes in the Indian Ocean:
The deliberations in Delhi took place as China's footprint in South Asia has increased in recent years. There is a growing realisation that, owing to China's strategic objectives, economic capability and assertive diplomacy, it is not feasible for India to supplant China in neighbouring countries.

However, India has its own advantages, assets and friends. The intention is to leverage them fully, deriving benefit from the neighbours' essential thirst for maintaining balance in their external relations.

It is also important to note that the change in the Maldives has been followed by a re-assertion of democratic impulses in Sri Lanka

, as symbolised by the return of Ranil Wickremesinghe as the Prime Minister. India enjoys close relations with Mauritius and the Seychelles.
Experts point out that a new grouping of India, the Maldives, Sri Lanka, Mauritius and the Seychelles, focussed on maritime security and economic development, looks attainable in the short term.
Concluding Remarks:
In devising a smart action plan to implement the SAGAR, or Security and Growth for All in the Region, strategy, that was announced by Mr. Modi in March 2015, New Delhi should accord equal importance to its two key goals: address its neighbours' concerns on security challenges; and harness enticing opportunities for the Blue Economy. Even others such as South Africa, whose President is due to visit India in January 2019, and Kenya, much enthused from having hosted recently the first global conference on the sustainable Blue Economy, may be happy to join.

In conclusion, India's patient handling of the Maldives crisis over the last few years has positioned it well.

Also, by coordinating its response with other like-minded regional and extra-regional players, India increased the costs for Mr. Yameen and also underscored that there are options available to the Maldives should it decide to move away from China. After a meeting of the 'Quad' countries in Singapore in November 2018, the U.S., for example, released a statement expressing support for the new Maldivian government.

Going forward, experts point out that the Maldives would need the support of India as its challenges remain acute.

Lastly, it is important to note that the institutional fabric of the country has been battered under Mr. Yameen's assault even as the threat of Islamist extremism has grown in potency.

It is believed that governance will continue to be challenging as the forces which came together to bring down Mr. Yameen may not be cohesive enough in running the nation and strengthening its democratic foundations.

Finally, it is believed that India should not be deterred by temporary setbacks. Instead of perpetually viewing the dynamics from a China-centric perspective, it must keep its eyes firmly on the long term.

It is important to note that the more invested India is in strengthening democratic institutions in its neighbourhood, the better returns it will get in its foreign policy.
Nothing here for today!!!
G. Prelims Fact
1. Rare albino orangutan released back into the wild
Context
The world's only known albino orangutan has been released back into the jungle more than a year after she was found emaciated and bloody in a remote corner of Borneo, an Indonesian NGO said on Friday.
Albino Orangutan
Native to Indonesia and Malaysia, orangutans are currently found in only the rainforests of Borneo and Sumatra.
The Bornean orangutan (has three subspecies), which along with the Sumatran orangutan are Asia's only great apes, is classified by the IUCN as "critically endangered".
The creatures have seen their habitat shrink dramatically as the island's rainforests are increasingly turned into oil palm, rubber or paper plantations, and are sometimes targeted by villagers who view them as pests.
Orangutans are the most arboreal of the great apes and spend most of their time in trees.
Fruit is the most important component of an orangutan's diet; however, the apes will also eat vegetation, bark, honey, insects and even bird eggs.
2. Odisha's KALIA to attack poverty
Context
The Odisha Cabinet on Friday approved the Krushak Assistance for Livelihood and Income Augmentation (KALIA) scheme amounting to ₹10,000 crore to accelerate agricultural prosperity in the State and to reduce poverty.
Details of the scheme
KALIA is progressive, inclusive and will make a direct attack on poverty by way of massive investment in the agriculture sector and making benefits reach the most needy through direct benefit transfer (DBT) mode, said Chief Minister Naveen Patnaik briefing presspersons after the Cabinet meeting.
KALIA scheme covers the cultivators, loanee, as well as non-loanee farmers, share croppers and landless agricultural labourers. It also specifically takes care of vulnerable agricultural families identified through gram panchayats and crop loans are made available at 0% interest.
All the small and marginal farmers of the State (92% cultivators) will be covered under the scheme. An amount of ₹10,000 per family at the rate of ₹5,000 for Kharif and Rabi shall be provided as financial assistance for taking up cultivation.
The farmers will have complete independence to take up interventions as per their needs. This component is not linked to extent of land owned and will greatly benefit share croppers and actual cultivators most of whom own very small extent of land.
Under this initiative, 10 lakh landless households will be supported with a unit cost of ₹12,500 to take up activities like small goat rearing units, mini layer units, duck units, fishery kits for fishermen and women, mushroom cultivation and bee keeping.
As regards financial assistance to vulnerable agriculture households and landless labourers, an annual financial assistance of ₹10,000 per household will be provided to take care of their sustenance. Deserving families will be identified and selected by gram panchayats. About 10 lakh households will be covered over two years.
Further, life insurance cover of ₹2 lakh and additional personal accident cover of ₹2 lakh will be provided to both cultivators and agricultural labourers covering about 57 lakh households.
H. Practice Questions for UPSC Prelims Exam
Question 1. With reference to National emergency, consider the following statements:

It can be declared even if security of India is not under threat, but there is a case of imminent danger.
If once proclaimed, it is applicable to the whole of Indian Territory.
Which of the above statement(s) is/are correct?
Only 1 
Only 2
Both 1 and 2
None of the above
See
Question 2. With reference to Vice-President, consider the following statements:

In order to be eligible for election, a person should be qualified for election as a member of the Rajya Sabha.
There is no specific provision in the Indian Constitution regarding re-election of Vice- President.
Which of the above statement(s) is/are correct?
Only 1 and 3
Only 2
Both 1 and 2
None of the above
See
Question 3. With reference to Constituent Assembly, which of the following statements is/are
 correct?

The Assembly included members from chief commissioners' provinces.
The representatives were partly nominated and partly elected.
The representatives of the princely states were elected by the method of proportional representation by means of single transferable vote.
Which of the above statement(s) is/are correct?
Only 1 and 3
Only 2
Only 1 and 3
Only 3
See
I. Practice Questions for UPSC Mains Exam
The Parliament has recently passed the Consumer Protection bill. In this context, discuss how the Consumer Protection bill, 2018 aims to enforce consumer rights and provide a mechanism for complaint redressal. (12. 5 Marks; 200 words)
What are the reforms carried out for farming sector in the recent years? How impactful they have been in terms of alleviating issues faced by the sector. (12. 5 Marks; 200 words)
See previous CNA