TABLE OF CONTENTS
A.

 GS1 Related


INDIAN HISTORY AND CULTURE
1. Tight security for Koregaon battle anniversary on Jan. 1


B.

 GS2 Related


POLITY AND GOVERNANCE
1. Govt.'s draft rules to regulate social media echo SC orders
2. RTI activists living dangerously in Bihar


C.

 GS3 Related


ENVIRONMENT
1. '260 leopards poached since 2015'
2. Patna zoo closed after tests confirm bird flu
HEALTH
1. 30 mn newborns cry out for help


D.

 GS4 Related




E. 

Editorials


INTERNATIONAL RELATIONS
1. Elections in an embattled democracy
2. Chabahar tidings (India- Iran Relations)
POLITY AND GOVERNANCE
1. On a shaky foundation (Right to Privacy Vs. Surveillance)


F. 

Tidbits


1. Leh makes short work of a mountain of waste
2. Our differences are a source of richness, not danger: Pope


G. 

Prelims Fact


1. PM opens Bogibeel Bridge, India's longest
H. UPSC Prelims Practice Questions
I. UPSC Mains Practice Questions

Category: INDIAN HISTORY AND CULTURE
1. Tight security for Koregaon battle anniversary on Jan. 1
Context
A robust police shield is in place ahead of the 201st anniversary of the Koregaon-Bhima battle to preclude any recurrence of the violent clashes that marred the bicentenary celebrations on January 1 this year.
The 2018 Bhima Koregaon incident
It refers to violence that broke out following an annual celebratory gathering at Bhima Koregaon to mark the 200th year of the Battle of Bhima Koregaon.
The gathering consisted largely of Dalits, and interference by upper caste Maratha groups on the Dalit gathering resulted in escalation of an already tense gathering into violence.
The aftermath consisted of various protests resulting in one death, 30 policemen being injured as well as over 300 people being detained.
A Maharashtra bandh was called by Dalit groups on 3 January 2018. Protests were staged all over Maharashtra. In Mumbai, suburban trains were affected due to which Dabbawalas suspended their services.
Investigation by the police in the following months resulted in various arrests, such as that of Rona Wilson in June 2018 under Unlawful Activities (Prevention) Act.
In August 2018 five activists, including Varavara Rao, Arun Ferreira, Sudha Bharadwaj and Gautam Navlakha, were picked up in simultaneous raids across the country, the police alleged that the activists had ties to Maoists, apart from links to the Bhima Korgaon incident.
On the other hand, the arrests have also received widespread condemnation across India.
What is the Battle of Koregaon?
The Battle of Koregaon was fought on 1 January 1818 between the British East India Company and the Peshwa faction of the Maratha Confederacy, at Koregaon Bhima.
The 28,000-strong Marathas, led by Peshwa Baji Rao II intended to attack Pune. On their way, they were met by an 800-strong Company force that was on its way to reinforce the British troops in Pune.
The Peshwa dispatched around 2,000 soldiers to attack the Company force stationed in Koregaon.
Led by Captain Francis Staunton, the Company troops defended their position for nearly 12 hours.
The Marathas ultimately withdrew, fearing the arrival of a larger British force led by General Joseph Smith.
The Company troops of Indian origin included predominantly Mahar Dalit soldiers belonging to the Bombay Native Infantry, and therefore Dalit activists regard the battle as a heroic episode in Dalit history.
 Significance to Mahars
The Koregaon pillar inscription features the names of the 49 Company soldiers killed in the battle. 22 of these names end with the suffix -nac (or -nak), which was used exclusively by the people of Mahar caste.
The obelisk was featured on the Mahar Regiment's crest until Indian Independence. While it was built by the British as a symbol of their own power, today it serves as a memorial of the Mahars.
The Mahars were considered untouchable in the contemporary caste-based society. The Peshwas, who were high-caste Brahmins, were notorious for their mistreatment and persecution of the untouchables.
Because of this, the Dalits (former untouchables) now see the Koregaon obelisk as a symbol of their victory over the high-caste oppression. The Dalit Buddhist leader B. R. Ambedkar visited the site on 1 January 1927. To commemorate his visit to the site, now thousands of his followers visit the site every New Year's Day. A number of Mahar gatherings have also been held at the place
Category: POLITY AND GOVERNANCE
1. Govt.'s draft rules to regulate social media echo SC orders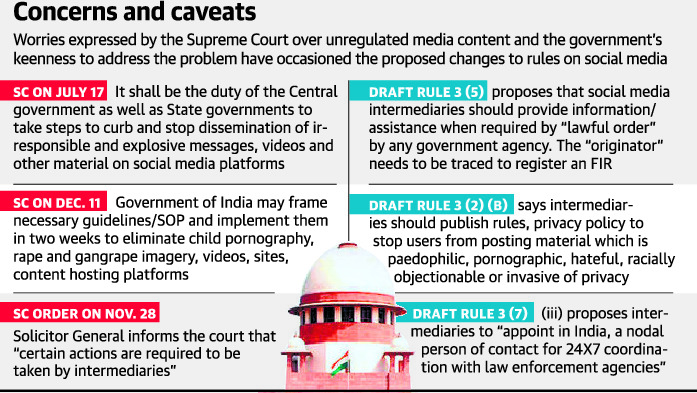 The analysis of draft IT (Intermediaries Guidelines) Amendment Rules, 2018
India has the second highest number of internet users in the world after China, an estimated 462.12 million. Among them, 258.27 million were likely to be social network users in the country in 2019.
The proposed amendments in the draft of the Information Technology [Intermediaries Guidelines (Amendment) Rules] 2018, Rule 3(9) is bound to force social media platforms like Whatsapp, Facebook and Twitter to remain vigil and keep users on their toes before posting or sharing anything that is deemed as "unlawful information or content".
The changes proposed by the central government is aimed at curbing fake news or rumours being spread on social media and check mob violence ahead.
The changes will require online platforms to break end-to-end encryption in order to ascertain the origin of messages. The social media platforms to "deploy technology based automated tools or appropriate mechanisms, with appropriate controls, for proactively identifying or removing or disabling access to unlawful information or content".
As per the amendment, the social media platforms will need to comply with the central government "within 72 hours" of a query.
There should be a 'Nodal person of Contact for 24X7 coordination with law enforcement agencies and officers to ensure compliance. The social media platforms will be keeping a vigil on "unlawful activity" for a period of "180 days".
With concerns over "rising incidents of violence and lynching in the country due to misuse of social media platforms", there is now need for online platforms to shoulder the "responsibility, accountability and larger commitment to ensure that its platform is not misused on a large scale to spread incorrect facts projected as news and designed to instigate people to commit crime".
The proposed changes have once again given rise to a debate on whether the government is intruding into the privacy of individuals, evoking sharp response from opposition parties. Similar apprehensions were raised with the Section 66A of the IT Act that enabled authorities to arrest users for posting content which was termed as offensive. However, the Supreme Court on March 24, 2015, struck down the law.
2. RTI activists living dangerously in Bihar
Context
While the recent brazen murders of businessmen and a bank official in Bihar has caught media attention, the State is equally dangerous for Right to Information (RTI) activists, with five of them been killed in 2018 alone.
Profiles of RTI Activists killed in Bihar in 2018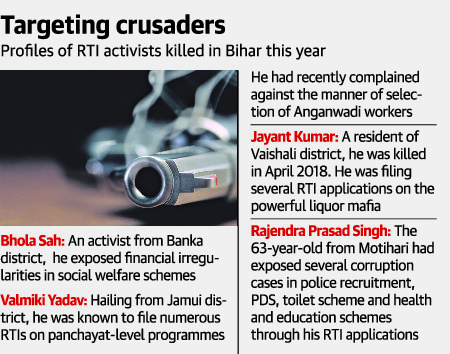 RTI and India
The RTI Act was enacted in 2005. Over four million RTI applications are filed every year.
Despite under-staffed information commissions, and delays, the RTI Act has empowered citizens to hold officials and politicians accountable.
It has exposed many scams such as the Adarsh Housing scam in Mumbai.
The information has often exposed the nexus among politicians, bureaucrats and businessmen.
The murders and assaults make it evident that people seeking information under the RTI Act are not adequately protected by the government even though several remedies have been suggested.
These range from keeping the names and personal details of applicants confidential to putting the requested information directly in the public domain, assuming, of course, that the request is considered fair.
As things stand, the RTI format requires the applicant to provide his complete name and postal address. There is legal ambiguity about the need to keep personal details confidential.
In practice, the RTI request is often passed around among relevant government departments with all the applicants' details becoming public.
The Calcutta High Court has suggested that RTI applicants need not disclose any personal details, other than, say, a post office box number, or an anonymous email id, as a point of contact. The court said: "It would be the solemn duty of the authorities to hide such information so that people at large would not know of the applicant's personal details." However, this suggestion is not binding in law.
1. '260 leopards poached since 2015'
Context
At least 260 leopards were poached in the country between 2015 and 2018, with Uttarakhand accounting for 60 cases and Himachal Pradesh reporting another 49, according to information given to Parliament by the Ministry of Environment, Forest and Climate Change (MoEFCC).
Of this, 64 cases of leopard poaching were recorded in 2015, 83 in 2016, 47 in 2017 and 66 till October 2018, the data tabled in the Lok Sabha earlier this month show.
Experts point out that since leopards live in close proximity to human habitations and are found all across the country, the cases of poaching too are spread countrywide, with a significant number of such incidents not showing up in government records. There are also several incidents of leopard deaths on account of road kills, particularly in States such as Maharashtra and Karnataka.
Human-Wildlife Conflicts in India
In India, man-animal conflict is seen across the country in a variety of forms, including monkey menace in the urban areas, crop raiding by ungulates and wild pigs, depredation by elephants, and cattle and human killing by tigers and leopards.
Animals like elephant, tiger, leopard, wild dog, monkey, wild boar; Nilgai, bear, sambar deer etc. are major animals involved in human-animal conflict in India.
The increase in man-animal conflict is likely due to the greater resilience and adaptability of wild animals in face of their shrinking habitats, which allow them to live successfully close to human habitation.
Degradation of habitats, depletion of the natural prey base, changing crop patterns, suitability of man modified habitats to wild animals, presence of stray dogs and cattle in forest fringe areas etc., are other reasons.
Damage to agricultural crops and property, killing of livestock and human beings are some of the worst forms of man-animal conflict.
The Government is giving highest priority to mitigate the problem.
It supplements the financial resources available with the States/ Union Territory Governments for the purpose by providing limited funds under the Centrally Sponsored Schemes of 'Project Tiger', 'Project Elephant' and 'Integrated Development of Wildlife Habitats'.
Payment of ex-gratia to the victims of wild animals is the responsibility of the concerned State/ Union Territory Governments.
2. Patna zoo closed after tests confirm bird flu
Context
The zoo in patna was closed on Tuesday "until further orders" after strains of avian influenza virus were found in six dead peacocks, forest officials said. Dead peacocks were sent to Kolkata and Bhopal for tests which confirmed the presence of H5N1 virus.
Avian Influenza (H5N1)
H5N1 is a type of influenza virus that causes a highly infectious, severe respiratory disease in birds called avian influenza (or "bird flu").
Human cases of H5N1 avian influenza occur occasionally, but it is difficult to transmit the infection from person to person.
When people do become infected, the mortality rate is about 60%
Almost all cases of H5N1 infection in people have been associated with close contact with infected live or dead birds, or H5N1-contaminated environments
The virus does not infect humans easily, and spread from person to person appears to be unusual
1. 30 mn newborns cry out for help
An estimated 30 million newborns require specialised care in hospital every year without which many either die or develop preventable health conditions and disabilities that affect them for life, according to a recent study by a global coalition that includes UNICEF and WHO.
The report urges countries to invest in healthcare to prevent neonatal deaths among the most vulnerable newborns — the small and the sick.
It points out that nearly 2.5 million newborns died during the first 28 days of life in 2017, of which approximately 80% had low birth weight and more than 65% were born prematurely. An additional 1.5 million small and sick newborns survive each year, with a long-term disability, including cerebral palsy and cognitive delays.
According to an earlier study by UNICEF, India witnesses 25.4 newborn deaths per 1,000 births and .64 million annually. The Sustainable Development Goal for neonatal deaths requires all countries to bring down the figure to 12 deaths or less per 1,000 births by 2030.
The study, 'Survive and thrive: Transforming care for every small and sick newborn,' was released earlier this month. It underlines that universal access to quality care could prevent 1.7 million neonatal deaths, or 68% of the deaths that will otherwise occur in 2030. Low and middle income countries will be able to avert two out of three neonatal deaths by 2030 if they increase investment by $0.20 per capita.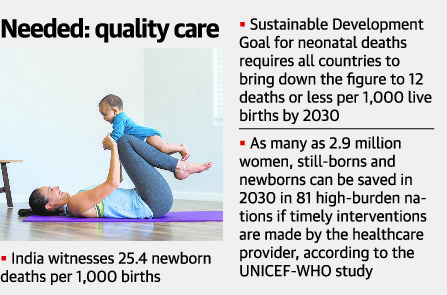 Nothing here for today!!!
Category: INTERNATIONAL RELATIONS
1. Elections in an embattled democracy
Note to Students:
Elections in Bangladesh are an important issue to cover from a Civil Services point of view. This is because, the electoral outcome of Bangladesh would potentially have an impact on  Indo-Bangladesh bilateral relations. Here, for the purpose of lending greater diversity to this issue, we have condensed the important excerpts from two articles that have featured in the Hindu, namely, 'Elections in an embattled democracy' which was featured on the 26th of December, 2018 along with another article, named, 'Bangladesh elections are important' which was featured on the 23rd of December, 2018.  
Larger Background:
When Sheikh Hasina returned to power in 2008, the Bangladesh Prime Minister promised to uproot every anti-India terror module in Bangladesh and help reduce insurgency in India's northeastern region.

As a matter of fact, top ranking intelligence officials agree that without the Hasina-led Awami League in Dhaka, it would have been impossible to check flare-ups in the east. "She dismantled all known Pakistani assets in Bangladesh," an intelligence official said.

However, a decade later, agencies in both sides are engaged in real-time intelligence sharing with more efficiency to combat terror, hugely benefiting India.
Would elections change things?
Experts point out that with the general elections slated for December 30, 2018, India wants a fair exercise in the neighbouring country.

Some experts have pointed out that "It is more necessary, however, for Ms. Hasina to return to power," for the Awami League steadfastly remains India's best friend in the subcontinent.
What did the Awami League do?
The return of the Awami League in 2008 dramatically changed the nature of India-Bangladesh engagement on every front.

As a matter of fact, a plethora of connectivity projects, unthinkable earlier, are either in place or in advanced stages of negotiation. While trans-shipment of goods using river ports and roads is on, many bus and train routes have been operationalised.

Further, a bus service from Kolkata to the northeastern region through Bangladesh has started, thus shortening time and distance to the region.

The land boundary issue in north Bengal has been sorted out alongside amicable settlement of a long-standing maritime boundary dispute and neither of the sides is too keen to hype their differences from Teesta water-sharing to illegal border trade. It is important to note that Power and energy sector cooperation is another of many bilateral achievements.

In fact, the flow of tourists has increased to such an extent that Bangladesh has proposed to set up a diplomatic mission in Chennai.
How has India reciprocated?
India has contributed towards security cooperation from training to interception of exchanges between groups hostile to the region's stability, averting attacks on the country's top establishments.

Maintaining stability is India's first contribution to Bangladesh.
There are about a dozen agreements amounting to $10 billion of Indian private investment in Bangladesh. A $7.5 billion Line of Credit has been approved for infrastructure and other projects in Bangladesh.
Certain Looming Concerns?
Experts point out that currently India is in a fix.

India is keen to see "a fair election" in Bangladesh, unlike last time, when the Awami League returned to power without a contest.

India was relieved when Kamal Hossain, a former Awami Leaguer, with secular credentials formed a multi-party coalition, Jatiya Oikya Front, with the Bangladesh Nationalist Party (BNP) as the biggest constituent. An election process was set in place as Ms. Hasina met Mr. Hossain.

But closer to the election, the Jamaat-e-Islami Bangladesh (JeI-B), with its cadre depth in the countryside, catapulted to centre stage as a partner of the Jatiya Oikya Front.

The JeI-B is not contesting the election as the party was de-registered in 2013 but it has fielded candidates who are contesting on the BNP symbol in 25 of the 300 seats.

The JeI-B's participation is a cause for worry for both the Awami League and India as it has put down roots in Pakistan, an allegation that the JeI-B has repeatedly denied.

However, the JeI-B candidates, who are contesting in constituencies bordering Bengal, are keeping the political and security establishments on tenterhooks in India. India's ruling elite had tried to deal with the other main party, the BNP, when it last came to power in 2001 but burnt its fingers.
Finally, it is important to note that experts are watching this election to see how the India-Bangladesh relationship will unfold if a BNP-Jamaat coalition comes to power, a possibility the international press is ruling out.
Certain questions arise: will it jeopardise connectivity projects, unsettle India's northeastern region or meddle with billions of dollars of investments made over the last years in Bangladesh?
Editorial Analysis:
With polls in Bangladesh slated for December 30, 2018, the first two weeks of canvassing have already seen eight deaths and dozens injured.
With a first-past-the-post system, Bangladesh's elections come down to a choice between coalitions led by the two major political parties: the secular-centrist Awami League and the quasi-Islamist Bangladesh Nationalist Party (BNP).
Contribution of the Awami League:
The Awami League has governed Bangladesh since 2009, delivering economic growth and rolling back extremist militancy.

As a matter of fact, the country hit 7.86% GDP growth in 2017-18. Under the Awami League government, the country's power output has quadrupled in the last decade, and Bangladesh has topped regional rankings on many social indicators such as gender parity in primary education and maternal mortality.
The threat posed by the BNP:
It is important to note that the much beleaguered BNP still poses a threat to the Awami League.

In addition to traditional anti-incumbency, a swathe of the public — especially sections of the intelligentsia and urban youth — has grown weary of the Awami League's heavy-handed rule.

This heavy-handed rule by the Awami League was sorely on display during two rounds of student protests earlier in the year 2018.

As a matter of fact, the Awami League also passed a needlessly harsh Digital Security Bill earlier in the year 2018.

This has not gone down well with an increasingly digitised populace.

Experts point out that ironically enough, it is the ruling party's own massive programme of "Digital Bangladesh" that has led to the mass adoption of tech and Internet services.

Despite some just criticism of the Awami League's record on rights, critics who pretend that authoritarianism is a problem unique to the Awami League are being disingenuous.

It is important to note that not only did Bangladesh suffer military dictatorships in the 1970s and 1980s, the country has struggled to establish a culture of political tolerance even since the advent of democracy in 1991.
A Quick Look at History:
A quick recap of pivotal moments of the past is unavoidable.

The BNP won the first democratic polls in 1991, but refused to step down when their tenure ended in 1996.

The Awami League led a mass movement to topple the BNP government and won the ensuing polls.

However, in a contrast to the BNP, the Awami League voluntarily stepped down from power in 2001, and handed over the reins to an interim government as the Constitution required back then.

The BNP went on to win the 2001 polls, raising hopes of more trust-building measures. Instead, the BNP celebrated its victory in October 2001 with an organized massacre of Hindu minorities that left hundreds killed, raped or injured across many districts.

The BNP also pivoted sharply to the right and gave political patronage to extremist outfits which carried out a series of fatal attacks.

One attack, in August 2004, targeted Awami League leader Sheikh Hasina, killing 19 people and injuring hundreds. Among the dead was Ivy Rahman, head of the women's wing of the Awami League. A separate attack the following year killed the Awami League's former Finance Minister Shah A.M.S. Kibria.
As a matter of fact, when the BNP's tenure came to an end in 2006, once again the party refused to hand over power to a credible caretaker government.
The following Awami League protests led to a stalemate that was broken finally with the installation of a military-backed regime in January 2007.

Dhaka's self-styled "civil society", dominated by Anglophone members of non-governmental organisations, and media, who enjoy disproportionate access to and credence with foreign diplomats and media, supported that non-democratic regime.

Today, it is a leader of that civil pack, Kamal Hossain, who has joined hands with the BNP — and by extension their ally Jamaat-e-Islami — to promise a restoration of democracy.
An unusual coalition:
A Note on Mr. Kamal Hossain:
Mr. Hossain is a renowned lawyer who was tasked by the nation's founder, Sheikh Mujibur Rahman, to author the country's secular constitution.
He also served as a minister in Sheikh Mujib's cabinet in the early 1970s.

But he split from the Awami League in the 1990s and formed his own minor political party, the Gono Forum, which has never won a parliamentary seat.
Crucially, Mr. Hossain had promised that he would not form any alliance with the BNP if it didn't sever its relationship with the Jamaat.
In reality however, the BNP nominated 25 Jamaat leaders to contest polls on its ticket.

Experts opine that it was perhaps always fanciful to think that any outsider could simply save the BNP, a party that has ceased to function like a mainstream participant in a democracy since 2001.

Even in opposition, the BNP has resorted to grotesque forms of new violence. Ahead of the last polls, in 2014, the BNP and Jamaat sponsored petrol-bombing of commuter buses that left more than 100 dead. That violent campaign was resumed in 2015.
Apologists for the BNP, including members of civil society, try to argue that all parties engage in violence. However, while violence has been sadly endemic to Bangladeshi politics, it has been confined mainly to clashes between party cadres and police. Ordinary citizens were never the target, until the petrol-bombing campaigns of 2013 and 2015.
Awami League's record:
The Awami League has no doubt resorted to hardline tactics.

Experts point out that if anything, the Awami League may be at fault for not holding the BNP and Jamaat organisationally accountable for all the violence explicitly targeting civilians.
It is not at all clear as to why groups that engage in violence akin to insurgent or terror groups should enjoy the respect or rights of a mainstream political party.
However, voters in Bangladesh face an imperfect choice today.

It may feel unpalatable to many of them to vote for an incumbent which has been excessively heavy-handed at times, while delivering much economic and social progress. But if the alternative is a party with a record of stoking extremism and targeting civilians for violence, then one must ask if it is at all wise to seek change for the sake of mere change
2. Chabahar tidings (India- Iran Relations)
What's in the news?  
Recently, the the first office of Indian Ports Global Limited at Iran's Chabahar was opened. Also, India has taken over operations of the Shahid Beheshti port.

Experts believe that this is a milestone in India's regional connectivity and trade game plan.
Larger Background and Strategic Importance of Chabahar:
The development of the Chabahar port was first proposed in 1973 by the

last Shah of Iran

, though development was delayed by the 1979

Iranian Revolution

.

As a matter of fact, the first phase of the port was opened in 1983 during the

Iran–Iraq War

as Iran began shifting seaborne trade east towards the Pakistani border in order to decrease its dependency on ports in the Persian Gulf which were vulnerable to attack by the

Iraqi Air Force

.
India and Iran first agreed to further develop the Shahid Beheshti port, one of the two ports in Chabahar, in 2003, but did not make much progress on account of sanctions against Iran.
India's access to Chabahar is predominantly seen as a counter-balance to the port of Gwadar, on the south-western coast of Pakistan's restive Balochistan province, run almost entirely by China as a part of its expansive China-Pakistan Economic Corridor (CPEC).

The Chabahar port opens up a permanent alternative route for trade with Afghanistan and Central Asia, given the hurdles in the direct route through Pakistan.
Editorial Analysis:
The opening of the first office of Indian Ports Global Limited at Iran's Chabahar and the takeover of operations of the Shahid Beheshti port is a milestone in India's regional connectivity and trade game plan.

It is important to note that the Chabahar port opens up a permanent alternative route for trade with Afghanistan and Central Asia, given the hurdles in the direct route through Pakistan.

The port also facilitates India's role in Afghanistan's development through infrastructure and education projects.

The port also gives India's bilateral ties with Iran, a major oil supplier and potential trade market for India, a big fillip.

It is important to note that India has helped develop the Shahid Beheshti port with these outcomes in mind, and has been given the contract to manage it for 18 months.
Next Suggested Course of Action:
Experts point out that it will be important to operationalise the port quickly and smoothen the route to Afghanistan.

The decision by India, Afghanistan and Iran to hold an international event in February 2019 to promote Chabahar and to study ways to make the route more attractive and decrease logistic costs is timely.

Further, about 500 companies have registered with the Free Trade Zone authority there. While keeping timelines and delivery of New Delhi's commitments will be key to the port becoming a regional hub for transit trade, steel and petrochemicals, it will be necessary to encourage Afghan companies to use the route more, in line with President Ashraf Ghani's desire to have a commercial fleet under the Afghan flag setting sail from Chabahar.
Concluding Remarks:
Visions of Chabahar's immense potential as a game-changer for prosperity and stability in the region must, however, necessarily be tempered by the reality of geopolitical challenges.

The Chabahar port has received a waiver from the U.S. sanctions on Iran for the moment, but these concessions could be withdrawn any time, given the constant upheaval in the administration.

Further, the possibility of the withdrawal of U.S. troops from Afghanistan, after the pullout from Syria, will add to security concerns for Afghanistan and impact on the Chabahar route as well.

Meanwhile, the reconciliation process with the Afghan Taliban is likely to see the regional powers, the U.S. and Russia engaging Pakistan more. As a matter of fact, this could give Islamabad space to play spoiler in Chabahar, which is seen as a rival warm water port to Pakistan's Gwadar.
Finally, given the fact that the Afghanistan government is hedging its bets on trade via Chabahar too is clear: in recent months, special cargo corridors have been opened with China, Kazakhstan, Turkey, Europe, Russia, the UAE, and Saudi Arabia, with more trade diverted through them than with traditional partners Pakistan and India.
With Chabahar, India has done well to keep a place in the intricate connectivity network of the region.
Finally, given all the competing interests that criss-cross over Chabahar, it will require sustained and nuanced diplomacy to stay ahead in this game.
Category: POLITY AND GOVERNANCE
1. On a shaky foundation (Right to Privacy Vs. Surveillance)
Note to Students:
The perennial debate of

Right to Privacy Vs. Surveillance

has assumed greater significance in recent times with the recent development of a Ministry of Home Affairs (MHA) notification authorising 10 Central agencies to intercept, monitor, and decrypt online communications and data.

Here, for the purpose of lending greater diversity to this issue, we have condensed the important excerpts from two articles that have featured in the Hindu, namely,

'On a shaky foundation'  

which was featured on the 26th of December, 2018 along with another article, named,

'The case against surveillance'

which was featured on the 25th of December, 2018.  
Larger Background:
What's in the news?
Recently, a Ministry of Home Affairs (MHA) notification authorising 10 Central agencies to intercept, monitor, and decrypt online communications and data had generated a reaction both Parliament and the wider civil society.

The notification was described as an incremental step towards a surveillance state.

Following the notification, the government's defence was equally swift.
What was the Government's reaction?: The Government protested that the notification created no new powers of surveillance. That the notification was only issued under the 2009 Information Technology Rules, sanctioned by the previous United Progressive Alliance government. The 10 agencies had not been given a blank check; rather, specific surveillance requests, the government contended, still had to be authorised by the MHA in accordance with law.
A Closer Look:
Experts point out that the MHA notification lays bare the lopsided character of the surveillance framework in India, and highlights an urgent need for comprehensive reform.
A Look at the Present Problem:
Experts point out that the existing surveillance framework is complex and confusing.

To explain this simply, there are two statutes which control the field:
Telephone surveillance is sanctioned under the 1885 Telegraph Act (and its rules), while,

Electronic surveillance is authorised under the 2000 Information Technology Act (and its rules).
It is important to note that the procedural structure in both cases is broadly similar, and flows from a 1997 Supreme Court judgment. This 1997 Supreme Court judgement observes that surveillance requests have to be signed off by an official who is at least at the level of a Joint Secretary.
There are three features about the current regime. They are as under mentioned:
Firstly, it is bureaucratised. Decisions about surveillance are taken by the executive branch (including the review process), with no parliamentary or judicial supervision; indeed, the fact that an individual will almost never know that she is being surveilled means that finding out about surveillance, and then challenging it before a court, is a near-impossibility.

Secondly, the surveillance regime is vague and ambiguous.

For example, under Section 69 of the IT Act, the grounds of surveillance have been simply lifted from Article 19(2) of the Constitution, and pasted into the law.

They include very wide phrases such as "friendly relations with foreign States" or "sovereignty and integrity of India".

Thirdly, and flowing from the first two features, some experts point out that the regime is opaque. There is almost no information available about the bases on which surveillance decisions are taken, and how the legal standards are applied. As a matter of fact, a 2014 RTI request revealed that, on an average, 250 surveillance requests are approved every day. Thus, experts point out that it stands to reason that in a situation like this, approval resembles a rubber stamp more than an independent application of mind.
The Trade-off between Right to Privacy and Surveillance:
It is important to note that the right to privacy is not absolute.
Some experts point out that surveillance is essential to ensure national security and pre-empt terrorist threats, and it is in the very nature of surveillance that it must take place outside the public eye. Consequently, the step taken by the Government is justified as it strikes a pragmatic balance between the competing values of privacy and security.
It is important to take the perspective of the fact that Right to Privacy is not absolute. As a matter of fact, even the staunchest civil rights advocates will not deny that an individual reasonably suspected of planning a terrorist attack should be placed under surveillance.

Thus, the debate, therefore, is not about 'whether surveillance at all', but about 'how, when, and what kind of surveillance'.
A Closer Look at Surveillance:
Experts point out that a heavily bureaucratised and minimally accountable regime of surveillance does nothing to enhance security, but does have significant privacy costs.
For example, while examining the U.S. National Security Agency's programme of mass surveillance, an American court found that out of more than 50 instances where terrorist attacks had been prevented, not even a single successful pre-emption was based on material collected from the NSA's surveillance regime.

It is also important to note that such a system often has counterproductive effects: a government that is not checked in any meaningful way will tend to go overboard with surveillance and, in the process, gather so much material that actually vital information can get lost in the noise.

Thus, experts point out that in the 'privacy-security trade-off', it is exceedingly important to assess the balance on the basis of constitutional principles and fundamental rights, rather than blindly accepting the government's rhetoric of national security.



The legal perspective:

After the Supreme Court's 2017 judgment in K.S. Puttaswamy v. Union of India ('the right to privacy case'), experts point out  that the constitutional contours within which the questions of 'how, when, and what kind' have to be answered have been made clear, and that any impingement upon the right to privacy must be proportionate.

As a matter of fact, one of the factors of the proportionality standard is that the government's action must be the least restrictive method by which a state goal is to be realised. In other words, if the same goal — i.e., protecting national security — can be achieved by a smaller infringement upon fundamental rights, then the government is constitutionally bound to adopt the method that does, indeed, involve minimal infringement.

Under these parameters, there is little doubt that on the three counts described above a) its bureaucratic character, b) its vagueness, and c) its opacity, that the existing surveillance framework is unconstitutional, and must be reconsidered.

To start with, experts point out that it is crucial to acknowledge that every act of surveillance, whether justified or not, involves a serious violation of individual privacy; and further, a system of government surveillance has a chilling effect upon the exercise of rights, across the board, in society.

As a consequence, given the seriousness of the issue, a surveillance regime cannot have the executive sitting in judgment over the executive: there must be parliamentary oversight over the agencies that conduct surveillance.

They cannot simply be authorised to do so through executive notifications. There are a few noteworthy perspectives:
All surveillance requests must necessarily go before a judicial authority, which can apply an independent legal mind to the merits of the request, in light of the proportionality standards discussed above.

Secondly, experts point out that judicial review will not achieve much if the grounds of surveillance remain as broad and vaguely worded as they presently are.

Therefore, every surveillance request must mandatorily specify a probable cause for suspicion, and also set out, in reasonably concrete terms, what it is that the proposed target of surveillance is suspected of doing.

As a corollary, evidence obtained through unconstitutional surveillance must be statutorily stipulated to be inadmissible in court.

Lastly, this too will be insufficient if surveillance requests are unopposed — it will be very difficult for a judge to deny a request that is made behind closed doors, and with only one side presenting a case.

There must exist, consequently, a lawyer to present the case on behalf of the target of surveillance — even though, of course, the target herself cannot know of the proceedings.

Some Salient Remarks:



– Experts point out that to implement the suggestions above, what is required is a comprehensive reform of the surveillance framework in India.
Such a reform is long overdue. However, this is also the right time:

across the world, there is an increasingly urgent debate about how to protect basic rights against encroachment by an aggressive and intrusive state, which wields the rhetoric of national security like a sword.

In India, for example, we have the Supreme Court's privacy judgment, which has taken a firm stand on the side of rights.

Citizens' initiatives such as the Indian Privacy Code have also proposed legislative models for surveillance reform. We now need the parliamentary will to take this forward.
Editorial Analysis:
The Union Home Secretary, had recently, promulgated an order authorising 10 Central agencies to monitor, intercept and decrypt information which is transmitted, generated, stored in or received by any computer.

Under the order, an individual who fails to assist these government agencies with technical assistance or extend all facilities can face up to seven years of imprisonment or be liable to be fined.

It is important to note that the notification was reportedly issued in pursuance of powers stipulated in Section 69 of the Information Technology Act, 2000, which enables government agencies to intercept personal information of citizens under certain conditions.

The Ministry, in response to flak from the Opposition, has issued a clarification that the authorisation is in conformity with the process stipulated in the IT Rules, 2009.



A Look at Section 69 of the IT Act:



– The clarification issued by the Ministry assumes the legitimacy of Section 69 of the IT Act, which is the basis on which the IT Rules were framed.
– As a matter of fact, the IT Rules in turn form the source of power behind the Ministry of Home Affairs (MHA) notification.
– On the basis of this assumption, the clarification justifies the notification without examining the validity of its source.
– Critics have pointed out that all that the MHA clarifies, is that since the notification conforms with the IT Rules, there is no reason for eyebrows to be raised.
– However, experts point out that this argument, however, is fallacious since it fails to take a step back and peruse Section 69 of the IT Act, which after K.S. Puttaswamy v. Union of India — 'the right to privacy case', in 2017 — seems to fail the litmus test of constitutionality.

Section 69: Constitutional or Unconstitutional?:
An important question arises: Why is Section 69 unconstitutional after K.S. Puttaswamy?
It is important to note that the nine-judge bench in K.S. Puttaswamy declared that there is a fundamental right to privacy flowing from inter alia Articles 19 and 21 of the Constitution.

In order for a restriction such as Section 69 allowing for interception of personal data on a computer to be constitutionally valid, it would not only have to pursue a legitimate state aim (say, for instance, national security) but also be proportionate, so that there is a rational nexus between the means adopted (i.e., authorisation of interception) and the aim.





– Further, experts have pointed out that Section 69 of the IT Act is so broadly worded that it could enable mass surveillance to achieve relatively far less serious aims such as preventing the incitement of the commission of a cognisable offence.

Such surveillance could be justified to achieve relatively far less serious objectives such as a Facebook post expressing dissent against government policy which, in the state's opinion, is offensive.

The state, through the powers under Section 69, can therefore justify authorising surveillance, purporting this to be a grave concern.

Critics thus opine that the language of Section 69, therefore, speaks abundantly of doublespeak, allowing for disproportionate state action, antithetical to the right to privacy.
The Implications for free speech:

– Experts have pointed out that under Section 69, the government can intercept personal information under any of the following conditions: when it is necessary in the interest of Indian sovereignty or integrity; security of the state; friendly relations with foreign states; public order; and for preventing incitement to the commission of any cognisable offence related to these.
– Significantly, while the first four feature in Article 19(2) of the Constitution, the last, namely preventing incitement to commission of cognisable offences, is not an enumerated restriction.
– It is important to note that a restriction in the form of authorised surveillance would not be justified unless it is in order to maintain public order, a reasonable restriction under Article 19(2).
Perspective on Law and Order:
– It is important to note that the Supreme Court has repeatedly accepted a hierarchisation between "public order" and law and order; it explains this through concentric circles where law and order represents the larger circle within which the next circle, public order, lies, which in turn contains the smallest circle representing the security of the state — the most grave concern.
-Further, while public order is characterised by public peace and tranquillity, law and order requires preventing the incitement of an offence.
– However, Section 69, as mentioned earlier, allows mass surveillance even when only law and order is affected while public order prevails: merely for precluding the incitement of the commission of an offence.

– Experts have pointed out that such a broadly worded provision can have potential ramifications on free speech.
– This is because a constant sense of being watched can create a chilling effect on online communication, crippling dissent.
– As a matter of fact, as far back as 1962, Justice K. Subba Rao had explained in his powerful dissent how a "shroud of surveillance" maims individual freedom by engendering inhibitions that an individual cannot act as freely as he would want to.
Concluding Remarks:
– In conclusion, it is important to note that surveillance does not show direct discernible harms as such but rather imposes an oppressive psychological conformism that threatens the very existence of individual freedom.
– The Supreme Court reiterated this view in K.S.Puttaswamy.
– Section 69, therefore, cannot be regarded as a reasonable restriction on free speech as well.
– Therefore, a simple law and order requirement is an impermissible restriction to free speech unless public order, a much higher threshold, is threatened.
– As a matter of fact, Section 69 also falls short of meeting with the principles of natural justice by failing to accommodate pre-decisional hearings.
– Critics point out that the Section only makes post-decisional hearings before a review committee possible as a part of its procedure, compelling people to give up their personal information without being given an opportunity to be heard.
– Lastly, experts point out that the MHA notification rests on shaky foundations.
– While the Supreme Court missed the opportunity to examine the constitutionality of Section 69 of the IT Act, looking at the IT Rules to legitimise the notification seems to put the cart before the horse.
1. Leh makes short work of a mountain of waste
Context
Authorities in tourist hotspot Leh have put 65 tonnes of waste to productive use after the ecologically sensitive region's garbage output went up drastically following the release of 3 Idiots on Christmas day nine years ago, drawing tourists in hordes.
Role of movie 3 idiots in tourism of the Leh region
In 2009, 3 Idiots, a film about three engineering students propelled by Bollywoodian misadventures to chase their dreams, launched Ladakh into public imagination.
The perilously mountainous desert crowning Jammu and Kashmir had been featured in movies before. But the mainstream release of 3 Idiots – the highest-grossing film of its day – opened up the often overlooked corner of the country to a new generation of Indians.
In 2008, the year before the film's release, 400,000 Indian tourists visited Ladakh – already a sizeable figure for a region that is home to about 200,000 people. Three years later, those figures were almost quadrupled. They've shown no signs of slowing down since.
After 3 Idiots hit theatres, Pangong – the shimmering, turquoise 125km lake that served as backdrop for 3 Idiots's soaring conclusion – rose to unprecedented popularity.
Project Tsang-da
Project Tsang-da, initiated by the district administration this year, aims at sustainable waste management in rural areas of Leh district and city.
The project turned the waste into revenue-generating goods, such as curtains, toys and cushion covers. Wine or beer bottles and other broken glasses were also reused in construction of roads and buildings by local construction companies.
2. Our differences are a source of richness, not danger: Pope
Pope Francis, in his Christmas message to the world, urged people on Tuesday to see differences as a source of richness instead of danger and called for reconciliation in places torn apart by conflict.
The Pope delivered the traditional "Urbi et Orbi" ('To the city and the world') message to tens of thousands of people in a sunny St. Peter's Square from the same basilica balcony where he first appeared as pontiff shortly after his election on March 13, 2013.
In his address, in what appeared to be a reference to the shrill political climate in a number of countries, Pope Francis called for "fraternity among people with different ideas, yet capable of respecting and listening to one another".
Pope Francis, the first Pope from Latin America, alluded to polarisation over migration, saying that God wanted "love, acceptance, respect for this poor humanity of ours, which we all share in a great variety of races, languages, and cultures". "Our differences, then, are not a detriment or a danger; they are a source of richness," he said.
The Pope also called for the resumption of dialogue between Israelis and Palestinians to "undertake a journey of peace that can put an end to a conflict that for over 70 years has lacerated the land chosen by the Lord to show his face of love".
He urged the international community to work for a political solution in Syria and said he hoped a truce brokered in Yemen's civil war could bring relief to a population exhausted by violence and famine.
The Pope also called for social harmony in Nicaragua and Venezuela, both racked by internal political conflicts.
The millions of refugees or displaced people in Africa who are in need of humanitarian assistance and food security should not be forgotten, he said.
In Ukraine, he called for "a peace respectful of the rights of every nation". Ukraine's relations with Russia have been locked in a downward spiral since Moscow annexed Crimea 2014 and backed pro-Russian separatists in eastern Ukraine.
1. PM opens Bogibeel Bridge, India's longest
Context
Prime Minister Narendra Modi on Tuesday underlined the NDA government's focus on improving connectivity in the northeastern region while inaugurating the 4.94 km Bogibeel Bridge, India's longest rail-cum-road span, across the Brahmaputra.
Bogibeel project
Bogibeel, India's longest road-rail bridge connecting Dibrugarh in Assam to Pasighat in Arunachal Pradesh
The project was conceived by the Rail India Technical Economic Services in 1973, and the foundation stone was laid by former Prime Minister H.D. Deve Gowda in January 1997.
However, the actual work was initiated only in 2002 by the NDA government, which was headed by Atal Bihari Vajpayee.
The 4.94-km-long structure, India's longest rail-cum-road bridge across the Brahmaputra, will help the Indian armed forces move men and material to Arunachal Pradesh in a faster manner.
It will also benefit the Indian Railways, as it will help reduce the distance between Assam and Arunachal Pradesh by 600 km.
The bridge is 4.94 km long and 32 metres above the water level of the Brahmaputra.
It has been fashioned on a bridge that links Sweden and Denmark.
The bridge, which is the second longest in Asia, has three-lane roads on top and double line rail below.
The structure is India's first fully-welded bridge, which will protect it from harsh weather.
Several companies took part in Bogibeel's construction. The state-owned RITES undertook pre-construction studies, geo-technical investigations and provided detailed designs. Bhartia Infra constructed the guide bunds and approach embankments.
The foundation and sub-structure were built by Gammon India. A joint venture of HCC, VNR Infrastructures and the German company DSD Bruckenbau constructed the superstructure.
H. Practice Questions for UPSC Prelims Exam
Question 1. Consider the following statements regarding state legislative council: 

The maximum strength of the council is fixed at one-third of the total strength of the assembly and the minimum strength is fixed at 40, with some exceptions.
2/3rd members of legislative council are elected by the members of local bodies in the state like municipalities, district boards etc.
Constitution has fixed the maximum and the minimum limits of strength of legislative council.
Select the correct answer using the code given below:
Only 1 and 2
Only 1 and 3
Only 1
All of the above
See
Question 2. Consider the following statements regarding High Court: 
The institution of high court originated in India in 1862.
The President can extend the jurisdiction of a high court to any union territory or exclude the jurisdiction of a high court from any union territory.
The judges of a high court are appointed by the Governor.
Select the correct answer using the code given below:
Only 1 
Only 2
Only 1 and 3
All of the above
See
Question 3. Consider the following statements regarding state legislative assemblies:  
In assembly, the governor can nominate two members from the Anglo-Indian community, if the community is not adequately represented in the assembly.
The Constitution has provided for the reservation of seats for scheduled castes and scheduled tribes in the assembly of each state.
87th Amendment Act of 2003 provided for the delimitation of constituencies on the basis of 2001 census.
Which of the above statement(s) is/are correct?
Only 1
Only 2
Only 2 and 3
All of the above
See
I. Practice Questions for UPSC Mains Exam
The government has recently brought out a notification which authorizes several government agencies to intercept, monitor, and decrypt online communications and data. In this context analyze the surveillance framework in India. (12. 5 Marks; 200 words)
The NITI aayog has recently put forward the idea of a centralised recruitment for judicial posts under the aegis of UPSC. In this context discuss the role of centralised judicial recruitment in solving the problems in the lower judiciary. (12. 5 Marks; 200 words)
See previous CNA