TABLE OF CONTENTS
A.

 GS1 Related




B.

 GS2 Related


POLITY AND GOVERNANCE
1. Assault on boys punishable by death
2. Centre gives nod to draft Bill on Indian medicine
INTERNATIONAL RELATIONS
1. CPEC has no military feature, it is an economic project: Pak.


C.

 GS3 Related


ENVIRONMENT
1. States get greater say over coastal regions
SCIENCE AND TECHNOLOGY
1. Manned space mission to take off


D.

 GS4 Related




E. 

Editorials


ECONOMY
1. Strange deal
POLITY
1. A law that defeats its purpose


F. 

Tidbits


1. 'Abusive talk won't amount to abetment'
2. Tiny tracker to help fight rhino poaching


G. 

Prelims Fact


1. Modi to release stamp on Suheldev
H. UPSC Prelims Practice Questions
I. UPSC Mains Practice Questions

Nothing here today!!!
Category: POLITY AND GOVERNANCE
1. Assault on boys punishable by death
Context
The government on Friday approved amendments to the Protection of Children from Sexual Offences (POCSO) Act, 2012, to bring punishments for sexual assaults on boys on a par with those against girls. These include the provision of death penalty when the child is under 12 years and when a penetrative sexual assault is committed by a relative.
The amendments approved by the Union Cabinet will now have to be passed by Parliament. An official of the Ministry of Women and Child Development said the government intended to introduce the amendment Bill in the Rajya Sabha.
The move will ensure that the Bill, once introduced even if not passed, will not lapse when the term of the present government comes to an end and the Lok Sabha is dissolved.
Crime and Punishment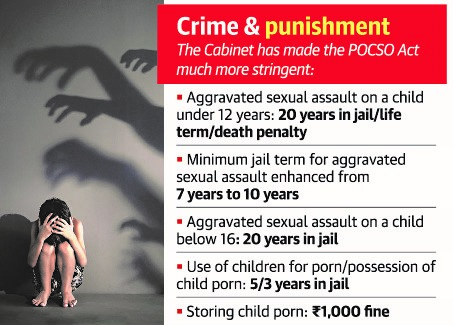 What are the issues with the Child Abuse in India?
An epidemic of child rape is sweeping the country and the rising number of children who are being targeted is a disturbing scenario.
According to a report by child rights NGO CRY, sexual offence is committed against a child in India every 15 minutes and there has been an increase of more than 500 per cent over the past 10 years in crime against minors.
As per NCRB statistics on rape of women and children, 94% of the rapists are known to the victim, and almost half the perpetrators include the father, a brother, a grandfather, a close relative, and neighbours.
Low conviction rate – It is only about 3 per cent of the total cases brought before courts As per NCRB Report 2016. One of the main causes for the low rate of conviction under the Act is lack of infrastructure and manpower in the criminal justice system.
Failure of previous acts – Despite the enactment of the POCSO Act in 2012, there has been no decline in the number of crimes against children. Inference – The new law was no deterrent
Delay in the justice – It is common for court cases to last years or even decades- one of the reason is the serious shortage of judges. More than 6 million criminal cases that have been pending for more than 10 years. Timelines for completion of the investigation, for recording of evidence, and for completion of trial are almost never adhered to due pendency of cases and the lack of facilities.
POCSO Act – 2012
With the intent to effectively address the evil of sexual exploitation and sexual abuse of children, Protection of Children from Sexual Offences Act (POCSO) was passed by the parliament in the year 2012.
Salient features of the POCSO Act
"Children" according to the Act are individuals aged below 18 years. The Act is gender neutral.
Different forms of sexual abuse including but not limited to sexual harassment, pornography, penetrative & non-penetrative assault are defined in the Act.
Sexual assault is deemed to be "aggravated" under certain circumstances such as, when the child is mentally ill. Also when the abuse is committed by the person in a position of trust such as doctor, teacher, policeman, family member
Adequate provisions are made to avoid re-victimization of the Child at the hands of judicial system. The Act assigns a policeman in the role of child protector during the investigation process.
The Act stipulates that such steps must be taken which makes the investigation process as child-friendly as possible and the case is disposed off within one year from the date of reporting of the offence.
The Act provides for establishment of Special Courts for trial of such offences and matters related to it.
Under section 45 of the Act, the power to make rules lies with the central government.
To monitor the implementation of the Act, the National Commission for the Protection of Child Rights (NCPCR) and State Commissions for the Protection of Child Rights (SCPCRs) have been made the designated authority. Both being statutory bodies.
Section 42 A of the Act provides that in case of inconsistency with provisions of any other law, POCSO Act shall override such provisions.
The Act calls for mandatory reporting of sexual offences. A false complaint with intent to defame a person is punishable under the Act.
An online complaint management system, POCSO e-box was launched in New Delhi by the Union Ministry of Women and Child development in order to facilitate easy and direct reporting of sexual offences against children and timely disposal of the cases under POCSO Act 2012.
2. Centre gives nod to draft Bill on Indian medicine
Context
The Union Cabinet has approved the draft National Commission for Indian System of Medicine Bill, 2018. The NCIM will promote "availability of affordable healthcare services in all parts of the country", the Centre said in a statement on Friday.
Salient features of the bill
The draft bill provides for the constitution of a National Commission with four autonomous boards entrusted with conducting overall education of Ayurveda, under Board of Ayurveda and Unani, Siddha &Sowarigpa under Board of Unaini, Siddha and Sowarigpa.
There are two common Boards namely, Board of assessment and rating to assess and grant permission to educational institutions of Indian systems of Medicine and Board of ethics and registration of practitioners of Indian systems of medicine to maintain National Register and ethical issues relating to practice under the National Commission for Indian Medicine.
It also proposes a common entrance exam and an exit exam, which all graduates will have to clear to get practicing licenses. Further, a teacher's eligibility test has been proposed in the Bill to assess the standard of teachers before appointment and promotions.
The draft bill is aimed at bringing reforms in the medical education of Indian medicine sector in lines with the National Medical Commission proposed for setting up for Allopathy system of medicine.
The proposed regulatory structure will enable transparency and accountability for protecting the interest of the general public. The NCIM will promote availability of affordable healthcare services in all parts of the country.
Category: INTERNATIONAL RELATIONS
1. CPEC has no military feature, it is an economic project: Pak.
Context
Pakistan has said that the China-Pakistan Economic Corridor (CPEC) is a bilateral economic project and has no military dimensions.
China–Pakistan Economic Corridor (CPEC)
The CPEC is the flagship project of the multi-billion dollar Belt and Road Initiative (BRI), a pet project of Chinese President Xi Jinping, aimed at enhancing Beijing's influence around the world through China-funded infrastructure projects.
The 3,000 km-long China–Pakistan Economic Corridor (CPEC) consisting of highways, railways, and pipelines is the latest irritant in the India–China relationship.
CPEC eventually aims at linking the city of Gwadar in South Western Pakistan to China's North Western region Xinjiang through a vast network of highways and railways.
The proposed project will be financed by heavily-subsidised loans, that will be disbursed to the Government of Pakistan by Chinese banking giants such as Exim Bank of China, China Development Bank, and the Industrial and Commercial Bank of China.
Background
Foreign Office spokesman Mohammad Faisal said this at the weekly media briefing here on Thursday when asked about a U.S. media report that alleged that China had hatched a secret plan to build fighter jets and other military hardware in Pakistan as part of the $60 billion project.
The Islamabad datelined report in the New York Times said Pakistani Air Force and Chinese officials were putting the final touches to the secret proposal. China last week dismissed as untrue the report.
Responding to the report, Mr. Faisal said the CPEC was an economic project between Pakistan and China. The CPEC has helped Pakistan improve its economy, particularly energy and infrastructure sectors have improved under it. The CPEC is a bilateral economic project, which is not against any country.
US Media Report
Since the beginning of the BRI in 2013, Pakistan has been the programme's flagship site, with some $62 billion in projects planned in the so-called China-Pakistan Economic Corridor (CPEC). In the process, China has lent more and more money to Pakistan at a time of economic desperation there, binding the two countries ever closer.
For the most part, Pakistan has eagerly turned more toward China as the chill with the U.S. has deepened.
Even before the revelation of the new Chinese-Pakistani military cooperation, some of China's biggest projects in Pakistan had clear strategic implications.
A Chinese-built seaport and special economic zone in the Pakistani town of Gwadar is rooted in trade, giving China a quicker route to get goods to the Arabian Sea. But it also gives Beijing a strategic card to play against India and the U.S. if tensions worsen to the point of naval blockades as the two powers increasingly confront each other at sea.
A less scrutinised component of BRI is the central role Pakistan plays in China's Beidou satellite navigation system. Pakistan is the only other country that has been granted access to the system's military service, allowing more precise guidance for missiles, ships and aircraft.
All-weather friends and close allies, China and Pakistan have been jointly building the J-17 Thunder, a single seater multi-role combat aircraft. Pakistan has been eyeing a number of new advanced Chinese jets, including the stealth fighter.
1. States get greater say over coastal regions
Context
The Union Cabinet, chaired by Prime Minister Narendra Modi, on Friday approved the CRZ Notification 2018, aimed at streamlining of Coastal Regulation Zone clearances, enhancing activities in the coastal regions and promoting economic growth while keeping in mind conservation principles of coastal regions.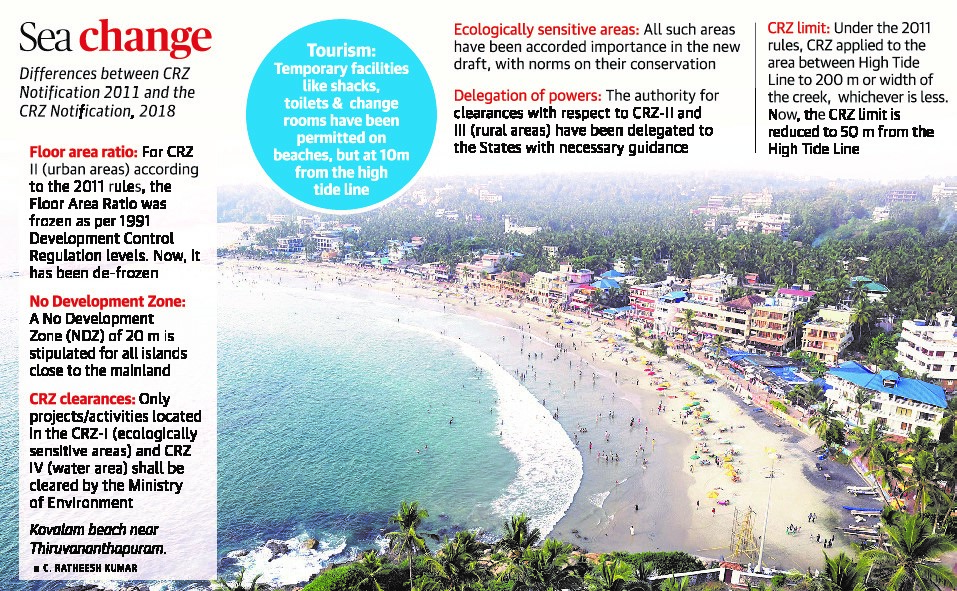 Highlights of CRZ Notification 2018
Only such projects which are located in CRZ-I (Ecologically Sensitive Areas) and IV (area covered between Low Tide Line and 12 nautical miles seaward) will require the necessary clearance from the Uniuon Ministry.
The powers for clearances with respect to CRZ-II (the areas that have been developed up to or close to the shoreline) and III (areas that are relatively undisturbed) have been delegated to the State level.
The construction norms on Floor Space Index (FSI) or the Floor Area Ratio (FAR), which was frozen at 1991 Development Control Regulation (DCR) levels, have been relaxed and will now be based on laws which are in vogue.
The new notification also relaxed the No Development Zone (NDZ) criteria . Densely populated rural areas with a population density of 2,161 per square kilometre, falling under CRZ-III A, now have NDZ of 50 metres from the High Tide Line (HTL) as against 200 metres stipulated in the CRZ Notification, 2011.
For islands close to the mainland coast and for all backwater islands in the mainland, the new norms stipulate an NDZ of 20 metres.
The notification also permits temporary tourism facilities such as shacks, toilet blocks, change rooms, drinking water facilities etc. in beaches. Such temporary tourism facilities are also now permissible in NDZ of the CRZ-III areas.
Know the terminology
High Tide Line (HTL) – HTL is generally the line of intersection of the land with the water's surface at the maximum height reached by a rising tide. For the purposes of notification, HTL means the line on the land up to which the highest water line reaches during the spring tide.
Floor Space Index (FSI) – Floor Space Index is also known as the Floor Area Ratio (FAR). It is the ratio between the area of a built up area to the area of the plot (land) on which a building stands.
Conclusion
The new draft CRZ notification has major recommendations that will boost tourism development in coastal areas of the country, which remains untapped due to stringent regulatory framework.
The government said the new notification will "boost tourism in terms of more activities, more infrastructure and more opportunities and will certainly go a long way in creating employment opportunities in various aspects of tourism".
'State'- Deciding authority: Moreover, it will also give individual states the power to decide on their own about any development in the region.
Category: SCIENCE AND TECHNOLOGY
1. Manned space mission to take off
Context
The Union Cabinet on Friday approved the ambitious Gaganyaan programme, which will send three Indian astronauts to space for up to seven days by 2022 at a cost of ₹10,000 crore.
The project was first announced by Prime Minster Narendra Modi in his Independence Day speech this year. As part of the programme, two unmanned flights and one manned flight will be undertaken.
Gaganyaan
Gaganyaan is an Indian crewed orbital spacecraft intended to be the basis of the Indian human spaceflight program.
The spacecraft is being designed to carry three people, and a planned upgraded version will be equipped with rendezvous and docking capability.
In its maiden crewed mission, Indian Space Research Organization's largely autonomous 3.7-tonne capsule will orbit the Earth at 400 km (250 mi) altitude for up to seven days with a three-person crew on board.
The crewed vehicle is planned to be launched on ISRO's GSLV Mk III in 2022. This HAL-manufactured crew module had its first uncrewed experimental flight in 2014.
Challenges
A manned space mission is very different from all other missions that ISRO has so far completed.
In terms of complexity and ambition, even the missions to the Moon (Chandrayaan) and Mars (Mangalyaan) are nowhere in comparison.
For a manned mission, the key distinguishing capabilities that ISRO has had to develop include the ability to bring the spacecraft back to Earth after flight, building a spacecraft in which astronauts can live in Earth-like conditions in space
Over the years, ISRO has successfully tested many of the technologies that are required. However, many other challenging ones are still to be developed and tested.
ECLSS
The Environmental Control & Life Support System (ECLSS) is meant for humans inside to live comfortably. It ensures that conditions inside the crew module are suitable for living.
The ECLSS
Maintains a steady cabin pressure and air composition
Removes carbon dioxide and other harmful gases
Controls temperature and humidity
Manages parameters like fire detection and suppression, emergency support
Takes care of food and water management
Nothing here for today!!!
1. Strange deal
Context
The Department of Industrial Policy & Promotion on Wednesday issued a clarification to the existing rules pertaining to Foreign Direct Investment in e-commerce companies.
Before we go into the details, let us we understand some basic
E-commerce companies can operate under two different models in India.
The first is the marketplace model where the e-commerce firm simply acts as a platform that connects buyers and sellers. FDI is allowed in e-commerce companies in this model.
The second model is inventory-based where the inventory of goods sold on the portal is owned or controlled by the e-commerce company. FDI is not allowed under this model.
What has been happening is that large e-commerce companies such as Amazon and Flipkart, while not owning inventory themselves, have been providing a platform for their group companies such as CloudTail and WS Retail respectively.
Some see this as skewing the playing field, especially if these vendors enjoyed special incentives from the e-commerce firm, over others. These controlled or owned vendors may then be able to offer discounts to customers that competitors may not be able to match.
Clarifications by DIPP
Vendors that have any stake owned by an e-commerce company cannot sell their products on that e-commerce company's portal.
Vendor who purchases 25% or more of its inventory from an e-commerce group company will be considered to be controlled by that e-commerce company, and thereby barred from selling on its portal.
This provision aims to ensure that vendors in which marketplaces, such as Amazon, have a stake do not sell the bulk of their items to a third-party vendor who then goes on to sell those items on the e-commerce marketplace.
In other words, the provision seeks to deny control by the marketplace entity over vendors. The third major provision says the e-commerce firm will not be allowed to influence the price of a product sold on its portal by giving incentives to particular vendors.
Who benefits?
The thrust of the DIPP policy is directed at protecting small vendors on e-commerce websites.
It seeks to ensure small players selling on the portals are not discriminated against in favour of vendors in which e-commerce companies have a stake.
The Confederation of All India Traders welcomed this move as it feels the new set up will ensure a level playing field for all vendors looking to sell on the e-commerce portals. Smaller marketplaces that do not have stake in any vendors will also be able to now compete with the big daddies.
Who else will be affected?
The main players to be affected will be group companies and affiliates of the biggest e-commerce platforms, Amazon and Flipkart. These include CloudTail, WS Retail, Myntra and private label brands such as Amazon Basics and Flipkart's MarQ and to some extent the private label business of online marketplace operator ShopClues.
The provision that bars companies — in which e-commerce firms have a stake — from selling on their portals will hurt start-ups as well, since many of these will be barred from selling due to minor equity stakes being held by the e-commerce companies.
Where will Amazon now sell its own products such as Kindle and Amazon Echo?
The verdict on this is unclear. FDI in single-brand retail is allowed in India, so if Amazon has a licence for single-brand retail, it can sell its own products on its portal. Or vendors like Tata Croma, for example, may buy these products from Amazon and sell them on its portal.
Is it the end of discounts?
Discounts will not go away. Earlier, Amazon used to give discounts through CloudTail, but now it would have to give discounts through other sellers as well.
That is, e-commerce firms will have to ensure a level playing-field among their vendors. They can still promote their own portals by offering cashback offers and vouchers, but these will have to apply to purchases from all vendors.
Will a vendor be unable to sell on a marketplace, if the latter holds any stake in the vendor?
Experts agree that this provision will likely be amended, with a benchmark equity percentage being set. That is, the rules may be changed such that a vendor with more than a certain stake owned by an e-commerce firm cannot sell on that portal, rather than the current wording that says 'any stake'.
Analysis of the issue
The Centre's curiously timed attempt to 'clarify' foreign direct investment norms for e-commerce players could end up scuttling investor interest in the sector that has attracted large foreign players and generated thousands of jobs.
The fresh restrictions and the clarifications on certain operational aspects could reinforce investor complaints about India being unpredictable in terms of policies.
The policy, to kick in from February 1, 2019, could require a major overhaul in the business model and shareholding structures of such players. For instance, earlier a single vendor or its group firms couldn't account for over 25% of sales in a marketplace; now the rules bar sales by any entities where the e-com firm has an equity stake.
A vendor's inventory will be deemed to be controlled by the e-com player if more than 25% of its purchases are from the latter or related firms. It's not clear how this change will help meet the principle enunciated in the policy note — fairness and the creation of a non-discriminatory, level playing field.
Separately, any specialised back-end support for some sellers must now be extended to all vendors, while discounts, cash-backs and preferential subscription services have been made far trickier to implement.
An e-commerce marketplace entity will not mandate any seller to offer a product exclusively on its platform under the new rules. But this doesn't explain what to do when a seller voluntarily opts to sell exclusively on one e-commerce portal over another.
Conclusion
The government is clearly keen to quell the long-brewing disquiet among offline retailers over big discount sales and the surge in e-commerce. Yet, it could have waited for the recommendations of a national e-commerce policy task force set up this April.
That task force could trigger more policy shifts. India's retail FDI policy remains muddled — with the debate now focussing on online vs offline trade as opposed to big vs small, or a single brand vs multi-brand retail FDI regime.
Globally, India has been taking on protectionism, and this month the Finance Minister said free trade is essential so consumers get the best deal everywhere. The same consumer focus and non-protectionist tenets must be applied for internal trade.
Category: POLITY AND GOVERNANCE
1. A law that defeats its purpose
Context
The Transgender Persons (Protection of Rights) Bill, 2018, passed by the Lok Sabha recently, has caused great alarm. Transgender and intersex activists have protested on the streets, campaigned with parliamentarians and spoken out against the Bill.
Evolution of the law
In February 2014, the Supreme Court passed a landmark judgement in the NALSA vs. Union of India case.
It recognised that transgender persons have fundamental rights, and paved the way for enshrining the rights of transgenders in law.
The apex court deemed that individuals had the right to the self-identification of their sexual orientation.
It also called for affirmative action for transgenders in education, primary health care and social welfare schemes.
Private Member Bill – Rights of Transgender Persons Bill, 2014, was introduced as a Private Member's Bill in the Rajya Sabha by Tiruchi Siva. It was unanimously passed in the Rajya Sabha but was never debated in the Lok Sabha.
Following this, government drafted its own bill, Rights of Transgender Persons Bill, in 2015 and introduced it in the Lok Sabha in 2016
The 2016 Bill identifies transgenders as being "partly female or male or a combination of female and male or neither female nor male".
Highlights of the Bill
According to the new definition, a transgender person is somebody "whose gender does not match the gender assigned to that person at birth and includes trans-men or trans-women, persons with intersex variations, gender-queers, and persons having socio-cultural identities such as kinnar, hijras, aravani, and jogta".
The Bill aims to stop discrimination against a transgender person in various sectors such as education, employment, and healthcare. It also directs the central and state governments to provide welfare schemes for them.
The Bill states that a person will be recognised as transgender on the basis of a certificate of identity issued through the district screening committee. This certificate will be a proof of identity as transgender and confer rights under this Bill.
Gender Identity
In the landmark NALSA v. Union of India judgment, the Supreme Court laid down that transgender and intersex persons have the constitutional right to self-identify their gender as male, female or transgender even without medical intervention.
The court held: "Each person's self-defined sexual orientation and gender identity is integral to their personality and is one of the most basic aspects of self-determination, dignity and freedom and no one shall be forced to undergo medical procedures, including SRS, sterilization or hormonal therapy, as a requirement for legal recognition of their gender identity".
Hence, medical procedures should not be required as a pre-condition for any identity documents for transgender and intersex persons, nor should there be any requirement of a mental health assessment. Requiring a person to submit proof of medical treatment or mental health assessment of their gender identity violates one's right to dignity, the right to be free from unwanted medical treatment and the right to be free from discrimination.
The 2018 Bill establishes a District Screening Committee for the purpose of recognition of transgender persons. This Screening Committee includes a chief medical officer and a psychologist/psychiatrist, which goes to show that medical and psychological tests would be required for grant of change of gender identity. There is no provision in the Bill that gender change would be permitted without medical or psychological treatment.
The Bill also does not allow for recognition of gender identity as male or female. It only allows for an identity certificate as 'transgender'. This goes against the decision of the Supreme Court, which recognised the right to self-identify oneself as male, female or transgender and would also be forcing intersex persons to get a gender identity as "transgender".
The U.K.'s Gender Recognition Act 2004 was the first law in the world allowing people to change gender without surgery. Since then other countries, including Argentina, Ireland and Denmark, have passed laws that allow people to 'self-declare' their gender, rather than seek approval from a panel of medical experts.
Hence the District Screening Committee needs to be removed from the 2018 Bill. The Bill needs to state explicitly that no medical or mental health examination will be required and applicants will simply need to submit an affidavit attesting the request for a change of gender identity.
Reservations
Debates on the Bill have always included the demand for reservations for transgender and intersex persons in educational institutions and in public employment as they are seen to be crucial for their social inclusion. This was not only mandated by the Supreme Court in NALSA, the Rights of Transgender Persons Bill 2014 too provided for 2% reservation.
Surprisingly the 2018 Bill does not provide for any reservation. It provides that there would be no discrimination in education and employment, but these rights are meaningless if transgender persons are not able to get access in the first place.
Equality would demand that in order for the trans and intersex community to get access to their basic social rights, there should be horizontal reservation in education and employment provided to them. When the new Rights of Persons with Disabilities Act 2016 was passed, it included reservations of 5% and 4% in education and government jobs, respectively. It is surprising therefore that the 2018 Bill has no mention of similar provisions.
Criminalising lives
The Bill in Section 19 makes it a criminal offence for anyone to compel a transgender person into begging. This has serious implications.
A large number of people from the trans and intersex community are engaged in begging and sex work due to discrimination and not having any other opportunities. This provision would lead to members of the trans community being criminalised.
When the criminalising of begging itself has been held to be unconstitutional by the Delhi High Court, there is no place for this offence in the 2018 Bill. For too long, gender minorities have been criminalised for being out in the streets and in public, and having this offence in the Bill will lead to further criminalising of transgender lives.
Conclusion
In all these ways the 2018 Bill is seriously flawed. It does not have a whole gamut of positive rights such as the rights of trans and intersex persons to inheritance of property, rights within the family such as adoption and to be free from domestic violence, rights of political participation such as the right to vote and hold public office, and the right to health to include free sex reassignment treatments.
It also does not make sexual violence against transgender and intersex persons a criminal offence. The current law on rape is gender specific and transgender persons have no recourse under criminal law for sexual assault.
The Bill is an opportunity to ensure that the constitutional rights of transgender and intersex persons are realised. Let us not lose this opportunity by passing such a flawed legislation.
1. 'Abusive talk won't amount to abetment'
Use of abusive language against a person who shortly went on to take his own life will not amount to abetment of suicide, the Supreme Court has held.
The judgment by a Bench of Justices R. Banumathi and Indira Banerjee came on an appeal filed by M. Arjunan. He had challenged a Madras High Court decision in 2015 confirming a trial court's order that held him guilty of abetment of suicide. The High Court, however, reduced Arjunan's imprisonment from three years to three months.
Trouble started when Arjunan loaned ₹50,000 to Rajagopal and obtained a promissory note in 2001. A year later he started putting pressure on the latter to pay ₹1 lakh, which included the interest on the amount borrowed. Unable to bear the pressure, Rajagopal committed suicide. He wrote a suicide note stating his inability, due to financial difficulties, to repay the loan.
The trial court, on the basis of the suicide note and the testimonies of Rajagopal's family, found Arjunan guilty of abetment. The High Court also agreed that the suicide note confirmed his guilt. However, the Supreme Court disagreed with the lower courts. The court examined the note to conclude that there was nothing in its tenor to indicate that Arjunan instigated the victim to take his own life.
2. Tiny tracker to help fight rhino poaching
French tech company Sigfox has developed a bite-size tracker that can be inserted into the horns of rhinos to help conservationists monitor and protect the endangered species.
Cameras, infrared and motion sensors, electronic bracelets and drones have been used over the years to protect endangered species, but have at times been limited by vast distances and limited resources in the countries concerned.
Sigfox, known for building networks that link objects to the Internet, has developed sensors able to give the exact location of rhinos using the firm's network over a longer period of time.
"We now help rangers and conservation experts to observe from a distance, taking less risk, and especially to anticipate potential dangers that the animal could (face)," said Marion Moreau, head of the non-profit Sigfox Foundation.
The sensors can alert park rangers when rhinos approach an area identified as particularly dangerous due to previous instances of poaching.
The Sigfox network uses a specific radio signal which offers more security guarantee than other tracking devices.
The sensor only wakes up when it has to transmit data, which makes it immune to interception by poachers.
1. Modi to release stamp on Suheldev
Context
With the 2019 Lok Sabha election approaching, Prime Minister Narendra Modi's visits to Uttar Pradesh have increased and his next stop is Ghazipur where he will release a postal stamp in the name of a backward caste-Dalit chieftain Suheldev on Saturday.
Suhaldev
Suhaldev is a semi-legendary Indian king from Shravasti, who is said to have defeated and killed the Ghaznavid general Ghazi Saiyyad Salar Masud at Bahraich, in the early 11th century.
He is mentioned in Mirat-i-Masudi, a 17th-century Persian-language historical romance. Since the 20th century, various Hindu nationalist groups have characterized him as a Hindu king who defeated a Muslim invader.
The legend of Salar Masud and Suhaldev is found in the Persian language Mirat-i-Masudi. It is a historical romance, and a biography of Salar Masud, with a "gossipy feel".
It was written by Abd-ur-Rahman Chishti during the reign of the Mughal emperor Jahangir (r. 1605-1627). The legend has been subsequently embellished by members of various castes and political groups
Though Suheldev's historical existence is shrouded in mystery, he is today popular as a caste icon among the Rajbhars (OBC) and the Pasis (second largest Dalit caste in U.P.), both of whom have been competing for his legacy.
The BJP-RSS have over the years aggressively tried to portray Suheldev as a Hindutva warrior who stopped the march of Muslim invader Ghazi Mian, a nephew of Mahmud Ghaznavi, in Bahraich and halted the spread of Islam in the region.
H. Practice Questions for UPSC Prelims Exam
Question 1. With reference to 'whip', which of the following statements is/are correct?

The Office of the 'whip' is mentioned neither in the Constitution of India nor in the rules of the house nor in a Parliamentary Statute.
Every political party has its own 'whip' in the Parliament.
Select the correct code:
Only 1
Only 2
Both 1 and 2
None of the above
See
Question 2. Which of the following is part of the Electoral College for the Presidential 
election in India?
The elected members of both the Houses of Parliament
All the member of the Parliament
The elected members of the legislative assemblies of the Union Territories of Delhi and Puducherry
All the members of the State legislative assemblies
Correct answer code is:
Only 1 and 2
Only 1 and 3
Only 2 and 4
Only 1, 3 and 4
See
Question 3. Consider the following statements with reference to the President of India:
He should be qualified for election as a member of the Lok Sabha.
Nomination of a candidate for election to the office of President must be subscribed by atleast100 electors as proposers and 50 electors as seconders.
President is obliged to preserve the Constitution and the law by his oath.
Which of the above statement(s) is/are correct?
Only 1
Only 1 and 2
Only 2 and 3
Only 1 and 3
See
I. Practice Questions for UPSC Mains Exam
Impact investing refers to investments made into companies, organizations, and funds with the intention to generate a measurable, beneficial social or environmental impact alongside a financial return. Explain the concept of impact investment with relevant examples. (10 Marks; 150 words)
The issue of loan waivers comes in news repeatedly because most of the state governments see it as a low hanging fruit but waiving off farmers loans may not be the best idea in helping them. Discuss. (10 Marks; 150 words)
See previous CNA