TABLE OF CONTENTS
A.

 GS1 Related




B.

 GS2 Related


POLITY AND GOVERNANCE
1. CIC gets four Information Commissioners
2. Triple talaq Bill likely to face stiff resistance in RS
INTERNATIONAL RELATIONS
1. Elections in Bangladesh


C.

 GS3 Related


ECONOMY
1. Robust GDP growth to continue: CII
ENVIRONMENT
1. Micro factory can help recycle waste locally
SCIENCE AND TECHNOLOGY
1. Better patrolling, technology helped foresters nab golfer


D.

 GS4 Related




E. 

Editorials


ECONOMY
1. Mind the gap
POLITY
1. Navtej Johar case, a verdict for all times


F. 

Tidbits


1. Space probe nears dark side of moon
2. Hard lesson: funds not enough to attract teachers to government schools


G. 

Prelims Fact


1. Islands of the Andaman and Nicobar archipelago renamed
H. UPSC Prelims Practice Questions
I. UPSC Mains Practice Questions

Nothing here today!!!
Category: POLITY AND GOVERNANCE
1. CIC gets four Information Commissioners
Context: The government has appointed four new Information Commissioners in the Central Information Commission.
About CIC:
The Central Information Commission has been constituted with effect from 12-10-2005 under the Right to Information Act, 2005. The jurisdiction of the Commission extends over all Central Public Authorities.
Powers and Functions:
The Commission has certain powers and functions mentioned in sections 18, 19, 20 and 25 of the RTI Act, 2005.
Adjudication in second appeal for giving information.
Direction for record keeping.
Suo motu disclosures receiving and enquiring into a complaint on inability to file RTI, etc.
Imposition of penalties and Monitoring and Reporting including preparation of an Annual Report.
The decisions of the Commission are final and binding.
Composition:
The Commission includes 1 Chief Information Commissioner (CIC) and not more than 10 Information Commissioners (IC) who are appointed by the President of India.
CIC and members are appointed by the President of India on the recommendation of a committee consisting of—Prime Minister as Chairperson, the Leader of Opposition in the Lok Sabha, a Union Cabinet Minister to be nominated by the Prime Minister.
2. Triple talaq Bill likely to face stiff resistance in RS
Context: The Centre is likely to face stiff resistance in its second attempt to ensure passage of the triple talaq Bill when it comes up in the Rajya Sabha.
The amended Bill, passed by the Lok Sabha, is listed in the business of the Upper House
In the last session, the earlier Bill could not be taken up in the Rajya Sabha due to a lack of consensus among political parties.
About Triple Talaq bill:
The Muslim Women (Protection of Rights on Marriage) Bill, 2018 was introduced in Lok Sabha. It replaces an Ordinance promulgated on September 19, 2018.
The Bill makes all declaration of talaq, including in written or electronic form, to be void (i.e. not enforceable in law) and illegal.
It defines talaq as talaq-e-biddat or any other similar form of talaq pronounced by a Muslim man resulting in instant and irrevocable divorce.
Talaq-e-biddat refers to the practice under Muslim personal laws where pronouncement of the word 'talaq' thrice in one sitting by a Muslim man to his wife results in an instant and irrevocable divorce.
The Bill makes declaration of talaq a cognizable offence, attracting up to three years' imprisonment with a fine. (A cognizable offence is one for which a police officer may arrest an accused person without warrant.)  The offence will be cognizable only if information relating to the offence is given by the married woman (against whom talaq has been declared), or any person related to her by blood or marriage.
The Bill provides that the Magistrate may grant bail to the accused. The bail may be granted only after hearing the woman (against whom talaq has been pronounced), and if the Magistrate is satisfied that there are reasonable grounds for granting bail.
The offence may be compounded by the Magistrate upon the request of the woman (against whom talaq has been declared)
A Muslim woman against whom talaq has been declared, is entitled to seek subsistence allowance from her husband for herself and for her dependent children.  The amount of the allowance will be determined by the Magistrate.
A Muslim woman against whom such talaq has been declared, is entitled to seek custody of her minor children. The manner of custody will be determined by the Magistrate.
1. Robust GDP growth to continue: CII
Context: According to the Confederation of Indian Industry, India will continue to be the fastest-growing major economy, with robust GDP growth expected to continue through 2019 at 7.5%, based on strong drivers from the services sector, infrastructure activity and better demand conditions.
Factors sustaining the robust GDP growth:
Better demand conditions
Settled GST implementation
Capacity expansion resulting from growing investments in infrastructure
Continuing positive effects of the reform policies undertaken
Improved credit off take especially in services sector at 24%
Key drivers of growth to be encouraged in 2019:
Lowering the number of GST rate slabs
Bolstering the insolvency and bankruptcy framework
Simplifying business procedures
Improving agricultural productivity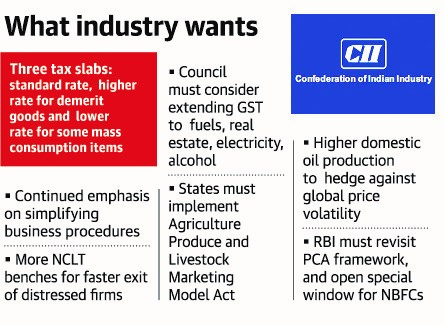 Category: INTERNATIONAL RELATIONS
Context: Initial trends in the general elections for  Bangladesh indicated an inclination towards the ruling coalition of  the Grand Alliance led by Prime Minister Sheikh Hasina and the Awami League.
However, the Opposition's rainbow coalition, the Jatiyo Oikya Front (JOF), led by the Bangladesh Nationalist Party (BNP) has rejected the election and demanded a re-election under a neutral government.
Background:
Bangladesh gained independence from Pakistan in December 1971.
It is the eighth most populous country in the world and the third largest Muslim-majority country.
This is the 11th general election of Bangladesh.
The Bangladesh parliamentary elections are being seen as a litmus test for the future of democracy in the world's eighth-most populous country of over 170 million people.
The last election in 2014 was boycotted by the BNP and shunned by international observers as "an electoral farce". More than half the seats remained uncontested that year, giving Sheikh Hasina's party a walkover.
There are four major issues deciding the contentious election: the country's economy, Hasina's alleged authoritarianism, the gag on media freedom, and 1971 war crimes.
Impact on India
Bangladesh and India share a 4,000-km long border that has been marred by ethnic conflicts. Its location is strategically important for India, and China has time and again tried to woo Dhaka. Overall, Bangladesh is a key component of India's "Look East" policy.
Under Hasina's regime, New Delhi has seen improved bilateral ties and boundary disputes have been settled amicably, while strong security cooperation has been established and significant progress has been made in settling differences over the Teesta River water sharing.
Bilateral trade and India's investment in Bangladesh has also picked up.
On the other hand, Zia had a strained relationship with India during her two tenures as prime minister. Her party has been called anti-India by critics and her government was accused of harbouring anti-India elements on Bangladeshi soil.
Therefore, as fast growing economies both India and Bangladesh must look at opportunities that benefit them mutually and also equitably and promote activities that strengthen each other's security as well as sovereignty.
Way Forward:
The Bangladesh 2018 election offers a good opportunity to both India and Bangladesh to end an arrangement that is unhealthy and mutually predatory and make a new beginning, working together towards lasting peace, security and prosperity of their people.
1. Micro factory can help recycle waste locally
Context: The world's first e-waste micro factory for converting waste into quality finished products started recently in Sydney, Australia, heralding a new era in waste recycling.
Significance:
E-waste micro factory can recycle waste plastics and make all kinds of innovative products.
Micro factory is economically viable because it reduces the need for transport, and uses locally available waste material.
Materials such as waste plastics, waste glass, waste furniture and waste textiles are being recycled here.
For example, waste textile is used to make building panels, acoustic panels to help reduce noise pollution. Instead of painting, acoustic panels are put on the wall, for silent zone.
Opportunity for Micro factory
China being a major importer of waste has restricted imports of waste on environmental concerns. Since China has imposed this restriction, many countries now cannot send their waste to China and must think about solutions in their own backward to recycle that waste. Micro factory is the solution.
Way forward:
In India data can be collected and micro factory can be customized to process locally available waste. It can have a huge impact on our environment and change lives in India as well.
Category: SCIENCE AND TECHNOLOGY
1. Better patrolling, technology helped foresters nab golfer
Context: Golfer Jyoti Randhawa was arrested on charges of poaching and sent to jail. Since June 2018, over 90 people have been arrested in Dudhwa for wildlife offences, including poaching and illegal felling
How technology helped?
As a result of months of surveillance and strategy, and support of a GPS-enabled app called M-Stripe it is becoming possible to nab poachers.
Efforts are being made to make forest officials more accountable through technology.
Equipping personnel with a mobile app, M-Stripe, used for surveillance and patrolling of tiger-populated areas has led to better enforcement of law.
What is M-stripe?
The Indian Government launched M-STrIPES, a software-based monitoring system at tiger reserves across the country.
M-Stripe is used for surveillance and patrolling of tiger-populated areas.
It is built by the National Tiger Conservation Authority and the Wildlife Institute of India, the app has brought about a big change in patrolling.
The GPS-enabled M-Stripe, which stands for Monitoring System for Tigers-Intensive Protection and Ecological Status, allows patrol teams to keep a better tab on suspicious activity while also mapping their own patrolling, location, routes and timings for better accountability.
Accordingly forest guards in tiger reserves would be equipped with personal digital assistants (PDAs) and Geographical Positioning System (GPS) devices to capture data relating to tiger sightings, wild life crime, deaths and ecological monitors among others while patrolling. The software system would map the patrol routes of the forest guards and monitor distribution of different animal species among others.
Nothing here for today!!!
1. Mind the gap
Context: 
By November 2018, the Centre's fiscal deficit has already overshot the full year's budget estimate by as much as ₹92,349 crore with still four months to go.
Even last year India missed its fiscal deficit target— the deficit in the revised estimates for 2017-18 was 3.5% of GDP, compared to the target of 3.2%.
The concern is that repeated missing of fiscal targets might hurt the economy.
The failure to meet the target has been due to several factors such as low GST collections, spike in oil prices and pressure to spend more due to upcoming elections.  
Fiscal Responsibility and Budget Management Act, 2003 
The Fiscal Responsibility and Budget Management Act, 2003(FRBMA) is an Act of the Parliament of India to institutionalize financial discipline, reduce India's fiscal deficit, improve macroeconomic management and the overall management of the public funds by moving towards a balanced budget and strengthen fiscal prudence.
The main purpose was to eliminate revenue deficit of the country (building revenue surplus thereafter) and bring down the fiscal deficit to a manageable 3% of the GDP by March 2008. However, due to the 2007 international financial crisis, the deadlines for the implementation of the targets in the act was initially postponed and subsequently suspended in 2009.
In 2011, given the process of ongoing recovery, Economic Advisory Council publicly advised the Government of India to reconsider reinstating the provisions of the FRBMA.
In 2016, the government constituted the N K Singh committee to review the FRBM Act. The government believed the targets were too rigid. The committee recommended that the government should target a fiscal deficit of 3 per cent of the GDP in years up to March 31, 2020 cut it to 2.8 per cent in 2020-21 and to 2.5 per cent by 2023.
In Budget 2017, Finance Minister Arun Jaitley deferred the fiscal deficit target of 3% of the GDP and chose a target of 3.2%, citing the NK Singh committee report.
The Deficit Challenge
While total expenditure growth has remained below the budget projection, worryingly growth inducing capital expenditure is set on an underwhelming trajectory. The 4% increase over the eight month period is less than half the 9.9% growth the Centre had budgeted for the year.
However, the trends in revenue have given a cause for concern. The April-November revenue receipts and net tax revenue growth numbers are far from reassuring.
If there is a silver lining on the revenue front, it is the increase seen in non-tax revenue, which has put the government comfortably on track to meet the budget estimate for a 3.9% increase.
Still, nontax revenue is budgeted to account for just over a seventh of total revenue and it is hard to see it helping bridge anything more than the smallest of shortfalls in tax receipts.
There is another factor to contend with in sizing up the fiscal calculus this year. With the general election only a few months away, the government needs to avoid the temptation to open the spigot with an eye on the political benefits that it may see accruing.
Some of the expenditure plans it has committed to recently have either been factored in or will at most impact the margins — be it public sector bank recapitalisation or an increase in the quantum of incentives for the export of onions to reverse the slide in prices.
Concluding Remarks:
But the bigger challenge remains in finding ways to rustle up the requisite revenue to keep the deficit from slipping for a second year running.
The seven public sector enterprises that have been cleared by the Cabinet for share sales as part of the disinvestment programme are, at best, only likely to partly help meet the budgeted non-debt capital receipts target of ₹92,199 crore.
As the Reserve Bank never tires of cautioning, the onus is on the government to avoid further fiscal slippage as it could hurt the economy by crowding out vital private investment. This at a time when it has just been showing signs of a revival.