TABLE OF CONTENTS
A.

 GS1 Related




B.

 GS2 Related


POLITY AND GOVERNANCE
1. Supreme Court rejects PIL pleas for Rafale deal probe
2. HC quashes Centre's ban on oxytocin manufacture
3. Fintech companies seek clarity on using Aadhaar for eKYC
4. One-stop centres help 2 crore women
INTERNATIONAL RELATIONS
1. Rajapaksa to resign, pave the way for Ranil's return


C.

 GS3 Related


ENVIRONMENT
1. The plastic question is hard to crack


D.

 GS4 Related




E. 

Editorials


INTERNATIONAL RELATIONS
1. End Sri Lanka's crisis (Sri Lanka's Constitutional Crisis)
POLITY AND GOVERNANCE
1. The warning signs are loud and clear (J&K Political Crisis)


F. 

Tidbits




G. 

Prelims Fact


1. Jammu & Kashmir legislation to stop 'sextortion' of women
H. UPSC Prelims Practice Questions
I. UPSC Mains Practice Questions

Nothing here for today!!!
Category: POLITY AND GOVERNANCE
1. Supreme Court rejects PIL pleas for Rafale deal probe
Context
The Supreme Court on Friday refused to embark on a "fishing enquiry" into the deal to procure 36 Rafale fighter jets merely on the basis of PIL petitions spurred by a media interview of former French President Francois Hollande and reports of favouritism shown by the Narendra Modi government.
Hollande was reported to have said the French government had no option in the choice of an Indian Offset Partner (IOP). It had to agree to take on board a company suggested by the Indian government. The petitioners had alleged that the government wanted a "novice" company, Reliance Defence, as the IOP in the multi-crore deal.
A three-judge Bench, led by Chief Justice of India Ranjan Gogoi, in a 29-page verdict, junked such notions of "commercial favouritism" on the part of the government. Mr. Modi had been himself arraigned as a respondent in one of the four petitions.
The court concluded that the government had no role in the choice of an IOP. The option to choose an Indian Offset Partner (IOP) rests fully with the French manufacturer, Dassault Aviation, under the Defence Procurement Procedure, it said.
Background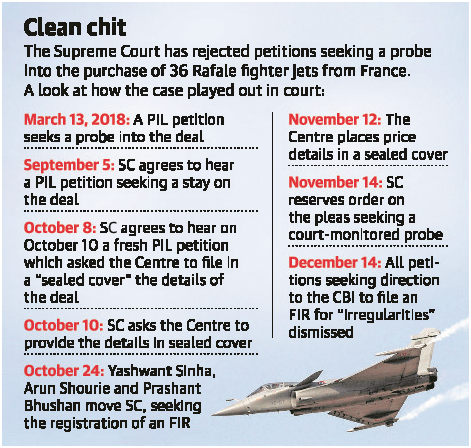 About Defence offset policy
India has a peculiar defence scenario as the country has one of the largest defence infrastructures and at the same time is one of the largest defence importers in the world.
To overcome the various hurdles of defence sector development including measures to overcome import dependence, government introduced several measures including defence FDI and promotion of private sector participation.
A major policy thrust in this direction is the defence offset policy which is expected to become a chief instrument for India to develop its indigenous defence manufacturing sector.
Offset, in literary sense, is a factor that counterbalances or compensates an act. In the defence procurement context, it is an element of 'compensation' made by the manufacturer that mostly takes place in the form of placing a minimum per cent of value addition in the ordering country.
Defence offset means "a supplier places work to an agreed value with firms in the buying country, over and above what it would have brought in the absence of the offset."
Hence under defence offset, a foreign supplier of equipment agrees to manufacture a given percent of his product (in terms of value) in the buying country. Sometimes this may take place with technology transfer.
About Rafale jets
India in September 2016 inked a direct deal with the French government to purchase 36 new Rafale fighter jets.
Rafale is a twin-engine medium multi-role combat aircraft, manufactured by French company Dassault Aviation. Dassault claims Rafale has 'Omnirole' capability to perform several actions at the same time, such as firing air-to-air missiles at a very low altitude, air-to-ground, and interceptions during the same sortie.
The aircraft is fitted with an on-board oxygen generation system (OBOGS) which suppresses the need for liquid oxygen re-filling or ground support for oxygen production.
It carry out a wide range of missions: Air-defence/air-superiority, Reconnaissance, close air support dynamic targeting, Air-to-ground precision strike/interdiction, anti-ship attacks, nuclear deterrence, buddy-buddy refueling.
2. HC quashes Centre's ban on oxytocin manufacture
Context
The Delhi High Court on Friday quashed the Centre's decision to ban the manufacture and sale of oxytocin, a drug which induces labour and controls bleeding during child birth, by private firms.
Background
The Ministry of Health and Family Welfare has restricted the manufacture of Oxytocin formulations for domestic use to public sector only. Coupled with this, it has also banned the import of Oxytocin and its formulations
Only Karnataka Antibiotics & Pharmaceuticals Ltd. (KAPL), a public sector company, will manufacture this drug for domestic use. It will supply the drug to registered hospitals and clinics in public and private sector directly.
Why there was a ban on oxytocin?
The drug is misused in the dairy industry where livestock is injected with Oxytocin to make them release milk at a time convenient to farmers.
Oxytocin is also used to increase the size of vegetables such as pumpkins, watermelons, eggplants, gourds, and cucumbers.
Views of the Delhi High Court
The UoI did not adequately weigh in the danger to the users of oxytocin, nor consider the deleterious effect to the public generally and women particularly, of possible restricted supply if manufacture is confined to one unit, to the pregnant women and young mothers, of a potentially life-saving drug.
The Centre's decision to allow only a single, state-run entity — with no prior experience in manufacturing oxytocin — to make and sell the drug, was "fraught with potential adverse consequences.
The risk of such a consequence can be drastic: the scarcity of the drug, or even a restricted availability can cause increase in maternal fatalities, during childbirth, impairing lives of thousands of innocent young mothers.
The Bench was not impressed with the Centre's "far greater" reliance on the need to prohibit availability of oxytocin from what was perceived to be widespread veterinary misuse.
Correspondingly there was no scientific basis, and insufficient data to support the conclusion that the drug's existing availability or manner of distribution posed a risk to human life.
About Oxytocin
Oxytocin has also been dubbed the hug hormone, cuddle chemical, moral molecule, and the bliss hormone due to its effects on behaviour, including its role in love and in female reproductive biological functions in reproduction.
Oxytocin is a hormone that is made in the brain, in the hypothalamus. It is transported to, and secreted by, the pituitary gland, which is located at the base of the brain.
It acts both as a hormone and as a brain neurotransmitter.
The release of oxytocin by the pituitary gland acts to regulate two female reproductive functions: Childbirth and Breast-feeding.
3. Fintech companies seek clarity on using Aadhaar for eKYC
Context
Fintech companies have asked the government to issue a clarification that will allow regulated entities such as banks and non- banking financial companies (NBFCs) to use Aadhaar for eKYC in case of "voluntary submission" by customers.
Aadhaar-based eKYC made it possible for several companies to extend credit, offer savings and investment products and insurance.
Background of the issue
The Supreme Court judgment in September upheld the validity of Aadhaar, however, with certain riders
A Constitution Bench had struck down Section 57 of the Act that allows private entities to use the unique number for verification. The Bench also declared that seeking to link it with bank accounts and SIM cards was unconstitutional.
"The initial proposal was prepared by the Unique Identification Authority of India (UIDAI). It submitted that once a child turns 18, he/she will be given six months to decide if he/she wants to withdraw," a senior official said.
In line with the court order, the proposal seeks to appoint an adjudicating officer to decide whether a person's Aadhaar-related data need to be disclosed in the interest of national security.
The court had also struck down Section 33(2), which allowed disclosure of Aadhaar information for national security reasons on the orders of an officer not below Joint Secretary. It had said an officer above Joint Secretary should consult a judicial officer and together take a call.
What is Aadhaar?
The UIDAI allots a unique identifier (Aadhaar Number) to each citizen and deposits their biometric and demographic data in a Central Identities Data Repository (CIDR).
Aadhaar or Unique Identification Number (UID) is a 12-digit number that serves as a unique identifier for Indian citizens.
Aadhaar's database has the records of over 1.12 billion registered users and is rapidly becoming the government's base for public welfare and citizen services scheme.
Aadhaar authentication process validates an identity with a 'yes' or 'no', using one of the six demographic fields (name, date of birth, gender, address, mobile or email) along with either biometrics or One Time Password (OTP).
The process is designed in such a way that neither the purpose of the transaction nor any other context is known to the Aadhaar system in order to ensure the safety of any transaction.
4. One-stop centres help 2 crore women
Context
Almost two crore women survivors of violence received help at one-stop centres opened in the past three years, the government informed Parliament on Friday.
About One Stop Centre Scheme
There are several manifestations of gender-based violence in India. They include the more universally prevalent forms of domestic and sexual violence like rape, sexual harassment, child sexual abuse, trafficking for commercial sexual exploitation, harmful practices such as honour killings, dowry, child marriage, acid attacks, witch hunting, sex-selective abortion, etc.
A centrally sponsored scheme for setting up a One Stop Centre has been formulated by the Ministry of Women and Child Development (MWCD). It is a sub-scheme of the Umbrella Scheme for National Mission for Empowerment of Women which includes Indira Gandhi Mattritav Sahyaog Yojana.
The scheme is funded by the Nirbhaya fund. 100% financial assistance will be provided by the centre to the states and the union territories under the scheme.
One Stop Centre Scheme Objectives
One Stop Centres (OSC) are intended to support women affected by violence, within the family, at work place, within the community, in private and public spaces.
The scheme facilitates a mechanism of support and redressal for the women facing sexual, physical, psychological, emotional and economic abuse, irrespective of race, caste, creed, class, age, education status, culture or marital status.
Specialised services would be provided to the aggrieved women facing any kind of violence due to attempted acid attacks, witch-hunting, domestic violence, trafficking, sexual assault or sexual harassment and have reached out or been referred to the OSC.
The One Stop Centres will be integrated with Women Helpline and will provide access to services such as – Emergency Response and Rescue Services will be provided in linkage with already existing mechanisms like 108 service, police, National Health Mission (NHM)etc., so that the women aggrieved can be rescued and transferred to the nearest medical facility.
Medical assistance shall be provided as per the protocols developed by the Ministry of Health and Family Welfare.
Assistance in lodging First Information Report (FIR) / Non-Cognizable Report (NCR)
Counseling and Psychosocial support to give women, confidence and support to seek justice for the violence caused. Additionally, legal aid will also be provided.
Video conferencing facility shall be provided to the aggrieved woman in consultation with the Superintendent of Police, District and Session Judge to record her statement using audio-video electronic means.
Category: INTERNATIONAL RELATIONS
1. Rajapaksa to resign, pave the way for Ranil's return
Context
Former Sri Lankan President Mahinda Rajapaksa has decided to vacate the office of Prime Minister – which he controversially held for seven weeks – paving the way for the return of ousted leader Ranil Wickremesinghe. The move signals an end to the political crisis in the island nation.
Wickremesinghe will be sworn in as Prime Minister on Sunday
Background
First, President Maithripala Sirisena dismisses Prime Minister Ranil Wickramasinghe, who was his choice.
Then he installs as Prime Minister Mahinda Rajapaksa, the former President and someone whom Sirisena had defeated in the most recent election.
Sirisena realised that Wickramasinghe was popular, so he dissolved Parliament but the Supreme Court ruled it illegal. Sirisena still did not want to call Parliament. The Speaker refused to obey.
The outgoing Prime Minister knew he could win a vote of confidence and Rajapaksa could not win. Then Sirisena promised elections in January. Parliament was summoned by the Speaker. Rajapaksa lost the confidence vote.
In a landmark case of the Sri Lankan judiciary ruling on the executive, the Supreme Court said on Thursday that President Maithripala Sirisena's move last month, dissolving Parliament and calling for snap polls, was illegal.
The seven-member Bench unanimously deemed Mr. Sirisena's action unconstitutional. Chief Justice Nalin Perera told a packed courtroom that the President's November 9 proclamation — sacking Parliament — was null and void and had no effect in law.
1. The plastic question is hard to crack
Context
Plastics are detrimental to human health because of the chemicals used in their production. These chemicals are used to change the properties of plastics. Humans are exposed to such toxins through air and water, through food such as fish, or direct contact with plastic products.
Last year December, 193 nations signed pledge to tackle 'global crisis' of plastic in the oceans.
Plastic – Can we live without it?
Try to go a day without touching plastic. Synthetic polymer is embedded in daily life, from clothing to furniture and medical care to your smartphone. It's integral to a globalised food supply chain.
Plastic is a great material for that application because it's a water barrier, it's an oxygen barrier, it's lightweight and it helps preserve food
Concerns with the Plastic
Globally, one million plastic bottles are purchased every minute. A report produced by the World Economic Forum (2018) found that by 2050, there will be more plastic than fish in the world's oceans due to 13 million tonnes of plastic ending up in the ocean each year. Managing plastic waste is increasingly becoming a global environmental and economic challenge.
Most used plastic materials are non-biodegradable and decompose at different rates – they threaten marine life and the well-being of people, as microplastics are now found even in drinking water.
Plastic waste is a risk to public health as it enters our food chain, creates congestion problems in drains, causing flooding, ends up in river beds and oceans, depleting ecosystems and marine biodiversity, and makes solid waste management more expensive as landfills and open incineration do not provide an acceptable solution for disposal.
The production process for plastic produces greenhouse gas, thus contributing to climate change.
Are other countries worried?
Jurisdictions around the world, including the European Union, are moving to restrict disposable items such as plates and straws.
At least 33 countries ban plastic bags, but enforcement is spotty. Kenya has one of the most stringent bans — five manufacturers and 70 distributors were prosecuted there in the first half of 2018.
But banned disposable bags have been replaced with thicker, ostensibly-reusable, bags of polypropylene fibre — in other words, more plastic.
What are the solutions?
Local actions are required for mitigating plastic pollution, using mechanisms such as bans on plastic bags, maximum daily limits for emissions into watersheds, and incentives for fishing gear retrieval.
Countries should come together to establish measurable reduction targets for plastic waste. A meaningful international agreement—one with clearly defined waste reduction targets is the need of the hour.
Effective policies must take into account all stages of the lifecycle of plastic—connecting producers to users and ultimately to waste managers.
Fossil fuel subsidies incentivise the plastic market. Hence, Countries should end fossil fuel subsidies. Annually, 4–8% of oil is used to produce raw plastic.
India has a major problem dealing with plastics, particularly single-use shopping bags that reach dumping sites, rivers and wetlands along with other waste.
The most efficient way to deal with the pollution is to control the production and distribution of plastics.
Banning single-use bags and making consumers pay a significant amount for the more durable ones is a feasible solution.
Enforcing the Solid Waste Management Rules, 2016, which require segregation of waste will retrieve materials and greatly reduce the burden on the environment.
Waste separation can be achieved in partnership with the community, and presents a major employment opportunity.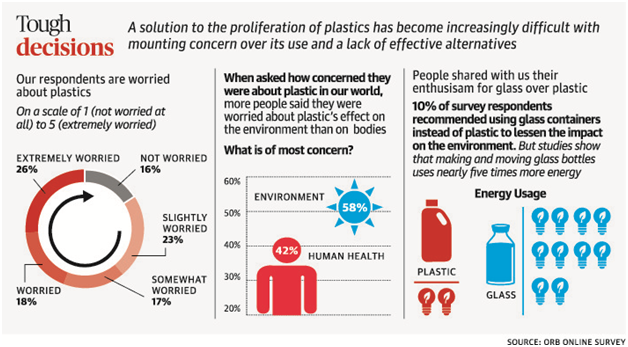 Nothing here for today!!!
Category: INTERNATIONAL RELATIONS
1. End Sri Lanka's crisis (Sri Lanka's Constitutional Crisis)
Note to Students:
The issue concerning "Sri Lanka's Constitutional Crisis" has been a topical issue for sometime now. We at BYJUs have recorded a video lecture on the issue which is available below:
Context:
Why in the news?
Recently, Sri Lanka's President Maithripala Sirisena sacked Prime Minister Ranil Wickremesinghe and appointed Mahinda Rajapaksa, his erstwhile political rival, as the new Prime Minister.

Experts believe that this is a surprising move which Mr. Sirisena made in order to resolve a deepening political dispute between himself and Mr. Wickremesinghe.
However, this act has only pushed Sri Lanka into an unprecedented constitutional crisis, beginning a potentially dangerous phase of an on-going three-cornered power struggle among three leaders.
At the centre of the crisis is the lack of clarity as the new Prime Minister seems to have been appointed without a constitutionally valid vacancy for the position.

Experts believe that the crisis is an outcome of the uneasy coalition between Sirisena and Wickremesinghe which was formed with the main objective of defeating Rajapaksa in the previous elections.
At the heart of the constitutional dispute:
A provision in the

1978 Sri Lankan Constitution

provided for the dismissal of the Prime Minister by the President

after one year of Parliamentary elections.

However, this was removed through a constitutional amendment in 2015. The recent development has created a constitutional logjam with both sides claiming the validity of one over the other and it is likely to be hammered out through unconstitutional means which would be a big blow to democratic norms.

There is a much bigger structural problem that underlies the ongoing crisis.

Sri Lanka has had four different constitutions since Independence and Ranil Wickremesinghe was pushing for a fifth constitution.

This multiplicity of constitutions and the long ethnic war has not allowed Sri Lanka to settle basic constitutional questions such as:
Executive Presidency vs Westminster Model,

Division of powers between the President and the Prime Minister,

Unitary vs Federal System etc.
The constitution of 1978 gave Sri Lanka a powerful President who shared powers with the Prime Minister and this was largely modelled on the French constitution.

This arrangement continued until the end of Rajapaksa's regime in 2015, so much so that Rajapaksa's government was accused of being an authoritarian government with complete disregard to human rights of Tamil minorities and fundamental rights of its citizens.

This was partially corrected by the coalition government of Sirisena and Wickremesinghe which was elected in 2015.

However, the structural problems continue to persist and can be rectified either by a court of law or through popular struggle.

What compounds matters is the India vs China faceoff, where in both powers are eager to establish their strategic supremacy.
It is also important to note that the constitutional provision which Mr. Sirisena has cited in the official letter to Mr. Wickremesinghe does not grant the President authority to remove a Prime Minister from office.
A Closer Look:
It is important to note that Section 42(4) of the Sri Lankan Constitution merely enables the President to appoint a PM.
The President has taken the position that since he is the appointing authority, he also has the implicit power to sack the PM.
Further, it is important to note that the PM is not a public servant who can be sacked by the appointing authority at his will. It is a constitutional office with protection from the executive. This is the crux of the constitutional dispute.
Experts point out that the entire operation of altering the composition of the government seems to have been executed in a great hurry and in secrecy.

Some experts have also labelled this a 'constitutional coup'. What lends credence to this is the fact that there there is a lack of clarity as to whether Mr. Sirisena's letter (removing Mr. Wickremesinghe) had actually reached him by the time Mr. Rajapaksa was sworn in.
19th Amendment to Sri Lanka's Constitution:
It is important to note that the

19th Amendment to Sri Lanka's Constitution

, was passed in 2015 under the joint political leadership of both Mr. Sirisena and Mr. Wickremesinghe.

The 19th Amendment restricted the powers of the President under the 1978 Constitution (the original) as well as the 18th Amendment passed in 2010.

Among the presidential powers taken away by the 19th Amendment, which is valid, is the one pertaining to the President's powers over the PM.

The 19th Amendment created a dual executive.

The 19th Amendment also made the PM's position secure from the arbitrary actions of the President. Thus, the office of the PM falls vacant only under limited circumstances.
These limited circumstances include:
Death,

voluntary resignation,

loss of support in Parliament,

rejection by Parliament of the budget, and

ceasing to be an MP are these circumstances.
It is important to note that the sacking by the President is certainly not in this list.
By this change, the 19th Amendment has also restored the Westminster framework of relationship between the head of state, the PM, and Parliament.
All these make the constitutionality as well as democratic legitimacy of the actions of Mr. Sirisena less than clear.

An argument put forward on behalf of the President is that when the United People's Freedom Alliance, which was a partner in the so-called unity government, informed the Speaker that it was leaving the ruling coalition, the cabinet automatically stood dissolved, thereby creating a vacancy for the office of the PM.
However, this is not an argument derived from any explicit provision of the Constitution. It is merely a political argument. What it does is no more than confirm that the composition of the coalition government was altered. It does not automatically lead to the loss of constitutional validity of the cabinet and the position of the person holding the office of the PM.
Conflicting Interpretations of the Constitution?:
Some lawyers even point to a discrepancy between the English and Sinhala texts of the Constitution and claim the President, as per the Sinhala version, still has the power to remove a Prime Minister.

Other constitutional lawyers have argued that while there is a discrepancy in language and framing, the import and essence of the Sinhala text is consistent with that in English, especially when read along with the rest of the Constitution in Sinhala.

On the dissolution of Parliament, the President does not have the powers to dissolve Parliament within four-and-a-half years of its convening, unless requested by two-thirds of its members, as per the 19th Amendment.

The President's side has invoked Article 33(2) C that lists the powers to summon, prorogue and dissolve Parliament, in addition to his existing powers.

Nevertheless, critics have noted that while the Article is a general enumeration of his powers, it is the 19th Amendment's specific provision that must prevail in such a situation.
Editorial Analysis:
On 14th December, 2018, Mahinda Rajapaksa decided to resign as Prime Minister of Sri Lanka.  

It is important to note that Mahinda Rajapaksa had also played a part in the unfolding of the crisis set off by Mr. Sirisena, who made ill-advised moves by invoking his executive powers repeatedly for political and partisan ends.

The two leaders had come together against common rival Ranil Wickremesinghe, who was removed as Prime Minister unceremoniously on October 26 to make way for Mr. Rajapaksa.

However, they saw little success either in Parliament or before the courts.

Despite Mr. Rajapaksa failing to prove his majority in several motions in the House, he had steadfastly remained in office, seeking fresh elections instead of stepping down.
Turmoil in Sri Lanka:
Sri Lanka's politics and economy have been caught in a downward spiral due to a constitutional crisis since Mr. Sirisena appointed Mr. Rajapaksa as Prime Minister.

However, it is important to note that Mr. Rajapaksa was unable, or unwilling, to demonstrate the extent of his support in Parliament.

At one point the President prorogued Parliament, and later dissolved it. However, the Supreme Court restored the legislature in an interim order. Thereafter, in a series of votes, a majority of the 225-strong House has been voting against Mr. Rajapaksa.
Concluding Remarks:
Mr. Rajapaksa's resignation offer has come at a time when several parliamentarians moved the country's Court of Appeal seeking a writ of quo warranto for Mr. Rajapaksa's removal.

In an interim order, the court restrained him from functioning as Prime Minister.

The absence of clarity on whether there was a legitimate government in office placed other countries and multilateral financial institutions in a quandary as to who they should deal with.
Experts have opined that Mr. Rajapaksa's resignation may pave the way for the installation of a government that enjoys a majority in Parliament.
Position of the Supreme Court:
It is important to note that the President's credibility has taken yet another beating after the Supreme Court ruled categorically that his dissolution of Parliament on November 9, 2018 was illegal and void.
The court has rejected the President's claim that he had an unfettered right to dissolve Parliament at any time, notwithstanding provisions in the Constitution that barred such action for the first four and a half years of the legislature's term. The court dismissed his camp's attempt to stretch and twist the meaning of some constitutional provisions in order to justify his bizarre actions. Although Mr. Sirisena has been obstinately sticking to his position that he will not appoint Mr. Wickremesinghe as Prime Minister "even if all 225 members" were with him, there are indications he may be forced to alter his stand.
In conclusion, experts opine that nothing short of respecting the current composition of Parliament and reinstating Mr. Wickremesinghe as Prime Minister will solve the current imbroglio.
Category: POLITY AND GOVERNANCE
1. The warning signs are loud and clear (J&K Political Crisis)
Note to Students:
Article 35A has been featured in this section. Students can go through the detailed video based analysis on this article from a video released by BYJU'S which is as below:
Editorial Analysis:
After remaining in suspended animation for five months, the Jammu and Kashmir Assembly was dissolved by Governor Satya Pal Malik in the month of November, 2018.

It is important to note that after the November-December 2014 elections to the State Assembly, which produced a fractured mandate, J&K had some years of a Peoples Democratic Party-BJP coalition government, interspersed with a spell of Governor's rule.

In June 2018, the BJP pulled out of this alliance. In November, when the PDP, the Congress and the National Conference had almost reached an understanding to form a government, the Governor decided to dissolve the Assembly.

The Situation on the ground:
It is important to note that four years of mismanaged politics have plunged J&K into its worst ever cycle of violence and confusion.

Further, Kashmir today is not merely volatile, but is drifting inexorably into anarchy. Violence is the dominant factor.

Also, the numbers of militants and security personnel killed dominate newspaper headlines.

Moreover, during the course of the past three years, South Kashmir had been the main epicentre of violence, but more recently, North and Central Kashmir have also emerged as violence prone.

The year, 2018 has witnessed some of the highest levels of violence since 1989. Areas such as Srinagar which had previously been declared a 'militancy free zone' have again witnessed a series of militant attacks.
Growing Divide?
In addition to escalating violence, it is important to note that a distinctive feature of the situation in Kashmir today is the divide between the administration and the populace, which is possibly at its widest today.

The turnout in local body elections in urban areas dropped is a negligible percentage. Retrieving the situation in J&K would thus prove extremely difficult.
Experts opine that J&K appears to be at a tipping point and needs to be handled with extreme care.
A series of miscalculations by governments in both J&K and at the Centre have led to the present impasse.

A look at the recent miscalculations:
The first was Mufti Mohammad Sayeed's belief that his brand of 'sleight-of-hand' politics (which he used to practise with the Congress) could be replicated with the BJP, and hope thereby to sustain his legacy as a consummate politician.

The hope, however, proved short-lived. After his death in January 2016, daughter Mehbooba Mufti had to be persuaded to continue with the arrangement, but increasing levels of violence after her takeover witnessed the coalition partners viewing the situation from very different angles.

In the wake of the growing political dissonance, other miscalculations have also occurred. One was a misplaced belief in the virtues of an 'unilateral ceasefire' during Ramzan 2018, replicating the Ramzan ceasefire during the period of former Prime Minister Atal Bihari Vajpayee. Atavistic reasoning is, however, no substitute for a carefully constructed and calibrated ceasefire. Militants used the ceasefire to regroup, just when the security forces seemed to gain the upper hand.

Pakistan also acted as a spoiler, carrying out a series of border attacks during this same period.
Compounding this situation was the controversy generated over Article 35A of the Constitution, accompanied by demands that it should be revoked.

It led to widespread apprehension that the Centre was trying to undermine the special concessions granted to J&K which were embedded in the Constitution. A crisis of confidence in Delhi's intentions followed, precisely when the State was reeling under a wave of militant protests.

The gravest miscalculation arose on how best to deal with the rising crescendo of violence engulfing the Valley.

Critics opine that the absence of political guidance, belief in the virtues of a 'muscular policy' to stamp out militancy, eschewing of all softer options, and an irrevocable breakdown in communications led to a widening chasm between the people of Kashmir and the administration.

Once the PDP-BJP coalition collapsed under the weight of its inherent contradictions, reintroduction of Governor's rule (that is, rule by the Centre) turned out to be a case of the remedy being worse than the disease.
Looking back at a difficult year:
Even as 2018 turned out to be highly violence prone, militants adopted a variety of new tactics to create fear.
Militants targeted the families of policemen, in addition to concentrating on off-duty policemen, especially when they went home on leave. This led to a fear psychosis. The year has turned out to be the worst for the J&K police, with nearly 50 policemen being killed.
As a matter of fact, in many respects, the killing of militant Burhan Wani in mid-2016 has been a watershed in the troubled security situation in J&K. Additions to militant ranks went up, and 2018 has possibly seen the largest accretion of local youth into militant ranks.
According to one estimate, every third day a youth took up arms in Kashmir. The profile of those joining the ranks of the militants is also changing, with many more educated Kashmiri youth (including engineering and other graduates) signing up.
Kashmir thus stands today at the cusp of a new and dangerous phase. Opinions in J&K have become further inflamed following the Governor's decision to dissolve the J&K Assembly, without giving an opportunity to any of the claimants to form a government.
The Governor's reasoning that a government formed by parties with 'opposing political ideologies' would not be stable has been widely attacked and has been the subject of controversy.
Experts opine that it is too early to surmise when elections will be held. Attitudes are meanwhile hardening. The Pro-Pakistan, Tehreek-e-Hurriyat, has been anointed with a new leader, Mohammad Ashraf Sehrai.

Further, the Pakistan-based terror outfit, Jaish-e-Mohammad, has made a comeback in J&K after a gap of several years, and is poised to revive its terror attacks.

It is also important to note that the Hizbul Mujahideen has become stronger during the past year, and its 'supreme commander' based in Pakistan, Syed Salahuddin, appears confident of being able to revive the momentum of the struggle to the level that existed in the late 1980s and 1990s.
Changing profile of militancy in J&K:
The profile of militancy in J&K is meanwhile undergoing a drastic change, with recruits to militant ranks increasingly being young educated locals. The approach of the latter to the Kashmir question is vastly different from those of the past. It would not be surprising if some among them are inspired by the 'Arab Spring' fervour that rocked West Asia a few years back.
The new generation of militants appears far more religiously inclined.
As a consequence, this makes them easy fodder for ideologies propounded by terror groups such as the elementary radicals state. Syria and Iraq witnessed young jihadis being attracted to the IS, since it was not a mere jihadi movement, but also encompassed the vision of a Caliphate.

The educated and religiously inclined Kashmiri militant of today could well follow suit. As it is, the IS has made some inroads into Kashmir. Not to be lost sight of is that the map of Khorasan includes Kashmir and some other parts of India.
Concluding Remarks:
Experts opine that the earlier there is recognition that Kashmir militancy is beginning to resemble a 'black hole' that is attracting more and more young militants, the better the chances of retrieving the situation.

Further, not enough research has been done as to why the Burhan Wani killing in July 2016 became a turning point in the history of militancy in J&K.
Similarly, a more detailed analysis is required as to why Operation All Out – an offshoot of the muscular offensive adopted in 2017 – altered the character of the insurgency in Kashmir.
Intelligence agencies also need to ferret out more details of what Pakistan is planning in J&K, even while talking of peace in Kartarpur and elsewhere. It is important to note that there are many stray indications that official agencies and jihadi organisations in Pakistan are collaborating in training recruits to be sent into Kashmir.

The training curriculum includes: weapons training, survival techniques, high altitude acclimatisation, combat training and the like.
In conclusion, India cannot afford to be caught off-guard with another 26/11 situation, which was the outcome of a similar combined effort.
Nothing here for today!!!
1. Jammu & Kashmir legislation to stop 'sextortion' of women
Governor Satya Pal Malik's administration in Jammu & Kashmir on Friday approved an amendment to the Ranbir Penal Code (RPC), to insert a section to provide for the offence of "sextortion."
Under Section 354E of the RPC, the new law explicitly bans sexual exploitation of women by those in positions of authority, having a fiduciary relationship, or a public servant, reads the order issued by Governor Malik-headed State Administration Council (SAC).
J&K has become the first State in the country to bring a law to prevent people in power from exploiting subordinates sexually.
Malik on Friday approved the Prevention of Corruption (Amendment) Bill, 2018, and the Jammu and Kashmir Criminal Laws (Amendment) Bill, 2018, to incorporate the new Section.
Terming the offence as "Sextortion", the amendments will "bring sextortion at par with similar offences prescribed under the Ranbir Penal Code and amendment is being made in the Prevention of Corruption Act to amend the definition of misconduct and to provide that demand for sexual favours would also constitute misconduct within the meaning of Section 5."
H. Practice Questions for UPSC Prelims Exam
Question 1. With reference to "Oxytocin", recently in news, which of the following statement(s) 
is/are incorrect?

Oxytocin is naturally secreted by the pituitary glands of mammals during sex, childbirth, lactation or social bonding, and is sometimes called "love hormone".
Males usually have this hormone in higher levels than females.
Options:
1 and 2 only
Neither 1 nor 2
1 only
2 only
See
Question 2. The selection of the Chairperson and the members of Lokpal shall be through a 
Selection Committee consisting of
Prime Minister
Speaker Legislative Assembly
The Chief Justice of India
Select the correct answer using the code given below:
Only 1 and 2
Only 2 and 3
Only 1 and 3
All of the above
See
Question 3. The National Human Rights Commission consist of four ex-officio members. 
These members belong to
The Constitutional Bodies only
The Statutory Bodies only
Constitutional and Statutory Bodies both
None of the above
See
I. Practice Questions for UPSC Mains Exam
The Delhi High Court recently quashed the Centre's decision to ban the manufacture and sale of oxytocin, a drug which induces labour and controls bleeding during child birth, by private firms. Critically analyse the decision of the High court. (150 words; 10 marks)
Try to go a day without touching plastic. Synthetic polymer is embedded in daily life, from clothing to furniture and medical care to your smartphone. It's integral to a globalised food supply chain. In this context discuss the problems associated with the plastic ban and suggest some alternate measures. (200 words; 12.5 marks)
See previous CNA