TABLE OF CONTENTS
A.

 GS1 Related


INDIAN SOCIETY
1. Film on menstruation, set in rural India, joins Oscar race


B.

 GS2 Related


POLITY AND GOVERNANCE
1. NGT raps Ministry over groundwater notification
2. 'T.N. consent not needed for grant of ToR for new Mullaperiyar dam'
3. Centre drafts child protection policy
INTERNATIONAL RELATIONS
1. Afghan government sends team for peace talks with Taliban
2. China's economic miracle: 40-year rise in numbers


C.

 GS3 Related


ECONOMY
1. Working to bring 99% items in sub-18% GST slab: Modi
ENVIRONMENT
1. Warming leads to water crisis in Himalayas: study
2. Kerala's captive jumbos get genetic IDs
INTERNAL SECURITY
1. IAF shows its mastery in 'airlift'


D.

 GS4 Related




E. 

Editorials


INTERNATIONAL RELATIONS
1. Restoring the balance (India- Maldives Relations)
DISASTER MANAGEMENT
1. Fatal fires


F. 

Tidbits


1. Benefit of the doubt must go to accused: SC
2. Row erupts over naming Bogibeel bridge in Assam
3. Courts can't rule on train timings, says Supreme Court
4. U.K. MPs want Sikhism to be recognised as 'ethnicity' in census
5. Ola to invest $100 mn in Vogo


G. 

Prelims Fact


H. UPSC Prelims Practice Questions
I. UPSC Mains Practice Questions

1. Film on menstruation, set in rural India, joins Oscar race
Context
End of Sentence, the short film about women in India fighting against the deeply rooted stigma of menstruation, has made it to the Oscar shortlist in the Documentary Short Subject category.
Details of the Short Film
Directed by award-winning Iranian-American filmmaker Rayka Zehtabchi, the film is created by The Pad Project, an organisation established by an inspired group of students at the Oakwood School in Los Angeles and their teacher, Melissa Berton.
The 26-minute film follows girls and women in Hapur in northern India and their experience with the installation of a pad machine in their village.
The film also delves upon Mr. Muruganantham's invention of an easy-to-operate machine that makes low-cost sanitary napkins using supplies that are readily available in India.
Muruganantham, whose story inspired the Bollywood feature film Pad Man, brings his machines to these small towns, helping train women to operate them and in turn sell the supplies at very affordable prices to other women in their area. The women retain the profits, effectively creating a sustainable women-run micro-business that protects both their health and their future.
Menstrual Hygiene – India
A 2016 survey conducted by UNICEF in the Indian hinterland showed that 80% of the subjects stored their menstrual cloth in an unsanitary place for further use while 50% failed to dry their menstrual rags outside and in full sunlight which is an essential condition required to kill bacteria.
Today, in India, approximately 35 crore women menstruate and it is estimated that only 12% use proper menstrual hygiene practices and menstrual products. The remaining 88% having no access whatever. They find sanitary pads unaffordable.
In India's rural areas, with the lack of resources, education and awareness about personal hygiene, not just lack of information about hygiene products, the women don't even have any conversation around menstruation.
For the less privileged, periods are the few 'cursed' days of the month. A woman on her periods cannot enter the temple, kitchen or take part in any auspicious occasion – because she is 'impure'.
The 88% who do not have access to sanitary pads use unsanitised cloth, husk sand, tree leaves and even ash. These can cause severe reproductive health problems and infections, and can also lead to cervical cancer.
Also, there is the issue of school dropouts and poor attendance because of inadequate menstrual hygiene management. This also is one of the causes for loss of wages for women labourers.
Equally important is the safe disposal of used sanitary pads, which actually are an environmental disaster. In villages, the used pads often end up in village ponds, exposing every human being and animal to the risk of infection.
Category: POLITY AND GOVERNANCE
1. NGT raps Ministry over groundwater notification
Context
The National Green Tribunal on Tuesday rapped the Union Water Resources Ministry over its notification pertaining to groundwater extraction.
A Bench headed by NGT Chairperson Justice Adarsh Kumar Goel came down heavily on the Ministry and said that the notification, issued on December 12, was against "national interest".
Stating that merely imposing a cost was not enough to curb groundwater extraction, the green panel has asked other parties, including the petitioners, to put forth their suggestions and objections to the guidelines.
Background
In a bid to promote conservation of groundwater, the Central Ground Water Authority (CGWA) has notified a water conservation fee (WCF) that industries will need to pay on groundwater extraction starting from June.
As per the notification, industries extracting groundwater, including mining-dewatering units and those that use groundwater for packaged drinking water, will need to apply for a no-objection certificate (NOC) from the government. Individual households that draw groundwater using a delivery pipe of a greater than 1" diameter, too, will need to pay a WCF.
However, the agriculture sector — the largest consumer of groundwater in the country — will be exempt from the fees.
National Green Tribunal
The National Green Tribunal has been established in 2010 under the National Green Tribunal Act 2010.
It draws inspiration from India's constitutional provision of Article 21, which assures the citizens of India the right to a healthy environment.
It aims for effective and expeditious disposal of cases relating to environmental protection and conservation of forests and other natural resources including enforcement of any legal right relating to the environment and giving relief and compensation for damages to persons and property and for matters connected therewith or incidental thereto.
It has Original Jurisdiction on matters of "substantial question relating to environment" and & "damage to the environment due to specific activity" (such as pollution).
Principles of Justice adopted by NGT
The NGT is not bound by the procedure laid down under the Code of Civil Procedure, 1908, but shall be guided by principles of natural justice.
NGT is also not bound by the rules of evidence as enshrined in the Indian Evidence Act, 1872. Thus, it will be relatively easier for conservation groups to present facts and issues before the NGT, including pointing out technical flaws in a project, or proposing alternatives that could minimize environmental damage but which have not been considered.
While passing Orders/decisions/awards, the NGT will apply the principles of sustainable development, the precautionary principle and the polluter pays principles.
2. 'T.N. consent not needed for grant of ToR for new Mullaperiyar dam'
Context
The Centre has informed the Rajya Sabha that prior consent from the Tamil Nadu government is "not required" for the collection of baseline data for the preparation of the Environmental Impact Assessment (EIA) report for the Kerala government's proposal to build a new dam at Mullaperiyar.
Mullaperiyar Dam
The Mullaperiyar Dam is a masonry gravity dam on the Periyar River in the Indian state of Kerala
The dam situated at the confluence of the Mullayar and Periyar rivers
It is located 881 m (2,890 ft) above mean sea level, on the Cardamom Hills of the Western Ghats in Thekkady, Idukki District of Kerala, South India.
It was constructed between 1887 and 1895 by John Pennycuick and also reached in an agreement to donate water eastwards to the Madras Presidency area (present-day Tamil Nadu).
The Periyar National Park in Thekkady is located around the dam's reservoir.
The dam is located in Kerala on the river Periyar, but is operated and maintained by Tamil Nadu state.
Dam was given to British-ruled Madras Presidency on a 999-year lease in 1886. The agreement was renewed in 1970.
Tamil Nadu was given rights to the land and the water from the dam as well as the authority to develop hydro-power projects at the site, and Kerala would receive rent in return.
What is the controversy?
For Tamil Nadu, the Mullaperiyar dam and the diverted Periyar waters act as a lifeline for Theni, Madurai, Sivaganga and Ramnad districts, providing water for irrigation and drinking, and also for generation of power in Lower Periyar Power Station.
Tamil Nadu has insisted on exercising its unfettered rights to control the dam and its waters, based on the 1886 lease agreement.
Kerala has pointed out the unfairness in the 1886 lease agreement and has challenged its validity.
However, safety concerns posed by the 119-year-old dam to the safety of the people of Kerala in the event of a dam collapse, have been the focus of disputes from 2009 onwards.
Kerala's proposal for decommissioning the dam and constructing a new one has been challenged by Tamil Nadu.
Idukki district, where the dam is located, is earthquake-prone and has experienced multiple low-intensity quakes. So, the dam is situated in a seismically active zone
A 2009 report by IIT Roorkee stated that the dam "was likely to face damage if an earthquake of the magnitude of 6.5 on the Richter scale struck its vicinity when the water level is at 136 feet"
It poses danger to life and property to people living downstream Three million people living in the vicinity of the reservoir.
3. Centre drafts child protection policy
Context
The Ministry of Women and Child Development has placed the draft policy on its website and invited comments from stakeholders until January 4. This will be the first policy dedicated to the protection of children, an area that until now was only a part of the broader National Child Policy, 2013.
Background
The Supreme Court had earlier directed the CBI to investigate allegations involving 17 shelter homes for children, destitute women, beggars and senior citizens in Bihar following the case of sexual abuse of more than 30 girls in a shelter home in Muzaffarpur in the State. The Supreme Court had also asked the Centre to consider framing a national policy on protection of children.
Highlights of the draft policy
The policy will apply to "all institutions, and organisations (including corporate and media houses), government or private sector".
The draft policy recommends that all organisations must have a code of conduct based on "zero tolerance of child abuse and exploitation". It requires organisations to lay down that employees don't use language or behaviour that is "inappropriate, harassing, abusive, sexually provocative, demeaning or culturally inappropriate".
Institutions should also designate a staff member to ensure that procedures are in place to ensure the protection of children as well as to report any abuse. Any individual who suspects physical, sexual or emotional abuse must report it to the helpline number 1098, police or a child welfare committee.
Limitations of the Policy
Unlike the National Child Policy, 2013, the latest document doesn't talk about children who may need special protection: including those affected by migration, communal or sectarian violence, children forced into begging or in conflict with the law, and those infected with HIV/AIDS.
It also doesn't talk about the role of the State for ensuring the protection of child rights or addressing local grievances.
Category: INTERNATIONAL RELATIONS
1. Afghan government sends team for peace talks with Taliban
Context
The team, led by chief negotiator Abdul Salam Rahimi, "arrived in Abu Dhabi to begin proximity dialogue with the Taliban delegation and to prepare for a face-to-face meeting between the two sides", the Afghan presidential spokesman Haroon Chakhansuri tweeted.
The 12-person team was first announced in November by President Ashraf Ghani as part of a diplomatic effort to bring the Taliban to the table for peace talks with the government in Kabul.
Background
The Taliban is a Sunni Islamic fundamentalist political movement in Afghanistan which is at present waging war within that country.
It was founded in 1994 and from 1996 to 2001; it was governing the country enforcing a strict interpretation of Islamic or Sharia law.
Many leading Muslims as well as much of the international community were highly critical of the Taliban government and ways.
Taliban then ruled it after 1996 as a totalitarian regime till it was removed by NATO-led coalition in 2001 forming a new democratically elected government political structure.
Hamid Karzai became the first ever democratically elected head of state in 2004 and the current President is Ashraf Ghani, since 29 September 2014.
Even after formation of a democratically elected government and removal of Taliban from power in Afghanistan, it still faces several internal issues and multipronged attacks by groups like Taliban and ISIS (Islamic State of Iraq and Syria).
Taliban still controls very large parts of Afghanistan and insurgency and terrorist forces are still strong in the nation. The control of government is limited only to urban areas and highways in reality.
US led NATO (North Atlantic Treaty Organization) forces have been in Afghanistan in the longest conflict engagement since World War II. They are trying to establish a Government in Afghanistan to a substantial extent and there is a 'Rule of Law'.
Role of India in Afghanistan
India has focused on development of infrastructure and military aid in Afghanistan. India has aided the overthrow of Taliban and became the largest regional provider of humanitarian and reconstruction aid to Afghanistan.
India wants to improve transport connectivity and economic collaboration with countries in Central and South Asia. India has invested billions of dollars in Afghanistan and has worked on projects like Salma Dam.
India is also investing in the expansion of Chabahar port in Southeastern Iran, which will improve its connectivity to Afghanistan and Central Asia.
2. China's economic miracle: 40-year rise in numbers
Context
Four decades after China's late paramount leader Deng Xiaoping masterminded the "reform and opening up" policy, the Asian giant has become an economic superpower, behind only the United States.
Details of China's growth story at a glance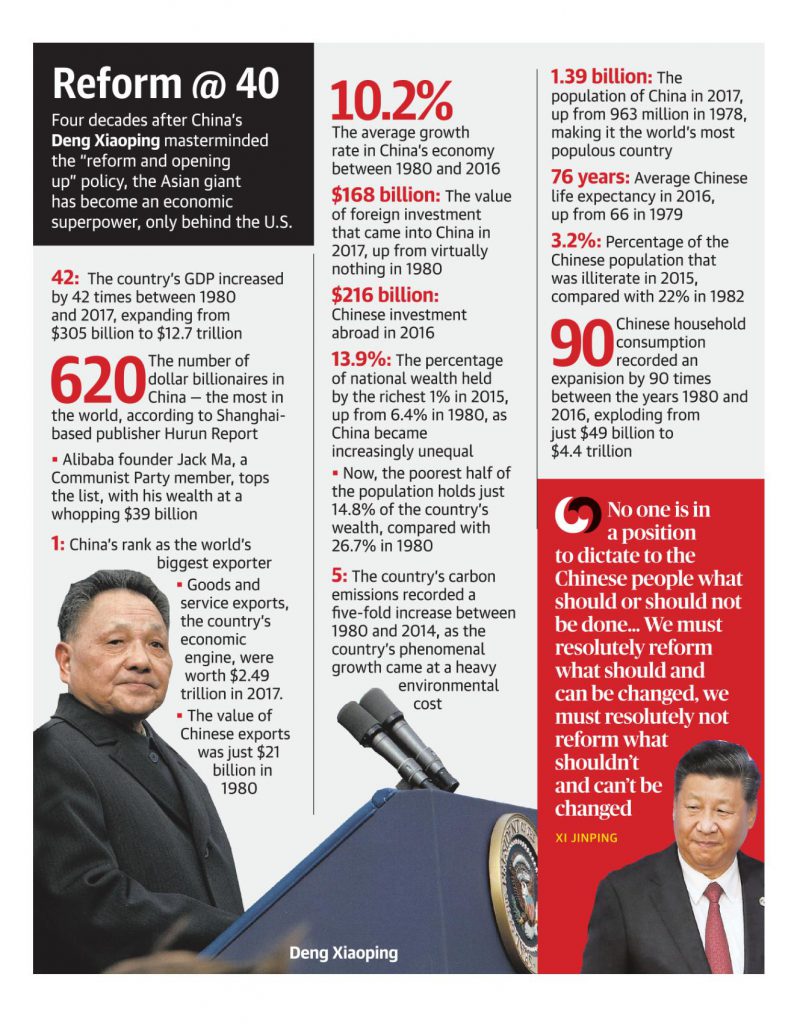 1. Working to bring 99% items in sub-18% GST slab: Modi
Context
Indicating that further simplification of the Goods and Services Tax is on the anvil, Prime Minister Narendra Modi said his government wants to ensure that 99% items attract sub-18% GST slab.
Goods and Services Tax (GST)
GST is a comprehensive indirect tax on manufacture, sale, and consumption of goods and services throughout India. GST would replace respective taxes levied by the central and state governments.
It is a destination-based taxation system. It has been established by the 101st Constitutional Amendment Act.
It is an indirect tax for the whole country on the lines of "One Nation One Tax" to make India a unified market.
It is a single tax on supply of Goods and Services in its entire product cycle or life cycle i.e. from manufacturer to the consumer.
It is calculated only in the "Value addition" at any stage of a goods or services.
The final consumer will pay only his part of the tax and not the entire supply chain which was the case earlier.
There is a provision of GST Council to decide upon any matter related to GST whose chairman in the finance minister of India.
Tax slabs are decided as 0%, 5%, 12%, 18%, 28% along with categories of exempted and zero rated goods for different types of goods and services.
Further, a cess would be levied on certain goods such as luxury cars, aerated drinks, pan masala and tobacco products, over and above the rate of 28% for payment of compensation to the States.
1. Warming leads to water crisis in Himalayas: study
Context
Researchers from Ohio State University in the U.S. showed that climate change could have devastating effects on vulnerable residents in the Andes mountains and the Tibetan plateau.
Climate change is driving glaciers in the Himalayas to melt more rapidly than at any point in the last 10,000 years, and could soon cause water supply shortage in parts of India, Pakistan, and Nepal.
Highlights of the Study
By 2100, the best case scenario is that half of the ice will disappear. Worst-case scenario: two-thirds of it will. And you've got all those people depending on the glacier for water.
Researchers showed that while water supply is declining, demand is rising because of growing populations.
The glaciers in Peru supply critically needed water for people, crops and livestock.
The international research team dubbed the plateau the "Third Pole" because it contains the largest stores of freshwater in the world outside of the North and South poles.
Measures and Policies for Tackling Climate Change by India
Under the Paris Agreement, India has submitted its Nationally Determined Contribution (NDC) to the UNFCCC
To reduce Emission Intensity of its Gross Domestic Product (GDP) by 33 to 35 percent by 2030 from 2005 level,
To achieve about 40 percent cumulative electric power installed capacity from non-fossil fuel-based energy resources by 2030 with the help of transfer of technology and low-cost international finance including from Green Climate Fund (GCF),
To create an additional carbon sink of 2.5 to 3 billion tonnes of CO2 equivalent through additional forest and tree cover by 2030.
The other targets pertain to sustainable lifestyles; climate friendly growth path; climate change adaptation; climate change finance; and capacity building and technology.
2. Kerala's captive jumbos get genetic IDs
Context
DNA profiling may be a contentious issue among humans, but for Kerala's captive elephants, it's a done deal.
In a first for India, every one of Kerala's captive elephants now has a unique DNA-based genetic ID.
The method is a forensic technique that makes it possible to identify individuals — people or animals — based on unique DNA characteristics called micro-satellites (DNA portions that occur repeatedly), much like fingerprints.
What are the Captive Elephants?
Captive elephants are those that have been captured from the wild and used by humans.
What is DNA Profiling?
It is the process of determining an individual's DNA characteristics, called a DNA profile, that is very likely to be different in unrelated individuals, thereby being as unique to individuals as are fingerprints (hence the alternative name for the technique).
Applications of DNA profiling
It is most commonly used as a forensic technique in criminal investigations to identify an unidentified person or whose identity needs to be confirmed, or to place a person at a crime scene or to eliminate a person from consideration.
It is used to clarify paternity, immigration disputes, in parentage testing, in genealogical research or medical research.
DNA fingerprinting has also been used in the study of animal and floral populations and in the fields of zoology, botany, and agriculture.
1. IAF shows its mastery in 'airlift'
Context
In an evaluation of the rapid airlift capability of the Indian Air Force at times of war and natural disasters, the Western Air Command (WAC) airlifted a record 463 tonnes of load from Chandigarh to airfields and drop-zones in the Ladakh region in a single wave on Tuesday.
Details at a glance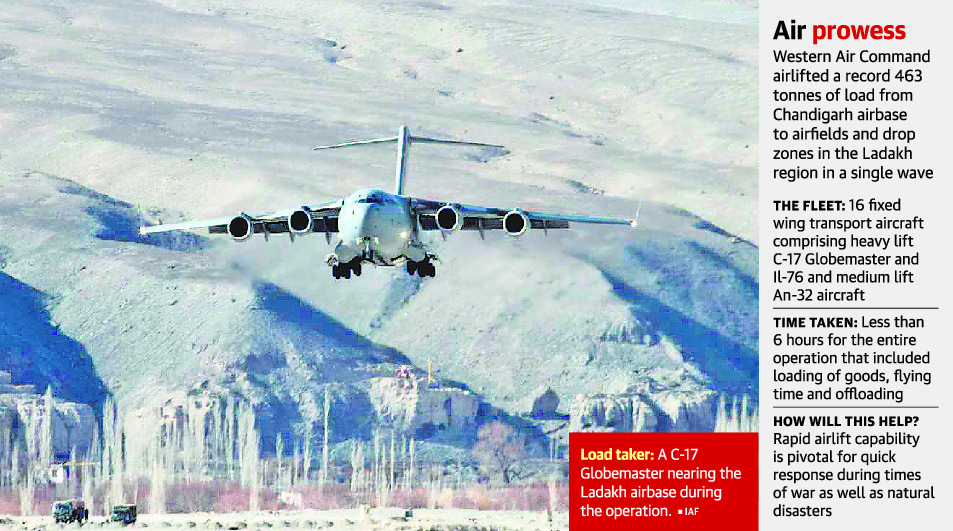 Indian Air Force
In the year 1932 started as an auxiliary of the British Air Force, in 1945 it became part of the British Royal Air Force. After India getting Independence it became Indian Air Force (IAF).
IAF was effective right from the first campaign which was in 1948 where Pakistan intruded into J&K. The IAF played a very critical role.
In 1962 Indo-China war air power was not used. So the loss was ours.
In 1965 Indo-Pakistan war air power was used with little less coordination, but they played an effective role.
In 1971 India had complete air superiority because we have 12 to 14 F 86 Sabre's which made a difference. In East Pakistan (now Bangladesh) there are many tributaries of small rivers. Crossing these rivers was a problematic area. This was overcome by the IAF, providing a huge amount of helicopter support.
In 1999 Kargil war, there was effective use of air power. This was first time in the history of air power that weaponry was delivered from high altitudes and with accuracy. No other air force in the world had done before which was a tremendous achievement for IAF.
Nothing here for today!!!
Category: INTERNATIONAL RELATIONS
1. Restoring the balance (India- Maldives Relations)
What's in the news?
Maldivian President Ibrahim Mohamed Solih is on a three-day visit to India this month of December, 2018.  

Experts opine that this development seems to have brought a tumultuous phase in India-Maldives ties to a close.
Editorial Analysis:
It is important to note that this is Mr. Solih's first overseas visit after becoming the President of the Indian Ocean nation of 400,000 people.

Experts point out that Mr. Solih defeated Abdulla Yameen in a surprise victory in the Maldivian presidential elections in September 2018 and, since then, has recalibrated his country's ties with India.

It is believed that while Mr. Yameen had drawn the Maldives closer to China and brutally crushed the Opposition, Mr. Solih's victory has been a shot in the arm for those who favour strengthening democratic forces in the island nation.

Also it is important to note that

Prime Minister Narendra Modi had attended the swearing-in ceremony of Mr. Solih as the President of Maldives in November, 2018.

This was Prime Minister Narendra Modi's first visit to the Maldives as Prime Minister and the first by an Indian head of state since 2011.

Critics point out that even as Mr. Modi enthusiastically reached out to all of India's neighbours after his election in 2014, he remained reluctant to engage with Mr. Yameen. They further point out that Prime Minister Modi's planned visit to the Maldives, in March 2015, was cancelled as the political environment deteriorated under Mr. Yameen.

It is important to note that in a strong endorsement of Mr. Solih's victory,

Mr. Modi underscored that the recent elections in the Maldives represented the collective

aspirations of the people for democracy, the rule of law and a prosperous future.

As a matter of fact, Mr. Modi made it clear that India desired "to see a stable, democratic, prosperous and peaceful Republic of Maldives".
Points of engagement between the two countries:
Experts point out that Mr. Solih's India visit has seen the two sides emphasise their traditionally close bond. He called India the island nation's "closest friend" and "reaffirmed his government's 'India-First' Policy", committing to working together closely with India.

India, for its part, announced a financial assistance package of $1.4 billion for the Maldives in the form of budgetary support, currency swap agreements and concessional lines of credit.

Both India and the Maldives have agreed to ensure that they would keep other's security interests in mind as they consolidate cooperation in the Indian Ocean Region (IOR). Further, they have agreed to strengthen maritime security cooperation in the IOR through coordinated patrol and aerial surveillance.

Also, in an attempt to boost trade ties, Mr. Modi "welcomed the expanding opportunities for Indian companies to invest in the Maldives". Areas such fisheries development, tourism, transportation, connectivity, health, education, information technology, new and renewable energy and communications were earmarked for enhancing bilateral cooperation.
Perspective on China
Experts point out that it is important from India's perspective that Mr. Solih succeeds in the Maldives. Also, under Mr. Yameen, the Maldives had veered too close to China for India's comfort, welcoming Chinese money for major infrastructure projects and signing a controversial free trade agreement (FTA).

India's entreaties for political moderation and closer security ties were summarily ignored.

China's role in the Maldivian economy is under the scanner today amid growing concerns about the money the Maldives owes to China for infrastructure projects undertaken by Chinese construction companies.

These infrastructure projects include the China-Maldives Friendship Bridge, which connects Malé's eastern edge to the western corner of the island of Hulhulé. It is now estimated that China's loans to the Maldives total at least $1.3 billion, or a quarter of the island nation's gross domestic product.

Further, faced with this crisis, the new Maldivian government is looking to India for more budgetary support to help meet its development goals and is also planning to revise the FTA with China.

Currently, the Modi government is also trying to ensure help reaches Male in time so that India regains some of its lost space in the Maldives' foreign policy and politics.

It is important to note that the Maldives has also made it clear that while the neighbourhood will clearly be a priority for the Solih government, China will continue to play an important role as an economic partner.

Thus, experts point out that China is not going to disappear from the Maldivian foreign policy matrix and nor should India expect it to.

However, the logic of geography dictates that India's role will be critical in determining the trajectory of political developments in the Maldives.
Concluding Remarks:
In conclusion, India's patient handling of the Maldives crisis over the last few years has positioned it well.

Also, by coordinating its response with other like-minded regional and extra-regional players, India increased the costs for Mr. Yameen and also underscored that there are options available to the Maldives should it decide to move away from China. After a meeting of the 'Quad' countries in Singapore in November 2018, the U.S., for example, released a statement expressing support for the new Maldivian government.

Going forward, experts point out that the Maldives would need the support of India as its challenges remain acute.

Lastly, it is important to note that the institutional fabric of the country has been battered under Mr. Yameen's assault even as the threat of Islamist extremism has grown in potency.

It is believed that governance will continue to be challenging as the forces which came together to bring down Mr. Yameen may not be cohesive enough in running the nation and strengthening its democratic foundations.

Finally, it is believed that India should not be deterred by temporary setbacks. Instead of perpetually viewing the dynamics from a China-centric perspective, it must keep its eyes firmly on the long term.

The more invested India is in strengthening democratic institutions in its neighbourhood, the better returns it will get in its foreign policy.
1. Fatal fires
What's in the news?
The release of a report titled "Strengthening Forest Fire Management in India" by Minister of Environment.

The report has been prepared jointly by the Ministry of Environment, Forest and Climate Change and World Bank.
Editorial Analysis:
Recommendations that have been suggested:
Develop a National Forest Fire Prevention Management Plan (FFPM) as an open, consultative and a time-bound process,

Institute standard management practices,

Adapt technology to local conditions, as well as scale up the best practices

Increase engagement with local communities to ensure that big fire is used in a responsible way and at the same time, give communities a greater say in decision-making process.

The National FFPM Action Plan should delineate the roles and responsibilities of the MoEFCC, state forest departments, communities and disaster agencies.   

Lastly, there is a need to support forest fire management through improved data, and research to fill critical knowledge gaps.

A national forest fire information database, bringing together satellite-based remote sensing data, and field-reported data, will be instrumental for assessing longer-term trends across states and regions and for planning fire prevention and response.

In addition, defining a national research agenda for fire management and provision of funding opportunities for scientific research would help to establish formal cooperation between members of the research community and the forest department.
Laws that have been institutionalized:
It is important to note that fire services are the mandate of the Municipal Bodies as estimated in item 7 of Schedule 12 under Article 243W of the constitution.

However, the structure across is not uniform.
Presently, it is important to note that Fire prevention and Fire Fighting Services are organized by the concerned States and UTs.
Further, Ministry of Home Affairs, Govt. of India, renders technical advice to the States and UTs and Central Ministries on Fire Protection, Fire Prevention and Fire Legislation.
A Note on the "Standing Fire Advisory Committee":
The Government of India in 1956, formed a "Standing Fire Advisory Committee" under the Ministry of Home Affairs.

The mandate of the committee was to examine the technical problems relating to Fire Services and to advise the Government of India for speed development and upgradation of Fire Services all over the country.

This committee had representation from each State Fire Services, as well as the representation from Ministry of Home, Defence, Transport, Communication and Bureau of Indian Standards. This Committee was renamed as "Standing Fire Advisory Council" (SFAC) during the year 1980.

Fire Services in Gujarat, Chhatisgarh, Punjab, Maharashtra, Himachal Pradesh, Haryana and Madhya Pradesh excluding Indore are under the respective concerned Municipal Corporations. In other remaining States it is under the Home Department.

While some States have enacted their own Fire Act, some others have not. As on today, there is no standardization with regard to the scaling of equipment, the type of equipment, or the training of their manpower. In each state it has grown according to the initiatives taken by the States and the funds provided for the Fire Services.
Editorial Analysis:
Recently, there was a devastating fire at the Andheri hospital of the Employees State Insurance Corporation in Mumbai that killed at least eight people.

Experts believe that this is a shocking reminder of the low priority fire safety gets in India. The very fact that a blaze could break out in a relatively new building with such deadly consequences calls into question the precautions taken by the authorities.
What the Maharashtra Government should do?  
Experts point out that the Maharashtra government should conduct a thorough probe and examine the claim made by the Fire Department that the hospital had failed an inspection recently and was served a notice.

Further, it would be shockingly negligent if the hospital continued to function without adhering to the fire safety standards in spite of an adverse report from the statutory authority.
A note on the ESIC:
The promulgation of Employees' State Insurance Act, 1948(ESI Act), by the Parliament was the first major legislation on social Security for workers in independent India.

The ESI Act 1948, encompasses certain health related eventualities that the workers are generally exposed to; such as sickness, maternity, temporary or permanent disablement, Occupational disease or death due to employment injury, resulting in loss of wages or earning capacity-total or partial. Social security provision made in the Act to counterbalance or negate the resulting physical or financial distress in such contingencies, are thus, aimed at upholding human dignity in times of crises through protection from deprivation, destitution and social degradation while enabling the society the retention and continuity of a socially useful and productive manpower.
A Critical View
Critics point out an ironical fact. That the ESIC is a welfare organisation working to protect the health and well-being of the labour sector, and is expected to set an example through the quality of its facilities.

Further, the Andheri horror evokes memories of the AMRI hospital blaze in Kolkata seven years ago, in which 92 people died. This led to an assessment of hospital safety in all States, but evidently the impact has been patchy at best.

As a matter of fact, the Justice Tapan Mukherjee Commission appointed by the West Bengal government held the directors of AMRI hospital responsible, since they actively reviewed the institution's administrative measures. This year 2018, critically ill patients had to be carried outside by relatives during a fire at the Calcutta Medical College and Hospital.
Concluding Remarks:
A strong building code with features for reduction of fire hazards is important for all structures, but it is more so for hospitals since they host people who are incapacitated and cannot be evacuated quickly.

It is important to note that the National Accreditation Board for Hospitals and Healthcare Providers (NABH) goes by the National Building Code and its specific norms for hospitals, which include minimum requirements for multi-storeyed structures, such as alarms, sprinkler systems, specified-width staircases, smoke barrier enclosures and checks against storage of combustible materials in areas where patients are kept.

Lastly, going forward, all State governments should require mandatory compliance with such safety features for any institution handling patients or giving care. Certification of facilities through third-party audit should be made compulsory to eliminate conflicts of interest involving official agencies.

The institutions should also be insured for the highest levels of public liability. At a broader level, governments must shed their indifference and work to make all spaces safe. The situation today is depressing. In private, public or commercial buildings, official agencies tend to favour tokenism rather than high standards for the safety of occupants and visitors. They are ever-willing to "regularise" deviations in construction over time.

Finally, it is time to fix responsibility for deadly accidents on a single official agency.
1. Benefit of the doubt must go to accused: SC
The benefit of the doubt in cases based on a flawed police investigation must favour the accused irrespective of the gravity of the crime, the Supreme Court held in a recent judgment in a 17-year-old case of murder and rioting in Uttar Pradesh.
"The accused cannot be expected to relinquish his innocence at the hands of an inefficacious prosecution, which is ridden with investigative deficiencies," a Bench of Justices N.V. Ramana and Mohan M. Shantanagoudar observed in a verdict pronounced on December 10. "The benefit of doubt arising out of such inefficient investigation, must be bestowed upon the accused," the court ruled.
"The cumulative effect of investigative lapses fortifies the presumption of innocence in favour of the accused," Justice Ramana wrote for the Bench, dismissing the appeal of the Uttar Pradesh government against the acquittal of Wasif Haider and others.
In 2001, a mob of 200-300 unidentified persons had gone on a rampage in Kanpur's Chaubey Gola temple area, with the rioters opening fire at police personnel killing a senior officer and injuring another.
Produced in a test identification parade, the accused were arrested on the basis of witnesses testimony. While the Kanpur trial court held the accused to be guilty in 2004, the High Court acquitted them citing contradictions in the testimonies of the witnesses.
When the State appealed in the Supreme Court, Kamini Jaiswal and Siddhartha Dave, appearing for the accused, argued that the witnesses were at a great distance from the place of occurrence and it was not plausible to identify the accused. The court agreed that the case "is ridden with multiple investigative lapses and flaws, which goes to the root of the matter."
2. Row erupts over naming Bogibeel bridge in Assam
A row over an apt name has hit the 4.94-km Bogibeel, India's longest rail and road bridge, to be inaugurated by Prime Minister Narendra Modi on Christmas Day.
On Tuesday, a week ahead of the scheduled inauguration, organisations of the Tai-Ahom community called for a road blockade near the bridge. Their demand: the bridge should be named after Chaolong Siu-ka-pha, who founded the Ahom kingdom in Assam more than 600 years ago.
The threat to block the approach road of the bridge on Thursday followed the Assam government's proposal to the Northeast Frontier Railway (NFR) to name the bridge as Birangana Sati Sadhani Setu, the last queen of the kingdom controlled by the Chutia community.
The Ahoms and Chutias had fought for territorial control for more than 150 years during the medieval period. It ended in the 1600s with the Ahoms taking over the Chutia domain.
A few days ago, the All Assam Chutia Students' Union had said youths from the community would jump into the Brahmaputra River on the day of its inauguration if their demand to name it after their iconic queen was not met.
Two indigenous communities — Deuri and Mising — also want the bridge to be named after their leaders. While the Deuris want it to be named after Bhimbor Deuri, the Misings insist that the best name would be Swahid Kamala Miri.
3. Courts can't rule on train timings, says Supreme Court
Train timings and rail connectivity are matters of policy and not for courts to decide on the basis of a public interest petition, the Supreme Court has said in a recent order.
"It is our considered view that matters of train timings and providing new train connectivity between two locations are essentially matters of policy, to be decided by the competent authority on a consideration of host of relevant facts and circumstances, and further that such matters are not appropriate for adjudication in a PIL," a three-judge Bench led by Chief Justice of India Ranjan Gogoi observed in the order on December 4.
4. U.K. MPs want Sikhism to be recognised as 'ethnicity' in census
A group of British MPs have launched a year-long campaign to lobby for Sikhism to be added as a separate ethnicity tick-box in the next U.K. census in 2021 after the country's statistical authority concluded that it was not required.
The All Party Parliamentary Group (APPG) for British Sikhs accused the Office of National Statistics (ONS) of ignoring an "overwhelming" support among the Sikh community for such an additional category in order to ensure fair treatment of British Sikhs.
In a recently released White Paper, titled 'Help Shape Our Future: The 2021 Census of Population and Housing in England and Wales', the ONS said the estimates of the Sikh population can be met through data from the specific response option in the Sikh religion question. Sikhs are already recognised as a separate religion in the optional religious question introduced in the 2001 Census.
5. Ola to invest $100 mn in Vogo
Vogo, a scooter sharing start-up, said it had formed a strategic partnership with ride-hailing company Ola. Ola will boost Vogo's supply by investing in 1,00,000 scooters on the Vogo platform, worth $100 million.
Vogo, a point-to-point dockless scooter sharing company, is currently present in Bengaluru and Hyderabad. It has served over 20 million km on its platform.
Every Vogo scooter comes with an Internet of Things device that allows the customer to access the key via a one-time password (OTP). This eliminates the need for human intervention and offers consumers a seamless experience, the firm said.
Start-ups addressing short-distance transport (i.e. less than five miles) have taken the mobility space by storm in recent months, most notably with the rise of bike and scooter start-ups, according to research firm CB Insights.
It said bikes and scooters, which allow people to easily move shorter distances, can help commuters access public transport hubs several miles away.
Ola's rival Uber is also embracing bike-sharing and repositioning itself as an all-encompassing transportation services provider, with the ultimate goal of combating personal vehicle ownership, according to CB Insights. It said almost all of the funding in the bike and scooter space had gone to sharing platforms rather than bike or scooter hardware.
Nothing here for today!!!
H. Practice Questions for UPSC Prelims Exam
Question 1. As a court of record, the Supreme Court has two powers. Which of the following is/are
these powers? 

The judgements, proceedings and acts of the Supreme Court are recorded for perpetual memory and testimony.
It has the power to review its own judgement or order.
Select the correct answer using the code given below:
Only 1
Only 2
Both 1 and 2
None of the above
See
Question 2. An adjournment motion that can be introduced in the Parliament 
Concerns with the breach of parliamentary privileges by a minister
Is an Indian innovation in parliamentary procedure and is not mentioned in the Rules of Procedure
Is a device of parliamentary proceedings which cannot be used by the Rajya Sabha
Seeks to terminate a sitting of the Parliament for a specified time
See
Question 3. With reference to the Chairman of Rajya Sabha, consider the following statements:  
He cannot preside over a joint sitting of the two houses of the Parliament.
He is a member of the house but cannot vote in the first instance.
When a resolution for his removal is under consideration he can speak and take part in the proceedings, without voting.
Which of the above statement(s) is/are correct?
Only 1 and 2
Only 2 and 3
Only 1 and 3
Only 3
See
I. Practice Questions for UPSC Mains Exam
Four decades after China's late paramount leader Deng Xiaoping masterminded the "reform and opening up" policy, the Asian giant has become an economic superpower, behind only the United States. Explain the statement (250 words; 15 Marks)
Climate change is driving glaciers in the Himalayas to melt more rapidly than at any point in the last 10,000 years, and could soon cause water supply shortage in parts of India, Pakistan, and Nepal. In this context, critically evaluate the global efforts to address to issue of climate change with special emphasis on India (250 words; 15 Marks)
See previous CNA