TABLE OF CONTENTS
A.

 GS1 Related




B.

 GS2 Related


POLITY AND GOVERNANCE
1. 9% growth by 2022 must to generate jobs: NITI Aayog
2. Bill banning commercial surrogacy passed in LS
3. Manipur scribe arrested under NSA for one year
INTERNATIONAL RELATIONS
1. U.S. announces Syria troop pull-out


C.

 GS3 Related


ECONOMY
1. Four banks may come out of PCA
SCIENCE AND TECHNOLOGY
1. ISRO's 'angry bird' takes to the skies


D.

 GS4 Related




E. 

Editorials


INTERNATIONAL RELATIONS
1. Befriend thy neighbour (India-China Relations)
POLITY AND GOVERNANCE
1. Rights, revised (The Transgender Persons (Protection of Rights) Bill, 2018)
GEOGRAPHY
1. A river running dry (Clean Ganga)


F. 

Tidbits


1. J&K Education Dept. withdraws ban on pheran
2. 26 graduates joined militancy in 2018
3. FB defends data sharing practices after revelations
4. Packaging of foodgrain in jute bags made mandatory
5. Norway streets grow quieter


G. 

Prelims Fact


1. Tejas fuel droptank put through test in Chennai
H. UPSC Prelims Practice Questions
I. UPSC Mains Practice Questions

Nothing here for today!!!
Category: POLITY AND GOVERNANCE
1. 9% growth by 2022 must to generate jobs: NITI Aayog
Context
A growth rate of 9% is essential to generate enough jobs and achieve universal prosperity, according to a vision document released by NITI Aayog.
Details of the document
The 'Strategy for New India @75' document recommends a number of steps, including increasing the investment rate, reforming agriculture, and codifying labour laws.
The target should be 8% growth over the period 2018-23. This will raise the economy's size in real terms from $2.7 trillion in 2017-18 to nearly $4 trillion by 2022-23.
Besides having rapid growth… it is also necessary to ensure that growth is inclusive, sustained, clean and formalised.
On boosting economic growth, the document identified two key steps for increasing the country's investment rate and the tax-GDP ratio.
India's tax-GDP ratio of around 17% is half the average of OECD countries (35%) and is low even when compared to other emerging economies like Brazil (34%), South Africa (27%) and China (22%).
To enhance public investment, India should aim to increase its tax-GDP ratio to at least 22% of GDP by 2022-23.
While demonetisation and GST have and will continue to contribute positively, the document said efforts need to be made to rationalise direct taxes for both corporate tax and personal income tax.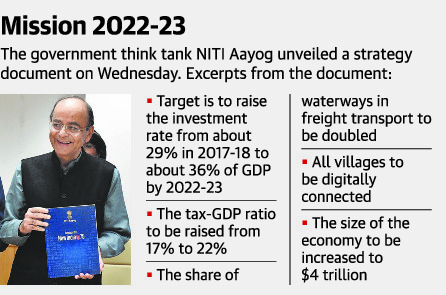 Achievements of NITI Aayog
The NITI Aayog was formed to bring fresh ideas to the government. Its first mandate is to act as a think tank.
It can be visualised as a funnel through which new and innovative ideas come from all possible sources — industry, academia, civil society or foreign specialists — and flow into the government system for implementation.
Initiatives like Ayushmaan Bharat, our approach towards artificial intelligence and water conservation measures, and the draft bill to establish the National Medical Commission to replace the Medical Council of India have all been conceptualised in NITI Aayog, and are being taken forward by the respective Ministries.
NITI Aayog acted as an action tank rather than just a think tank. By collecting fresh ideas and sharing them with the Central and State governments, it pushes frontiers and ensures that there is no inertia, which is quite natural in any organisation or institution.
NITI Aayog also work to cut across the silos within the government. For example, India still has the largest number of malnourished children in the world.
NITI Aayog is best placed to achieve this convergence and push the agenda forward in the form of POSHAAN ABHIYAAN.
NITI Aayog is also bringing about a greater level of accountability in the system.
NITI Aayog has established a Development Monitoring and Evaluation Office which collects data on the performance of various Ministries on a real-time basis. The data are then used at the highest policymaking levels to establish accountability and improve performance.
This performance- and outcome-based real-time monitoring and evaluation of government work can have a significant impact on improving the efficiency of governance.
Using such data, we also come up with performance-based rankings of States across various verticals to foster a spirit of competitive federalism.
NITI Aayog play an important role of being the States' representative in Delhi, and facilitate direct interactions with the line ministries, which can address issues in a relatively shorter time.
Improving innovation:The Atal Innovation Mission, which is also established under NITI Aayog, has already done commendable work in improving the innovation ecosystem in India.
It has established more than 1,500 Atal Tinkering Labs in schools across the country and this number is expected to go up to 5,000 by March 2019.
It has also set up 20 Atal Incubation Centres for encouraging young innovators and start-ups.
2. Bill banning commercial surrogacy passed in LS
Context
The Lok Sabha on Wednesday passed a Bill banning commercial surrogacy with penal provisions of jail term of up to 10 years and fine of up to ₹10 lakh.
The Bill, which will become law once the Rajya Sabha approves it, allows only close Indian relatives to be surrogate mothers and purely for "altruistic" reasons. It states an Indian infertile couple, married for five years or more, can go in for 'altruistic surrogacy' where the surrogate mother will not be paid any compensation except medical expenses and insurance.
Salient features of the bill
Surrogacy is a practice where a woman gives birth to a child for an eligible couple and agrees to hand over the child after the birth to them.
The Bill allows altruistic surrogacy which involves a surrogacy arrangement where the monetary reward only involves medical expenses and insurance coverage for the surrogate mother.
Commercial surrogacy is prohibited under the Bill. This type of surrogacy includes a monetary benefit or reward (in cash or kind) that exceeds basic medical expenses and insurance for the surrogate mother.
The Bill states that any child born out of a surrogacy procedure shall be the biological child of the intending couple and will be entitled to all rights and privileges that are available to a natural child.
Eligibility criteria for couples intending to commission surrogacy
In order to be eligible, the couple intending to commission a surrogacy arrangement must be a close relative of the surrogate mother
They are Indian citizens who have been married for at least five years
They are in the age group of 23-50 years (female partner) and 26-55 years (male partner)
A medical certificate stating that either or both partners are infertile
They do not have any surviving child (whether biological, adopted or surrogate), except if the surviving child is mentally or physically challenged or suffers from a fatal illness
Eligibility to be a surrogate mother
The surrogate mother is a close relative of the couple intending the surrogacy
She was or is married and has a child of her own
She is 25 to 35 years old
She has not been a surrogate mother before
She possesses a medical certificate of her fitness for surrogacy
Category: INTERNATIONAL RELATIONS
1. U.S. announces Syria troop pull-out
Context
The U.S. has started bringing home troops from Syria as it moves to a new phase in the campaign against Islamic State (IS), the White House said on Wednesday, claiming that the militant Islamist group's "territorial caliphate" has been defeated.
On Wednesday, Mr. Trump declared victory against the group and made clear that he saw no further grounds for remaining in Syria.
Islamic State in Iraq and Syria (ISIS)
The Islamic jihadist group is an unrecognised terror outfit based in Iraq and Syria, that made international headlines and has emerged as one of the most dangerous terror organisation like that of al Qaeda and Taliban.
It maintains a stronghold near the borders of Levant (Eastern Mediterranean), Lebanon, Israel, Palestine, Jordan, Cyprus, and Southern Turkey.
The main goal of ISIS is to establish a caliphate in the Sunni-dominated areas of Iraq and Syria, which can be ruled by a Caliph.
ISIS came into existence in 2004 and since then it has changed its name many times from al Qaeda in Iraq" (AQI) to Hilf al-Mutayibeen to "Islamic State of Iraq (ISI)" to "Islamic State in Iraq and al-Sham" to al-Dawla to Dawla al Islamiya, among many others.
It has carried out various attacks in the past in Iraq killing thousands of civilians. Abu Bakr al-Baghdadi is said to be one of the top ISIS leaders.
ISIS major source of finance is through smuggling of raw materials of archaeological antiques, oil and an extortion racket and its total worth is believed to be $2bn.
ISIS takes immense pleasure in video recording of amputation and crucification videos and then uploading it on social media sites.
1. Four banks may come out of PCA
Context
Four public sector banks — Bank of Maharashtra, Corporation Bank, Allahabad Bank and Bank of India — that are under the prompt corrective action framework of RBI, may come out of the restrictions following improved performance, banking industry sources said.
This follows a review of the performance of all 11 banks that are under the PCA framework, as decided during the November board meeting of the Reserve Bank of India. The board of financial supervision of the RBI has reviewed the banks' half yearly performance.
Prompt Corrective Action (PCA) framework
PCA is a process or mechanism to ensure that banks don't go bust.
Under it, RBI has put in place some trigger points to assess, monitor, control and take corrective actions on banks which are weak and troubled.
It was first introduced after global economy incurred huge losses due to failure of financial institutions during 1980s-90s.
According to latest PCA framework, banks to be placed under it are assessed on three parameters viz. Capital ratios, Asset Quality and Profitability.
Indicators to be tracked for these three parameters are CRAR (Capital to Risk weighted Assets Ratio)/Common Equity Tier I ratio, Net NPA (non-performing assets) ratio and Return on Assets (RoA) respectively.
If banks breach of any risk threshold mentioned above, it results in invocation of PCA against them.
RBI enforces these guidelines to ensure banks do not go bust and follow prompt measures to put their house in order.
It had tightened its PCA framework in April 2017 to turn around lenders with weak operational and financial metrics,
Depending on the risk thresholds set in PCA rules, banks placed under it are restricted from expanding number of branches, staff recruitment and increasing size of their loan book.
Other restrictions include higher provisions for bad loans and disbursal only to those companies whose borrowing is above investment grades.
Category: SCIENCE AND TECHNOLOGY
1. ISRO's 'angry bird' takes to the skies
Context
The GSLV-F11 is ISRO's fourth generation launch vehicle with three stages. The launch vehicle, which is in its 13th flight, has injected GSAT-7A into a Geosynchronous Transfer Orbit (GTO).
An anxious ISRO Chairman K. Sivan on Wednesday watched the flight path of the GSLV-F11 intently as it soared into the evening sky carrying communication satellite GSAT-7A, meant to enhance the communication infrastructure of the Indian Air Force.
In its Mk-II version, the GSLV with the indigenous cryogenic stage carried on board its heaviest satellite that weighed 2,250 kg, from the second launch pad of the Satish Dhawan Space Centre, SHAR.
GSAT-7A
The GSAT 7 series was launched in 2013 as a dedicated communications satellite for the Indian Navy, which made the Navy completely independent of relying on foreign satellites for its blue water capabilities, thanks to GSAT 7 having a 2,000 nautical mile footprint. This helps in providing real-time inputs to Indian warships, submarines and maritime aircraft.
The GSAT-7A is also expected to be a big push for drone operations as it will help the Navy reduce the reliance on on-ground control stations and take satellite-control of military unmanned aerial vehicles (UAV) which should help boost the range and endurance of the UAVs.
In addition to GSAT-7A, the IAF would also be getting the GSAT-7C in a few years, to boost the network-centric operations.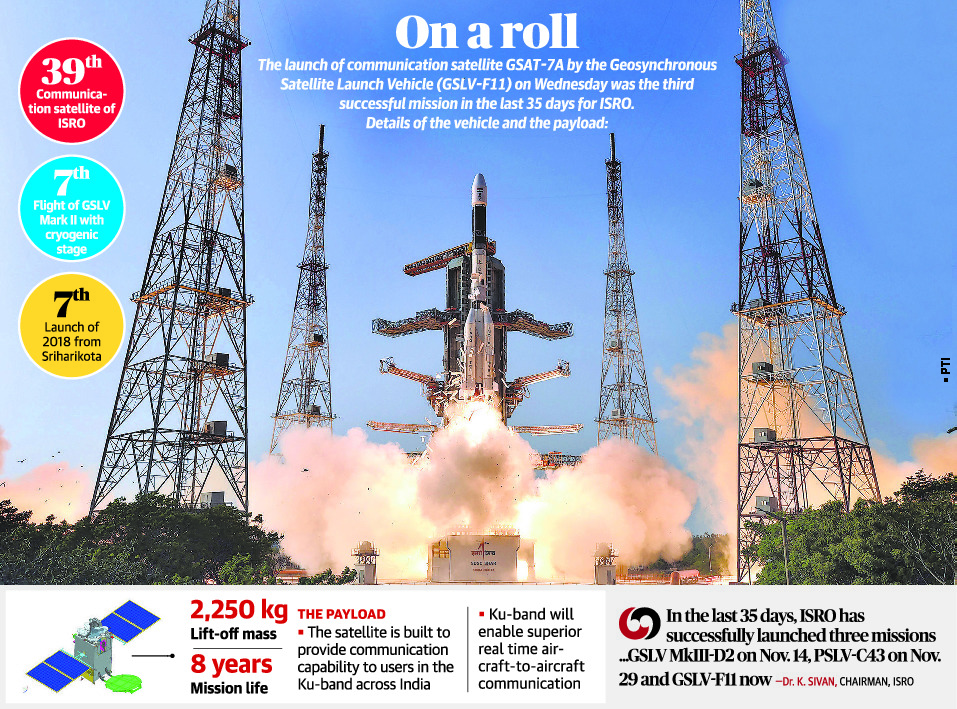 Nothing here for today!!!
Category: INTERNATIONAL RELATIONS
1. Befriend thy neighbour (India-China Relations)
Editorial Analysis:
China was for a long time a socialist economy, unused to the ways of the capitalist world. This prevailed for a few years after it opened its doors to the world in the 1970s.

Experts point out that today, however, China it is unrecognisably capitalist, albeit with a communist face.

As a matter of fact, in terms of purchasing power parity (PPP), China is the dominant economic power in the world, directly competing with the U.S. for supremacy in science and technology. India ranks third in PPP.
Questions that Prevail
It is rare that we ask ourselves how a country that was no better off than India until the mid-1980s, has left India so far behind. To compound matters, China had even  suffered depredations under Communist Party Chairman Mao Zedong.

Some experts believe that in answering the above question, Indians tend to fall for simplistic explanations such as, "We're a democracy, China is not." There is more to that country's spectacular rise than just that one factor.

It is important to note that the West is yet to get a grip on China, and it is constantly seeking to solve the riddle of China's rise. For example, a recent issue of The Economist examined "How the West Got China Wrong", and Foreign Affairs magazine attempted to fathom "how China hid its global ambitions" in an article titled "The Stealth Superpower".

Experts point out that even as the West continues to snarl at China, some of its best institutions and universities have collaborations with China that effectively runs into millions of dollars.

For example, Harvard University, has several ongoing programmes with the Chinese government as well as leading universities like Peking and Tsinghua in engineering, the sciences, management, environment, design and the humanities.
Concluding Remarks
Perspective on India:
It is important to note that since science and technology are powering China's growth, India would need to make sense of those by setting up well-funded, world-class interdisciplinary centres not just in universities like Jawaharlal Nehru University but also in the Indian Institute of Science (IISc) and the Indian Institutes of Technology which have the best technical and scientific minds in the country.

As a matter of fact, it is through these centres that India should be able to arrive at her  own in-depth understanding of China.

Finally, the time is also right to launch a China-India version of the Needham-Cambridge study on science and technology in China, to take a dispassionate view of how our countries have evolved through history and how they can collaborate to make their rise environmentally sustainable and equitable.
Category: POLITY AND GOVERNANCE
1. Rights, revised (The Transgender Persons (Protection of Rights) Bill, 2018)
What's in the news?
Recently, a Bill in the Lok Sabha to secure the rights of transgender persons was passed.

Experts point out that this is a progressive step aimed towards extending constitutional protection to this highly marginalised community.
Reaction to the Bill
It is important to note that less than an hour after the passing of the Transgender Persons (Protection of Rights) Bill by the Lok Sabha, Grace Banu, a trans activist from Tamil Nadu and the founder of the Trans Rights Now Collective, took to Facebook that stated that the day was a "black day for us".

Grace adds that representatives from the community previously met the Standing Committee in charge of drafting this Bill and several MPs to give their suggestions to improve the Bill.

The Bill has been witnessing several protests from the community since it was made public in 2016.
Editorial Analysis:
It is important to note that the Transgender Persons (Protection of Rights) Bill, 2018, as passed, is an improved version of the legislation introduced two years ago (in 2016).

The earlier draft was widely perceived as falling short of the expectations of stakeholders and not adequately rights-based, as envisaged by the Supreme Court in its landmark decision on transgender rights in 2014.

Experts, as well as the Standing Committee of Parliament on Social Justice and Empowerment, had criticised the original definition of 'transgender persons' for violating the right to self-determined identity.
The Original definition of transgender
The original definition in the Bill stated that a transgender person was one was "neither wholly female nor wholly male; or a combination of female or male; or neither female nor male; and whose sense of gender does not match with the gender assigned to that person at the time of birth, and includes trans men and trans women, persons with intersex variations and gender-queers."
The revised definition of 'transgender persons':
As a matter of fact, after outrage from the community over this problematic definition, the definition was amended to "a person whose gender does not match with the gender assigned to that person at birth and includes trans-man or trans-woman (whether or not such person has undergone Sex Reassignment Surgery or hormone therapy or laser therapy or such other therapy), person with intersex variations, gender- queer and person having such socio-cultural identities as kinner, hijra, aravani and jogta."

The revised definition omits the reference to a 'neither male nor female' formulation, and covers any person whose gender does not match the gender assigned at birth, as well as transmen, transwomen, those with intersex variations, the gender-queer, and those who designate themselves based on socio-cultural identities such as hijra, aravani, kinner and jogta.
As pointed out in a statement issued by Lawyers Collective, while this revised definition is better than the original one, a still clearer and more precise way to frame it would have been "a person whose sense of gender does not match the gender assigned at birth." As it stands, the statement reads, this current definition is "prone to ambiguous and illiberal interpretation".
Some specifics regarding the revised bill:
The requirement that a district screening committee must recommend the issue of a certificate to each transgender may be necessary to prevent misuse, however, such a process goes against the principle of self-identification, which is a key right the Supreme Court had protected.

It is important to note that the government had omitted the need to go through the same screening committee to get a revised certificate after a transgender has sex reassignment surgery, but the medical certification requirement remains.

Transgender persons may question the need for such external gate-keeping.
Legitimate Concerns:
There are other legitimate concerns in the revised Bill, which will now go to the Rajya Sabha.

One refers to the bar on forcible separation of transgender persons from their families, except through court orders. It has been revised to cover transgender children.

Earlier it covered adults as well, but the committee had noted that it was within the family that many transgender persons faced harassment and abuse, and often felt driven to flee their homes.
Another concern is that the Bill criminalises begging by making it an offence for someone to compel or entice a transgender person into seeking alms.
When begging itself is no more seen as an offence, it may harm the community if such a means of livelihood – in the absence of employment – is criminalised.
Further, the Bill, unfortunately, does not give effect to the far-reaching directive of the Supreme Court to grant backward class reservation to the transgender community. Nor have the Standing Committee's concerns about recognising civil rights in marriage, divorce and adoption among them been addressed.
Concluding Remarks:
There is much good intention behind the welfare provisions, but social legislation is much more than high-minded clauses.

Experts opine that it needs to be followed up with zealous implementation and framing of deadlines to achieve specific objectives.
1. A river running dry (Clean Ganga)
A river running dry (Clean Ganga)
What's in the news?
From aiming for Aviral Dhara (uninterrupted flow) of the Ganga to Nirmal Dhara (unpolluted flow), the government is now simply focussing on a Swachh Ganga (Clean Ganga).
Experts point out that while the whole focus of the Clean Ganga project has been on setting up sewage treatment plants and cleaning ghats and banks, the main issue, which is that the river does not have adequate flow of water, has been ignored.
It is important to note that with severe pollution destroying the river, and developmental projects critically affecting its flow, the Ganga is in dire straits.
Fragility of the Region:
Experts point out that several hydropower projects are mushrooming at the source of the river, which is the Garhwal range of the Himalayas.
Certain Specifics of the Garhwal Himalayas:
Unlike other ranges, the Garhwal is narrow.

It is from the Garhwal ranges that that many rivers and tributaries of the Ganga basin emerge.

It is important to note that these spring-fed or glacier-fed rivers join one another at different points to form an intricate riverine ecosystem in the Himalayas.

Further, the entire basin falls in the seismic zone 4-5, and is highly prone to landslides and land subsidence.
What needs to be factored in?
Experts point out that the understanding that hydropower projects mean development needs to change.

Further, it is important to note that in order to construct a hydropower project, large sections of land are cleared of forests.

An important question arises: What happens when such deforestation takes place in an already fragile mountain area? It is important to note that many studies have been conducted near the existing dams along the course of the Ganga.

The immediate impacts of these projects have been:
loss of agriculture,

drying of water sources, and

landslips.
Muck Dumping
Further, it is important to note that as construction in such projects progresses, there is also dumping of muck, which can pose severe threats.

For example, muck dumping during construction of the Alaknanda hydropower project caused devastation downstream in Srinagar in the 2013 flash floods.

Such muck is dumped either into the river or in forest areas.
Effects of Muck Dumping
After all the massive deforestation, muck dumping, blasting and tunnelling, the hydropower projects thus constructed eventually dry up the river bed as the water is diverted into tunnels. This causes severe distress to aquatic life, and the river bed is no longer even wet in certain stretches. As the Ganga is diverted into long tunnels, de-silted, and directed to powerhouses to churn turbines and generate power, the barren landscape, dried water sources and the obscene muck slopes narrate a story of destruction. This is a far cry from the promise of development.

However, the irony is that even after all this devastation, electricity is not generated as per the intended capacity. For example, the installed capacity of the Maneri dam is 90 MW but it only works at below 40% of its capacity.

This is because there is too much silt during the monsoon and reduced flow of water in winters. As glaciers continue to retreat, the silt in the rivers is only going to increase. As the reason for diminished output is natural and not technical, and therefore cannot be remedied, this is only going to cause more problems for future projects. For example, the flow of debris was stopped by barrages in the Alaknanda hydropower project. This escalated the impact of the 2013 disaster, according to the expert committee of the Supreme Court.

In the case of the Ganga, these projects also prevent sediments from going downstream. This affects the fertility of the delta downstream and also destroys the unique self-purifying properties of the Ganga.
Perspectives on Reports of committees:
Twenty government committees and reports warn about the anthropogenic activities in these fragile areas and recommend conservation of these areas for food and water security.
As a matter of fact, when the late G.D. Agarwal, crusader of the Ganga, fasted to invoke the government to act against these projects, the government proposed an e-flow notification for the Upper Ganga River Basin.
e-flow notification for the Upper Ganga River Basin:
The e-flow notification for the Upper Ganga River Basin specified that during the dry season (November-March), 20% of monthly average flow has to be maintained, and during the monsoon season, 30% has to be maintained.

The notification stated that existing hydel projects that do not meet e-flow norms must comply within three years. The 20% recommendation is less than the scientific recommendation of 50% (only for existing projects). If the government intended to rejuvenate the river, it would have specified that e-flows are only for existing projects. Instead it has opened the floodgates for several such projects as long as the compromised e-flows are maintained.

Experts point out that the result of such a relentless push for hydropower projects is that only 80 km of a 2,500 km-long river now remains in the Aviral-Nirmal state.

In conclusion, unless we question these projects now, we will not be able to save the Ganga, the lifeline of millions of people.
1. J&K Education Dept. withdraws ban on pheran
An order barring officials from wearing the pheran, a long woollen winter dress, to the office of Zonal Education Officer (ZEO) in north Kashmir's Langate, which triggered a massive online campaign against the move, was withdrawn on Thursday.
The earlier order was passed after some employees would come to work in their night dresses
The earlier move evoked sharp responses from politicians and civil society in Kashmir, which is experiencing a cold wave with sub-zero temperatures. The pheran is a preferred attire to battle the chill.
Former Jammu & Kashmir Chief Minister Omar Abdullah on Tuesday uploaded pictures wearing a pheran to protest against the ban. "My father and I have worn pherans to official functions and will continue to do so," he said, as he uploaded pictures of his father Dr. Farooq Abdullah and himself wearing the dress.
Roohi Nazki, a restaurateur, has already started an online campaign in favour of the pheran. Her campaign is garnering a heavy response in Kashmir and abroad.
2. 26 graduates joined militancy in 2018
The government informed the Rajya Sabha on Wednesday that as many as 26 "misguided youths"— all graduates and postgraduates — joined militancy in Jammu and Kashmir this year.
Minister of State for Home Hansraj Gangaram Ahir told Parliament that "the Constitution does not have any provision to deal with anti-nationalists raising slogans against India and engaged in stone-pelting on Indian Army and paramilitary forces. However, such offenders are dealt with as per the provisions of relevant laws applicable in Jammu and Kashmir."
Ahir said some residents in Jammu and Kashmir had been influenced by elements inimical to national interests. The State had been affected by terrorist and secessionist violence sponsored from across the border for more than two-and-a-half decades, he said.
He was replying to a question by BJP Member of Parliament Shamsher Singh Manhas on whether there were two kinds of people in J&K — nationalists and anti-nationalists. "The government has continuously encouraged policies to mainstream the youth, including providing job opportunities to wean them from militancy," Mr. Ahir said.
3. FB defends data sharing practices after revelations
The New York Times recently reported that some 150 companies — including powerful partners like Amazon, Microsoft, Netflix and Spotify — could access detailed information about Facebook users, including data about their friends.
Facebook offered a renewed defence of its data sharing practices after a report revealed that certain partners of the social media organisation had access to a range of personal information about users and their friends.
The report marked yet another potential embarrassment for Facebook, which has been roiled by a series of scandals on data protection and privacy and has been scrutinised over the hijacking of user data in the 2016 U.S. election campaign.
According to documents, Facebook allowed Microsoft's Bing search engine to see names of Facebook users' friends without consent and gave Netflix and Spotify the ability to read private messages.
While some of the deals date back as far as 2010, The Times said they remained active as late as 2017 and some were still in effect this year.
4. Packaging of foodgrain in jute bags made mandatory
The Centre has mandated the packaging of 100% of foodgrain and 20% of sugar in jute bags for 2018-19
The order follows the Jute Packaging Materials (Compulsory Use in Packing Commodities) Act (JPM), which was enacted in 1987 to protect the jute sector from the plastic packaging segment.
While West Bengal and Andhra Pradesh are the two largest jute goods producers, Punjab is the largest procuring State. It plans to initiate the procurement on a trial basis for 10% of the indents.
Gunny bags now account for about 63% of raw jute consumption, according to official statistics. The sector employs about 3.7 lakh mill workers directly besides supporting several lakh farmer families. Since 1987, the JPM Act has been mandating compulsory use of sacks in certain areas to bring buoyancy to the raw jute market.
While initially there was reservation for sugar, cement, fertiliser and foodgrain packaging over time, certain sectors have been taken out of the ambit for various reasons, including market demand for alternative packaging as there was seepage of materials through gunny sacks.
5. Norway streets grow quieter
As countries around the world, including China, the world's biggest auto market try to encourage more people to buy electric cars to fight climate change, Norway's success has one key driver — the government. It offered big subsidies and perks that it is now due to phase out, but only so long as electric cars remain attractive to buy compared with traditional ones.
Some 30% of all new cars sport plug-in cables rather than gasoline tanks, compared with 2% across Europe overall and 1-2% in the U.S.
The plan supports Norway's CO2 reduction targets under the 2015 Paris climate accord, which nations agreed to ensure emissions goals are met. Norway has pledged to reduce emissions of greenhouse gases by 40% by 2030, compared with 1990 levels.
To help sales, the Norwegian government waived hefty vehicle import duties and registration and sales taxes for buyers of electric cars. Owners don't have to pay road tolls, and get free use of ferries and bus lanes in congested city centres.
These perks, which are costing the government almost $1 billion this year, are being phased out in 2021, though any road tolls and fees would be limited to half of what gasoline car owners must pay. Gradually, subsidies for electric cars will be replaced by higher taxes on traditional cars.
Using taxes to encourage consumers to shift to cleaner energy can be tricky for a government as protests erupted in France this autumn over a fuel tax that hurt the livelihood of poorer families, especially in rural areas, where driving is often the only means of transportation.
1. Tejas fuel droptank put through test in Chennai
Context
A team of scientists from the Fatigue and Fracture Laboratory and the Advanced Seismic Testing and Research Laboratory, CSIR-Structural Engineering Research Centre (SERC), Chennai, conducted a crucial qualification test of the fuel drop tank of the Tejas Light Combat Aircraft (LCA).
LCA-TEJAS
The LCA Tejas is an Indian single-seat, single-jet engine, multi-role light fighter developed by Hindustan Aeronautics Limited (HAL).
Its design is highly manoeuvrable, with a tailless, compound delta wing configuration. It came from the Light Combat Aircraft (LCA) programme, which began in the 1980s to replace India's ageing MiG-21 fighters.
Later, the LCA was officially named "Tejas", meaning "Radiant" by the then Prime Minister.
In 1969, the Indian government accepted the recommendation by its Aeronautics Committee that Hindustan Aeronautics Limited (HAL) should design and develop a fighter aircraft around a proven engine.
H. Practice Questions for UPSC Prelims Exam
Question 1. As per the directions given by the Supreme Court in S. R. Bommai case, which of the 
following situations is/are not considered as ground/s for proclamation of President's rule in a 
state? 

A situation of maladministration in a state persists where duly constituted ministry enjoys support of the assembly.
In case of serious allegations of corruption against the ministry of the state.
Select the correct code:
Only 1
Only 2
Both 1 and 2
None of the above
See
Question 2. Which of the following is/are the Constitutional Bodies? 
National Commission for Minorities
Finance Commission
Attorney Journal of India
Select the correct code:
Only 1
Only 2
Only 2 and 3
All of the above
See
Question 3. Which of the following was/were the implications of the 73rd Constitutional 
Amendment Act?  
Constituting Panchayats became mandatory for states.
Fixing tenure of five years for Panchayats at all levels was made mandatory.
Select the correct answer using the code given below.
Only 1
Only 2
Both 1 and 2
None of the above
See
I. Practice Questions for UPSC Mains Exam
A growth rate of 9% is essential to generate enough jobs and achieve universal prosperity, according to a vision document released by NITI Aayog. In this context, write a note on the strategies required to achieve the 9% growth rate. (150 words; 10 marks)
The Lok Sabha recently passed a Bill banning commercial surrogacy with penal provisions of jail term of up to 10 years and fine of up to ₹10 lakh. Critically evaluate the bill. (200 words; 12.5 marks)
See previous CNA