TABLE OF CONTENTS
A. 

GS1 Related




B. 

GS2 Related


INTERNATIONAL RELATIONS
1. Bills introduced to remove per-country limits on green card


C. 

GS3 Related


ECONOMICS
1. Startups to be listed for angel tax exemption
ENVIRONMENT
1. Vet institute, ambulances mooted in ₹98 crore lion conservation plan
2. SC pulls up Rajasthan govt. over Aravalli mining
HEALTH
1. TB survivors challenge patent extension for latest drug


D. 

GS4 Related




E 

Editorials


INDIAN ECONOMY
1. Surveying India's unemployment numbers
INTERNATIONAL RELATIONS   
1. Nigerian renewal (Elections in Nigeria) 


F. 

 TIDBITS


1. Gujjars block railway tracks over quota


G. 

Prelims Facts




H. 

UPSC Prelims Practice Questions




I. 

UPSC Mains practice Questions



A. GS1 Related
 Nothing here today!!!
B. GS2 Related
Category: INTERNATIONAL RELATIONS
1. Bills introduced to remove per-country limits on green card
Context
Two identical legislations backed by top companies from Silicon Valley, like Google, have been introduced in the U.S. House of Representatives and Senate to end the per-country limit on green cards.
They could benefit thousands of Indian professionals waiting to gain permanent legal residency. In the Senate, Republican Mike Lee and Democratic presidential aspirant Kamala Harris introduced the 'Fairness for High-Skilled Immigrants Act'- a Bill that would remove per-country cap for employment-based green cards.
Details of the issue
An identical bill — Fairness for High-Skilled Immigrants Act — was tabled in the U.S. House of Representatives by Congressman Zoe Lofgren and Ken Buck, Chair and Ranking Member of the House Judiciary Subcommittee on Immigration and Citizenship, with co-sponsorship of a bipartisan group of 112 Congressmen.
If passed by Congress and signed into law, the two pieces of legislation would benefit thousands of Indian professionals on H-1B visas whose current wait time for permanent legal residency is more than a decade. The U.S. currently offers 1,40,000 green cards every year to employment-based immigrantst.
The existing law, however, provides that not more than 7% of these green cards can go to nationals of any one country — even though some countries are more populous than others. Because of this limit, a Chinese or an Indian postgraduate may have to wait half a decade or more for a Green Card, much longer than a student from a less-populated country.
Few important US Visas
H-1B Visa
The H-1B category is an expedient and lawful method to bring foreign-born professionals temporarily to the United States, and therefore one of the most widely sought after visa classifications for employment in the United States.
The H-1B is a non-immigrant visa in the United States; it allows U.S. employers to temporarily employ foreign workers in specialty occupations.
H-4 visa is a work permit issued to the spouses of H1-B visa holders under a special order by the previous Obama administration.
H-4 visa allows work permits for spouses who otherwise could not be employed without waiting for their spouses to receive permanent resident status, a process that can take a decade or longer.
H-2B Visa
The H-2B visa nonimmigrant program permits employers to hire foreign workers to come temporarily to the United States and perform temporary nonagricultural services or labor on a one-time, seasonal, peakload or intermittent basis.
L-1 Visa
The L-1 visa facilitates the temporary transfer of foreign worker in the managerial, executive or specialized knowledge category to the U.S. to continue employment with an office of the same employer, its parent branch, subsidiary or affiliate.
L-1 visa is a temporary non-immigrant visa that allows L-2 visa for the spouse and minor unmarried children under 21 years of age. L-1 visa holder is known as intra-company transferee.
Even though L-1 visa was initially made for large multinational companies to transfer their employees to the U.S., it provides small or start-up companies abroad to expand their business and services to the U.S.
C. GS3 Related
1. Startups to be listed for angel tax exemption
Context
The Department for Promotion of Industry and Internal Trade (DPIIT) and the Central Board of Direct Taxes (CBDT) has agreed to compile a list of startups eligible for angel tax exemption, based on their audited financial statements and income tax returns of the previous year.
Angel Tax
Angel Tax is a 30% tax that is levied on the funding received by startups from an external investor. However, this 30% tax is levied when startups receive angel funding at a valuation higher than its 'fair market value'. It is counted as income to the company and is taxed.
The tax, under section 56(2)(viib), was introduced by in 2012 to fight money laundering. The stated rationale was that bribes and commissions could be disguised as angel investments to escape taxes. But given the possibility of this section being used to harass genuine startups, it was rarely invoked.
There is no definitive or objective way to measure the 'fair market value' of a startup. Investors pay a premium for the idea and the business potential at the angel funding stage. However, tax officials seem to be assessing the value of the startups based on their net asset value at one point. Several startups say that they find it difficult to justify the higher valuation to tax officials.
In a notification dated May 24, 2018, the Central Board of Direct Taxes (CBDT) had exempted angel investors from the Angel Tax clause subject to fulfilment of certain terms and conditions, as specified by the Department of Industrial Policy and Promotion (DIPP). However, despite the exemption notification, there are a host of challenges that startups are still faced with, in order to get this exemption.
This tax usually impacts startups and the angel investments they attract. While aimed at curbing money-laundering, the angel tax has also resulted in a large number of genuine startups receiving notices from the IT Department.
1. Vet institute, ambulances mooted in ₹98 crore lion conservation plan
Context
Three months after at least 20 lions in Gujarat succumbed to a virus, the Centre and the Gujarat governments have announced a ₹85 crore Asiatic Lion Conservation Project.
Details of the project
A key outcome of the project is to have a dedicated veterinary institute, "lion ambulances", and back-up stocks of vaccines that may be required. There are close to 600 lions in Gujarat, according to State forest officials at the meeting. However, there has been no move yet to translocate lions to a location outside Gujarat.
Key aspects of the conservation project include undertaking "habitat improvement" measures, making more sources of water available, creating a wildlife crime cell, and a task force for the Greater Gir region.
It would also involve having in place a GPS-based tracking system, which would look at surveillance tracking, animal and vehicle tracking. There would also be an automated sensor grid that would have magnetic sensors, movement sensors and infra-red heat sensors.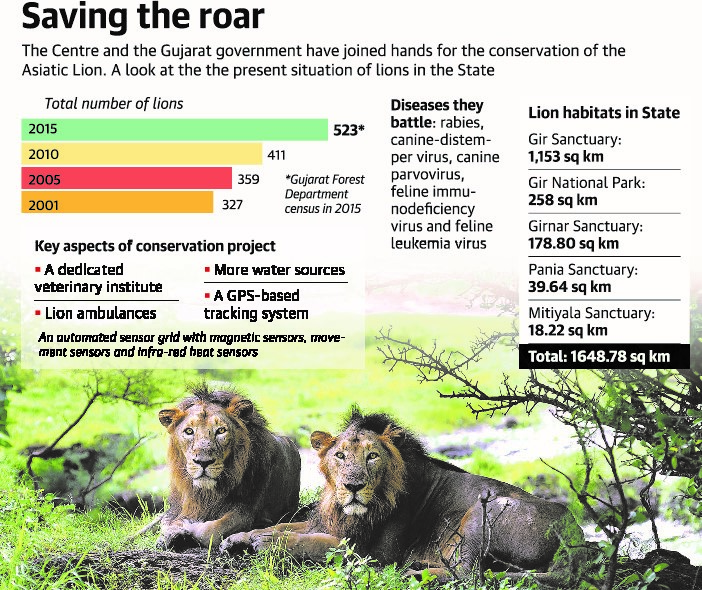 Translocation of lions
The big cat population in Gujarat is the last of the Asiatic lions in the wild. In 2013, the Supreme Court had issued an order in this regard. Under this, lions from Gujarat are to be relocated to the Kuno sanctuary in Madhya Pradesh. This was ordered as a check against the threat of epidemic. A smaller population with limited genetic strength are more vulnerable to diseases and calamities than a large and widespread population.
The court noted how 30% of the lion population in Tanzania's Serengeti was killed due to an outbreak of a viral disease. Asiatic lion has been restricted to only one single habitat i.e. the Gir National Forest and its surrounding areas.
So an outbreak of possible epidemic or natural calamity might wipe off the entire species. Very recently, after the series of deaths, the Supreme Court has asked the Central government to look into it.
Gujarat has been unwilling to relocate its lions, calling them "its pride". Gujarat has responded that lions are now spread over the Greater Gir region and this reduces the threat.
When ill, lions are routinely picked up, medically treated, and then released. It thus said that good conservation practices and intensive wildlife healthcare had lead to epidemic free regime.
It has also said that the lions there are metapopulations in the State, which may be geographically separate but have interactions and an exchange of individuals. So the current Asiatic lion population is not a single population confined to one place. It consists of "metapopulation spread over several locations within the Greater Gir Region".
When wild animals go extinct locally, they are reintroduced as in the case of tigers in Sariska, Rajasthan. When hungry, they are fed artificially, and even provided salts as supplements. In other parts of India, wild animals are funnelled through artificial trenches, barriers and fences.
But this is wildlife conservation in the age of man, where protected areas sometimes resemble zoos. In nature, wildlife conservation concerns itself with maintaining ecological processes and reducing threats to endangered species.
This does not entail treating wild animals for disease as done for domestic animals. As it is not conducive to the 'natural' process of life and death, goes against the natural selection processes, and ultimately compromises immunity. So intensive artificial medical treatment of wild animals does not augur well for long-term sustainability
There is a committee of experts from both States examining the suitability of Madhya Pradesh as a potential lion reserve. Secondly, we also have to comply with certain guidelines of the International Union for Conservation of Nature (on selecting suitable habitat, translocation)," said Rajiv Kumar Gupta, Additional Chief Secretary, Gujarat.
The Kuno-Palpur Wildlife Sanctuary in Madhya Pradesh was identified to be the most suitable for reintroducing the species, according to a Supreme Court-appointed technical expert committee, but there has been no progress on the proposal.
2. SC pulls up Rajasthan govt. over Aravalli mining
Context
"Don't force us to take coercive action against you," the Supreme Court told the Rajasthan government, which sought time for completing the ground-truthing exercise of illegal mining in Aravalli areas. The exercise is conducted to ascertain the empirical evidence at the actual site.
Background
Supreme Court restrained mining from the Modha Pahad area of Jhunjhunu district in Rajasthan and directed the authorities to forthwith stop all the excavations going on.
A Bench of Justices Arun Mishra and Deepak Gupta asked the Rajasthan government to furnish all the relevant details of operational leases for mining and names of persons responsible for the destruction of environment by February 15.
Recently the Bench led by Justice Arun Mishra was annoyed when the State's counsel submitted that the ground-truthing exercise to ascertain the area where illegal mining had allegedly been conducted remained incomplete due to the recently held Assembly elections and the upcoming Lok Sabha polls.
Aravalli Range
It is a range of mountains running in North West direction between Delhi and Palanpur in Gujarat.
It constitutes a vital corridor between Asola Bhatti Sanctuary in Delhi and Sariska Tiger Reserve in Rajasthan.
The 700km long range and its thick forest cover protects National Captial Region and fertile plains of India from effects of Desert.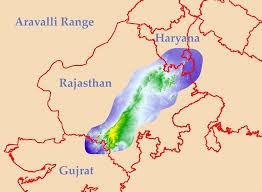 Aravallis are the oldest mountain range in India and one of the oldest mountain systems of world.
The mountain range is spread towards northeast across the states of Gujarat, Rajasthan, Haryana and Delhi. These are fold mountains of which rocks are formed primarily of folded crust when two convergent plates move towards each other.
The process is called orogency or orogenic movement –an event that takes millions of years to create a mountain range as the tectonic plates move only few centimetres every year. In earlier decades, Aravalli hills region had a thick forest cover which used to act as a green barrier and acted as an effective shied agains desertification.
Today, the forests in the Aravalli hills no longer effectively act as a green barrier. The forests of Aravallis range are now the most degraded forests in India; most of the indigenous plant species have disappeared.
Loss of vegetative cover will lead to the natural drifting of Thar Desert towards the northwest. Increased desertification of the National Capital Region (NCR) and its adjoining areas can lead to more environmental hazards. These include more dust in the air, greater unpredictability of climate, meagre recharging of groundwater, and drying up of several natural water bodies.
1. TB survivors challenge patent extension for latest drug
Context
Two tuberculosis survivors from India and South Africa have challenged a patent held by pharmaceutical giant Johnson & Johnson (J&J), to prevent the firm from extending its monopoly on bedaquiline, one of the two latest drugs, to combat the disease.
Details of the issue
Mumbai's Nandita Venkatesan and Cape Town's Phumeza Tisile, both survived drug resistant TB but lost their hearing because of the toxicity of drugs used.
They are now advocating for a wider rollout of newer drugs like bedaquiline over older forms of treatment, including painful injections and drugs with severe side effects.
With this patent challenge, petitioners want to stop an extension of the patent monopoly that will continue to block people from accessing more affordable generic versions of bedaquiline
J&J recently announced a reduced price of $400 for six months of bedaquiline treatment for South Africa and countries procuring the drug through the Global Drug Facility, but this falls short of making the drug affordable in all countries affected by the DR-TB epidemic
The statement also said the J&J patent application being challenged is for the salt form of bedaquiline, which does not merit patenting under India's patent law. If granted, J&J's monopoly on bedaquiline would be extended from 2023 to 2027, delaying entry of generics by four additional years.
Tuberculosis
Tuberculosis is an infectious, airborne disease caused by the bacterium Mycobacterium tuberculosis. It mainly affects the lungs. It can be transmitted from person to person through the air when people with TB cough, sneeze, laugh or speak, spit, propelling the germs into the atmosphere
With proper diagnosis and treatment, TB can be cured. However, too many people with TB don't seek care for early symptoms and get properly diagnosed. Of those in whom the disease is detected, many do not complete their treatment.
The disease also has been reported to be main cause of deaths related to antimicrobial resistance and the leading killer of people with HIV.
The biggest challenge was underreporting and underdiagnosis of TB cases, especially in countries with weak health systems and large

unregulated private sectors
D. GS4 Related
  Nothing here today!!!
E Editorials
1. Surveying India's unemployment numbers
Editorial Analysis:
It is important to note that the monthly measurement of the unemployment rate is one of the requirements of the Special Data Dissemination Standard (SDDS) of the International Monetary Fund (IMF).
Brief Note on the Special Data Dissemination Standard (SDDS):
The SDDS was established in 1996 to help countries access the international capital markets by providing adequate economic and financial information publicly.
India was one of the early signatories of the Special Data Dissemination Standard (SDDS).
India complies with many requirements of the SDDS, but it has taken an exception with respect to the measurement of unemployment.
It is important to note that the Government of India does not produce any measure of monthly unemployment rate.
Critics have pointed out that official plans to measure unemployment at an annual and quarterly frequency is in a shambles. This does not befit India's claims to be the fastest growing economy and as the biggest beneficiary of a famed demographic dividend.
Perspective on the Centre for Monitoring India Economy (CMIE):
The Centre for Monitoring India Economy (CMIE), a private enterprise, has demonstrated over the past three years that fast frequency measures of unemployment can be made and that seeking an exception on SDDS compliance is unnecessary.
The CMIE decided to fill India's gap in generating fast frequency measures of household well-being in 2014.
In its household survey, called the Consumer Pyramids Household Survey (CPHS), the sample size was 172,365 as compared to that of the official National Sample Survey Organisation (NSSO), which was 101,724. In both surveys, the sample selection method has been broadly the same.
The CPHS is comprehensive, surveying its entire sample every four months. Each survey is a wave. The CPHS is also a continuous survey, and so, for example, three waves are completed in a year. The CMIE's CPHS thus has a much larger sample and is conducted at a much higher frequency than the NSSO's.
Further, the CPHS is conducted as face-to-face interviews necessarily using GPS-enabled smartphones or tablets. Intense validation systems ensure high fidelity of data capture. All validations are conducted in real-time while the teams are in the field. The data capture machinery ensures delivery of high quality data in real time obviating the need for any further "cleaning", post field operations.
Once the data is collected and validated in real-time, it is automatically deployed for estimations without any human intervention.
In 2016, the CMIE added questions regarding employment/unemployment to the CPHS. Since then, the CMIE has been generating labour market indicators regularly and making these freely available for public use.
Difference between the CPHS and NSSO Surveys:
A difference between the CPHS and the NSSO surveys is the reference period of the employment status of a respondent.
While the NSSO tries to capture the status for an entire year and for a week, the CPHS captures the status as on the day of the survey.
This could be as one of four factors:
employed;
unemployed willing to work and actively looking for a job;
unemployed willing to work but not actively looking for a job, and
unemployed but neither willing nor looking for a job.
Further, since the recall period in the CPHS is of the day of the survey (or the immediate preceding day in the case of daily wage labourers) and the classification is elementary, the CPHS has been able to capture the status fairly accurately with no challenges of the respondent's ability to recall or interpret the status. In contrast, the NSSO's system is quite complex.
The large CPHS sample is distributed evenly across rural and urban regions for every week of the execution cycle of 16 weeks of a wave.
It is this machinery that enables us to understand the Indian labour market with fast-frequency measures.
A Look at Some Key findings:
The most important message from the data is that India's labour participation rate is very low by world standards and that even this low participation rate fell very sharply after demonetisation.
The average labour participation rate was 47% during January-October 2016. The world average is about 66%.
Immediately after demonetisation in November 2016, India's labour participation rate fell to 45%; 2% of the working age population, i.e. about 13 million, moved out of labour markets. That is a lot of people who were willing to work who decided that they did not want to work any more.
The data shows that it was not the employed who lost jobs and decided to stop working. The employed mostly retained their jobs. But it was largely the unemployed who decided that the labour markets had been so badly vitiated after demonetisation that they gave up looking for jobs any further. In short, they lost hope of finding jobs in the aftermath of demonetisation.
As more and more unemployed left the labour market, the unemployment rate fell. This is because the unemployment rate is the ratio of the unemployed to the total labour force.
Further, experts opine that this fall gave misleading or at least confusing signals, almost implying that the unemployment rate was falling in a positive sense.
In reality, it was a reflection of an exodus of the unemployed from the labour markets — a fall in the labour participation rate. And this underlines the much greater importance of the labour participation rate.
Perspective on female labour:
It is important to note that India's female labour participation rate is very low.
As a matter of fact, official statistics have always shown that India's female labour participation rate is low and falling.
Researchers have shown that this fall is because of rising household incomes that reduce the need for women to join the labour force; increased enrolment in higher education by women which delays their entry into the labour force, and cultural and security factors that keep women away from the labour market in India.
Further, it is evident that employers are also biased against hiring women.
Experts also point out that the CPHS shows that the situation with respect to women's participation in the labour force is extremely poor — much poorer than what the official agencies tell us. The entire brunt of demonetisation was borne by women. Their labour participation fell sharply while that of men did not.
Critics point out that after the demonetisation jolt came the Goods and Services Tax shock of July 2017 that drove away small enterprises which could not compete in a tax-compliant environment out of business. This caused a substantial loss of jobs. Preliminary estimates suggest that employment shrunk by 11 million in 2018. The brunt of this was again borne largely by women. Although men too were also impacted.
A Closer Look at Some Specifics:
Male labour participation rate was 74.5% in 2016. This dropped to 72.4% in 2017 and then to 71.7% in 2018.
In contrast however, female labour participation was as low as 15.5% in 2016 which dropped to 11.9% in 2017 and then 11% in 2018.
Urban female labour participation rates fell faster than rural female participation. In urban India it dropped from 15.2% in 2016 to 10.5% in 2018. The corresponding values for rural women were 15.6% and 11.3%, respectively.
It is important to note that although female labour participation is substantially much lower than male participation, the few women who venture to get employment find it much more difficult to find jobs than men. The unemployment rate for men was 4.9% in 2018 and that for women in the same year was much higher — 14.9%.
In conclusion, this higher unemployment rate faced by women in spite of a very low participation rate indicates a bias against employing women.
Drawing women into the labour force by removing the impediments they face to at least bring their participation levels close to global standards is critically important for India to gain from the demographic dividend opportunity it has.
This window of opportunity is open only till 2030.
Critics point out that by not using a good data monitoring machinery, the Indian government is keeping both itself and the citizenry in the dark.
Category: INTERNATIONAL RELATIONS
1. Nigerian renewal (Elections in Nigeria)
Editorial Analysis:
The current President of Nigeria, Muhammadu Buhari, is seeking a re-election.
Experts have opined that his mixed record on the economy and security fronts has made this election setup to be a close contest.
Nigeria, which is Africa's biggest oil-producer, has barely recovered from a recession following the 2014 global slump in crude prices.
The government claims to have curbed inflation, though it is in the double digits. Unemployment, which has climbed to over 20% since Mr. Buhari took office in 2015, could hurt his prospects among a predominantly young population.
Further, the adverse sentiment from the current grim global climate for foreign investment may have been compounded by the negative signals emanating from the billion-dollar fines slapped on the region's telecom giant.
In the year 2018, Nigeria declined to join the African Continental Free Trade Area after steering negotiations among the 55 African Union states.
This decision dealt a blow to the prospects of transforming Africa into an open and diverse economy, and strengthened the perception that Nigeria was not doing enough to move away from its dependence on oil wealth.
Experts have opined that in the prevailing atmosphere of rampant institutional corruption dating back decades, Mr. Buhari's image as a morally incorruptible leader held sway with a disillusioned electorate during the 2015 polls. That reputation is still intact.
However, Mr. Buhari, who is also a former army general now seems politically vulnerable following electoral reverses in the provinces in the year 2018.
As a matter of fact, what is more worrisome for him would be the defection of several members of the ruling All Progressives Congress party to the Opposition People's Democratic Party. The most prominent of them is Buhari's main challenger in the presidential race, Atiku Abubakar, a two-term former vice president.
It is important to note that the suspension of Nigeria's chief justice on corruption charges in January 2019 has raised apprehensions over respect for the popular will in Nigeria. Besides many western governments, Mr. Abubakar has cautioned the President against electoral interference.
On the security front, Mr. Buhari has had moderate success in pushing back Boko Haram, the Islamist terror organisation that gained notoriety some years ago for the shocking disappearance of 200 children.
However, this terror organization continues to resort to acts of kidnapping and massacre in its stronghold in the northeast.
Meanwhile, even as the violent conflict between farmers and herdsmen festers, concerns have been raised about the lack of equipment for the security forces.
A new law passed in the year 2018 lowering the age to run for public office, could make for a more inclusive democracy. But experts opine that until the financial entry threshold to the political arena is lowered significantly, such laws will have little impact on the ground.
Nevertheless, for a country blighted by bloody dictatorships for many years since the end of colonial rule, the coming polls should inspire confidence in the gradual strengthening of its nascent institutions.
F. TIDBITS
1. Gujjars block railway tracks over quota
Context
Hundreds of Gujjars blocked railway tracks in Rajasthan's Sawai Madhopur district demanding 5% reservation in government jobs and education, throwing railway traffic out of gear.
The West Central Railway partially cancelled several trains and diverted about 20 trains running on the Delhi-Mumbai route.
Details of the issue
Gujjar supremo Kirori Singh Bainsla led the agitation after holding a 'mahapanchayat' (grand assembly) at Malarna Dungar village under the banner of Gujjar Aarakshan Sangharsh Samiti. He had earlier given a 20-day ultimatum to the State government to accept their demand, failing which he had threatened to revive the 11-year-old agitation.
Though Gujjars, along with nomadic communities Banjara, Gadia-Lohar, Raika and Gadariya, have been included in the State's OBC category since 1994, they are demanding the quota's sub-categorisation with 5% provision for them.
Gujjars are at present getting 1% reservation in the "most backward" category, in addition to the OBC quota, within the 50% ceiling mandated by the Supreme Court. Along with four other nomadic communities, they were earlier grouped as a Special Backward Class and the State government had tried thrice to grant them 5% reservation.
SC declines stay on 10% quota
The Supreme Court has declined to stay the Constitution (103rd Amendment) Act, 2019, which provides a 10% reservation in government jobs and educational institutions for the economically backward in the unreserved category, but agreed to an early hearing of the challenge to the law.
A Bench led by Chief Justice of India Ranjan Gogoi consented to tagging a petition filed by businessman Tehseen Poonawalla, which seeks to have the Act quashed on the grounds that backwardness for the purpose of reservation cannot be defined by "economic status alone", with other similar petitions filed earlier.
Poonawala contends that the quota will be over and above the existing 50% reservation to SCs, STs and Other Backward Classes (OBCs).
The law was passed by Parliament and received the President's assent last month. The Act amends Articles 15 and 16 of the Constitution by adding clauses empowering the government to provide reservation on the basis of economic backwardness.
The petitions in the Supreme Court contend that the Act violates the basic features of the Constitution. The petitioners argue that the 50% ceiling limit on quota has been "engrafted as a part of the Basic Structure of the Constitution's equality code" by the Supreme Court.
SC tells Mayawati to pay for statues
The Supreme Court has indicated its "tentative view" that Bahujan Samaj Party leader Mayawati will have to cough up and pay back to the public exchequer the money she spent on erecting statues of herself and party symbol 'Elephant' in public parks across Lucknow and Noida.
A Bench led by Chief Justice of India Ranjan Gogoi, and including Justices Deepak Gupta and Sanjeev Khanna, posted the matter for final hearing on April 2.
The petition, filed by Supreme Court advocate Ravi Kant in 2009, alleged that crores of public money was spent by the then Uttar Pradesh Chief Minister, Mayawati, on these acts of self-aggrandisement.
Kant has alleged that about ₹2,000 crore was used from the State budget for 2008-09 and 2009-10 to 'falsely glorify' the then Chief Minister.
The petitioner has said the State government should be directed to remove the statues of Ms. Mayawati and her party symbol 'elephant' from public land.
G. Prelims Facts
Nothing here today!!!
H. UPSC Prelims Practice Questions
Question 1.Consider the following statements about GST Council

This is a constitutional Body under article 279A of the constitution of India.
GST Council is chaired by the Union Finance Minister.
Union Minister of State in charge of Revenue or Finance is the Member of council.
It is an Extra constitutional body
Which of the above statement(s) is/ are correct?
Only 2, 3 and 4
Only 2 and 3
Only 1, 2 and 3
Only 1 and 2
See
Question 2. Consider the following statements about WTO Appellate Body
It is located in Geneva, Switzerland.
It hears appeals related to disputes brought by WTO Members.
The Appellate Body Reports, once adopted by the Dispute Settlement Body (DSB), is mandatory for the parties to the dispute.
Which of the above statement(s) is/ are correct?
Only 1 and 2
Only 2 and 3
Only 1 and 3
All of the above
See
Question 3. The conservation status of snow leopard has been changed from "endangered" to 
"vulnerable" by the International Union for Conservation of Nature (IUCN). Which of the 
following criterion constitutes the Endangered Status?
Reduction in population size of ≤ 50% over the last 10 years or three generations.
Area of occupancy estimated to be less than 500 km2.
Population size estimated to number fewer than 250 mature individuals.
probability of extinction in the wild is at least 20% within 20 years or five generations
Correct answer code is:
Only 1, 2 and 3
Only 1, 3 and 4
Only 1, 2 and 4
All of the above
See
I. UPSC Mains Practice Questions
The climate change crisis is not a distant nightmare anymore. It is very real and already unfolding. Examine the statement in the context of the recent Hindu Kush Himalaya Assessment Report (12.5 Marks; 200 words)
Recently Macedonia has signed accession papers with NATO. The signing of accession papers allows Macedonia take part in NATO ministerial meetings as an invitee. In this context write a note on the NATO by highlighting its objectives and significance (10 Marks; 150 words)
See previous CNA