TABLE OF CONTENTS
A. 

GS1 Related




B. 

GS2 Related


POLITY AND GOVERNANCE
1. SC holds Rao guilty of contempt
2. AMU issue referred to Constitution Bench
INTERNATIONAL RELATIONS
1. India, Maldives reverse visa stand-off


C. 

GS3 Related


SCIENCE AND TECHNOLOGY
1. Dr.Reddy's inches a step closer to resuming sales of Suboxone


D. 

GS4 Related




E. 

Editorials


ENVIRONMENT AND ECOLOGY
1. A case for Commons sense
INTERNATIONAL RELATIONS
1. Ageing revolution (Iran's 1979 Revolution)
INDIAN ECONOMY
1. The shape of the jobs crisis 


F. 

Tidbits


1. Ancient astronaut hypothesis
2. Voters want more women in LS: survey
3. Minister promises to get TikTok banned
4. India inks contract for 72,000 assault rifles


G. 

Prelims Facts


1. '95% of registered realty firms have no PAN'


H.  

UPSC Prelims Practice Questions




I. 

UPSC Mains practice Questions



A. GS1 Related
 Nothing here today!!!
B. GS2 Related
Category: POLITY AND GOVERNANCE
1. SC holds Rao guilty of contempt
Context
The Supreme Court has held the former interim Director of the CBI, M. Nageswara Rao, guilty of contempt for disobeying its order not to transfer Joint Director A.K. Sharma, who was probing the Bihar shelter home cases, from the investigating agency.
Details of the issue
The Bench said it was unable to comprehend why Mr. Rao transferred Mr. Sharma as Additional Director-General of the CRPF on January 17 but did not communicate his decision to the court, despite being advised to submit an affidavit immediately.
A Bench, headed by Chief Justice of India Ranjan Gogoi, termed his act "blatant" disobedience of the order and directed him and the agency's legal adviser, S. Bhasuram, to sit in the courtroom for the remainder of the working hours. It also levied a fine of ₹1 lakh each on the officers.
Rao and Mr. Bhasuram urged the court to pardon them. Mr. Venugopal urged the Bench to accept the unconditional apology and said, "To err is human, to forgive is divine."
The Bench, comprising Justices L.N. Rao and Sanjiv Khanna, refused to accept the unconditional apology tendered by Mr. Rao, saying he was aware of the order.
Contempt of court
The offense of being disobedient to or being disrespectful towards a court of law
Any action which defies a court's authority or impedes ability of the court to perform its functions or wilfully fails to obey a court order
A judge may impose sanctions such as a fine or jail for someone found guilty of contempt of court
The contempt proceeding can be initiated till 1 year from the commission of an offence.
Apology also forms a defence under the Contempt of Court Act; however, it should be unconditional and should be in good faith with the promise to abide by the order of the Court.
Objective behind contempt law
The purpose of contempt jurisdiction is to uphold the majesty and dignity of justice delivery system.
Contempt powers help judges to do their duties of deciding cases without fear, favour, affection or ill will.
Law of contempt is the protector of the seat of justice more than the person occupying that seat per se.
Open criticism and malign of judiciary decreases the respect for judiciary and the confidence reposed in the courts.
When questions are raised and motives attributed to court's decisions have extraneous basis, not only the legal and moral authority of courts is questioned but it is an affront to the Constitution itself.
2. AMU issue referred to Constitution Bench
Context
The Supreme Court had referred the contentious issue of minority status for Aligarh Muslim University to a seven-judge Constitution Bench.
A Bench of Chief Justice Ranjan Gogoi and Justices L. Nageswara Rao and Sanjiv Khanna agreed that the issue of the varsity seeking minority status needed to be referred to a larger Bench.
Background of the issue
AMU was founded as the Madrasatul Uloom in 1875 in Aligarh, and evolved into the Mohammedan Anglo Oriental College.
In 1920, the Indian Legislative Council set up the university, and all assets of Mohammedan Anglo Oriental College were transferred to it. Those arguing for minority character say that this was done by an Act as that was the only way a university could be set up at the time.
In Azeez Basha vs UoI, 1967 case, the SC ruled that AMU was not a minority educational institution as it was set up by British legislature, and not by Muslims
In 1981, Parliament passed an AMU Amendment Act, which accepted that AMU was set up by Muslims
The Allahabad High Court, in 1981, ruled that the 1981 Act was ultra vires of the Constitution, and that AMU was not a minority educational institution. This decision of the HC was stalled by SC
Recently, the Central government has filed a fresh affidavit in SC reversing the earlier position that the AMU, a Central University, cannot be granted minority status
Constitutional Provisions regarding Minority Educational Institutions
Article 30(1) recognizes linguistic and religious minorities but not those based on race, ethnicity.
It recognizes the right of religious and linguistic minorities to establish and administer educational institutions, in effect recognizing the role educational institutions play in preserving distinct culture.
A majority community can also establish and administer educational institution but they will not enjoy special rights under Article 30(1)(a)
Special rights enjoyed by religious minority institutions are
Under Art 30(1)(a), MEI enjoy right to education as a Fundamental Right. In case the property is taken over by state, due compensation to be provided to establish institutions elsewhere
Under Article 15(5), MEIs are not considered for reservation
Under Right to Education Act, MEI not required to provide admission to children in the age group of 6-14 years upto 25% of enrolment reserved for economically backward section of society
In St Stephens vs Delhi University case, 1992, SC ruled that MEIs can have 50% seats reserved for minorities
In TMA Pai & others vs State of Karnataka & others 2002 case, SC ruled that MEIs can have separate admission process which is fair, transparent and merit based. They can also separate fee structure but should not charge capitation fee
Category: INTERNATIONAL RELATIONS
1. India, Maldives reverse visa stand-off
Context
India and Maldives had exchanged an agreement to facilitate visas for travel between the two countries in a number of categories, easing a bilateral stand-off which had resulted in thousands of Indian job seekers being denied work permits last year.
The agreement was signed in December of last year during the visit of Maldives President Ibu Solih.
Details of the Agreement
It provides a very liberal visa regime for Maldivian nationals to visit India for tourism, business, education & medical purposes. It also makes it easier for Indians to travel to Maldives for business purposes
Under the agreement, the government will free up the visa regime for Maldives citizens who travel to India for medical reasons and for education in particular. This will include allowing Maldives citizens who receive a visa on arrival in India to change their visa status to medical visas if they require hospitalisation during their stay.
Medical visas will also be granted to attendants to accompany patients. The government has also agreed to grant visas for parents and other dependants to live in India while their children attend school here. The facilitation has been a long-pending demand of the Maldives government, given the difficulties faced by thousands of short-term visa applicants each year.
The agreement will ease visas on arrival for Indian businessmen, and bring cheer to Indians applying for work in the Maldives, as it stipulates that work permits will be issued within 15 days to Indian employees, and the visa fees will be paid by employers in the Maldives.
Importance of Maldives to India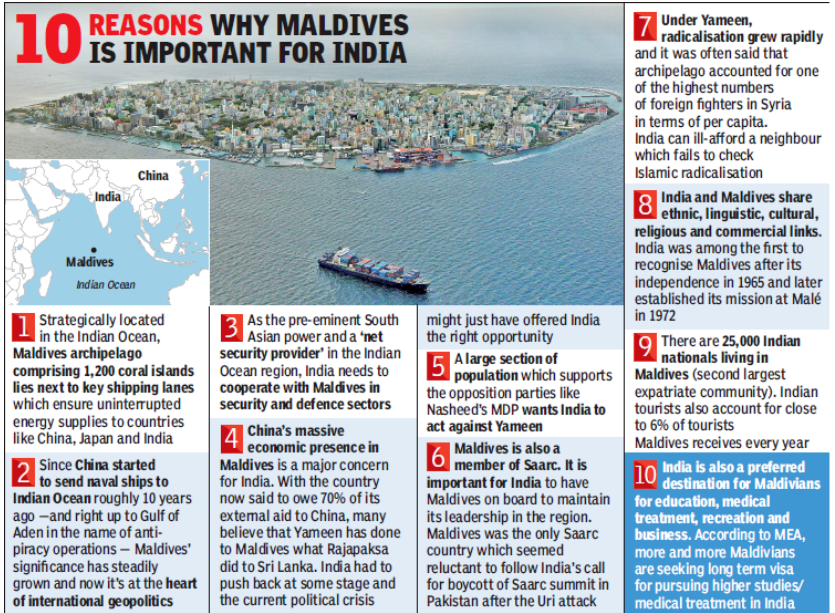 C. GS3 Related
Category: SCIENCE AND TECHNOLOGY
1. Dr.Reddy's inches a step closer to resuming sales of Suboxone
Context
The US Court of Appeals for the Federal Circuit (CAFC) has cleared the path for Dr Reddy's Laboratories for selling generic version of Suboxone film in the market. With this, Dr Reddy's is allowed to sell generic version of the UK-based Indivior opioid treatment Suboxone sublingual film next week.
Details of the issue
The US appeals court rejected Indivior claim to appeal in the Supreme Court and permitted Dr Reddy's to go ahead with marketing of the drug.
Along with Dr Reddy's, two other companies Mylan and Alvogen Pine Brook, will also be launching the generic version of Suboxone.
The court decision vacates the district court's preliminary injunction that had prohibited Dr Reddy's from selling its generic version of Suboxone (buprenorphine and naloxone) sublingual film.
Suboxone film was first approved by the US Food and Drug Administration (USFDA) in 2010, and is considered faster and easier to take for patients than tablets. The tablet form of Suboxone was first approved by regulators in 2002 and is already available as a generic and is used in helping patients kick powerful opioid painkillers.
Meanwhile, Indivior also plans to launch an authorised generic of Suboxone film to capture some share of the generic segment and to generate a modest amount of net revenues. It is learnt that it could launch a cheaper version of its blockbuster, Suboxone, as soon as rivals release generic versions of the drug.
Brand Drugs and Generic Drugs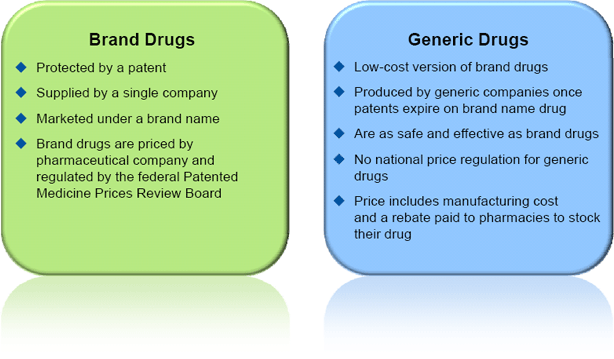 D. GS4 Related
 Nothing here today!!!
E. Editorials
Category: ENVIRONMENT AND ECOLOGY
Editorial Analysis:
Larger Background:
196 countries had met at Sharm el-Sheik, Egypt, in November 2019 for the 14th meeting of the Conference of Parties to the Convention on Biological Diversity (CBD).
When these countries met, a key question on top of the agenda was how to govern biological resources (or biodiversity) at different levels for the world's sustainable future.
What was the context of the meeting?
The meeting had come at a significant time: it was the CBD's 25th year of implementation, countries had approximately 350 days to meet global biodiversity targets, and there was the backdrop of a damning report that humans have mismanaged biodiversity so badly that we have lost 60% of resources (which can never be recouped).
Finally, there was growing concern on how the Convention's objectives of conservation, sustainable use and equitable sharing of benefits were being compromised, including by the parties themselves.
The principle of Commons:
For thousands of years, humans have considered natural resources and the environment as a global public good, with communities having diligently managed these resources using the principle of 'Commons'.
In simple terms, these are a set of resources such as air, land, water and biodiversity that do not belong to one community or individual, but to humanity.
All developments we see in the establishment of civilisations across the world, as well as agricultural development feeding the world today, are a result of such 'Commons' being managed by communities for centuries.
Then came the urge of those with money and power to privatise these resources for individual prosperity in the form of property management principles, intellectual property rights and others.
In one form the CBD — a multi-lateral environmental agreement that has provided legal certainty to countries through the principle of sovereign rights over biodiversity — also contributed to states now owning the resources, including their rights on use and management.
Today, states control and manage biodiversity with strict oversight of who can use what and how. The intent of the CBD and having sovereign rights was to manage resources better.
However, the results of such management have been questionable.
A key reason cited is that 'Commons' and common property resource management principles and approaches are ignored and compromised.
The Significance of 'Commons'?
According to estimates, a third of the global population depends on 'Commons' for their survival; 65% of global land area is under 'Commons', in different forms.
At least 293,061 million metric tonnes of carbon (MtC) are stored in the collective forestlands of indigenous peoples and local communities.
This is 33 times the global energy emissions in 2017. The significance of 'Commons' in supporting pollination (the cost estimated to be worth $224 billion annually at global levels) cannot be overlooked.
Commons in India:
In India, the extent of 'Common' land ranges between 48.69 million and 84.2 million hectares, constituting 15-25% of its total geographical area.
'Common'-pool resources contribute $5 billion a year to the incomes of poor Indian households.
Around 77% of India's livestock is kept in grazing-based or extensive systems and dependent on 'Commons' pool resources.
And 53% of India's milk and 74% of its meat requirements are met from livestock kept in extensive 'Common' systems.
Despite their significance, 'Commons' in India have suffered continued decline and degradation. National Sample Survey Office data show a 1.9% quinquennial rate of decline in the area of 'Common' lands, though microstudies show a much more rapid decline of 31-55% over 50 years, jeopardising the health of systemic drivers such as soil, moisture, nutrient, biomass and biodiversity, in turn aggravating food, fodder and water crises.
As of 2013, India's annual cost of environmental degradation has been estimated to be Rs. 3.75 trillion per year, i.e. 5.7% of GDP according to the World Bank.
Why the concern?
'Commons' becoming uncommon is a major socio-political, economic and environmental problem.
While the state can have oversight over resource management, keeping people away from using and managing 'Commons' is against effective governance of 'Commons'.
Further, it is important to note that the sovereign rights provided for, legally, under the CBD should not be misunderstood by the state as a handle to do away with 'Commons'-based approaches to managing biodiversity, land, water and other resources.
Current discussions under the United Nations should focus on how and why 'Commons' have been negatively impacted by progressive pronouncements to save the earth and people.
Another key concern is the changing socio-political impact of migration. Gone are the days when we can consider 'Commons' as resources relevant only for rural communities.
'Commons' are now a major provider of livelihood options for both urban and peri-urban populations. The relevance of 'Commons' impacting urban dwellers cannot be overlooked with more urbanisation happening.
The Way Forward: Approaches for the future
There needs to be a review of current governance of biodiversity and natural resources.
Some experts have opined that after 18 years of action to reduce the rate of loss of biodiversity, it is very likely that the same 196 countries will meet in 2020 to apologise to the world for having failed to meet the objectives of the convention.
Next, in addition to seeking more money, time and capacities to deal with biodiversity and natural resource management, we need to focus on three specific approaches:
To re-introduce more strongly, the management and governance principles of 'Commons' approaches into decision-making and implementation of conservation, use and benefit sharing action;
To use Joseph Schumpeter's approach of creative destruction to put resource management in the hands of the people; and
To re-look at Elinor Ostrom's Nobel Prize winning principles of dealing with 'Commons'.
The time for corrective approaches and action is now
Category: INTERNATIONAL RELATIONS
1. Ageing revolution (Iran's 1979 Revolution)
Note to Students:
This editorial analysis takes into account two articles that were featured in the Hindu newspaper on the 13th of February, 2019, namely: "Lessons of 1979", and "Ageing revolution".
Why in the news?
Iran has concluded the formal celebrations of the 40th anniversary of the Islamic revolution at a time when the regime is under serious global, regional and domestic pressure.
The theocratic regime, established by Ayatollah Ruhollah Khomeini in 1979, struck a defiant note by mobilising a huge rally in Tehran and repeating its familiar anti-West rhetoric.
Editorial Analysis:
Current Situation in Iran:
Currently, Iran's leaders are under pressure with a weak economy and social tensions rising at a time when U.S. President Donald Trump is becoming increasingly hostile towards Tehran.
The fact that the Islamic Republic has survived four decades is telling.
Over these years, Iran saw an eight-year-long war with Iraq, near-total isolation in West Asia, and economic hardships.
The Iranian regime turned some of these challenges into opportunities — as in the case of the 1980-88 Iran-Iraq war — and made substantial changes in certain sectors. For example, the investments made in education and health care have seen positive results.
As of 2015, the literacy rate among Iran's adult population was 93%. More than 60% of university students in Iran are women. Access to health care has also improved for large sections of society.
Rise of Discontentment:
Some experts have pointed out that even as the Islamic Republic holds strong, discontent has risen.
As a matter of fact, when Iran signed the multilateral nuclear deal in 2015, the Tehran elite hoped it would allow the country to join the global economic and diplomatic mainstream.
President Hassan Rouhani banked on increased investments to bolster the economy. However, the détente between the U.S. and Iran ended as soon as Mr. Trump became U.S. President.
Impact of Trump becoming President:
The Trump administration pulled the U.S. out of the nuclear deal and reimposed sanctions on Tehran.
The U.S. has also joined hands with Iran's rivals, such as Saudi Arabia, to scuttle the country's regional ambitions.
Further, while Israel is repeatedly bombing Iranian positions within Syria. Within Iran, the regime is facing repeated protests as economic hardships mount. After the 2009 Green Movement, which was suppressed brutally, there were widespread anti-government demonstrations in 2017-18.
Women came out against the mandatory headscarf in recent months, challenging religious orthodoxy.
The Iranian state responded typically — an Amnesty report says "a shameless campaign of repression" was unleashed in 2018, resulting in the arrest of more than 7,000 protesters.
Perspective on Anti-Western Sentiments: 
The American support to Saddam Hussein's invasion of Iran in 1980 augmented anti-Western sentiments and further helped the clergy-dominated regime to consolidate its power in the country.
The bankrolling of Hussein's war to the tune of billions of dollars by Saudi Arabia and allied Gulf regimes solidified the antagonism between revolutionary Iran and the Arab monarchies of the Gulf. As a matter of fact, it also hardened the division between Shias and Sunnis in West Asia.
It is important to note that the Iranian-Saudi rivalry is being played out to this day in Yemen, Syria, Lebanon and other parts of West Asia.
However, the most important lesson of the revolution and its aftermath is the demonstration of Iran's remarkable staying power as a state and a nation in the face of a very hostile international milieu.
The Iranian Spirit:
Iran has confronted unprecedented economic sanctions since the revolution, a process that intensified in the past decade and a half to force Tehran to give up its presumed nuclear aspirations.
The Iranian people put up with grave hardship for four decades but did not surrender their national sovereignty.
This is because the state of Iran/Persia has been in existence since time immemorial, and in its present contours from the early 16th century, its citizens have developed a sense of innate pride and confidence in the state's staying power against the heaviest odds.
The development of Persian nationalism has been a gradual process that, one can argue, culminated in the underlying thrust of the revolution.
Persian nationalism draws upon its glorious pre-Islamic heritage, as described in the Shahnameh, Iran's epic par excellence.
It is also engendered by the twin marks of distinction that Iranians are very proud of: their ability to preserve their Persian character and language despite their acceptance of Islam, a religion of Arab origin; and the distinctive character of Persian Islam embodied in Shia doctrines that distinguishes it from its predominantly Sunni neighbours.
Experts opine that regardless of the nature of a particular regime, longevity of national memories and people's pride in them can work great miracles when faced by hostile forces bent on emasculating the nation's sovereignty.
Concluding Remarks:
Tehran's criticism of foreign intervention has some merit.
American sanctions will only multiply Iran's economic woes.
Tehran will have to deal with the U.S.'s unilateral and hostile policies with help from other countries.
Experts have pointed out that it should also fix its system, tackle corruption and hold government departments accountable for the decisions they take.
It is also time for the government, which is celebrating the anniversary of the fall of a despotic monarch, to rethink its approach towards dissent and personal freedoms.
1. The shape of the jobs crisis
Editorial Analysis:
Experts have pointed out that job creation has slowed since 2011-12, the year of the last published National Sample Survey Office (NSSO) labour force survey.
In a recent study, these experts used Labour Bureau annual survey (2015-16) data and Centre for Monitoring Indian Economy Pvt. Ltd. (CMIE) data (post-2016), which has a sample size larger than the NSSO labour force surveys, to reach this conclusion.
It is important to note that both surveys cover rural and urban, and organised and unorganised sector employment; in other words, they capture both the Employees' Provident Fund Organisation/National Pension Scheme (organised) as well as such employment as might be generated by Micro Units Development & Refinance Agency Ltd (MUDRA) loans or platform economy jobs.
What does the leaked NSSO 2017-18 data show?
What the leaked NSSO 2017-18 data has shown is that while the open unemployment rate (which does not measure disguised unemployment and informal poor quality jobs that abound in the economy) by the usual status never went over 2.6% between 1977-78 and 2011-12, it has now jumped to 6.1% in 2017-18.
This was expected. In the last 10-12 years, more young people have become educated. The tertiary education enrolment rate (for those in the 18-23 age group) rose from 11% in 2006 to 26% in 2016. The gross secondary (classes 9-10) enrolment rate for those in the 15-16 age group shot up from 58% in 2010 to 90% in 2016.
The expectation of such youth is for a urban, regular job in either industry or services, not in agriculture. If they have the financial wherewithal to obtain education up to such levels, they can also "afford" to remain unemployed.
Poor people, who are also much more poorly educated, have a much lower capacity to withstand open unemployment, and hence have lower open unemployment rates.
What else does the data show?
What NSSO 2017-18 also shows is that as open unemployment rates increased, more and more people got disheartened and fell out of the labour force; in other words, they stopped looking for work.
The result is that labour force participation rates (LFPR, i.e. those looking for work) for all ages, fell sharply from 43% in 2004-5 to 39.5% in 2011-12, to 36.9% in 2017-18 (a reflection mainly though not only of the falling female LFPR).
This shows up in the growing numbers of youth who are NEETs: not in education, employment or training. They are a potential source of both our demographic dividend but also what is looking to be a mounting demographic disaster.
It is important to note that between 2004-05 and 2011-12, as many as 7.5 million new non-agricultural jobs were being created every year. The unemployment rate was only 2.2%. The volume of open unemployment was almost constant (at around 10 million) until 2011-12, but it increased to 16.5 million by 2015-16.
Increased open unemployment, post 2011-12, suggests that those in education prior to 2011-12 would start searching for non-agricultural jobs but did not find them. The latest NSSO data suggest that this situation had worsened further by 2017-18.
A Perspective across education categories:
Experts point out that the sharp increase in the unemployment rate of the educated should have worried the government. Some experts make the estimate that the unemployment rate rose over 2011-12 to 2016 from 0.6% to 2.4% for those with middle education (class 8); 1.3% to 3.2% for those who had passed class 10; 2% to 4.4% for those who had passed class 12; 4.1% to 8.4% for graduates; and 5.3% to 8.5% for post-graduates.
Even more worrying, for those with technical education, the unemployment rate rose for graduates from 6.9% to 11%, for post-graduates from 5.7% to 7.7%, and for the vocationally trained from 4.9% to 7.9%.
It is important to note that while NSSO 2017-18 data show the share of regular wage jobs rising, especially in urban areas (and the share of self-employed and casual wage work falling), this rise is nowhere close to the number of educated youth entering the labour force.
For an economy at India's stage of development, an increase of workers in agriculture (of 20 million that took place over 1999-2004) is a structural retrogression, in a direction opposite to the desired one.
Between 2004-5 and 2011-12, the number of workers in agriculture fell sharply, which is good, for the first time in India's economic history.
Similarly, the number of youth (15-29 years) employed in agriculture fell from 86.8 million to 60.9 million (or at the rate of 3 million per annum) between 2004-5 and 2011-12. However, after 2012, as non-agricultural job growth slowed, the number of youth in agriculture actually increased to 84.8 million till 2015-16 and even more since then (as the CMIE data would attest). These youth were better educated than the earlier cohort, but were forced to be in agriculture.
Drop in manufacturing jobs
Even worse, manufacturing jobs actually fell in absolute terms, from 58.9 million in 2011-12 to 48.3 million in 2015-16, a whopping 10.6 million over a four-year period. This is consistent with slowing growth in the Index of Industrial Production (IIP), which consists of manufacturing, mining, and electricity.
The IIP had sharply risen from 100 in 2004-5 to 172 by 2013-14 (in the 2004-5 series), but only rose from a base of 100 in 2011-12 in the later series to 107 in 2013-14, and to 125.3 in 2017-18.
This is also consistent with exports first falling after 2013, then barely recovering to levels still lower than 2013.
It is also consistent with investment-to-GDP-ratio falling sharply since 2013, and still remaining well below 2013 levels. This holds for both private and public investment.
Concluding Remarks:
What is tragic is the growing number of educated youth (15-29 years) who are "NEET". This number (70 million in 2004-5) increased by 2 million per annum during 2004-5 and 2011-12, but grew by about 5 million per annum (2011-12 to 2015-16).
If that later trend continued (as there is evidence it has) some experts estimate it would have increased to 115.6 million in 2017-18. That is a 32 million increase in "NEETs" in our society over 2011-12 to 2017-18 — potential lumpen fodder.
These youth ("NEET" and unemployed) together constitute the potential labour force, which can be utilised to realise the demographic dividend in India.
An important question arises: Will a new government at least recognise there is a crisis?
Some experts estimate that the number of new entrants into the labour force (currently at least 5 million per annum), and especially educated entrants into the labour force will go on increasing until 2030.
It will thereafter still increase, though at a decelerating pace.
By 2040 our demographic dividend — which comes but once in the lifetime of a nation — will be over. China managed to reduce poverty sharply by designing an employment strategy (underpinned by an education and skills policy) aligned to its industrial strategy. That is why it rode the wave of its demographic dividend.
Critics have opined that unfortunately, India has neither an industrial policy nor an employment strategy, let alone the two being aligned.
F. Tidbits
1. Ancient astronaut hypothesis
This refers to the proposition that human civilisation is the product of an intelligent alien visiting the earth during prehistoric times and establishing contact with human beings.
The origin of various religious beliefs, for instance, has been attributed to alien gods establishing contact with people prior to the age of recorded history.
The ancient astronaut hypothesis was first proposed by Swiss writer Erich von Däniken in his 1969 book Chariots of the Gods?
It has been rejected overwhelmingly by scientists who consider the idea to be pseudoscientific due to the lack of any credible scientific evidence.
2. Voters want more women in LS: survey
More than 82% voters want more women in the next Lok Sabha, according to a survey by a citizen's collective called Shakti.
The survey was conducted among 10 lakh voters across 24 States on a mobile application called Neta app. The application has more than two crore verified users and covers all 543 parliamentary constituencies.
The users were posed one simple question — Do you want more women in Lok Sabha 2019? And, in response as many as 82.2% of participants voted 'yes.'
"Only 1.4% of independent candidates get elected. Therefore, it is important to focus on political parties and put pressure on them so that more women leaders stand for elections. We have seen from data from the Election Commission of India that more women get voted than men, but we needed to know whether voters were willing to elect women leaders and that's the question we asked in our survey," said Tara Krishnaswamy, co-convener, of Shakti. The collective was set up in December last year to promote participation of women in politics.
3. Minister promises to get TikTok banned
TikTok, a popular mobile phone application that allows users to shoot and share 15-second videos with lip-sync set to popular film songs and dialogues among others, is being seen as a "cultural" and "law and order" threat by a section of politicians in Tamil Nadu.
The fact that a large number of youngsters are hooked to the app has prompted T.N. Information Technology Minister M. Manikandan to announce in the Assembly that he would get the Chinese-developed app banned.
PMK leader S Ramadoss sought a ban last month complaining that many users were uploading "suggestive sexual dance choreography".
Politicians raised the issue saying people, regardless of age groups, were getting "addicted" to the application. Stating that it would lead to cultural degradation and even law and order issues, he called for government action against the application.
Responding to the demand, Mr. Manikandan said the government had been receiving reports in this regard. Just as it did in the case of the 'Blue Whale', a game being operated through social media platforms, it would recommend to the Centre to get the application banned.
While BJP state president Tamilisai Soundararajan welcomed the proposal, DMK spokesperson Manushyaputran said the government could not sit in judgment over what defined obscenity. It would amount to cultural policing, he said.
4. India inks contract for 72,000 assault rifles
After several failed attempts to equip the infantry with a basic rifle, the Army had signed a contract with Sig Sauer of the U.S. for 72,400 SIG716 assault rifles for front-line soldiers deployed in operational areas.
Of the 72,400 rifles, 66,400 are meant for the Army, 2,000 for the Navy and 4,000 for the Air Force. The broad parameters for the weapon are an effective range of 500 m and weight of less than 3 kg. The new rifles will replace the Indian National Small Arms System (INSAS) rifles.
The Defence Ministry also issued the Expression of Interest (EoI) for a deal to buy 111 naval utility helicopters. This is the first project to be executed through the strategic partnership policy. Under this, the chosen Indian private company will team up with the Original Equipment Manufacturer to build the product in India.
The EoI follows the Request for Information (RFI). The Navy will likely issue a detailed Request for Proposal (RFP) at the end of the third quarter of this year to short-listed Indian companies.
G. Prelims Facts
1. '95% of registered realty firms have no PAN'
Context
In an audit of assessments made by the Income Tax Department on the real estate sector, the Comptroller and Auditor General (CAG) found that a whopping 95% of the companies registered with the Registrar of Companies (RoC) did not have a permanent account number (PAN).
In an analysis of the data of the RoCs in 12 States, the CAG also noted that there were several companies that the tax net had failed to capture and that the department had no mechanism to ensure that all the registered companies had PAN or that they filed their income tax returns (ITR) regularly.
What is Permanent Account Number?
PAN is a 10-digit alphanumeric number used for keeping a track of financial transactions
It is issued to all judicial entities identifiable under the Indian Income Tax Act, 1961.
It is issued by the Indian Income Tax Department under the supervision of the Central Board for Direct Taxes (CBDT) and it also serves as an important proof of identification
H. UPSC Prelims Practice Questions
Question 1.Consider the following statements about Banks Board Bureau

It has its genesis in the recommendations of The Committee to Review Governance of Boards of Banks in India.
It is a statutory body.
Which of the above statement(s) is/are correct?
Only 1
Only 2
Both 1 and 2
None of the above
See
Question 2. As per the constitutional scheme, which of the following are state subjects?
Public health
Public order
Adoption and succession
Land
Select the correct answer using the code given below:
Only 1, 2 and 4
Only 1 and 2
Only 3 and 4
All of the above
See
Question 3. Justice K N Saikia committee is related to-
Extra-judicial killings in Assam during 1998-2001
De-criminalisation of Sec 377
Merging of PSBs
Crop- Insurance
See
I. UPSC Mains Practice Questions
Recently the Union Ministry of Environment, Forests and Climate Change has signed a Letter of Intent (LoI) with the Norwegian Ministry of Foreign Affairs to launch the 'India-Norway Marine Pollution Initiative'. In this context write a note on the Marine Pollution (12.5 Marks; 200 words)
A committee constituted for making a report for the Promotion and Protection of Maithili Language and its scripts, has submitted its report to MHRD. In this context, examine the need for promotion and protection of languages and scripts which are in the verge of decline. (12.5 Marks; 200 words)
See previous CNA