TABLE OF CONTENTS
A. 

GS1 Related




B. 

GS2 Related


POLITY AND GOVERNANCE
1. Citizenship, triple talaq Bills lapse
2. Rajya Sabha clears law removing leprosy as ground for divorce
INTERNATIONAL RELATIONS
1. The Iranian Revolution


C. 

GS3 Related 


ENVIRONMENT
1. 99.82% projects in forests got nod
2. SC pulls up U.P. govt. for poor upkeep of Taj
HEALTH
1. Kerala takes the lead in the fight against trans-fat


D. 

GS4 Related




E. 

Editorials


INTERNATIONAL RELATIONS 
1. Well oiled (Crown Prince Mohammed bin Salman's visit to India) 
POLITY AND GOVERNANCE
1. Every drop matters (Perspective on the Regulatory Framework governing Blood Transfusion)
ENVIRONMENT AND ECOLOGY
1. A clarion call to combat climate change
INDIAN ECONOMY
1. The PM-KISAN challenge
INTERNATIONAL RELATIONS
1. A political stand-off (Crisis in Venezuela) 


F. 

Tidbits


1. Rajasthan clears 5% quota for Gujjars
2. Sanctions-hit Venezuela seeks to double oil exports to India


G. 

Prelims Facts




H. 

UPSC Prelims Practice Questions




I. 

UPSC Mains practice Questions



A. GS1 Related
 Nothing here today!!!
B. GS2 Related
Category: POLITY AND GOVERNANCE
1. Citizenship, triple talaq Bills lapse
Context
The Citizenship (Amendment) Bill, 2019, that had set off a series of violent protests across the northeastern States, lapsed as the government failed to push it through Rajya Sabha despite a last- ditch effort.
Along with the Citizenship Bill, the triple talaq Bill that criminalises instant divorce in a Muslim marriage has also lapsed.
Back2Basics – When Does a Bill Lapse in Indian Parliament?
Only the Lok Sabha and the Legislative Assemblies are subject to dissolution as there is no dissolution for Rajya Sabha and State Legislative Council.
When the Lok Sabha is dissolved all business including bills, motions, resolutions, notices, petitions and so on pending before it or its committees lapse; they must be reintroduced in the newly-constituted Lok Sabha to be pursued further
Adjournment (of a sitting) does not affect the bills or any other business pending before the House and the same can be resumed when the House meets again.
Prorogation (of a session) does not affect the bills or any other business pending before the House. However, all pending notices (other than those for introducing bills) lapse on prorogation and fresh notices have to be given for the next session.
Articles 107 and 108 of the Indian Constitution deals with these provisions
Cases when a bill lapses
A bill originated in the Lok Sabha but pending in the Lok Sabha – lapses
A bill originated and passed by the Rajya Sabha but pending in Lok Sabha – lapses.
A bill originated and passed by the Lok Sabha but pending in the Rajya Sabha – lapses.
A bill originated in the Rajya Sabha and returned to that House by the Lok Sabha with amendments and still pending in the Rajaya Sabha on the date of the dissolution of Lok Sabha- lapses
Cases when a bill does not lapse
A bill pending in the Rajya Sabha but not passed by the Lok Sabha does not lapse.
If the president has notified the holding of a joint sitting before the dissolution of Lok Sabha, does not lapse.
A bill passed by both Houses but pending assent of the president does not lapse.
A bill passed by both Houses but returned by the president for reconsideration of Rajya Sabha does not lapse.
Some pending bills and all pending assurances that are to be examined by the Committee on Government Assurances do not lapse on the dissolution of the Lok Sabha.
2. Rajya Sabha clears law removing leprosy as a ground for divorce
Context
Parliament has passed a Bill removing leprosy as a ground for divorce under five personal laws, including the Hindu Marriage Act.
Details of the Bill
The Bill seeking to remove leprosy as a ground for divorce, stating that this was a "discriminatory" provision for a disease that is now curable.
Leprosy is being removed as a ground for divorce as it is now a curable disease as against the earlier notion of it being incurable
The Bill has sought to amend five Acts — the Divorce Act, 1869, the Dissolution of Muslim Marriage Act, 1939, the Special Marriage Act, 1954, the Hindu Marriage Act, 1955, and the Hindu Adoptions and Maintenance Act, 1956 — on provisions related to marriage, divorce, and separation of Hindu and Muslim couples.
Each of these Acts prescribe leprosy as a ground for seeking divorce or separation from the spouse.
Leprosy
Leprosy, also known as Hansen's disease, is a bacterial disease which affects the skin and nerves which can lead to physical deformity and disability if left untreated.
Despite a centuries-long stigma, it is not hereditary, it is completely curable, and is only mildly infectious – more than 85% of cases are non-infectious and over 95% of the population has a natural immunity to the disease.
Initially, infections are without symptoms and typically remain this way for 5 to 20 years.
Symptoms that develop include granulomas of the nerves, respiratory tract, skin, and eyes.
This may result in a lack of ability to feel pain, which can lead to the loss of parts of extremities due to repeated injuries or infection due to unnoticed wounds. Weakness and poor eyesight may also be present.
Leprosy is one of the World's oldest diseases with India accounting to 60% of the annual new cases.
In 2005, it was officially declared eliminated as a public health concern in India. This was when the new cases fell to less than 1 per 10,000. Yet India accounts for the largest number of leprosy-affected people in the world.
Category: INTERNATIONAL RELATIONS
Context
Iran marks 40th anniversary of Islamic revolution.
The Iranian Revolution (Islamic Revolution or the 1979 Revolution) refers to events involving the overthrow of the Pahlavi dynasty under Mohammad Reza Shah Pahlavi, who was supported by the United States, and eventual replacement of 2,500 years of continuous Persian monarchy with an Islamic Republic under the Grand Ayatollah Ruhollah Khomeini, the leader of the revolution, supported by various Islamist and leftist organizations and student movements.
Effect of Iranian Revolution
After the system of despotic monarchy had been overthrown, the economy and the apparatus of government had collapsed; military and security forces were in disarray.
Polity – The Constitution provides political legitimacy to "God" and the divine law given in the Koran. What began as an authentic and anti-dictatorial popular revolution based on a broad coalition of all anti-Shah forces was soon transformed into an Islamic fundamentalist power-grab.
Society – The Islamic Revolution of 1978-1979 brought a one hundred percent reversal in the trend of secularization which the country was experiencing. In fact, Islam became the official new state ideology of the clerical fundamentalist elites. Such a clear emphasis on Islam as the centre of governance has profound effects on Iran's societal fabric. The 1979 Islamic Constitution resulted in a shift of the legal system from a secular to religious orientation.
Extra and Quasi Judicial Activity – From 1979 to 1994 more than one thousand women have been stoned to death in Iran. This is just one example of the extra-or quasi-judicial activity taking place in the legal process. In fact, when the new government achieved power, women were once again subjugated and restricted to the confines of their homes. In every aspect of their lives, women were discriminated against.
Marriage – Men can legally have affairs through the institution of sigheh or temporary marriage. Men can obtain a unilateral divorce from their wife or wives. The marriage age for females has been lowered to nine and in some instances to seven.The reproductive policies of the new regime declared contraception and any from of family planning as being against Islam.Mothers no longer have equal rights in terms of child custody.
The religious edicts of the mullahs are enforced by an armed moral police who arbitrarily stop couples in the streets to make sure that no immoral act is taking place.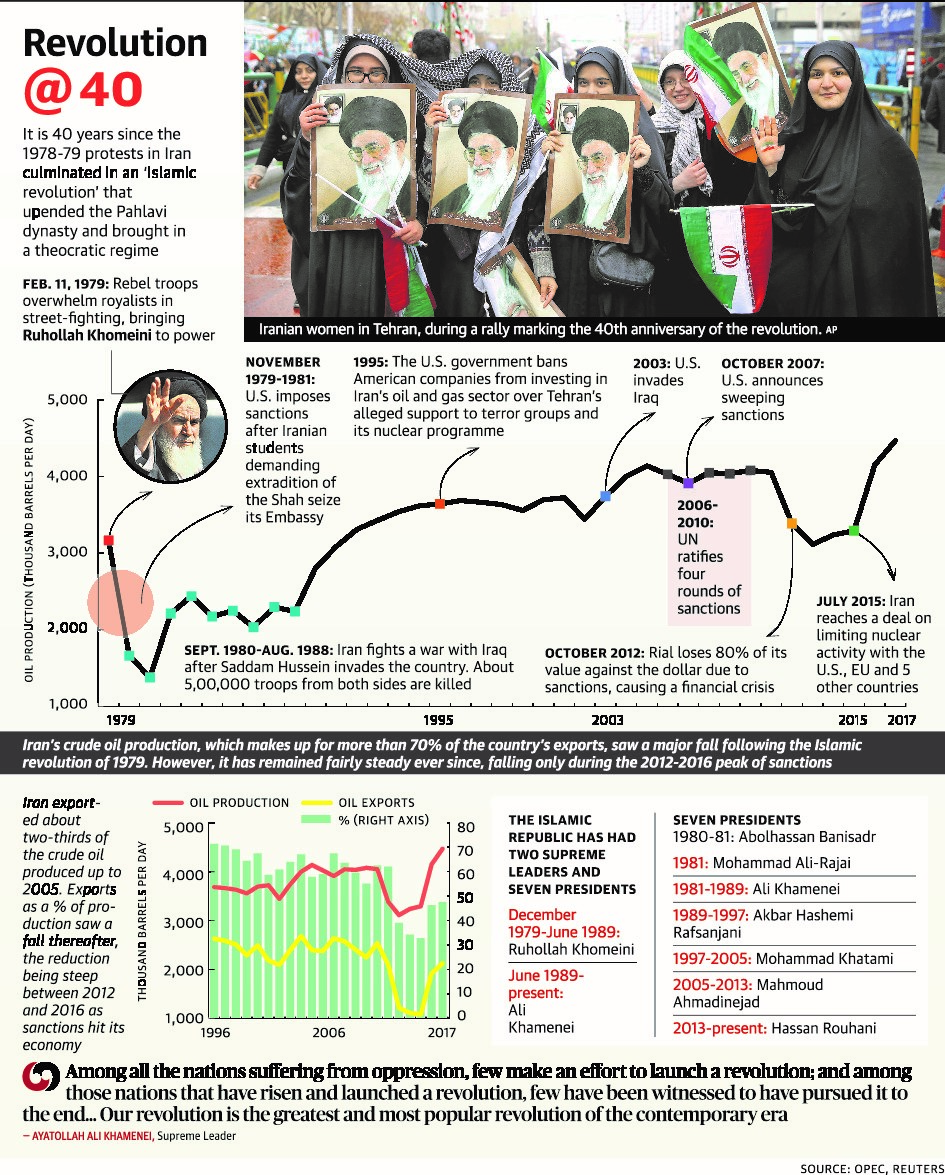 C. GS3 Related
1. 99.82% projects in forests got nod
Context
India's apex National Board for Wildlife (NBWL) — charged with allowing forest land in Protected Areas to be diverted for industry — cleared 682 of the 687 projects (99.82%) that came up for scrutiny, according to a response to a query in the Lok Sabha earlier this month. Only five projects were rejected since August 2014.
A wildlife expert, formerly associated with the NBWL, described it as a "clearance house."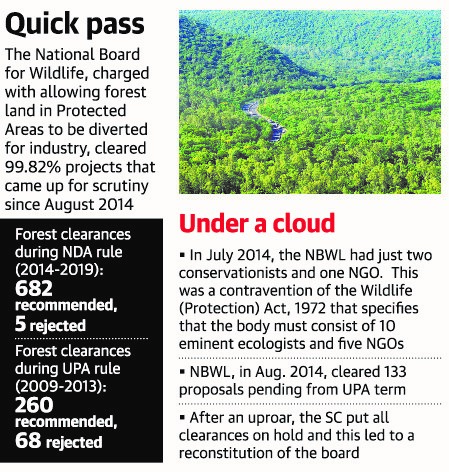 National Board for Wildlife
National Board for Wild Life is a "Statutory Organization" constituted under the Wildlife Protection Act, 1972.
Theoretically, the board is "advisory" in nature and advises the Central Government on framing policies and measures for conservation of wildlife in the country. However, it is a very important body because it serves as apex body to review all wildlife-related matters and approve projects in and around national parks and sanctuaries.
Primary function of the Board is to promote the conservation and development of wildlife and forests. It has power to review all wildlife-related matters and approve projects in and around national parks and sanctuaries. No alternation of boundaries in national parks and wildlife sanctuaries can be done without approval of the NBWL.
The NBWL is chaired by the Prime Minister. It has 47 members including the Prime Minister. Among these, 19 members are ex-officio members. Other members include three Members of Parliament (two from Lok Sabha and one from Rajya Sabha), five NGOs and 10 eminent ecologists, conservationists and environmentalists.
2. SC pulls up U.P. govt. for poor upkeep of Taj
Context
The Supreme Court has pulled up the Uttar Pradesh government for the poor upkeep of the Taj Mahal.
A Bench led by Justice S.A. Bobde asked the State to file a fresh vision document in four weeks, detailing the manner in which the monument would be preserved and protected.
Details of the issue
Earlier, the court had said the protection of the Taj Mahal should not be restricted to the world heritage monument alone but everything around it that goes to protect the ivory-white mausoleum commissioned by the Mughal emperor Shah Jahan for his wife, Mumtaz Mahal, in 1632.
The court had said that the Taj Mahal was only the "centre-piece". The forest cover, the river Yamuna and the grounds of the Taj Mahal should also be saved from pollution.
The Bench had said the Vision Document for Taj Trapezium Zone (TTZ) should examine and end the proliferation of hazardous industries, foundries, seepage and emissions which are slowly but steadily destroying the Taj Mahal and the protective cover around it.
In its 1996 judgment, the Supreme Court had noted that the Taj Mahal was not threatened by only traditional causes of decay, but also social and economic conditions. Industrial emissions, brick-kilns, vehicular traffic and generator-sets polluted air around TTZ. The monument itself was slowly turning yellow from the collected grime.
Taj Mahal
Taj Mahal is often considered as the jewel of Muslim architecture in India and one of the universally admired masterpieces of the world.
The Taj Mahal is considered to be the greatest architectural achievement in the entire range of Indo-Islamic structures built in the Indian subcontinent.
It is recognised as an architectonic beauty which is a pattern of combination of solids and voids. It also includes arches and domes which further enhance the aesthetic aspect of the entire structure.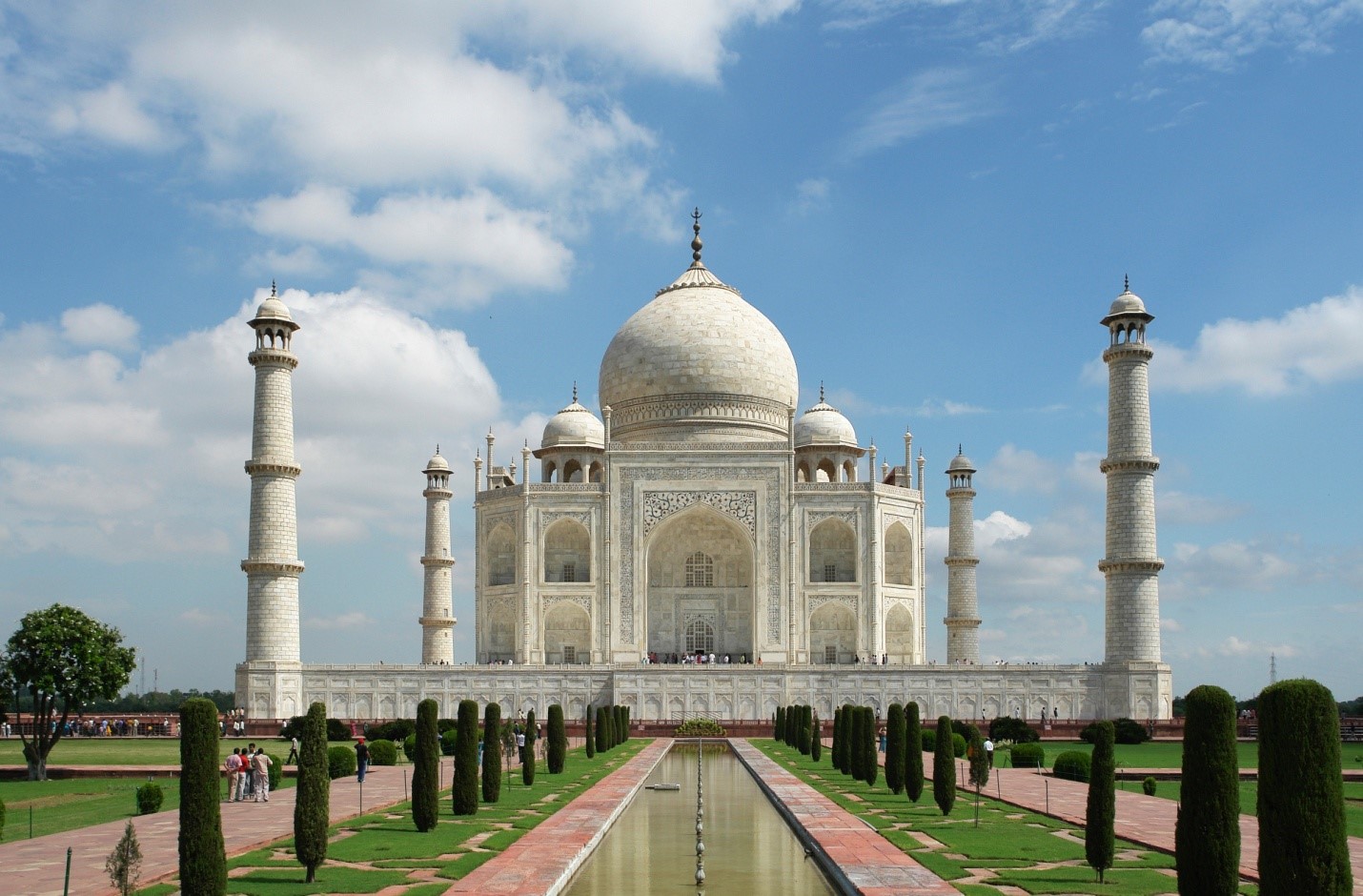 There are no words to describe such a man-made wonder. Mughal Emperor Shah Jahan employed the best architects and builders, as well as employing thousands workers including sculptors, brick layers, calligraphers and skilled workers in gemstone inlay.
Important components like Lapis lazuli (Afghanistan), Jade (China), coral (Arabia) and rubies (Sri Lanka) turquoise (Tibet) were used extensively to beautify the monument. But most of the precious stones were looted along ago.
Besides, milky white marble were brought from Makrana quarries from Rajasthan. The 144-foot-high main dome, constructed of brick masonry covered in white marble, weighs several thousand tons. The Taj was also the most ambitious project ever taken by the Mughal emperors.
1. Kerala takes the lead in the fight against trans-fat
Context
In a first, the Health Department has drawn up an action plan to generate public awareness on the harmful effects of trans fatty acids (TFA) in commercially available food items and to encourage the local food industry to meet the current statutory limits set for TFA. The draft is expected to be finalised and released shortly.
The initiative has been launched after the Health Department's various studies suggest that an unhealthy diet with a high TFA content is a significant factor that pushes up metabolic syndrome and the burden of its associated complications.
The Health Department is being supported in this initiative by Vital Strategies, the nutrition wing of the World Bank; the WHO; the FSSAI; and the State Food Safety wing, which will be in charge of enforcement.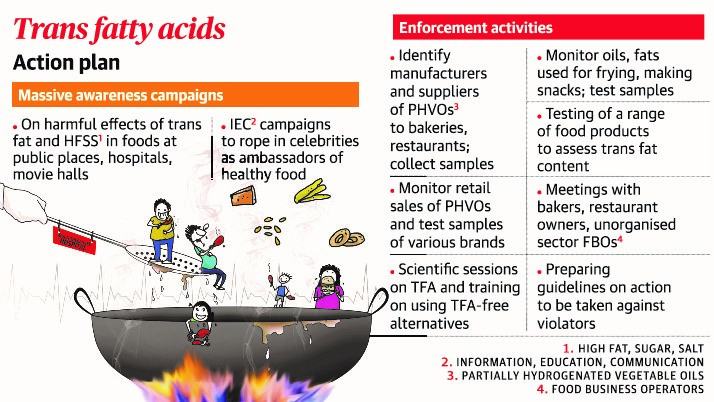 What are the trans-fats?
Trans-fatty acids (TFAs) or Trans fats are the most harmful type of fats which can have much more adverse effects on our body than any other dietary constituent. These fats are largely produced artificially but a small amount also occurs naturally. Thus in our diet, these may be present as Artificial TFAs and/ or Natural TFAs.
Artificial TFAs are formed when hydrogen is made to react with the oil to produce fats resembling pure ghee/butter.
TFA containing oils can be preserved longer, they give the food the desired shape and texture and can easily substitute 'Pure ghee'. These are comparatively far lower in cost and thus add to profit/saving.
In our diet the major sources of artificial TFAs are the partially hydrogenated vegetable oils (PHVO)/vanaspati/ margarine while the natural TFAs are present in meats and dairy products, though in small amounts.
TFAs pose a higher risk of heart disease than saturated fats. While saturated fats raise total cholesterol levels, TFAs not only raise total cholesterol levels but also reduce the good cholesterol (HDL), which helps to protect us against heart disease. Trans-fats consumption increases the risk of developing heart disease and stroke.
It is also associated with a higher risk of developing obesity, type 2 diabetes, heart disease, metabolic syndrome, insulin resistance, infertility, certain types of cancers and can also lead to compromised fetal development causing harm to the yet to be born baby.
WHO recommends that trans-fat intake be limited to less than 1% of total energy intake and has called for the total elimination of TFAs in global food supply by 2023. FSSAI has proposed to limit TFA limit in foods to 2% and eliminate trans-fats from foods by 2022.
WHO Recommendations – 2018
Saturated fatty acids should not comprise more than 10% of your daily calorie intake.
Trans-fatty acids should not comprise more than 1% of your daily calorie intake.
Use heart-healthy polyunsaturated fatty acids (PUFAs) as replacement.
The recommendations are applicable to both adults and children.
D. GS4 Related
  Nothing here today!!!
E. Editorials
Category: INTERNATIONAL RELATIONS
1. Well oiled (Crown Prince Mohammed bin Salman's visit to India)
Editorial Analysis:
Saudi Crown Prince Mohammed bin Salman visits India in the month of February, 2019 at a time when both countries are seeking to deepen bilateral cooperation.
Significance of the Visit: A Saudi Perspective:
For Crown Prince Mohammed bin Salman, the visit to India, Pakistan, China, Malaysia and Indonesia is an opportunity to re-assert Saudi Arabia's role as a major foreign policy player in Asia amid growing criticism over the Yemen war and the brutal assassination of journalist Jamal Khashoggi in Istanbul.
Significance of the Visit: An Indian Perspective:
For the government of Prime Minister Narendra Modi, the visit, with general elections approaching, is an opportunity to cap its pursuit of stronger ties with West Asian nations on a high note.
Nature of Visits (Saudi-India):
High-level visits between India and Saudi Arabia have become the new normal since King Abdullah came to India in 2006, the first Saudi monarch to do so in five decades.

Four years later, Prime Minister Manmohan Singh travelled to Riyadh. Mr. Modi visited Riyadh in 2016; last year, he met Crown Prince Mohammed bin Salman in Argentina on the sidelines of the G-20 summit at a time when the Crown Prince had already come under sharp criticism in many Western countries.

A number of factors have influenced the turnaround in ties between the two countries, which had been underwhelming during the Cold War.

When India's economy started growing at a faster clip post-liberalisation, its dependence on energy-rich nations grew. And Saudi Arabia was a stable, trusted supplier of oil.

Further, Post-9/11, the two have expanded the scope of their partnership to economic issues and fighting terrorism.
What is expected in the upcoming visit?
Crown Prince Mohammed bin Salman is expected to announce Saudi investments in both India and Pakistan.

Saudi Arabia, which has traditionally exercised great influence over Pakistan, had recently offered a $6 billion loan to Islamabad to stabilise the economy.

In India, Saudi Arabia and the UAE have acquired a 50% stake in a refinery complex in Maharashtra.

However, the project remains stalled amid protests against land acquisition, but it shows Saudi Arabia's interest to make long-term investments in India's energy sector.

Another subject that that will come up in bilateral talks is Iran.

Crown Prince Mohammed bin Salman has made containment of Iran his top foreign policy priority, and has U.S. support in this pursuit.

It is also important to point out that India is certain to come under U.S. pressure to cut oil imports from Iran: it has so far walked the tightrope between Saudi Arabia and Iran.

Even as its ties with the Kingdom improved over the past decade, India deepened its engagement with Iran, be it on oil trade or the Chabahar port.

This is driven by the conviction that while Saudi Arabia is vital for India's energy security, Iran is a gateway to Central Asia.

In conclusion, India is sure to continue this balancing act even as it seeks to strengthen the Saudi pillar of India's West Asia policy.
Category: POLITY AND GOVERNANCE
1. Every drop matters (Perspective on the Regulatory Framework governing Blood Transfusion)
Editorial Analysis:
A ready supply of safe blood in sufficient quantities is a vital component of modern health care.

In 2015-16, India was 1.1 million units short of its blood requirements.

Here too, there were considerable regional disparities, with 81 districts in the country not having a blood bank at all. In 2016, a hospital in Chhattisgarh turned away a woman in dire need of blood as it was unavailable. She died on the way to the nearest blood bank which was several hours away.

Yet, in April 2017, it was reported that blood banks in India had in the last five years discarded a total of 2.8 million units of expired, unused blood (more than 6 lakh litres).
Vigil after collection:
To prevent transfusion-transmitted infections (TTIs), collected blood needs to be safe as well.

Due to practical constraints, tests are only conducted post-collection.

Thus blood donor selection relies on donors filling in health questionnaires truthfully.

The collected blood is tested for certain TTIs such as HIV and if the blood tests positive, it has to be discarded.

However, these tests are not foolproof as there is a window period after a person first becomes infected with a virus during which the infection may not be detectable.

This makes it crucial to minimise the risk in the first instance of collection. Collecting healthy blood will also result in less blood being discarded later.

Blood that is donated voluntarily and without remuneration is considered to be the safest. Unfortunately, professional donors (who accept remuneration) and replacement donation (which is not voluntary) are both common in India.

In the case of professional donors there is a higher chance of there being TTIs in their blood, as these donors may not provide full disclosure.

In the case of replacement donation, relatives of patients in need of blood are asked by hospitals to arrange for the same expeditiously. This blood is not used for the patient herself, but is intended as a replacement for the blood that is actually used. In this way, hospitals shift the burden of maintaining their blood bank stock to the patient and her family. Here again, there could be a higher chance of TTI's because replacement donors, being under pressure, may be less truthful about diseases.
Perspective on the Regulatory Framework governing Blood Transfusion:
The regulatory framework which governs the blood transfusion infrastructure in India is scattered across different laws, policies, guidelines and authorities.

Blood is considered to be a 'drug' under the Drugs & Cosmetics Act, 1940.

Therefore, just like any other manufacturer or storer of drugs, blood banks need to be licensed by the Drug Controller-General of India (DCGI).

For this, they need to meet a series of requirements with respect to the collection, storage, processing and distribution of blood, as specified under the Drugs & Cosmetics Rules, 1945.

Blood banks are inspected by drug inspectors who are expected to check not only the premises and equipment but also various quality and medical aspects such as processing and testing facilities. Their findings lead to the issuance, suspension or cancellation of a licence.

It is important to note that in 1996, the Supreme Court directed the government to establish the National Blood Transfusion Council (NBTC) and State Blood Transfusion Councils (SBTCs).
Functioning of the NBTC:
The NBTC functions as the apex policy-formulating and expert body for blood transfusion services and includes representation from blood banks.

However, it lacks statutory backing (unlike the DCGI), and as such, the standards and requirements recommended by it are only in the form of guidelines.

Experts point out that this gives rise to a peculiar situation — the expert blood transfusion body can only issue non-binding guidelines, whereas the general pharmaceutical regulator has the power to license blood banks.

This regulatory dissonance exacerbates the serious issues on the ground and results in poor coordination and monitoring.
The Way Forward: Working towards a solution
The present scenario under the DCGI is far from desirable, especially given how regulating blood involves distinct considerations when compared to most commercial drugs.

Further, it is especially incongruous given the existence of expert bodies such as the NBTC and National AIDS Control Organisation (NACO), which are more naturally suited for this role.

The DCGI does not include any experts in the field of blood transfusion, and drug inspectors do not undergo any special training for inspecting blood banks.

In order to ensure the involvement of technical experts who can complement the DCGI, the rules should be amended to involve the NBTC and SBTCs in the licensing process.

Given the wide range of responsibilities the DCGI has to handle, its licensing role with respect to blood banks can even be delegated to the NBTC under the rules. This would go a long way towards ensuring that the regulatory scheme is up to date and accommodates medical and technological advances.

Despite a 2017 amendment to the rules which enabled transfer of blood between blood banks, the overall system is still not sufficiently integrated.

A collaborative regulator can, more effectively, take the lead in facilitating coordination, planning and management.

Experts believe that this may reduce the regional disparities in blood supply as well as ensure that the quality of blood does not vary between private, corporate, international, hospital-based, non-governmental organisations and government blood banks.

The aim of the National Blood Policy formulated by the government back in 2002 was to "ensure easily accessible and adequate supply of safe and quality blood".
Concluding Remarks:
To achieve this goal, India should look to reforming its regulatory approach at the earliest.
Category: ENVIRONMENT AND ECOLOGY
1. A clarion call to combat climate change
Editorial Analysis:
There are a few voices in Europe and in the U.S. which have forced political action on climate change at a time when almost all news about climate change concerns catastrophic events.
One of these voices is Alexandria Ocasio-Cortez, 29, the newly elected member of the U.S. House of Representatives.
The other is Greta Thunberg, a 16-year-old Swede whose school strike outside the Swedish Parliament, in a clear-minded effort to force politicians to act on climate change, has inspired students in many countries to walk out of their classrooms and make similar demands.
Many have opined that if Ms. Thunberg's voice is inspiring for the way it has roused the youth, Ms. Ocasio-Cortez is daring in her imagination and policies.
A Notre on the Green New Deal:
It is important to note that the Green New Deal "is a four-part programme for moving America quickly out of crisis into a secure, sustainable future".
It takes its name from U.S. President Franklin Roosevelt's famous New Deal, a series of economic and social measures launched in the 1930s to end the Great Depression.
Experts opine that the Green New Deal audaciously aspires to make sweeping changes to the environment and economy and meet all of the U.S.'s power demand from clean, renewable and zero emission energy sources by 2030, while at the same time addressing racial and economic justice.
Thus, in many ways, it is more than just a climate change plan.
It is important to note that Ms. Ocasio-Cortez along with Massachusetts Senator Edward Markey introduced the resolution in the House and Senate on February 7, 2019.
What does the deal say?
The resolution acknowledges the 1.5° report of the Intergovernmental Panel on Climate Change and the U.S. Fourth National Climate Assessment.
It identifies the worldwide effects from warming, the disproportionate responsibility borne by the U.S. as a result of its historical emissions, and calls for the country to step up as a global leader.
It speaks about the fall in life expectancy, economic stagnation, erosion of workers' rights, and rising inequality in the U.S. Climate change that will asymmetrically affect the most vulnerable sections of U.S. society and ought to be considered a direct threat to national security.
The resolution goes on to recognise the momentous opportunity available to take action.
It states that it is the responsibility of the federal government to create a Green New Deal, which would meet its power demand through renewable sources in 10 years. It calls for a 10-year national mobilisation that would build infrastructure, eliminate pollution and greenhouse gas emissions, as much as is technologically feasible, and reduce risks posed by the impacts of climate change.
These goals include dramatic changes in manufacturing, electricity generation, education, livelihoods, sustainable farming, food systems, an overhaul of transportation, waste management, health care, and strong pollution-control measures.
The resolution also calls for international action by the U.S. on climate change. It recognises that public funds would be needed for these changes and need to be leveraged. It states that the federal government needs to take the full social and environmental costs of climate change into consideration through new laws, policies and programmes.
Importantly, the Green New Deal calls for a federal jobs guarantee for all.
A welcome surprise:
How far this resolution will go and whether and how it will be diluted in the U.S. Congress is unclear.
Many details of the proposal still need to be worked out. It has been called "ridiculous" by some Republicans and has made some Democratic leaders uneasy as well.
But various progressive elected officials, groups, and some activists have lent their support.
Almost all Democrats who have announced their candidacy for the 2020 election have backed the resolution.
As a matter of fact, a poll conducted by Yale and George Mason Universities showed that there was support for the deal among most Democratic voters and a majority of the Republicans.
Currently, one does not know if this appetite for the deal will be sustained, but if extreme events related to climate change continue, people are likely to view radical change as essential.
Further, if we look at the political situation when Roosevelt passed the New Deal, both Houses of Congress were under the Democrats. On the other hand, the Clean Air Act and the Clean Water Act were passed by President Richard Nixon and were regarded as being radical in their time.
Lastly, if any country has the "capability" to increase its commitment in renewables, it is the U.S.
This clarion call by Ms. Ocasio-Cortez and Mr. Markey is therefore a welcome surprise. The share of fossil fuels in total electricity generation in the U.S. in 2017 was 63%, the share of renewables was 17%, and the share of nuclear was 20%.
Looking at the future:
It should be noted that until now no U.S. agency or civil society group has publicly acknowledged the responsibility of the country for its historical emissions.
The Green New Deal is the sort of resolution the U.S. should have passed after the Kyoto Protocol in 1997.
Instead, the U.S. Senate unanimously passed the Byrd-Hagel Resolution, according to which the U.S. ought not to be a signatory to any protocol or agreement regarding the United Nations Climate Convention that would reduce greenhouse gas emissions for Annex-1 Parties, the wealthy countries, unless developing countries were also similarly required to limit their emissions.
Concluding Remarks:
Meanwhile, it is important to note that Ms. Thunberg's school boycott movement has inspired protests in the Netherlands, Belgium, Germany, Sweden, Australia and elsewhere.
If this spreads to many more countries, it can help apply pressure on governments and the fossil fuel industry and create a bottom-up movement led by the youth for major changes in dealing with climate change.
Lastly, the Green New Deal is an acknowledgement by politicians that economic growth, the environment and social well-being go together. While these bold moves by two young women have opened windows to winds of change, how far these can progress and whether they will bring the scale of change needed as rapidly as it is required to deal with the world's dire challenge remains to be seen.
Editorial Analysis:
Some experts point out that this year's Interim Budget is being regarded as a big spread for farmers.
The government announced its decision to transfer Rs. 6,000 every year directly to 12 crore farmers holding cultivable land up to 2 hectares through the Pradhan Mantri Kisan Samman Nidhi (PM-KISAN) scheme.
An important question arises: While this is a progressive step, is it enough to mitigate India's severe agrarian distress?
A Closer Look at the Agriculture Sector:
It is important to note that the agriculture sector employs over 50% of the workforce either directly or indirectly, and remains the main source of livelihood for over 70% of rural households.
However, the droughts of 2014 and 2015, ad-hoc export and import policies, lack of infrastructure, and uncertainty in agricultural markets have adversely affected agricultural productivity and stability of farm incomes.
Consequently, agriculture growth rates have been inconsistent in the last five years — 5.6% in 2013-14, (-) 0.2% in 2014-15, 0.7% in 2015-16, 4.9% in 2016-17 and 2.1% in 2017-18.
Experts have opined that this is a major concern.
The PM-KISAN is aimed at boosting rural consumption and helping poor farmers recover from distress. Although the scheme is valuable in principle, without adequate focus on proper strategy and implementation, it is unlikely to make any meaningful impact.
Inadequate financial support:
The merit of cash transfers over loan waivers and subsidies lies in their potential greater efficiency in enabling poor households to directly purchase the required goods and services as well as enhance their market choices. Therefore, the impact of a welfare measure such as PM-KISAN can only be realised through financial support that provides farmers with adequate purchasing power to meet their daily basic necessities.
Given that India's poverty line is Rs. 32 per person per day in rural areas and Rs. 47 in urban areas, according to the Rangarajan Committee, the income support of Rs. 17 a day for a household, which is the amount offered by PM-KISAN, is largely insufficient for even bare minimum sustenance of vulnerable farmers.
Therefore, to be effective, any cash transfer scheme should first ensure that there is enough cash provided to help bring an affected community out of poverty.
For instance, the Rythu Bandhu in Telangana, that the Centre is said to have replicated, provides Rs. 4,000 per acre to each farmer in each season, and the Krushak Assistance for Livelihood and Income Augmentation scheme in Odisha offers a direct cash transfer of Rs. 5,000 for a farm family over five seasons, among other benefits.
Moreover, given the volatile market and price fluctuations in different regions, it is important to index the cash transfers to local inflation.
The failure of an ambitious plan of Direct Benefit Transfer in kerosene in Rajasthan is a case in point, where the cash transferred to families has been insufficient to purchase kerosene, as the market price increased substantially.
A Perspective on Implementation issues
While cash transfers to households may appear simple, the scheme requires significant implementation capabilities.
In a country where a majority of the States have incomplete tenancy records and land data are not digitised (for instance, in Jharkhand, Bihar, Gujarat and Tamil Nadu), identification of beneficiaries is daunting.
It is important to note that the results of a joint study conducted by NITI Aayog and the Union government's Department of Food in 2016 suggest that the government's pilot programmes to replace subsidised food grains with cash in three Union Territories (Chandigarh, Dadra and Nagar Haveli, and Puducherry) have failed due to data inconsistencies.
While 50% of the people received less cash, 17% received more than they were entitled to. More than 40% of the money transferred could not be verified to have reached the beneficiaries.
In the absence of updated land records and complete databases, the scheme may end up benefitting only those who hold land titles and not the small, marginal or tenant farmers who are the most vulnerable.
Besides, some experts have opined that the scheme does not provide a clear design of transfers and a framework for effective grievance redress.
In the Mahatma Gandhi National Rural Employment Guarantee Scheme, for instance, State governments still struggle to resolve complaints and curb corruption.
Lastly, it is important to note that the PM-KISAN is an ambitious scheme that has the potential to deliver significant welfare outcomes.
However, the current top-down, rushed approach of the government ignores governance constraints and is therefore likely to result in failure.
An alternative bottom-up strategy and well-planned implementation mechanism would allow weaknesses to be identified and rectified at the local level.
The most effective modalities can then be scaled nationally and ensure success.
Category: INTERNATIONAL RELATIONS
1. A political stand-off (Crisis in Venezuela)
Editorial Analysis:
What is happening in Venezuela?
Venezuela has been going through a turmoil for the past couple of years amid an economic meltdown and growing Opposition protests.
The crisis took a dangerous turn on January 23, 2019 when Juan Guaidó, president of the Opposition-controlled National Assembly, declared himself interim President of the oil-rich South American country, directly challenging the authority of President Nicolás Maduro, who began his second six-year term in January 2019.
Immediately after Mr. Guaidó's announcement, the U.S., Canada, Brazil and some other South American nations recognised him as Venezuela's legitimate leader. Mr. Maduro rejected the "coup" attempt and said he was the President of Venezuela.
European powers gave Mr. Maduro an ultimatum to announce fresh elections, which he rejected.
Later, a host of European countries also backed Mr. Guaidó.
The U.S., meanwhile, imposed new sanctions on Venezuela's state-run oil company, PDVSA — all properties of the company subject to U.S. jurisdiction was blocked and American citizens were barred from trading with the company.
The sanctions are expected to cost Mr. Maduro's government $11 billion in lost export proceeds.
Who is the legitimate leader?
Guaidó says the Venezuelan Constitution allows the president of the National Assembly to take power as interim President in the absence of an elected President.
The Opposition doesn't recognise the 2018 presidential election which Mr. Maduro won. The main Opposition had boycotted the election.
Guaidó and his supporters argue that since the election was a sham, Venezuela doesn't have a legitimate leader, and in such a context as president of the National Assembly, he could take power. This is a contested claim.
It is important to note that Article 233 of the Constitution, which Mr. Guaidó has invoked, lists the circumstances, such as the President's death, dismissal or resignation, where the Parliament chief can assume power and call for fresh elections.
Experts opine that the current crisis, triggered by economic woes, government repression and a disputed election, is different.
Besides, most constitutional institutions in the country, including the armed forces, back Mr. Maduro. So do Russia and China.
How bad is the economic crisis?
The country's inflation is estimated reach 10 million per cent this year.
Venezuela has also been facing severe food and medicines shortages for months.
It is important to note that the nation's GDP, which was growing at near 10% in 2006, at the height of Hugo Chavez's "Bolivarian revolution", contracted 14.3% in 2018.
Almost 90% of the country's population is living in poverty, while per capita income has been falling since 2014.
Amid this crisis, about three million Venezuelans have fled the country, most since 2015.
What's in store?
When Mr. Guaidó declared himself acting President, he may have hoped that he could win over at least sections of Venezuela's armed forces.
He's unlikely to topple Mr. Maduro as long as the military is loyal to him.
Maduro's government also has some support among the public, especially the poor, the backbone of the Chavismo government.
So the attempts to topple Mr. Maduro are not making headway.
On the other side, Mr. Maduro continues to face major challenges.
The Opposition has strong support both within and outside the country. And the economic crisis is far from easing.
This means the turmoil that has gripped Venezuela is unlikely to ease unless the government and the Opposition find common ground on rebuilding the economy and sharing power.
F. Tidbits
1. Rajasthan clears 5% quota for Gujjars
The Rajasthan Assembly unanimously passed a Bill giving 5% reservation in government jobs and education to Gujjars and four other nomadic communities.
Leader of the Gujjar stir Kirori Singh Bainsla and other protesters occupying the railway tracks on the Delhi-Mumbai route near the Malarna station in Sawai Madhopur district said they would study the Bill and discuss it with the legal experts before calling off the agitation.
The Rajasthan Backward Classes (Reservation of Seats in Educational Institutes in the State and of Appointments and Posts in Services under the State) Amendment Bill, 2019, has sought to amend a statute of 2017 and increase the quota for backward classes from the present 21% to 26%. This will result in the reservation exceeding the 50% upper limit mandated by the Supreme Court.
The 2017 legislation was enacted by the then Vasundhara Raje government, giving 5% reservation to Gujjars as a Most Backward Class. Four other nomadic communities getting the quota benefit along with Gujjars are Banjara, Gadia-Lohar, Raika and Gadariya.
The Bill's statement of objects and reasons said the five castes were "most backward" and required 5% separate reservation. It also made a mention of the Constitution Amendment Bill passed by the Union government to extend quota to the poor, which had breached the 50% ceiling.
2. Sanctions-hit Venezuela seeks to double oil exports to India
Venezuelan oil company PDVSA is looking to double exports to India as U.S. sanctions hobble deliveries to the U.S. and Europe.
The country's oil exports since the sanctions took effect on January 28 have fallen to 1.15 million barrels per day (bpd) of crude and refined products, Refinitiv Eikon data showed, down from about 1.4 million bpd.
In response, Venezuela is turning its focus to buyers paying in cash, especially in India, its second-largest customer after the U.S.
Before the sanctions, PDVSA shipped over 5,00,000 bpd to the U.S., its largest cash market, followed by India at above 3,00,000 bpd and then China. Venezuela has sent its Oil Minister, Manuel Quevedo, to India to convince refiners, including Reliance Industries Ltd and Nayara Energy Ltd, to double their oil purchases.
Venezuela is open to barter arrangements with India using oil as payment, he said, but did not elaborate.
S. National Security Adviser John Bolton has warned countries, including India, against buying Venezuelan oil.
G. Prelims Facts
   Nothing here today!!!
H. UPSC Prelims Practice Questions
Question 1.Which of the following events can lead to depreciation of domestic currency?

Capital outflow from domestic economy
Increase of exports
Increase in FPIs
Select the correct answer using the codes below:
Only 1
Only 1 and 2
Only 2 and 3
Only 3
See
Question 2. Leptospirosis is a-
Bacterial disease
Viral disease
Fungal disease
Protozoal disease
See
Question 3. Bangkok Declaration of 1997 is related to:
BIMSTEC
SAARC
BRICS
RIMES
See
Question 4. Moscow declaration of WHO aims to:
To eradicate polio from the world till 2035
To eradicate Malaria by 2035
To eradicate Tuberculosis by 2035
To end deaths by hunger in the world by 2035
See
I. UPSC Mains Practice Questions
The Supreme Court while hearing a PIL in Mahendra Chawla and Ors, approved the Centre's draft Witness Protection Scheme (WPS). It has asked the states to implement the WPS till Parliament comes out with legislation in this matter. In this context critically examine the Witness Protection Scheme. (12.5 Marks; 200 words)
Protection of minorities is the hallmark of civilization. These guarantees are essential in a democratic and pluralistic country like India. Discuss (12.5 Marks; 200 words)
See previous CNA