TABLE OF CONTENTS
A. 

GS1 Related




B. 

GS2 Related


POLITY AND GOVERNANCE
1. 7 islands in Andamans, Lakshadweep identified for seaplane operations
2. Ordinance to curb Ponzi schemes gets nod
INTERNATIONAL RELATIONS
1. PM, Saudi Crown Prince to discuss cross-border terror


C. 

GS3 Related


ECONOMICS
1. Cabinet approves new National Electronics Policy


D. 

GS4 Related




E. 

Editorials


POLITY AND GOVERNANCE
1. The importance of being humane (Custodial Torture)
INTERNATIONAL RELATIONS
1. The Saudi-India-Pakistan triangle
ENVIRONMENT AND ECOLOGY
1. Clean power


F. 

Tidbits


1. 'Celebrities willing to endorse parties for a fee'
2. More than 4 lakh children are inhalant addicts: survey
3. Centre launches panic button on mobiles
4. SC upset at the plight of illegal migrants in Assam centres
5. IAF pilot killed, two injured in crash


G. 

Prelims Facts


1. Aussie mammal the first 'climate change extinction'
2. New angel tax rules provide relief to eligible start-ups
3. New Universe map unveils 3,00,000 more galaxies


H. 

UPSC Prelims Practice Questions




I. 

UPSC Mains practice Questions



A. GS1 Related
 Nothing here today!!!
B. GS2 Related
Category: POLITY AND GOVERNANCE
1. 7 islands in Andamans, Lakshadweep identified for seaplane operations
Context
Four islands in the Andamans and three in Lakshadweep have been identified for seaplane operations, while private sector participation has been invited for tourism-based projects.
The 5th meeting of the Island Development Agency, chaired by Home Minister Rajnath Singh, also reviewed the progress made towards the programme 'Holistic development of islands'.
Details of the initiative
Swaraj Dweep, Shaheed Dweep, Hutbay and Long Island in Andaman and Nicobar Islands and Kavaratti, Agatti and Minicoy in Lakshadweep have been identified for seaplane operations.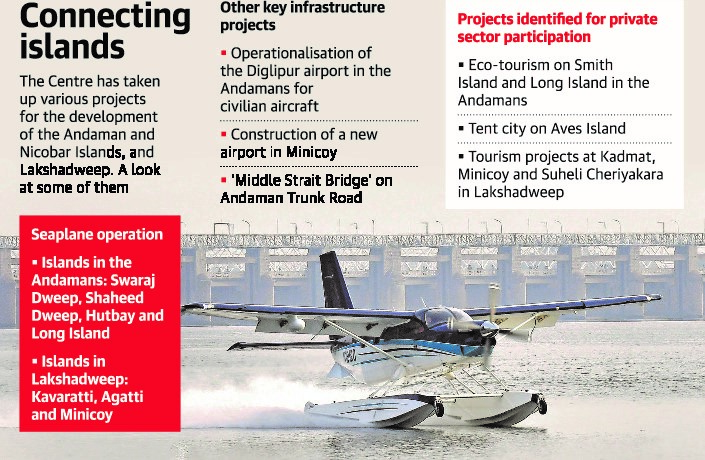 Key infrastructure projects such as operationalisation of the Diglipur airport for civilian aircraft and the construction of a new airport on Minicoy Island have been accorded high priority by the government, while Coastal Regulation Zone clearance (CRZ) has been accorded for 'Middle Strait Bridge' on Andaman Trunk Road.
Bids for private sector participation in three tourism-based projects have already been invited by the Andaman & Nicobar Administration. They include eco-tourism projects on Smith Island and Long Island and a tent city project on Aves Island. Bids will be invited shortly for one more project on Neil Island.
The Ministry of Commerce has issued a notification extending tax incentives for investments made in the manufacturing and service sector in the islands of Andaman and Nicobar and Lakshadweep.
Why these islands are important?
Andaman & Nicobar Islands, a group of picturesque islands at the junction of the Bay of Bengal and the Andaman Sea, are blessed with pristine sea beaches, attractive marine life and a large extent of forest cover with rich biodiversity.
About 82.16 per cent of the total geographical area has been reported under forest and tree cover in Andaman & Nicobar (India State of Forest Report 2017).
The Islands possess a mix of natural ecosystems including mangrove forests, tropical rainforests, sandy beaches, rocky shores and coral reefs.
In the limited geographical area, a high level of biodiversity with several species of mammals, birds and fish have been reported to occur in the Islands. Other strengths possessed by the Islands are rich cultural traditions, historical heritage sites and peaceful environment.
Presently, tourism has the potential to be an efficient driver of high economic growth in the Islands. Development potential also exists in other sectors such as maritime trade, shipping, fisheries, under-sea mining, oil and gas.
The Andaman and Nicobar Islands have a long coastal length of about 1,912 km. The Exclusive Economic Zone around these Islands is about 6 lakh sq km constituting 28 per cent of the total EEZ in our country.
The Great Nicobar Island is only about 90 km away from the western tip of the Malacca Strait, an important shipping route between the Indian Ocean and the South China Sea. Being at close aerial/shipping distance to a number of countries (Indonesia, Myanmar and Thailand) and the Malacca Strait, the Islands have the potential of enhanced maritime trade, particularly for export of the products made in the Islands.
Realizing the potential in Andaman and Nicobar and more or less similar potential in Lakshadweep, holistic development of identified Islands has been accorded high priority by the Government.
Conclusion
Existing situation calls for formulation of suitable strategies for holistic development of identified Islands.
Effective implementation of well-planned strategies in tourism and other key economic sectors would lead to creation of more jobs and generation of additional income for the Islanders.
However, while planning development interventions, both the ecological concerns and the tribal-related issues need to be fully addressed so as to ensure a sustainable development process.
2. Ordinance to curb Ponzi schemes gets nod
Context
The Cabinet has approved the promulgation of an ordinance with regard to the Banning of Unregulated Deposit Schemes Bill, to protect investors from Ponzi schemes.
The Lok Sabha had passed the Bill on the last day of the Budget session, but could not get the approval of the Rajya Sabha.
Provisions of the Banning of Unregulated Deposit Schemes Bill, 2018
The proposed Bill aims to provide a comprehensive legislation to tackle illicit deposit schemes by completely prohibiting such activities
Nine regulators including the RBI, SEBI, the Ministry of Corporate Affairs, and the State governments regulate financial activities
According to the Bill, all deposit-taking schemes are required to be registered with the relevant regulator, failing which the "Deposit Takers" will be considered "unregulated" and hence be banned
The Bill creates three different types of offences, namely, running of Unregulated Deposit Schemes, fraudulent default in Regulated Deposit Schemes, and wrongful inducement in relation to Unregulated Deposit Schemes
A 'Competent Authority' will be appointed which has the powers similar to a civil court, including powers to attach properties of the deposit takers
It also empowers police to search and seize any property believed to be connected with an offence under the Bill, with or without a warrant
The Bill enables the creation of an online central database, for collection and sharing of information on deposit-taking activities in the country
"Deposit Takers" include all possible entities (including individuals) receiving or soliciting deposits, except specific entities such as those incorporated by legislation
"Deposit" is defined in such a manner that deposit takers are restricted from camouflaging public deposits as receipts, and at the same time not to curb or hinder acceptance of money by an establishment in the ordinary course of its business
Category: INTERNATIONAL RELATIONS
1. PM, Saudi Crown Prince to discuss cross-border terror
Context
In a special gesture, Prime Minister Narendra Modi received Saudi Arabia's Crown Prince Mohammed bin Salman at the airport, signifying the importance India attaches to the visit by the leader of the powerful Gulf nation.
External Affairs Ministry spokesperson Raveesh Kumar tweeted, "A new chapter in bilateral relations. Breaking protocol, PM @narendramodi personally receives HRH Prince Mohammed bin Salman bin Abdulaziz Al-Saud, Crown Prince of Saudi Arabia as he arrives on his first bilateral visit to India!"
Modi and Mr. Salman are expected to look at ways to enhance defence ties, including holding a joint naval exercise.
A glance at the India-Saudi Arabia Relations
The 2.7 million strong Indian Community is the largest expatriate group in Saudi Arabia. They send remittances of over US $11 billion annually. The Kingdom also facilitates Hajj pilgrimage to over 1,75,000 Indians every year. This is a major reason why Saudi Arabia is an important country for India.
The Riyadh Declaration of 2010 had forged a Strategic Partnership between India and Saudi Arabia. Relations between the two countries are rooted in strong historical and civilisational links. The mutually beneficial partnership encompasses active cooperation in a wide spectrum of spheres.
Saudi Arabia has identified India as one of the eight strategic partners with whom it intends to deepen partnership in areas of political engagement, security, trade and investment, and culture. As part of this engagement, the two sides are finalising the setting up of a Strategic Partnership Council at the Ministerial level.
During Modi's 2016 visit, an MoU on cooperation in the exchange of intelligence related to money laundering and terrorism financing was signed.
Cooperation in the defence sector will continue to be an important area of India-Saudi ties. An MoU on Defence Cooperation was signed in 2014 during the visit of the Crown Prince Salman, the present King. The two sides are exploring the possibility of elevating this engagement with Joint Production and Joint Exercises, in particular Joint Naval exercises.
Bilateral trade was US $27.48 billion during the last financial year 2017-18, making Saudi Arabia India's 4th largest trading partner, recording about 10% growth compared to 2016-17.
Saudi Arabia is the key pillar of India's energy security, being a source of 17% or more of crude oil and 32% of LPG requirements of India. Recently, Saudi ARAMCO, in partnership with ADNOC of UAE, has agreed to partner in Ratnagiri Refinery and Petro-Chemical project Ltd., a Joint Venture of US$ 44 billion. The Indian partners are IOC, BPCL & HPCL. India hopes to transform this buyer-seller relationship in energy to a broad-based partnership.
Other areas of interest for joint collaboration are fertilisers, food security, infrastructure, renewable energy, etc. In a recent meeting that a NITI Aayog-led delegation had with their Saudi counterparts, areas such as information and communications technology, healthcare and pharmaceuticals, electronic and manufacturing facilities, and housing were identified as potential areas of enhanced cooperation.
Saudi Arabia itself is undertaking large development projects including Smart City, Red Sea Tourism Project, and Entertainment City, in which Indian companies will be looking to participate.
The countries are also looking for greater collaboration in the area of civil aviation, where there is considerable potential for enhanced links, especially in the context of increasing trade and tourism.
C. GS3 Related
1. Cabinet approves new National Electronics Policy
Context
The Union Cabinet has approved the National Electronics Policy 2019 aimed at achieving a turnover of $400 billion (about ₹26 lakh crore) for the electronics system design and manufacturing sector by 2025, while generating employment opportunities for one crore people.
Need of the policy
India is one of the fastest growing economies in the world. But it is lacking in electronics manufacturing sector.
India has a share of about 1.5 per cent in the world in total electronics hardware production. Data for 2014-15 shows that about 58% of domestic consumption is sourced through imports.
India offers the 3 'Ds' for business to thrive— democracy, demography and demand.
A growing middle class, rising disposable incomes, declining prices of electronics and a number of government initiatives have led to a fast-growing market for electronics. The industry has the potential to provide millions of jobs, directly and indirectly.
India has a large domestic market and a number of trained engineers. China, with its rising labour costs, will soon not be the global manufacturing hub. This is an opportunity for India.
GST has reduced the confusion associated with various state and local taxes.
India's electronics manufacturing has been unable to respond to the rising demand leading to a growing trade deficit.
Key features of the Policy
The policy is formed to enable flow of investment and technology, leading to higher value addition in the domestically manufactured electronic products and increased manufacturing of electronics hardware for local use as well as exports
The policy has introduced "easier to implement" incentive schemes, including an interest subvention scheme and credit default guarantee, to replace some of the existing ones under the National Electronics Policy 2012.
It proposes to provide interest subsidy of 4% on loans up to ₹1,000 crore on plant and machinery; in case of larger loans, the subsidy would be limited to ₹1,000 crore.
The government proposes to create a fund to provide default guarantee of up to 75% to banks for plant and machine loans of up to ₹100 crore – this will eliminate the need for small and new investors to provide third-party collateral – the scheme will be on the pattern of credit guarantee being provided by SIDBI for the SME sector
To help create an ecosystem, the policy has pitched for 2.0 version of the Electronics Manufacturing Cluster Scheme, under which infrastructure support will be provided for a group of industries that are part of the product supply chain rather than individual industries.
It has also proposed a sovereign patent fund to acquire intellectual property for chips and chip components.
D. GS4 Related
 Nothing here today!!!
E. Editorials
Category: POLITY AND GOVERNANCE
1. The importance of being humane (Custodial Torture)
Historical Background:
Dismemberment was a method of torture practised with vigour in ancient India, crushing-by-elephant-foot another.
As a matter of fact, the Arthashastra prescribes mental torture through swear-words with or without physical assaults.
Death by a thousand cuts was ancient China's speciality.
The Tang Code (652 CE) describes judicial torture in detail.
In Greece, the pinnacle of culture, Socrates was in 399 BCE sentenced to death by hemlock, which was known to act slowly, incapacitating the person in stages, climbing from the lower extremities limb by limb to the heart.
Editorial Analysis:
Experts have pointed out that custodial torture is global, old and stubborn.
Having said this, does it mean that sadism is an inherent part of human nature?
It certainly shows that the inflicting of pain is an inseparable part of human history. More specifically, the history of power, of authority and control.
The practice of custodial power is about men — and sometimes, women — who are in positions of power, even if for a brief while and over a limited terrain, having custody over a powerless person. It is about the use of custodial opportunity to torture the captive's body and mind.
It is important to note that custodial death, when not 'natural', is the extreme end-point of custodial torture. The death penalty, notwithstanding 'due process', is a close kin to this lawless and heartless game.
Torturers are invariably sadists. Mary Surratt is not a well-known name. She was the first woman to be hanged in the U.S., in 1865, under due process.
Hitler's torturing of his prisoners is yet another example.
Apartheid South Africa had its torturers trained in Algeria to inflict pain without leaving any signs on the body.
The butchering of Saudi journalist Jamal Khashoggi in October 2018 tells us custodial torture and killing are no country's, creed's or culture's monopoly.
Some experts point out that India has practised and continues to practise the 'third degree' with impunity.
But if torture is real, human revulsion with torture is also real.
A UN Perspective:
Meeting on December 10, 1984, the UN General Assembly stirred the world's conscience.
The UN General Assembly adopted the Convention against Torture and Other Cruel, Inhuman or Degrading Treatment or Punishment. Better known as the UN Convention against Torture, it sought to prevent torture around the world.
More specifically, it "required states to take effective measures to prevent torture and forbade them from transporting people to any country where there is reason to believe they will be tortured (refoulement)".
Most significantly, the Convention made state parties to undertake that "no exceptional circumstances whatsoever" will be "invoked to justify torture, including war, threat of war, internal political instability, public emergency, terrorist acts, violent crime, or any form of armed conflict".
In other words, it foresaw every possible subterfuge and subversion by states.
Custodial Torture: The Indian Perspective
India took 13 years to sign the Convention, but sign it did, on October 14, 1997, during the 11-month-old Prime Ministership of I.K. Gujral.
However, signing is only the first step. Unless a convention is ratified and followed or preceded by domestic legislation that commits the ratifying party to compliance, the original signing carries no meaning. India has not ratified.
Critics have pointed out that India's non-ratification of the Convention is both surprising and dismaying.
A question arises: What is the constraint?
It is important to note that a state which signs the Convention has to have a domestic law on the subject to outlaw and prevent custodial torture.
Without such a law, there is no meaning to signing the Convention.
Perspective on the Prevention of Torture Bill:
The UPA II government introduced a Prevention of Torture Bill in the Lok Sabha in 2010 and had it passed in 10 days.
The bill as passed by the Lok Sabha was referred to a select committee of the Rajya Sabha.
The committee gave its report recommending the Bill's adoption later the same year.
However, citing National Human Rights Commission figures of reported torture cases, the report said the figures showed custodial torture was rising.
It also pointed out that the number of reported cases being only a fraction of actuals, the situation was serious.
Unfortunately, the Prevention of Torture Bill was unlucky. It lapsed with the dissolution of the 15th Lok Sabha. And was not revived by the 16th, the present Lok Sabha.
It is important to note that ratification of the Convention remains in limbo. Currently, custodial torture remains in position.
It is important to note that in reply to a question (May 11, 2016) whether the government was planning to ratify the Convention, the Minister of State for Home did not answer either in the positive or negative but spoke of amending Sections 330 (voluntarily causing hurt to extort confession) and 331 of the Indian Penal Code.
The nature of these amendments has not been delineated and so, almost nine years after the report of the Select Committee and 21 years after signing the Convention, India is yet to legislate a law that will outlaw torture an enable it to ratify the Convention.
There are important questions that arise: What is the constraint? Why is the Indian state unwilling to say, 'no custodial torture in India'?
Experts point out that the answer can only be that the power over a captive's body and mind is not easily given up.
Can the Supreme Court "nudge" Parliament?
Senior advocate Ashwani Kumar, former MP and Minister, moved a PIL in the Supreme Court in 2016 asking it to get Parliament to move forward in the matter.
After a full day's exclusive hearing in the case, the court has reserved its orders. Can the Supreme Court indeed "nudge" Parliament?
Some experts point out that in a matter that concerns 'life and liberty', the Supreme Court is the guardian of the Constitution's guarantees.
Experts go on to mention that whatever be the outcome of Mr. Kumar's PIL, it is imperative that the democratic opposition makes the ratification of the Convention and a new anti-torture legislation part of its common programme.
Concluding Remarks:
The 17th Lok Sabha must take a stand on this matter.
It has a choice: to join the civilised world in moving away from ancient barbarism or stay in the dungeons of blinding brutality.
Category: INTERNATIONAL RELATIONS
1. The Saudi-India-Pakistan triangle
Why in the news?
Saudi Crown Prince Mohammed bin Salman visits India in the month of February, 2019 at a time when both countries are seeking to deepen bilateral cooperation.
Significance of the Visit: A Saudi Perspective:
For Crown Prince Mohammed bin Salman, the visit to India, Pakistan, China, Malaysia and Indonesia is an opportunity to re-assert Saudi Arabia's role as a major foreign policy player in Asia amid growing criticism over the Yemen war and the brutal assassination of journalist Jamal Khashoggi in Istanbul.
Significance of the Visit: An Indian Perspective:
For the government of Prime Minister Narendra Modi, the visit, with general elections approaching, is an opportunity to cap its pursuit of stronger ties with West Asian nations on a high note.
Nature of Visits (Saudi-India):
High-level visits between India and Saudi Arabia have become the new normal since King Abdullah came to India in 2006, the first Saudi monarch to do so in five decades.
Four years later, Prime Minister Manmohan Singh travelled to Riyadh. Mr. Modi visited Riyadh in 2016; last year, he met Crown Prince Mohammed bin Salman in Argentina on the sidelines of the G-20 summit at a time when the Crown Prince had already come under sharp criticism in many Western countries.
A number of factors have influenced the turnaround in ties between the two countries, which had been underwhelming during the Cold War.
When India's economy started growing at a faster clip post-liberalisation, its dependence on energy-rich nations grew. And Saudi Arabia was a stable, trusted supplier of oil.
Further, Post-9/11, the two have expanded the scope of their partnership to economic issues and fighting terrorism.
What is expected in the upcoming visit?
Crown Prince Mohammed bin Salman is expected to announce Saudi investments in both India and Pakistan.
Saudi Arabia, which has traditionally exercised great influence over Pakistan, had recently offered a $6 billion loan to Islamabad to stabilise the economy.
In India, Saudi Arabia and the UAE have acquired a 50% stake in a refinery complex in Maharashtra.
However, the project remains stalled amid protests against land acquisition, but it shows Saudi Arabia's interest to make long-term investments in India's energy sector.
Another subject that that will come up in bilateral talks is Iran.
Crown Prince Mohammed bin Salman has made containment of Iran his top foreign policy priority, and has U.S. support in this pursuit.
It is also important to point out that India is certain to come under U.S. pressure to cut oil imports from Iran: it has so far walked the tightrope between Saudi Arabia and Iran.
Even as its ties with the Kingdom improved over the past decade, India deepened its engagement with Iran, be it on oil trade or the Chabahar port.
This is driven by the conviction that while Saudi Arabia is vital for India's energy security, Iran is a gateway to Central Asia.
In conclusion, India is sure to continue this balancing act even as it seeks to strengthen the Saudi pillar of India's West Asia policy.
Editorial Analysis:
There seems to be much exultation in India that the visit by Saudi Crown Prince Mohammed bin Salman, or MBS, will lead to further strengthening of Saudi Arabia-Indian ties.
As a matter of fact, the process of strengthening Saudi Arabia-Indian ties had begun with Prime Minister Narendra Modi's visit to Riyadh in 2016.
Experts point out that some of this jubilation is based on rational calculations regarding Saudi interest in expanding trade and investment in India and collaboration in the energy sector.
As a matter of fact, Saudi Aramco is interested in partnering with the Abu Dhabi National Oil Company in developing an integrated refinery and petrochemicals complex at Ratnagiri in Maharashtra, a $44 billion joint venture with Indian public sector involvement.
It is important to note that Saudi Arabia is already one of the three largest suppliers of oil to India.
However, experts have pointed out that much of the euphoria is based on wishful thinking and vague statements such as Riyadh's declaration that India is one of eight countries with which it wants to intensify its strategic partnership in various fields.
Critics point out that the current positive sentiment shared by India is demonstrated, above all, by the speculation in policy-making circles in New Delhi that the Saudi stance on Kashmir has now changed and its tilt toward Pakistan corrected.
Critics point out that the latter assumption is nothing more than a pipe dream.
The Saudi Foreign Minister's statement in Islamabad during MBS's visit that Riyadh is committed to "de-escalating" tensions between India and Pakistan over Kashmir must not be read as an endorsement of the Indian stand but as an attempt to intervene in the dispute rather than accept its bilateral nature.
A Look at some Key reasons:
It has been pointed out that New Delhi should, therefore, not be overly optimistic that growing Saudi-Indian relations in the economic sphere will succeed in prying Riyadh away from Islamabad.
There are various reasons that lead to this conclusion. These are as under mentioned:
Firstly, Pakistan is far too important to Saudi Arabia for internal security reasons for Riyadh to sacrifice its stake in Islamabad in order to appease New Delhi.
The Pakistan Army has more than once acted as the Saudi rulers' praetorian guard and given the uncertain hold of MBS on his country, despite impressions to the contrary, he may need the services of Pakistani mercenaries in the near future.
Secondly, Afghanistan has been a point of strategic convergence for Pakistan and Saudi Arabia going back to the 1980s when the Saudis used Pakistan as a conduit for material assistance to the Islamist forces fighting the Soviet Union and its proxy government in Kabul. With U.S. withdrawal from Afghanistan and the consequent expansion of Taliban influence very much on the cards, Pakistan's strategic value as the Taliban's patron has grown exponentially.
Saudi Arabia is interested in curbing Iranian influence in Afghanistan and needs Pakistan to contain Tehran's ability to influence events in that country after the American withdrawal through its Tajik and Hazara allies.
The Iran Perspective:
Iran is Saudi Arabia's chief adversary in West Asia.
It is important to note that the Saudi-Iranian rivalry is being played out across the region, from Syria to Yemen.
Further, Riyadh perceives Pakistan as a major asset it can use to check the spread of Iranian influence despite the Nawaz Sharif government's refusal to commit Pakistani troops in the Yemen war on behalf of the Saudi-led alliance.
The Saudi- Pakistan Dynamic:  
Riyadh sees Pakistan Prime Minister Imran Khan and Pakistan Army chief General Qamar Javed Bajwa as more amenable to Saudi persuasion.
Pakistan on its part perceives MBS as a valuable interlocutor on its behalf with the U.S. because of his excellent rapport with U.S. President Donald Trump.
Islamabad deems this essential in light of the recent strains in U.S.-Pakistani relations over Pakistan's support to terrorist groups targeting U.S. forces in Afghanistan that led to stern rebukes from Mr. Trump and suspension of American military aid to Pakistan.
Moreover, Pakistan's relations with Iran, never easy, have hit a new low following the recent terrorist attack in the Sistan-Baluchistan Province that killed 27 Revolutionary Guards.
Supreme Leader Ayatollah Khamenei pointed the finger at "the spying agencies of some regional and trans-regional countries", an obvious reference to Pakistan and the U.S.
The commander of the IRGC said, "The government of Pakistan must pay the price of harbouring these terrorist groups and this price will undoubtedly be very high."
What makes Pakistan a natural ally of Saudi Arabia?
As Pakistan's relations with Iran deteriorate, it is likely to move further into the Saudi orbit.
Increasing Sunni fundamentalism, bordering on Wahhabism, in Pakistan also makes it a natural ideological ally of Saudi Arabia and an ideological foe of Shia Iran.
Perspective on Aid bailout: Why Pakistan needs Saudi Arabia?
Saudi economic largesse matters greatly to Pakistan, which is in dire economic straits and has been forced to turn to the International Monetary Fund (IMF) for loans that are bound to come with strict conditionalities.
Over and above the $6 billion already promised by Saudi Arabia, MBS has promised a further $20 billion in Saudi investment in Pakistan.
A large part is earmarked for investment in the construction of an oil refinery in Gwadar on the Makran coast, which is being developed as a strategic port by China and features prominently in the China-Pakistan Economic Corridor (CPEC) plan.
Concluding Remarks:
Experts point out that in the context of this strategic and economic nexus between Saudi Arabia and Pakistan, it will be unwise for India to seriously believe that it will be able to wean Saudi Arabia away from Pakistan.
Instead, India should take advantage of any benefit that accrues from India's economic relations with Saudi Arabia but should not pin much hope on Riyadh in the political-strategic sphere.
Category: ENVIRONMENT AND ECOLOGY
1. Clean power
Editorial Analysis:
Experts point out that the effort to clean up India's thermal power plants running on coal has never really taken off, despite the Ministry of Environment notifying emission limits for major pollutants such as suspended particulate matter, sulphur oxide, nitrogen oxide and mercury in December 2015.
Experts go on to point out that considering that the cumulative impact of these pollutants on the health and well-being of people is severe, the Centre should have followed up the notification with a viable financial plan to help power plants acquire pollution control technologies.
Experts point out that the economics favour such an approach for the larger plants, while for the smaller, older units, scaling down generation during the winter months when pollutants accumulate, may prove beneficial.
Originally, the compliance deadline was set for 2017, but that was missed and the plan now is to achieve the norms by 2022.
Unofficial estimates prepared by one NGO, Greenpeace India, suggest the estimated cost of non-compliance by the original deadline has been about 76,000 premature deaths.
Benefit-cost projections from another non-profit, the Center for Study of Science, Technology and Policy, put the positive outcomes from achieving pollution control at coal-fired plants by 2025 at potentially 3.2 lakh lives saved from premature death, and 5.2 crore respiratory hospital admissions avoided in the next decade.
It is important to note that these are outcomes that need to be pursued seriously. It is in this context that the latest proposal from the Power Ministry to provide the equivalent of over $12 billion (about Rs. 88,000 crore), mainly to remove sulphur from coal plant emissions, becomes important.
A viable financial mechanism must be evolved to remove pollutants in existing and upcoming power plants, without losing sight of the need to stop further long-term investments in a dirty fuel such as coal that contributes to carbon emissions.
Optimally, experts point out that the burden of incorporating pollution control should fall on the beneficiary-user, which in simple terms would translate into a tariff hike.
On the other hand, achieving speedy implementation of the new processes covering both public and private power producers may require some form of immediate governmental support, such as grants.
This is particularly relevant, given that power producers that have borrowed from several institutions, including state-funded ones, are reported to be under severe financial stress. India's coal use represents just over 54% of the present energy mix, and the fuel will continue to retain a high share of the overall generation.
Concluding Remarks:  
The challenge, therefore, is to identify the right instruments to fund the entire exercise, in the interests of pollution control and the wider social objective of extending electricity access to the unreached.
There could be a positive spin-off from sulphur-removal, since it can yield commercially significant quantities of synthetic gypsum.
But even if little else accrues from the effort, the benefits of clean air to public health would make the investment well worth the effort.
F. Tidbits
1. 'Celebrities willing to endorse parties for a fee'
Investigative platform Cobrapost has claimed to have exposed 36 Bollywood personalities who agreed to promote for a fee any specified political party on their social media accounts ahead of the Lok Sabha election.
Appearing to represent a fictitious Public Relations agency, undercover Cobrapost reporters approached several actors, singers, stand-up comedians and dancers with lucrative offers of quick money, ranging from more than ₹2 lakh, for promoting political parties through their accounts on various social media platforms. Some of the celebrities, having lakhs of followers on social media, sought as much as ₹50 lakh per message, according to the report.
However, four of those who were approached refused the offer straight away. Cobrapost Editor Aniruddha Bahal said the sting operation was conducted last year and it took some time to release it after the post-production work.
"Most of them were willing to accept the bulk of their fee in cash, which in other words means black money," Cobrapost said in a statement. While some actors proposed they would indirectly promote the political party in their press briefings during the promotion of a film or an event, others even offered to post videos on social media and make them go viral.
This situation highlights the need for the Election Commission to frame guidelines to regulate proxy campaigning by celebrities on social media.
2. More than 4 lakh children are inhalant addicts: survey
Uttar Pradesh, Andhra Pradesh, Punjab, Chattisgarh and Arunachal Pradesh have emerged front runners in alcohol abuse and health complications arising due to the addiction, according to a survey conducted by the National Drug Dependence Treatment Centre, All India Institute of Medical Sciences, Delhi.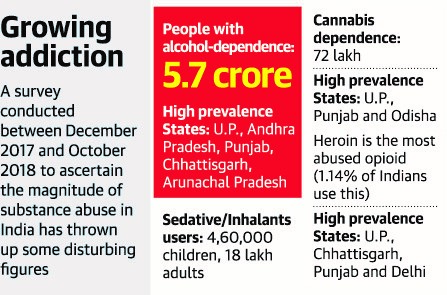 The survey report, which was submitted to the Union Ministry of Social Justice and Empowerment, noted that 5.7 crore people in the country suffered from alcohol-related problems.
Of the 16 crore people who consumed alcohol across the country, prevalence of alcohol consumption was 17 times higher among men than among women.
More than four lakh children and 18 lakh adults needed help for inhalant abuse and dependence, the report said.
The survey, conducted to ascertain the magnitude of substance abuse in the country, was carried out between December 2017 and October 2018. It covered 4,73,569 individuals in the 10-75 age group. High prevalence of consumption of alcohol was also reported in Tripura and Chhattisgarh.
The survey also revealed that about 3.1 crore individuals consumed cannabis, with 72 lakh of them needing help for cannabis use problems. Uttar Pradesh, Punjab and Odisha registered maximum cannabis dependence.
The most common opioid used was heroin. The current use of heroin was 1.14%, followed by pharmaceutical opioids (0.96%) and opium (0.52%). The abuse was found most prevalent in Uttar Pradesh, Punjab and Haryana.
The Ministry for Social Justice and Empowerment maintained that a national guideline would be formulated after detailed consultation with all stakeholders to counter the drug menace in the country.
3. Centre launches panic button on mobiles
The government has launched the panic button feature on mobile phones for safety of women and other emergency services across 16 States and Mumbai.
The initiative was opened jointly by Home Minister Rajnath Singh and Women and Child Development Minister Maneka Gandhi nearly three years after the government first made the safety feature a mandatory requirement in phones through a gazette notification.
In order to access an emergency service, such as police, medical and other services, a user can dial 112 from any phone. A smartphone user can also press the power button thrice in quick succession and a user of a basic or feature phone can long press 5 or 9 on the key pad. One can also download the 112 mobile application.
Once a user presses the panic button, five calls will be made to emergency number 112 as well as call log details and the geo location of the victim will be sent by SMSes and emails to police officials at the State, district and local level.
It can be availed in Andhra Pradesh, Uttarakhand, Punjab, Kerala, Madhya Pradesh, Rajasthan, UP, Telangana, Tamil Nadu, Gujarat, Puducherry, Lakshadweep, Andaman, Dadra & Nagar Haveli, Daman & Diu, Jammu & Kashmir as well as Mumbai. The safety feature had earlier been launched in Nagaland and Himachal Pradesh.
The panic button facility, also known as the Emergency Response Support System, is being supported under the Nirbhaya Fund set up for safety of women.
4. SC upset at the plight of illegal migrants in Assam centres
Illegal immigrants should not languish for long in detention centres in Assam; instead they should be repatriated or deported expeditiously, the Supreme Court and the Centre agreed.
The Centre assured the court that it would hold consultations with the State on a scheme to expedite deportation or repatriation of illegal foreigners and report back to the Bench, led by Chief Justice of India Ranjan Gogoi, on March 13.
The court is hearing a petition by activist Harsh Mander about the dismal living conditions in Assam's detention centres. The court noticed that many detainees were kept in these centres even after they served their term of imprisonment.
Referring to the submission that about 29,000 illegal immigrants were "pushed back," the Chief Justice asked the government whether "pushing back was an effective way of deportation." "Of the 52,000, how many have you actually deported," he asked the government.
Mehta repeatedly assured the court that steps would be taken to expedite deportation or repatriation of illegal immigrants rather than have them spend years in detention centres.
5. IAF pilot killed, two injured in crash
A pilot was killed and two others were injured when two Hawk trainers of the Indian Air Force's Surya Kiran Aerobatics Display Team (SKAT) grazed each other mid-air and crashed into a residential layout behind the Air Force base in Yelahanka (Bengaluru, Karnataka).
They were practising manoeuvres ahead of the Aero India 2019, scheduled to begin From February 20.
Two pilots of one aircraft bailed out. But Wing Commander Sahil Gandhi, 38, who was in the same aircraft did not survive the crash. His teammates in the other display aircraft, Wing Commander Vijay Shelke and Squadron Leader Tejeshwar Singh, were injured.
The Hawk MK.132 trainer that Wing Commander Gandhi was in and another SKAT plane came into contact with each other while performing a mirror or Calypso pass. The manoeuvre involves one plane flying inverted above the other, with a gap of four to five metres between them. Wing Commander Gandhi was in the inverted aircraft.
The five-day Aero India 2019, the largest so far in terms of participation, will open on February 20 as scheduled. The aerobatics team will, however, be grounded till the inquiry is over.
G. Prelims Facts
1. Aussie mammal the first 'climate change extinction'
Australia officially declared a Great Barrier Reef rodent extinct, making it the first mammal believed to have been killed off by human-induced climate change.
The rat-like Bramble Cay Melomys — whose only known habitat was a small sandy island in far northern Australia — has not been spotted in a decade.
Researchers from Queensland determined a key factor in its disappearance was "almost certainly" repeated ocean inundation of the cay — a low-lying island on a coral reef — over the last decade, which had resulted in dramatic habitat loss.
Australia's Environment Ministry said it had officially transferred the animal to the "extinct" list. The researchers completed a wide-ranging survey in 2014 in a bid to track down the species, but found no trace.
Available data on sea-level rise and weather events in the Torres Strait region "point to human-induced climate change being the root cause of the loss of the Bramble Cay Melomys", a study released in 2016 mentioned.
The Melomys rubicola, considered the Great Barrier Reef's only endemic mammal species, was first discovered on the cay in 1845 by Europeans who shot the "large rats" for sport.
2. New angel tax rules provide relief to eligible start-ups
The Centre has notified new rules pertaining to angel tax which, will exempt registered start-ups of a specified size from the tax and any scrutiny to do with its applicability.
Angel tax is applicable to unlisted companies that have raised capital through sale of shares at a value above their fair market value. This excess capital is treated as income and taxed accordingly. This tax predominantly affects start-ups and the angel investments they attract.
According to the recent notification, investments of up to ₹25 crore in an eligible company will be exempt from the angel tax. In addition, investments made by a listed company of a networth of at least ₹100 crore or a turnover of at least ₹250 crore would also be exempt. Investments made by non-residents will also be exempt.
The notification said that an eligible start-up would be one that is registered with the government, has been incorporated for less than 10 years, and has a turnover that has not exceeded ₹100 crore over that period.
In order to register with the government as a start-up, the company will also have to make an online application to the Department for Promotion of Industry and Internal Trade (DPIIT).
This application will have to be accompanied by a copy of the Certificate of Incorporation or Registration, a write-up about the nature of the business highlighting how it is working towards "innovation, development or improvement of products or processes or services, or its scalability in terms of employment generation or wealth creation."
Welcoming the move, the start-up community said some issues such as start-ups having already been sent tax notices, and the applicability of Section 68 of the I-T Act still remained and that they would take it up with the tax department.
3. New Universe map unveils 3,00,000 more galaxies
The map created by the LOFAR observations, part of which was published in the journal Astronomy & Astrophysics, contains data equivalent to the capacity of ten million DVDs yet charts just two percent of the sky.
More than 200 astronomers from 18 countries were involved in the study, which used radio astronomy to look at a segment of sky over the northern hemisphere, and found 3,00,000 previously unseen light sources thought to be distant galaxies.
A new map of the night sky published recently charts hundreds of thousands of previously unknown galaxies discovered using a telescope that can detect light sources optical instruments cannot see.
The team behind the space survey said their discovery literally shed new light on some of the Universe's deepest secrets, including the physics of black holes and how clusters of galaxies evolve.
Radio astronomy helps detect radiation produced when massive celestial objects interact.
The team used the Low Frequency Array (LOFAR) telescope in the Netherlands to pick up traces — or "jets" — of ancient radiation produced when galaxies merge. These jets, previously undetected, can extend over millions of light years.
The discovery of the new light sources may also help scientists better understand the behaviour of one of space's most enigmatic phenomena
H. UPSC Prelims Practice Questions
Question 1.Supreme Court has recently set up a panel headed by retired SC Judge Amitava 
Roy Panel to look in to which one of the following matters?

Prison reforms and decongest crowded jails
Disqualification of MPs
Digital Payments
None of the above
See
Question 2. Consider the following statements about WAYU
It is a device developed by ISRO
It is to address air pollution at high traffic zones, which have lot of buildings in the neighbourhood leading to restricted flow of air called "Street Canyon" effect.
Which of the above statement(s) is/are correct?
Only 1
Only 2
Both 1 and 2
None of the above
See
Question 3. The gates of Idukki dam in Kerala were recently opened after 26 years. This dam is 
on the river
Kabini
Valapattanam
Bharatapuzha
Periyar
See
Question 4. With reference to adultery, consider the following statements.
Adultery can be a civil wrong and a ground for divorce.
Section 497 of IPC is violative of right to equality and right to equal opportunity to women.
Which of the above statement(s) is/are correct?
Only 1
Only 2
Both 1 and 2
None of the above
See
I. UPSC Mains practice Questions
In a first for India, Rajasthan government has prepared the draft of Rajasthan Social Accountability Bill. The citizen centric law will enable citizens to initiate enquiries rather than relying on the departmental enquires in the existing system. Discuss the relevance of Social Accountability in the bringing probity in governance(12.5 Marks; 200 words)
Argentina has recently signed the Framework Agreement of the International Solar Alliance (ISA). In this context, write a note on the importance of ISA (10 Marks; 150 words)
See previous CNA