TABLE OF CONTENTS
A. 

GS1 Related




B. 

GS2 Related


POLITY AND GOVERNANCE
1. Anil Ambani, RCom guilty of contempt of court, rules SC


C. 

GS3 Related


ECONOMICS
1. Tripura gets ₹85-crore mega food park
ENVIRONMENT
1. Where are the green crackers?: SC


D. 

GS4 Related




E. 

Editorials


INDIAN ECONOMY     
1. The employment test
2. Inflation pressure eases
INTERNATIONAL RELATIONS      
1. More symbolic than punitive (India-Pakistan Trade Relations)


F. 

Tidbits


1. Meet the sea squirt that sucks plastic particles from the ocean
2. Odisha forum comes up with 'six Cs' for voters
3. IAS officer to adopt daughters of slain jawans from Bihar
4. Nobody can stop business under guise of hartal: HC


G. 

Prelims Facts


1. Thousands of women offer 'pongala' at Attukal temple
2. 'Biggest ever' Aero India opens with tribute to deceased pilot


H. 

UPSC Prelims Practice Questions




I. 

UPSC Mains practice Questions



A. GS1 Related
 Nothing here today!!!
B. GS2 Related
Category: POLITY AND GOVERNANCE
1. Anil Ambani, RCom guilty of contempt of court, rules SC
Context
The Supreme Court has found Reliance Communications Ltd. (RCom) and its chairman Anil Ambani and two other group firms guilty of contempt of court, observing that the defendants had adopted a "cavalier attitude" despite the court's best efforts to "lend a helping hand" to pay off dues worth ₹550 crore to Swedish telecommunications equipment major Ericsson.
Details of the issue
In 2014, Ericsson had signed a deal with RCom to operate its nationwide telecom network. After RCom, which has a debt of more than Rs 47,000 crore, failed to pay Ericsson, it moved an insolvency petition in the National Company Law Tribunal (NCLT). The petition to recover pending dues of Rs 1,150 crore was admitted in May last year.
However, RCom amicably settled the dispute by offering Rs 550 crore, which was to be paid by September 30, 2018. When RCom failed to pay this as well, Ericsson approached the Supreme Court in September.
RCom was given a deadline of December 15, 2018, to pay its dues. When it failed to do so, Ericsson approached the court again on January 4 this year for initiation of contempt proceedings for the second time. The Supreme Court had warned that failure to comply with its orders would attract an interest of 12 per cent per annum.
Reliance Communications decided to shut down operations in 2017 while the entire telecom sector was stressed due to the entry of Reliance Jio, Mukesh Ambani's company. The telecom sector was in a state of upheaval because of Jio's cheap tariff charges and many players, including RCom, were unable to sustain operations.
The Insolvency and Bankruptcy Code (IBC) was introduced by the NDA government in 2016, but lenders did not take RCom to the insolvency court until much later. Things had however changed sometime in the middle of 2017 as it became evident that RCom was having trouble in repaying their debt.
Despite a series of markdowns by credit agencies on RCom's ability to repay their debts, their lenders continued to restructure some of the debt until 2017.
Ericsson, one of RCom's vendors, is owed Rs 1,150 crore in dues for the telecom network equipment they had supplied. The Swedish telecom giant took RCom to insolvency court when they couldn't recover the money.
Now that RCom is in Insolvency, according to the IBC, there is a waterfall mechanism which is followed for financial dispute resolution. Under this, a secured financial creditor gets paid first. If any money is left, it then goes to the unsecured financial creditors, and the remaining to operational creditors.
Ericsson is an operational creditor. But in this case, since Ericsson moved the Supreme Court first, their claim was admitted.
Contempt of court
It is the offense of being disobedient to or being disrespectful towards a court of law
Any action which defies a court's authority or impedes ability of the court to perform its functions or wilfully fails to obey a court order
A judge may impose sanctions such as a fine or jail for someone found guilty of contempt of court
The contempt proceeding can be initiated till 1 year from the commission of an offence.
Apology also forms a defence under the Contempt of Court Act; however, it should be unconditional and should be in good faith with the promise to abide by the order of the Court.
Objective behind contempt law
The purpose of contempt jurisdiction is to uphold the majesty and dignity of justice delivery system.
Contempt powers help judges to do their duties of deciding cases without fear, favour, affection or ill will.
Law of contempt is the protector of the seat of justice more than the person occupying that seat per se.
Open criticism and malign of judiciary decreases the respect for judiciary and the confidence reposed in the courts.
When questions are raised and motives attributed to court's decisions have extraneous basis, not only the legal and moral authority of courts is questioned but it is an affront to the Constitution itself.
C. GS3 Related
1. Tripura gets ₹85-crore mega food park
Context
Tripura has received its first major investment after the BJP-led government came to power last year, with the inauguration of a ₹85-crore food park that is expected to generate employment for around 30,000 people.
The food park is the 18th of its kind in the country and has been set up at Tulakona, near Agartala.
Mega Food Park Scheme
To give a major boost to the food processing sector by adding value and reducing food wastage at each stage of the supply chain with particular focus on perishables, the Ministry of Food Processing Industries is implementing Mega Food Park Scheme in the country.
The Mega Food Park Scheme is based on "Cluster" approach and envisages creation of state of art support infrastructure in a well-defined agri/ horticultural zone for setting up of modern food processing units along with well-established supply chain.
Common facilities and enabling infrastructure is created at Central Processing Centre and facilities for primary processing and storage is created near the farm in the form of Primary Processing Centers (PPCs) and Collection Centers (CCs). Under the Scheme, the Centre provides financial assistance up to Rs 50 crore per mega food park project.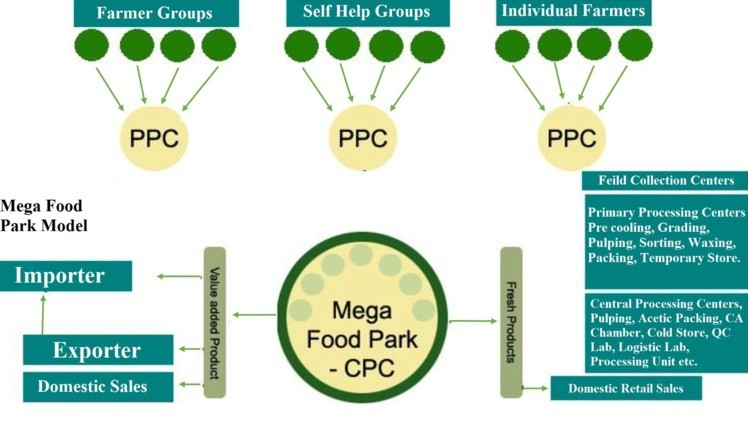 Problems with Indian food parks
Promoters have faced difficulties in selling the new concept to banks and, as a result, have failed to secure loans to build the parks.
Acquiring the 50 acres of land, which is mandatory under MFPS, has been another challenge that most developers have failed to address.
Convincing small enterprises to set up shop at these facilities has not been easy.
1. Where are the green crackers?: SC
Context
Four months after it banned polluting firecrackers, the Supreme Court realised that the concept of non-polluting 'green crackers' remains a non-starter, while its ban has affected the livelihood of four lakh workers and resulted in the closure of 974 firecracker units in Sivakasi, Tamil Nadu, alone.
"Where are the green crackers," a Bench, led by Justice A.K. Sikri, asked the Petroleum and Explosives Safety Organisation (PESO) and the National Environmental Engineering Research Institute (NEERI).
Justice Sikri said the October 23 ban and the insistence on green crackers were meant to stop pollution and, at the same time, ensure that livelihoods were not affected. He observed that the court had ordered the ban under the belief that a formula for non-polluting crackers was in place.
Background
On October 31 last year, the Supreme Court had, on an application from Tamil Nadu, clarified that only green crackers could be made henceforth across the country.
This meant that no polluting crackers could be made after the factories sent out the existing stock.
The mandatory manufacture and sale of green crackers was implemented in the National Capital Region with immediate effect from last year itself.
Green Crackers
Fireworks is a device which contains gunpowder and other combustible chemicals which causes striking effects and when ignited they explodes. Basically, used in celebrations, festivals etc.
Green crackers are those crackers which do not contain harmful chemicals that would cause air pollution. They are environmentally friendly. So, we can say that green crackers are less harmful as compared to conventional firecrackers and less pollution emission will result in reduced air pollution. That is why it is decided to develop eco-friendly firecrackers and fireworks.
In green crackers the commonly used polluting chemicals like aluminium, barium, potassium nitrate and carbon have either been removed or sharply reduced to slow down the emissions by 15 to 30%.
The idea of generating green firecrackers is of CSIR labs and is proposed by the Union Science and Technology Minister Dr. Harsh Vardhan
In the first phase of producing green crackers focus will be on reducing pollutants and then further strategies will cover to remove pollutants from the compositions.
The network of CSIR labs – Central Electro Chemical Research Institute (CECRI), Indian Institute of Chemical Technology, National Botanical Research Institute, National Chemical Laboratory has developed flower pots by using "eco-friendly materials" that can potentially reduce particulate matter by 40%.
CSIR-NEERI is testing the efficacy of bijli crackers by "eliminating the use of ash as desiccants".
Potential sound-emitting functional prototypes that do not emit sulphur dioxide were also developed. These crackers are named as Safe Water Releaser (SWAS), Safe Thermite Cracker (STAR) and Safe Minimal Aluminium (SAFAL).
These have the unique property of releasing water vapour and/or air as dust suppressant and diluent for gaseous emissions.
The Petroleum and Explosives Safety Organisation is testing and analysing these crackers for safety and stability.
D. GS4 Related
  Nothing here today!!!
E. Editorials
Editorial Analysis:
Some experts point out that the emergence over the past few months of data on employment, speaking precisely the lack of it, paint a picture of an economy that is widely out of line with the government's pronouncements on its performance.
Critics point out that employment does not usually figure in the public discourse orchestrated by political parties, either at the Centre or in the States. This must change, for steady employment is the citizen's aspiration, to realise which she elects representatives.
Experts point out that governments in India must be routinely subjected to an employment test which gauges their success in generating and sustaining high employment.
It is important to note that employment data from government sources (Labour Bureau) for about half a decade up to 2015 and from the independent agency Centre for Monitoring Indian Economy (CMIE) for the period since give us a reasonably good idea of the progress made with respect to employment.
Further, when supplemented with other information, these sources also suggest to us the proximate factors responsible for that history. The evidence they provide tell two stories. Firstly, the present government has had little success in generating employment.
Also, another important development is that the labour force may actually have shrunk in the recent past. The labour force is the sum of the employed and those unemployed who are seeking employment.
A shrinking of the labour force is most unusual in an economy with a growing population, and thus a growing working age cohort.
The demonetisation effect:
While this decline had already emerged in 2015, it became pronounced after demonetisation in 2016.
It is important to note that a section of those hitherto willing to work may have simply dropped out of an already challenged labour market.
This possibility is recognised in macroeconomics as the 'discouraged-worker effect' and has been observed in Western economies.
Experts opine that the loss of skill that can accompany being unemployed even temporarily, and the consequent loss of long-run output for the economy, is the basis of the argument that public policy must respond with alacrity to growing unemployment.
Critics point out that whatever may have been the acclaimed beneficial impact of demonetisation in terms of raising direct tax compliance, it has caused demoralisation among a section of the already unemployed who may have given up all hope of finding employment.
It is important to note that Labour Bureau data show that the unemployment rate almost doubled between 2011 and 2015. Critics allege that it is unfortunate that the government's own reports did not flag this.
Both output growth and employment are under normal circumstances associated with capital formation. It is important to note that capital formation as a share of output has been declining since 2011-12. Further, unlike consumption expenditure, capital expenditure is unique in expanding both the supply and demand sides of the economy.
Critics allege that despite the declining capital formation, neither United Progressive Alliance (UPA) II nor National Democratic Alliance II considered it necessary to respond to it by stepping up public investment, the obvious thing to do in the prevailing circumstances.
Some experts point out that the clue to this inertia may be found in the political economy. To illustrate this point further, for UPA II, the success of its first term in office must have looked like the perfect opportunity to expand its political base by legislating rights and reciting the mantra "inclusive growth".
Post UPA II came the present administration, headed by Prime Minister Narendra Modi, who embraced the dogma of the Washington Consensus.
A Brief Note on the Washington Consensus:
The Washington Consensus, is a set of economic policy recommendations for developing countries, and Latin America in particular, that became popular during the 1980s.
The term Washington Consensususually refers to the level of agreement between the International Monetary Fund (IMF), World Bank, and U.S. Department of the Treasury on those policy recommendations. All shared the view, typically labelled neoliberal, that the operation of the free market and the reduction of state involvement were crucial to development in the global South.
With the onset of a debt crisis in the developing world during the early 1980s, the major Western powers, and the United States in particular, decided that both the World Bank and the IMF should play a significant role in the management of that debt and in global development policy more broadly.
When the British economist John Williamson, who later worked for the World Bank, first used the term Washington Consensus in 1989, he claimed that he was actually referring to a list of reforms that he felt key players in Washington could all agree were needed in Latin America. However, much to his dismay, the term later became widely used in a pejorative way to describe the increasing harmonization of the policies recommended by those institutions. It often refers to a dogmatic belief that developing countries should adopt market-led development strategies that will result in economic growth that will "trickle down" to the benefit of all.
The World Bank and IMF were able to promote that view throughout the developing world by attaching policy conditions, known as stabilization and structural adjustment programs, to the loans they made. In very broad terms, the Washington Consensus reflected the set of policies that became their standard package of advice attached to loans.
The Washington Consensus was popular in the 1990s after the collapse of the Soviet Union. It extolled small government and asserted the capacity of the market mechanism to deliver an optimal outcome. There was in this scheme of things no place for any involuntary unemployment.
Cost of failure?
It is important to note that we have adopted representative democracy as our form of government because we cannot in isolation achieve the outcomes we desire even when they are exclusive to us. Employment is one example of this.
Though it manifests itself as jobs for individuals, it is determined by macroeconomic factors which individuals cannot influence on their own.
The Great Depression in the 20th century and the Great Recession in the 21st, both which have originated in the U.S. but quickly spread across the world, testify to this helplessness of individuals in the face of market forces.
Concluding Remarks:
In a democracy, it is left to elected representatives whether to pursue macroeconomic policies conducive to the generation of employment.
Critics point out that India's political parties have for close to a decade now failed to so, either wilfully or out of neglect. However, when elected to govern, they are given a chance to create the conditions that enable Indians to lead flourishing lives, which includes being meaningfully employed during their working age.
It is suggested that India's political parties must pass 'the employment test'. When they fail, they must vacate the stage.
Editorial Analysis:
Why has inflation been falling?
Experts point out that inflation at both the retail and wholesale levels has been falling for the last 4-5 consecutive months.
Inflation as measured by the Consumer Price Index (CPI), which captures retail inflation, and the Wholesale Price Index (WPI) has been falling in general for the last year or so.
The CPI, for example, was as high as 5.21% in December 2017, following which it fell quite steadily (except for a mid-year blip in 2018) till it reached 2.05% in January 2019, the lowest it has been in 19 months.
The WPI has similarly seen an overall decline, but has been more volatile than the CPI.
What is the main reason why inflation has been falling?
The main reason why inflation has been falling is the drop in global oil prices. After rising in the middle of 2018 to average $80 a barrel in October 2018, the Indian basket of crude oil prices fell to $57 a barrel in December 2018. It was $59 in January 2019. Prices in February 2019 have been slightly higher than that, but the increase is not much.
What does this mean for the economy?
The nature of the Indian economy is such that a change in oil prices has knock-on effects on almost every sector such as food, manufacturing, transport and infrastructure.
Any sector that uses fuel or energy as an input is affected by global oil prices because India is still overwhelmingly dependent on imported oil to meet its needs.
When global oil prices fall, inflation falls across the board, most notably in energy-intensive sectors. And within this, falling prices in each of these sectors have an impact on the other sectors dependent on them.
For example, falling inflation in the transport sector means that every sector that needs to transport goods will also benefit.
Another aspect of falling inflation is that the Reserve Bank of India has more leeway to go easy on interest rates, one of its key inflation targeting tools.
It is important to note that in its last Monetary Policy Review, the central bank cut the benchmark interest rate by 25 basis points. Some experts feel there is scope for even more cuts.
Politically, low and falling inflation is always to the benefit of the government.
This is especially noteworthy in the run-up to the general election. In contrast, the CPI inflation averaged about 7.6% in the three months leading up to the 2014 elections.
Why do WPI and CPI inflation diverge?
Economists have pointed out the divergence for quite some time now. The main reason behind it is that the two indices measure different products and assign each of the categories different weights in the calculation of the overall index.
This divergence has intensified since the implementation of the Goods and Services Tax because the new tax system affects retail inflation far more than it does wholesale inflation, since it is included in the final price of the product.
What is the outlook ahead?
The outlook on oil prices is a stable one. The consensus is that crude oil prices will remain in the range of $55-65 a barrel for the next three to four quarters. Given how important this is for inflation in India, experts feel retail inflation will remain subdued at 2-3% and wholesale inflation at 3-4% in the near future.
Category: INTERNATIONAL RELATIONS
1. More symbolic than punitive (India-Pakistan Trade Relations)
Editorial Analysis:
Experts opine that India's decision to withdraw the Most Favoured Nation (MFN) status to Pakistan means that India will not treat Pakistan on an equal footing in trade as is expected of fellow members of the World Trade Organisation.
The move comes after the attack on a Central Reserve Police Force convoy in Pulwama, Jammu and Kashmir.
It is important to note that this does not strictly fall under the 'beggar-thy-policy', often used in international trade through which one country tries to resolve its economic problems by means that worsen the economic problems of its neighbours or trade partners.
The moot point therefore is the sensitivity of the impact of the MFN status on Pakistan in terms of its trade with India.
Experts opine that it can only be a pressure tactic and do little unless stringent actions are taken to stop informal trade that has been going on between the two countries for long.
Besides China, India and Pakistan are the two largest economies in the South Asian region. Being dominant constituents of the South Asian Association for Regional Cooperation, both countries, i.e. India and Pakistan have immense potential for intra-regional trade.
How does trade take place currently?
Trade now takes place using three channels: the official route; the illegal (informal) route, through smuggling along porous India-Pakistan land borders and also Afghanistan, which may not be accounted for in the national income; and lastly, through mainly Dubai and Singapore, which have free ports and accommodate legal agents of traders from India and Pakistan.
Informal trade generally takes place due to the following reasons:
Restrictions on import of specific items on grounds of health and religious beliefs;
'high tariff barriers or transportation costs, making it cost effective to smuggle goods in the country;
imposition of non-tariff measures (NTMs)';
weaknesses in the 'rules of origin' resulting in 'trade routed through a third country;
leakages in transit trade; and
distortions in domestic policies such as the absence of or relatively low indirect taxes, creating an incentive to transport items illegally to neighbouring countries.
It is also important to note that traders carry out informal trade between Pakistan and India through the exchange of goods at the border as well as through the personal baggage scheme' through "green channel" facilities at international airports or railway stations.
'Informal trade has also taken place through Afghanistan where goods are exported officially from India and later smuggled into Pakistan.
Indian-made goods smuggled into Pakistan include cosmetics, liquor, stainless steel utensils, ayurvedic medicines, videotapes/CDs, confectionery/cashew nuts, tea, coffee, live animals and spices.
Trade data: A Look at Some Specifics
From 2011-12 to 2017-18, India's formal trade with Pakistan increased from $1.94 billion to $2.41 billion.
Of this, the share of exports stands at almost 80% and has been fairly stable over the years (Ministry of Commerce and Industry, India).
In 2012-13, informal trade between India and Pakistan — estimated in a study (ICRIER, N. Taneja and S. Bimal, 2016) — was $4.71 billion, which was double when compared to formal trade.
Further, India's informal export share to Pakistan was again much higher at $4 billion while its import share was low at $0.71 billion.
After the Pulwama attack, the follow-up measure to raise tariff duty on imports to 200% can again be trivial. So would be the NTMs, if increased, as India's imports from Pakistan are reasonably low at $0.488 billion.
Besides, imports from Pakistan grew at a lower rate (1.04%) compared to exports (1.32%) per annum from 2011-12 to 2017-18.
Major exports from India that would hard hit would be cotton (not carded or combed) valued at $0.273 billion, p-Xylene ($0.082 billion), polypropylene ($0.063 billion) and single yarn ($0.088 billion).
Pakistan's loss from major exports to India would be much less — from dates ($0.113 billion), portland cement ($0.078 billion), other petroleum oil ($0.055 billion) and light oils and preparations ($0.028 billion).
Thus Pakistan is an important export destination for India but not vice-a-versa. This is despite the fact that Pakistan imposes a large number of NTMs (143) on Indian exports, the major ones being export related measures (25.2%); technical barriers to trade (24.5%); and sanitary and phytosanitary measures (22.4%).
These are concentrated on agriculture, plants, and food-related products and operate as bans that shut competitors out of its market.
Pakistan's NTMs are blunt instruments; it is difficult to use them to provide targeted protection to the strategic industries.
In contrast, India's NTMs are soft barriers which operate as delays or bureaucratic hurdles rather than bans.
Pakistan's NTMs focus on general categories of goods whereas India's NTMs are on particular industries and trading partners.
The widely used NTMs India uses include defence procurement procedure, preference to domestically manufactured electronic goods in government procurement' and a ban on goods largely manufactured within the country.
Concluding Remarks:
The sense is that Pakistan may not face an exacerbating situation with India withdrawing the MFN status and raising the import duty.
Informal trade may proliferate, which might not be in India's interest and an appropriate strategy is required to bring it to a halt.
Also, under the South Asia Free Trade Area Agreement (SAFTA) 2004, Pakistan's share in external trade is less than 10%, while India's share is more than 70%.
Such steps may propel Pakistan to look for new markets beyond SAFTA, corroborated by the recent meeting held with Saudi Arabia and growing prospects of trade through a third country, mainly via Dubai.
F. Tidbits
1. Meet the sea squirt that sucks plastic particles from the ocean
A rubbery sea creature with an irritating habit of clinging to ships and invading beaches could help measure plastic pollution as it can filter tiny particles from the ocean and store them in its soft tissue.
Israeli researchers have found that ascidians — round, palm-sized animals also known as sea squirts — can thrive in dirty industrial areas and pristine waters alike, allowing them to detect and analyse waste and its impact in various regions.
A staggering amount of plastic flows into the ocean each year. The United Nations says it is as if a garbage truck full of plastic was dumped into the water every minute, a rate some estimates show could lead to oceans carrying more plastic than fish in 30 years.
But the long-term impact of the waste, particularly tiny pieces called microplastic, is still not fully understood.
As a bonus, sea squirts are related in evolutionary terms to human beings. So studying them and the plastic inside them could be more insightful than looking at creatures like fish.
2. Odisha forum comes up with 'six Cs' for voters
Odisha's Jan Jagran Abhiyan has decided to start a Statewide movement to motivate voters to vote for able and non-corrupt candidates without considering their party affiliation or opt for NOTA in the coming elections.
"The JJA is a political organisation with no intention to contest elections. We will not watch the dirty game of electoral politics from the fences but interfere in it by motivating the voters," said JJA's Odisha president Madhusudan Sethi.
The organisation has decided to start a campaign to motivate the voters to choose their candidates based on six criteria — character, past criminal record, corruption charges against the person, if he/she is anti-caste system, anti-communal and connected to the people. "These are six Cs by which a voter can judge the candidate," Mr. Sethi said.
The JJA has decided to ask the voters to opt for NOTA (None of The Above) in case they do not find any candidate fulfilling the six Cs.
Members of the organisation said voters are falling for big political parties and their charismatic leaders and electing undeserving candidates. "Let the good people get elected and they can choose an able leader," Mr. Sethi said.
3. IAS officer to adopt daughters of slain jawans from Bihar
A Bihar-cadre IAS officer has offered to adopt the daughters of two CRPF personnel — Head Constable Sanjay Kumar Sinha and Constable Ratan Kumar Thakur — from the State who were killed in the terror attack in Pulwama district of Jammu and Kashmir last week.
Inayat Khan (32), who is at present the District Magistrate of Sheikhpura in the State, has volunteered to adopt both daughters of Sinha and given her word for the unborn baby of Thakur if she's a girl child.
The 2012-batch officer said: "Though the government is doing a lot for the families, as a responsible citizen, I thought we too should do something… The girls should get guardianship. I would like to take up the responsibility of the girls' education, marriage and other things." Ms. Khan has also opened a bank account to help the families of the slain CRPF men from Bihar.
Khan, who hails from Agra in Uttar Pradesh, has donated her two days' salary and appealed to all district government officials to donate one day's salary for the families.
4. Nobody can stop business under guise of hartal: HC
The Kerala High Court has reiterated that under the guise of hartal, nobody has any right to prevent other citizens from exercising their fundamental right to carry on business or trade anywhere in India and move freely.
Justice Sunil Thomas, while granting anticipatory bail to 24 persons accused in cases registered in connection with the hartal held on January 2, said hartal seekers were only intended to withdraw themselves from their work and persuade their fellow men to follow them. That did not give them the freedom to take the law into their hands and compel others to stop vehicular traffic or compel anybody to close down shops.
According to the prosecution, the petitioners, who hailed from Thrissur, formed themselves into an unlawful assembly for protesting against the entry of women into the Sabarimala temple and obstructed roads besides asking shopkeepers to down shutters.
They committed mischief and wrongfully restrained the police from discharging their official duties.
The court directed the petitioners to appear before the investigating officer within 10 days for interrogation.
The court ordered that if they were arrested, they be released on bail on their executing a bond for ₹40,000 each with two sureties for the like sum each. The petitioners should deposit ₹3,000 each with the magistrate court concerned.
G. Prelims Facts
1. Thousands of women offer 'pongala' at Attukal temple
Context
Tens of thousands of women flocked to Kerala's capital Thiruvananthapuram for the Attukal 'Pongala', the ritualistic offering made annually to the presiding deity of the Attukal Bhagavathy temple.
Kuthiyottam Ritual
The Kuthiyottam ritual is usually performed every year during the Pongala festival at the Attukal Bhagavathy Temple in Thiruvananthapuram, Kerala.
The Attukal Pongala festival is the largest congregation of women for a festival in the world. Pongala, which means 'to boil over', is a ritual in which women prepare a pudding made from rice, jaggery, coconut and plantains cooked together, and offer it to the goddess. The ritual can only be performed by women.
Nearly 1,000 young boys undertake a seven-day penance before Pongala day. These boys are said to represent the wounded soldiers of the goddess. The boys have to observe strict discipline and stay inside the temple for seven days. The rigours include sleeping on the floor, strict diet restrictions, and bathing three times a day. They also have to prostrate 1,008 times before the deity.
The ritual also reportedly involves piercing the child's side with a small hook and knotting a thread through it to symbolise their bond with the Goddess.
The mammoth event had entered the Guinness Book of Records in 2009 for being the largest gathering of women.
2. 'Biggest ever' Aero India opens with tribute to deceased pilot
Context
Defence Minister Nirmala Sitharaman rolled out a red carpet of opportunities in local defence and aerospace manufacturing to global investors as she launched Aero India 2019.
As the 12th edition of the biennial international military and civil expo and air show opened at the Air Force Station Yelahanka, the gathering and airmen showered tributes to Wing Commander Sahil Gandhi, who was killed during a rehearsal.
Aero India 2019 endeavours to put India as the global runway of a billion opportunities. Global defence aerospace companies, corporate and government policymakers, military brass, entrepreneurs, delegates and exhibitors from across the world were at the event.
The chiefs of the three Armed Forces — Air Chief Marshal B.S. Dhanoa, Admiral Sunil Lanba and General Bipin Rawat — were in attendance at the show.
Aero India
Aero India is a biennial air show and aviation exhibition held in Bengaluru, India at the Yelahanka Air Force Station. It is organised by the Defence Exhibition Organisation, Ministry of Defence.
The Defence Ministry of India, Indian Air Force, Defence Research and Development Organisation (DRDO), Department of Space, the Union Civil Aviation Ministry and other such organisations join hands to organise the Aero India show, making it the largest air show in Asia.
During this Aero India Show, many manufacturers and service providers from the Indian aerospace and aviation industry meet the potential buyers of their products
The first edition of the air show was held in 1996. The 12th edition of Aero India is being held from 20th February 2019 to 24th February 2019 in Bengaluru, Karnataka.
H. UPSC Prelims Practice Questions
Question 1.Right to Education provides reservation for 25% of seats in the schools for 
economically weaker sections (at entry level) children. Which of the following types of schools 
are included for such reservation?

Private non-aided schools
Minority School
Residential School
Choose the correct answer using the given code:
Only 1
Only 1 and 2
Only 2 and 3
All of the above
See
Question 2. Consider the following statements regarding Child Sex Ratio (CSR):
Child Sex Ratio is defined as number of girls per 1000 of boys between 0-5 years of age
The ratio has declined since the last 3 census conducted in India
CSR reflects both pre-birth discrimination and post birth discrimination against girls
Which of the above statement(s) is/ are correct?
Only 1 and 2
Only 2
Only 2 and 3
Only 1 and 3
See
Question 3. Consider the following statements regarding ASHA or Accredited Social Health 
Activist:
To provide every village in the country with an Accredited Social Health Activist (ASHA) is one of the key component of National Rural Health Mission
ASHA worker will also act as a promoter of good health practices and will also provide a minimum package of curative care as appropriate and feasible for that level
Which of the above statement(s) is/ are correct?
Only 1
Only 2
Both 1 and 2
None of the above
See
I. UPSC Mains practice Questions
Recently the Union Cabinet has approved promulgating an ordinance with regard to the Banning of Unregulated Deposit Schemes Bill, to protect gullible investors from Ponzi schemes. What do you understand by Ponzi scheme? What are the issues associated with these kind of schemes?
Recently the Union Cabinet has given its approval to the National Policy on Electronics 2019 (NPE 2019), proposed by the Ministry of Electronics and Information Technology (MeitY). In this context write a note on the factors contributing towards the growth of the Electronics Sector in India and also examine the efforts of the government to make India a global hub for electronics manufacturing.
See previous CNA