TABLE OF CONTENTS
A. 

GS1 Related




B. 

GS2 Related


INTERNATIONAL RELATIONS
1. Will stop India's share of water going to Pak., says Gadkari


C. 

GS3 Related


ENVIRONMENT
1. Lakhs of forest dwellers face eviction
INTERNAL SECURITY
1. Now, all CAPF personnel can avail flights
2. UN Security Council condemns Pulwama attack
3. Assam Rifles granted power to arrest anyone in the Northeast


D. 

GS 4 Related




E. 

Editorials


INTERNATIONAL RELATIONS      
1. Picking sides in West Asia
POLITY AND GOVERNANCE 
1. Healing touch


F. 

Tidbits


1. WHO prescribes 'aerobics 150' to stay fit
2. SC to hear plea for protection to Kashmiris from attacks


G. 

Prelims Facts


1. 'ILP will be applicable to entire Nagaland, including Dimapur'


H. 

UPSC Prelims Practice Questions




I. 

UPSC Mains practice Questions



A. GS1 Related
Nothing here today!!!
B. GS2 Related
Category: INTERNATIONAL RELATIONS
1. Will stop India's share of water going to Pak., says Gadkari
Context
India will use its share of water from the Indus network of rivers that flows through its territory, Road Transport and Water Resources Minister Nitin Gadkari said.
The Minister's statement coincided with the announcement of implementation of the Shahpur-Kandi dam project in Punjab on the river Ravi.
The project would be implemented by Govt. of Punjab with Central Assistance and is expected to be completed by 2022. It would help minimising some of the water of the River Ravi which at present is going waste through the Madhopur Headworks downstream to Pakistan.
The project will enable the upstream Ranjit Sagar Dam project electricity station to act as a peaking station, besides having its own generation capacity of 206 MW.
Shahpur Kandi Dam Project
The 55.5 high Shahpur Kandi dam, located in Gurdaspur district of Punjab, will help in providing irrigation facility to 5000 hectares of land in Punjab and 32173 hectares in J&K besides generation of 206 MW power.
The construction of Shahpur Kandi Dam project was taken up in May 1999 but later halted in 2014 due to dispute between Punjab and J&K. The Ministry of WR, RD & GR had been making all out efforts to resolve the issues and resume construction which resulted.
The project was being built with an estimated cost of Rs. 2285.81 crore (April, 2008 price level) and is included in the Scheme of National Projects by Government of India. Under the scheme, MoWR, RD & GR provides central assistance @ 90% of the balance cost of works component of irrigation and water supply.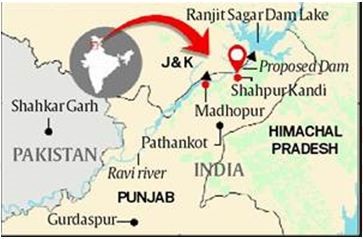 The project will continue to be implemented by the Government of Punjab. However, there will be a tripartite team headed by Member, CWC and consisting of Chief Engineers of two States to monitor the project as and when required but atleast once in three months to ensure that the construction is as per the agreement.
The design of the project shall be as already agreed by both the states while concurrently model studies will be done to ensure that the mandated share of 1150 cusecs of water is available to the State of J&K, which will be binding on both the States.
The Government of Punjab would be making available to the Govt. of J&K 20% share in the total power generated at the Thein Dam at the mutually agreed rate of Rs. 3.50 per unit immediately, subject to the confirmation of the rates by the Central Electricity Regulatory Commission.
Both the States agreed that other issues will be referred to Arbitration mechanism provided in the agreement signed between two states of 1979 without affecting the progress of work. It was unanimously agreed that the work on the Shahpur Kandi Dam Project would resume as soon both the State Governments formally approve the agreed decisions.
Indus Water Treaty
The Indus Waters Treaty was signed by the then Prime Minister Jawaharlal Nehru and Pakistan's President Ayub Khan on September 19, 1960.
The World Bank brokered the Indus valley treaty.
The treaty describes how river Indus and its tributaries that flow through both the countries can be effectively utilized without disputes.
According to the treaty, the administration of Beas, Ravi and Sutlej are invested on Indian Government, while, Indus, Chenab and Jhelum are to be taken care by Pakistan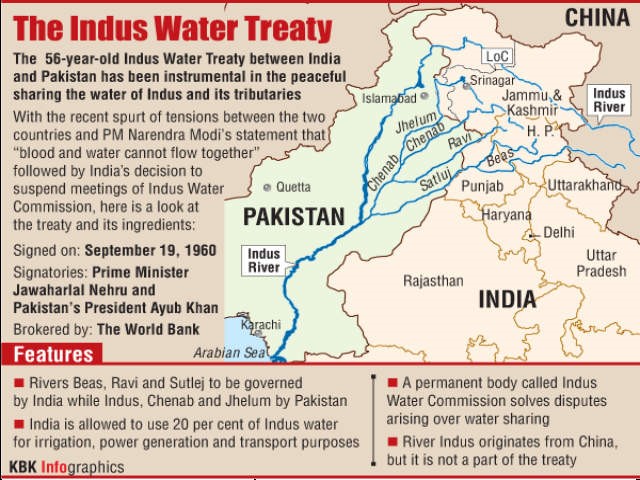 As the river Indus flows from India, the country is allowed to use 20 per cent of its water for irrigation, power generation and transport purposes.
Though, the Indus originates from Tibet, China has been kept out of the Treaty. The provisions of The Indus Valley Treaty created a peaceful sharing of water among India and Pakistan for 56 years on sharing the water of Indus and its tributaries.
C. GS3 Related
1. Lakhs of forest dwellers face eviction
Context
A recent Supreme Court order may lead to the eviction of lakhs of persons belonging to the Scheduled Tribes (STs) and Other Traditional Forest Dwellers (OTFDs) categories across 21 States — their claim as forest dwellers have been rejected under the Forest Rights Act of 2006.
What were the Supreme Court's directions?
A three-judge Bench of Justices Arun Mishra, Navin Sinha and Indira Banerjee on February 13 had ordered the Chief Secretaries of many of these States to evict those whose claims as forest dwellers have been finally rejected under the law. The court directed that the eviction should be carried out on or before July 24, 2019, that is, the next date of hearing.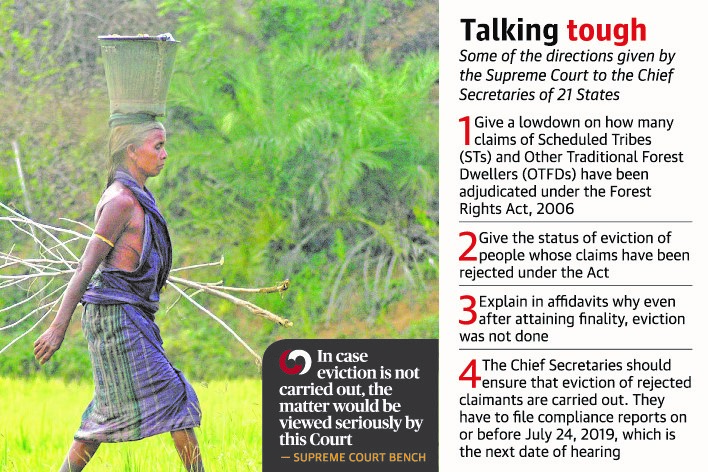 The court ordered the Forest Survey of India (FSI) to make a satellite survey and place on record the "encroachment positions." It directed FSI to also place on record the position "after the eviction as far as possible."
Forest Rights Act (FRA) of 2006
Scheduled Tribes and Other Traditional Forest Dwellers (Recognition of Forest Rights) Act of 2006 deals with the rights of forest-dwelling communities over land and other resources. The Act grants legal recognition to the rights of traditional forest dwelling communities, partially correcting the injustice caused by the forest laws.
Rights under the Act
Title rights – Ownership to land that is being farmed by tribals or forest dwellers subject to a maximum of 4 hectares; ownership is only for land that is actually being cultivated by the concerned family, meaning that no new lands are granted.
Use rights – to minor forest produce (also including ownership), to grazing areas, to pastoralist routes, etc.
Relief and development rights – to rehabilitation in case of illegal eviction or forced displacement; and to basic amenities, subject to restrictions for forest protection.
Forest management rights – to protect forests and wildlife.
Eligibility – Eligibility to get rights under the Act is confined to those who "primarily reside in forests" and who depend on forests and forest land for a livelihood. Further, either the claimant must be a member of the Scheduled Tribes scheduled in that area or must have been residing in the forest for 75 years.
Process of recognition of rights
The Act provides that the gram sabha, or village assembly, will initially pass a resolution recommending whose rights to which resources should be recognised.
This resolution is then screened and approved at the level of the sub-division (or taluka) and subsequently at the district level.
The screening committees consist of three government officials (Forest, Revenue and Tribal Welfare departments) and three elected members of the local body at that level. These committees also hear appeals.
1. Now, all CAPF personnel can avail flights
Context
All ranks of Central Armed Police Forces (CAPF) deployed in the Kashmir Valley will be entitled to commercial flight services to either join duty or while proceeding on leave, an order by the Ministry of Home Affairs (MHA) said.
The Central Armed Police Forces (CAPF) refers to uniform nomenclature of five security forces in India under the authority of Ministry of Home Affairs. They are:
Border Security Force (BSF),
Central Reserve Police Force (CRPF),
Central Industrial Security Force (CISF),
Indo-Tibetan Border Police (ITBP), and
Sashastra Seema Bal (SSB),
National Security Guard (NSG),
Assam Rifles (AR).
Only officers in the rank of inspectors and above enjoyed this facility, but from now on all personnel in the ranks of constable, head constable and assistant sub-inspectors will be eligible.
The order comes in the wake of the Pulwama terror attack, in which 40 CRPF personnel died when a car-borne suicide bomber rammed into a convoy, on way to Srinagar from Jammu on February 14.
The MHA order said it "has approved the entitlement of air travel on Delhi-Srinagar, Srinagar-Delhi, Jammu-Srinagar and Srinagar-Jammu sectors to all the personnel of the CAPFs."
This includes their journey for joining duty, transfer, tour or going on leave.
As many as 65,000 Central Reserve Police Force (CRPF) personnel are deployed in the State as part of 65 battalions, apart from units of the Border Security Force, Indo-Tibetan Border Police, Central Industrial Security Force, Sashastra Seema Bal and the National Security Guard.
The MHA said the new facility is in addition to the existing air courier services for CAPFs where an entire aircraft is booked for the force personnel from either Delhi or Jammu to Srinagar and back.
2. UN Security Council condemns Pulwama attack
Context
The United Nations Security Council (UNSC) has issued a statement condemning the Pulwama attack and underlining the need to hold those responsible accountable. Significantly Jaish-e-Mohammed (JeM) has been named on the statement as having taken responsibility for the attack.
Highlights of the UNSC Statement
UN Secretary General António Guterres had called on India and Pakistan to defuse tensions and for "meaningful mutual engagement."
Condemning terrorism in all its forms as one of the most serious threats to international peace, the UNSC offered its condolences to those impacted by the attack.
In what appears to be a thinly veiled reference to Pakistan, the Council has asked countries to cooperate actively with the Government of India.
The members of the Security Council underlined the need to hold perpetrators, organizers, financiers and sponsors of these reprehensible acts of terrorism accountable and bring them to justice, and urged all States, in accordance with their obligations under international law and relevant Security Council resolutions, to cooperate actively with the Government of India and all other relevant authorities in this regard
The members of the Security Council reiterated that any acts of terrorism are criminal and unjustifiable, regardless of their motivation, wherever, whenever and by whomsoever committed.
They reaffirmed the need for all States to combat by all means, in accordance with the Charter of the United Nations and other obligations under international law, including international human rights law, international refugee law and international humanitarian law, threats to international peace and security caused by terrorist acts
United Nations Security Council (UNSC)
UNSC is one of the six principal organs of the United Nations and is charged with the maintenance of international peace and security.
Its powers include the establishment of peacekeeping operations, the establishment of international sanctions, and the authorization of military action through Security Council resolutions; it is the only UN body with the authority to issue binding resolutions to member states.
The Security Council consists of fifteen members. Russia, the United Kingdom, France, China, and the United States—serve as the body's five permanent members. These permanent members can veto any substantive Security Council resolution, including those on the admission of new member states or candidates for Secretary-General.
The Security Council also has 10 non-permanent members, elected on a regional basis to serve two-year terms. The body's presidency rotates monthly among its members.
Jaish-e-Mohammed (JeM)
JeM is a Deobandi jihadist terrorist group active in Kashmir. The group's primary motive is to separate Kashmir from India and merge it into Pakistan.
It has carried out several attacks primarily in the Indian state of Jammu and Kashmir. It also maintained close relations with Taliban and Al-Qaeda in Afghanistan and continues to be allied to them.
Jaish-e-Mohammed is viewed as the "deadliest" and "the principal terrorist organisation in Jammu and Kashmir".
In 2001, 38 people were killed when a three-member JeM squad blew up a car outside the J&K Assembly.
In 2016, Jaish was suspected of being responsible for an attack on the Pathankot airbase in India. The Indian government, and some other sources, accused Pakistan of assisting Jaish in conducting the attack. Pakistan denied assisting Jaish, and arrested several members of Jaish in connection with the attack, who were then released by the security establishment
3. Assam Rifles granted power to arrest anyone in the Northeast
Context
Assam Rifles, deployed along the Myanmar border, has been empowered by the Centre to arrest anyone and search a place without warrant in the border districts of Assam, Arunachal Pradesh, Manipur, Nagaland and Mizoram.
According to a Home Ministry notification, "an officer of the rank corresponding to that of the lowest rank of members of the Assam Rifles" has been given these powers under the Code of Criminal Procedure.
Earlier, Assam Rifles was making arrests only in areas where the Armed Forces (Special Powers) Act was in effect. They were finding it difficult to make seizures and arrest in Mizoram, which doesn't have AFSPA. This is to basically correct that anomaly. As per law, they have to hand over the suspects to the local police within 24 hours.
The MHA had lifted AFSPA from some areas of Arunachal Pradesh last year.
Assam Rifles
Assam Rifles is the oldest of the Central Para Military Forces. Though the organisation has a cadre of its own officers, most senior positions are filled by taking officers on deputation from the Army.
The Force functioned under the control of the Ministry of External Affairs till 1965. Its control was then transferred to the Ministry of Home Affairs and has since been functioning under that Ministry.
The Assam Rifles Act, 1941, presently governs the Force. Its charter of functions include –
Maintaining security of the North Eastern sector of the international border;
Helping states in the North East to maintain law and order and other states as and when needed; and
Taking counter insurgency measures in states of the North East.
D. GS 4 Related
Nothing here today!!!
E. Editorials
Category: INTERNATIONAL RELATIONS
Editorial Analysis:
It is important to note that over the past few years, the course of India's relations with Israel, Saudi Arabia, and the United Arab Emirates (UAE) suggests that under Prime Minister Narendra Modi, India finally appears to be moving away from its traditional "balancing" approach to West Asia.
The present government at the Center has in practice, demonstrated a preference for working with the three regional powers rather than Iran, a trend likely to be reinforced after the visit of Saudi Crown Prince Mohammed bin Salman (MBS) and the proposed trip by Israeli Prime Minister Benjamin Netanyahu to New Delhi.
Regional realities: A Perspective:
Since the 1990-91 Gulf War, India has officially adopted a "balancing" approach to West Asia.
This "balancing" approach to West Asia is viewed by some experts as a legacy of non-alignment.
Although this approach has allowed India to eschew involvement in regional disputes and de-hyphenate relations with regional rivals including Iran, Israel and Saudi Arabia, the policy has also constrained India's ability to press its geopolitical interests in the region.
Geopolitically speaking, MBS and Abu Dhabi's Crown Prince Mohammed bin Zayed (MBZ) have over the past few years escalated their battle against political Islamist groups, including the Muslim Brotherhood.
Most notably, this materialised in their support for Egyptian President Abdel Fattah el-Sisi's takeover of power in Egypt from the Muslim Brotherhood in 2013, and in their dispute with Qatar, a key regional backer of the group.
Naturally, this brings them closer to Israel, which faces a growing threat from Islamist militant groups, including Hamas, Hezbollah, and Iranian-backed forces in Syria.
Experts opine that the campaign by Saudi Arabia and the UAE to curtail the influence of political Islamist groups also draws them closer to India.
During his visit to New Delhi, the Saudi Crown Prince hinted at the attack by vowing to "cooperate in every way, including intelligence sharing".
In recent months, it is important to note that the UAE has also ramped up its security cooperation with India, extraditing at least three suspects wanted in relation to the AgustaWestland case.
Defence and energy needs: A Perspective
India's defence and security partnership with Israel has already proven useful to its security and military modernisation drive.
In 1998, Israel provided India with valuable intelligence on Pakistani positions during the Kargil war.
More recently, India and Israel have collaborated on a $777 million project to develop a maritime version of the Barak-8, a surface-to-air missile that India successfully tested in January, 2019.
India has also reportedly agreed to purchase 54 HAROP attack drones for the Indian Air Force and two airborne warning and control systems (AWACS) worth over $800 million from Israel.
It is important to note that due to its technological sophistication and warm relations, Israel has become one of India's top suppliers of military technology.
Economically, the ability of Saudi Arabia and the UAE to mobilise investments despite low oil prices is a huge asset in their relations with India.
Investments have included a $44 billion oil refinery in India by Saudi Aramco and the Abu Dhabi National Oil Company in partnership with an Indian consortium.
During his visit to New Delhi, MBS said he foresaw up to $100 billion worth of Saudi investments in India over the next few years, including a plan by the Saudi Basic Industries Corp. to acquire two LNG plants.
Perspective on Iran:
In contrast, Iran's support for Islamist militancy, not least by transferring advanced missile technology to Islamist groups and militias in Lebanon and Syria, has led to an increase in tensions with Israel, which responded by conducting air strikes against Iranian targets on Syrian soil in January 2019.
Although the simultaneous attacks that claimed the lives of 27 members of Iran's Revolutionary Guard Corps and 40 members of India's Central Reserve Police Force (CRPF) are likely to bring India and Iran closer together against Pakistan, it is doubtful that the occasion would generate much momentum in bilateral relations.
From an economic perspective, U.S. sanctions have turned Iran into an unreliable economic partner.
Despite obtaining a six-month waiver from the U.S. in November on energy imports from Iran, India is shoring up plans to find alternative sources as the waiver reaches its term.
Meanwhile, Indian investments in Iran, including the Shahid Beheshti complex at Chabahar and the Farzad B gas field, have languished for years, reflecting the severe constraints on doing business with Iran.
However, India's tilt towards Israel, Saudi Arabia, and the UAE is not a risk-free move. Iran continues to exercise much influence in West Asia and can help shape events in Afghanistan by shoring up the Taliban against the U.S.
Moreover, Iran's Chabahar port represents a strategic investment for India which hopes to use the facility to connect with the International North-South Transit Corridor (INSTC) that extends to Central Asia and to bypass Pakistan en route to Afghanistan.
Yet, as tensions rise in West Asia, Israel, Saudi Arabia and the UAE have coalesced more closely against Iran under the U.S.-sponsored Middle East Security Alliance (MESA).
Concurrently, recent escalations between Iran and Israel on the Syrian front suggests that tensions are unlikely to drop soon.
Concluding Remarks:
It is amid the competing demands from West Asian powers for India to take sides that India might find it difficult to maintain a "balancing" approach even if it wanted to.
For now, the Modi government seems to have taken its pick. Having practically abandoned a "balancing" approach, the Modi government has, in effect, placed its bets on Israel and the Gulf monarchies, relegating relations with Iran to the side.
Category: POLITY AND GOVERNANCE
Editorial Analysis:
The Supreme Court has agreed to hear a petition seeking directions to educational institutions to protect Kashmiris in the face of harassment and intimidation in various parts of the country after the ghastly terror attack in Pulwama on February 14, 2019.
Currently, hundreds of Kashmiri students, primarily from Dehradun in Uttarakhand, have already returned home or moved to Delhi or Jammu seeking safety.
The top court directed chief secretaries and DGPs of 11 states to take "prompt" and necessary action to prevent incidents of threat, assault and social boycott of Kashmiris in the aftermath of the Pulwama terror attack.
A bench headed by Chief Justice Ranjan Gogoi also directed that police officers, who were earlier appointed as nodal officers to deal with incidents of mob lynching, would be now responsible to deal with cases of alleged assault on Kashmiris.
Steps taken to ensure the safety of Kashmiri Students:
Amid these reports, the Union Home Ministry had on 16th February, 2019, issued an advisory to all States and Union Territories to ensure the safety of Kashmiris.
The Jammu and Kashmir police too have set up helplines.
It is to be hoped that these measures will be strengthened, especially with the Supreme Court now hearing the issue.
It needs to be made clear by the State and Central governments that there will be no compromise on the State's responsibility to ensure the well-being of citizens.
Equally, there needs to be stern action against the mobs that harassed and tried to frighten Kashmiris.
It is important to note that the Uttarakhand police arrested 22 students on 19th February, 2019 for trying to have Kashmiri students expelled from their college, but there have been other similar instances.
Experts opine that it will be a cause for lasting shame if young people studying in different parts of the country were sought to be isolated, and their ethnic identity headlined to make them targets of majoritarian mobs looking to avenge a terrorist attack.
It is important to note that law and order must prevail, and the students must be given enough confidence that they can return to their educational institutions and studies without fear.
However, occurrences such as these, of communally charged attacks, cannot be forgotten with the mere return to a semblance of normalcy.
Further, no group of Indians should be allowed to be isolated by blame-calling mobs, and the situation demands a strong, politically-led initiative to end the intimidation and reassure the victims.
Given this, some critics have opined that it is regrettable that members of the Narendra Modi Cabinet have either been in denial or have infused ambiguity into their statements of reassurance.
Statement Issued by Union Human Resource Development Minister:
Union Human Resource Development Minister Prakash Javadekar, for instance, on 20th February, 2019 said outright that there had been no such harassment.
Equally disturbing, he prefaced his remarks with a reference to "a tremendous reaction of anger in the country about the Pulwama incident".
The fact is that many Kashmiris have already fled Dehradun, and some of them have shared their stories.
Experts have opined that Mr. Javadekar, as HRD Minister, should address their feelings of insecurity, instead of being dismissive about it, and in the process allowing the mobs a free pass.
Moreover, the fact that anti-Pakistan sloganeering can so easily slip into anti-Kashmiri rhetoric must bother civil society and politicians of all hues.
Even if the attacks are isolated, the counter-argument must come from across the political spectrum, and in one voice: that all Kashmiris enjoy all protections and rights available to them as Indian citizens.
Perspective of Initiatives Taken by the Government to help Kashmiri Students:
Jammu & Kashmir Student Exchange Programme 'Maitreyi Yatra': 
This Student Exchange Programme organized by Ministry of Human Resource development provides a good opportunity for the youth of J&K to be acquainted with culture, language and development story of different parts of the country.
The objective of this programme was to integrate the youth of Jammu and Kashmir to the rest of the country and to promote brotherhood and harmony.
'WatankoJano':
This is an initiative of the Ministry of Home Affairs.
The Ministry of Home Affairs (MHA) has been organising programme "Watan Ko Jano" to give exposure to the youth and children of Jammu and Kashmir about the cultural and socio-economic development taking place in other parts of the country. Youth and children hit by militancy and from weaker sections of the society have been identified for the purpose.
F. Tidbits
1. WHO prescribes 'aerobics 150' to stay fit
Reiterating the need for physical activity to reduce the incidence of non-communicable diseases (NCD), the World Health Organisation (WHO) has prescribed 150 minutes of weekly physical activity, and stating that physical inactivity is now identified as the fourth leading risk factor for global mortality.
The WHO warned that physical inactivity levels are rising in many countries with major implications for the prevalence of non-communicable diseases (NCDs) and the general health of the population worldwide.
Physical inactivity is estimated to be the main cause for approximately 21%-25% of breast and colon cancers, 27% of diabetes and approximately 30% of ischaemic heart disease burden.
"Regular and adequate levels of physical activity in adults reduces the risk of hypertension, coronary heart disease, stroke, diabetes, breast and colon cancer, depression and the risk of falls; improve bone and functional health; and are a key determinant of energy expenditure, and thus fundamental to energy balance and weight control," noted the WHO.
It said that, overall, there is strong evidence to demonstrates that adults between the ages of 18 to 64 should do at least 150 minutes of moderate-intensity aerobic physical activity throughout the week, or do at least 75 minutes of vigorous-intensity aerobic physical activity throughout the week, or an equivalent combination of moderate- and vigorous-intensity activity.
Doctors explain that physical activity has also been associated with psychological benefits in young people by improving their control over symptoms of anxiety and depression.
The WHO noted that physical activity provides young people opportunities for self-expression, building self-confidence, social interaction and integration.
It has also been suggested that physically active young people more readily adopt healthy behaviours (For example, avoidance of tobacco, alcohol and drug use) and demonstrate higher academic performance.
2. SC to hear plea for protection to Kashmiris from attacks
The Supreme Court on Thursday agreed to hear a petition seeking protection for Kashmiris, especially students, from public harassment and attacks in the aftermath of the Pulwama suicide bombing.
The petitioner sought a direction to "forthwith take steps to prevent threats, assaults, violent attacks, social boycotts, ostracism, evictions and other coercive acts committed by groups and mobs against Kashmiris and other minorities, particularly in the wake of the Pulwama attack."
At least 300 students studying in colleges in Uttarakhand fled to Jammu and Delhi following large-scale evictions from campuses and hostels
The Jammu and Kashmir administration confirmed that a large number of distress calls had been received from students in Uttarakhand.
The court may also hear a PIL plea filed by Vineet Dhanda seeking an independent probe led by a retired apex court judge into the Pulwama attack.
Dhanda wants the apex court to set up the judicial commission to investigate any lapses at the local level and probe the "role played by Indian nationals in helping the terrorists from Pakistan in executing" the Pulwama attack.
The petitioner has also sought an appropriate direction to the Centre to submit a "detailed report regarding the action taken against the All Parties Hurriyat Conference (APHC) leaders who are actively involved in anti-national activities."
The plea also wants a direction to freeze the accounts belonging to the APHC and its leaders and submit an action taken report before the apex court.
G. Prelims Facts
1. 'ILP will be applicable to entire Nagaland, including Dimapur'
Context
Nagaland Governor P.B. Acharya said the government has decided to make the Inner Line Permit applicable throughout the State, including the commercial hub of Dimapur.
Under the Bengal Eastern Frontier Regulation Act of 1853, non-Nagas should have ILP to visit the State, but Dimapur district was not included under the provisions.
Inner Line Permit
A British-era system, the ILP is a travel document that Indian citizens need to possess to enter the frontier States of north-eastern India.
It is issued under the Bengal Eastern Frontier Regulation, 1873, to regulate the movement of people who do not belong to these States.
The ILP is valid for a week but can be extended. People who frequent these States for work can opt for a special ILP renewable annually.
The ILP is mandatory for Indians and the Protected Area Permit for foreigners
At present, the ILP is in force in Arunachal Pradesh, Mizoram and Nagaland. In Manipur, large scale protests have called for its implementation for years.
Nothing here today!!!
H. UPSC Prelims Practice Questions
Q1. Consider the following statements 
1. The Indus Waters Treaty is a trilateral agreement between India, Pakistan and China.
2. The World Bank brokered the Indus valley treaty.
Choose the incorrect statements.
a) 1 only
b) 2 only
c) Both 1 and 2
d) Neither 1 nor 2
Ans: a
Explanation: Though, the Indus originates from Tibet, China has been kept out of the Treaty. The provisions of The Indus Valley Treaty created a peaceful sharing of water among India and Pakistan for 56 years on sharing the water of Indus and its tributaries.
Q2. Which one of the following is an objective of SWADHAR Greh scheme? 
(a) Rehabilitation of women victims of difficult circumstances
(b) Skill development of all adolescent girl in certain districts of India
(c) Increase easy access of medical care to rural households
(d) Providing hostel facilities to college students belong to Schedule Tribes
Answer – a
Explanation: The Ministry of Women and Child Development is implementing the Swadhar Greh Scheme which targets the women victims of difficult circumstances who are in need of institutional support for rehabilitation so that they could lead their life with dignity. The Scheme envisages providing shelter, food, clothing and health as well as economic and social security for these women.
Q3. Consider the following statements: 
1. Globally, the unemployment rate among women is higher than that of men
2. Increase in higher education enrolment among women is considered one of the reasons for fall in Female Labour Force Participation Rate
Which of the above statement(s) is/ are correct?
(a) Only 1
(b) Only 2
(c) Both 1 and 2
(d) None of the above
Answer – c
Explanation: Globally, the unemployment rate for women stands at 6.2% in 2017, higher than the male unemployment rate of 5.5 per cent.
According to some research, one plausible explanation for the recent drop in FLFP is that with the recent expansion of secondary education, as well as rapidly changing social norms in India, more working age young females (15 to 24 years) are opting to continue their education rather than join the labour force early.
Q4. 4. Consider the following statements: 
1. India ranked at 108 on the World Economic Forum's "Global Gender Gap Report 2018"
2. There is no constitutional provision in India for gender wage parity
3. In Grih Kalyan Kendra vs. Union of India- Supreme Court held that the principle of "equal pay for equal work" as a constitutional goal
Which of the above statement(s) is/ are correct?
(a) Only 1 and 2
(b) Only 2
(c) Only 3
(d) Only 1 and 3
Answer – d
Explanation: Article 39 (d) under DPSP: According to it, the state shall, in particular, direct the policy towards securing that there is equal pay for equal work for both men and women. In Grih Kalyan Kendra vs. Union of India- SC held that the principle of "equal pay for equal work" as a constitutional goal and, therefore, capable of enforcement under article 32 of the constitution.
Equal Remuneration Act of 1976- aims to provide equal remuneration to men and women workers and to prevent discrimination on the basis of gender in all matters relating to employment and employment opportunities.
I. UPSC Mains practice Questions
The recent attack on security forces in Kashmir highlights the instability in the region and the role of external threats. Discuss (12.5 Marks; 200 words)
Recently Union Human Resource Development Ministry has launched Operation Digital Board to leverage technology in order to boost quality education in the country. In this context discuss the role of technology in the quality education. (12.5 Marks; 200 words)