TABLE OF CONTENTS
A. 

GS1 Related


SOCIAL ISSUES
1. UN body hails Odisha on women reservation
2. SC eviction order only against encroachers


B. 

GS2 Related


HEALTH
1. Action plan for free treatment of hepatitis patients launched
POLITY
1. EVM is 'information' under RTI, says CIC
2. Ordinance clamps down on unregulated deposits


C. 

GS3 Related


ENVIRONMENT
1. DNA forensics a vital tool in cracking wildlife crimes
TECHNOLOGY
1. In a first, Air Force commissions aerial surveillance
ECONOMY
1. ED launches probe into hawala ring
2. NPS: minimum assured return scheme on the cards


D. 

GS4 Related




E. 

Editorials


SECURITY CHALLENGES
1. Terror timeline: On FATF advisory to Pakistan 
INDIAN ECONOMY
1. Safety nets – On Unregulated Deposit Schemes Ordinance
GOVERNANCE
1. De-odourising sewage


F. 

Tidbits


1. NASA shares sharpest images of Ultima Thule
2. Humans had pet foxes in Bronze Age, says study


G. 

Prelims Facts




H. 

UPSC Prelims Practice Questions




I. 

UPSC Mains practice Questions



A. GS1 Related
1. UN body hails Odisha on women reservation
Context: The government of Odisha has been applauded by The United Nations Entity for Gender Equality and the Empowerment of Women (UN Women) for proposing 33% reservation for women in Parliament and the State Assemblies.
United Nations Entity for Gender Equality and the Empowerment of Women (UN Women):
The United Nations General Assembly created UN Women, the United Nations Entity for Gender Equality and the Empowerment of Women in July 2010
It merges and builds on the important work of four previously distinct parts of the UN system, which focused exclusively on gender equality and women's empowerment:

Division for the Advancement of Women (DAW)
International Research and Training Institute for the Advancement of Women (INSTRAW)
Office of the Special Adviser on Gender Issues and Advancement of Women (OSAGI)
United Nations Development Fund for Women (UNIFEM).
UN Women is the United Nationsentity dedicated to gender equality and the empowerment of women and works towards meeting their needs worldwide.
This entity supports its member states to set global standards for achieving gender equality and also works with governments and civil society to design laws, policies, programs and services needed to ensure that the standards are effectively implemented and truly benefit women and girls worldwide.
It works globally towards making Sustainable Development Goals a reality for women and girls mainly focusing on four strategic priorities:

Women lead, participate in and benefit equally from governance systems
Women have income security, decent work and economic autonomy
All women and girls live a life free from all forms of violence
Women and girls contribute to and have greater influence in building sustainable peace and resilience and benefit equally from the prevention of natural disasters and conflicts and humanitarian action
UN Women also coordinates and promotes the UN system's work in advancing gender equality, and in all deliberations and agreements linked to the 2030 Agenda. The entity works to position gender equality as fundamental to the Sustainable Development Goals, and a more inclusive world.
2. SC eviction order only against encroachers
Context: The Supreme Court's order to several States to evict lakhs of claimants under the Forest Rights Act (FRA), 2006, is only meant for encroachers of land after due process.
Forest Rights Act, 2006
Scheduled Tribes and Other Traditional Forest Dwellers (Recognition of Forest Rights) Act, 2006, has been enacted to recognize and vest the forest rights and occupation of forest land in forest dwelling Scheduled Tribes and other traditional forest dwellers, who have been residing in such forests for generations, but whose rights could not be recorded.
It also addresses the adverse living conditions of many tribal families living in forests on account of non-recognition and vesting of pre-existing rights.
This Act not only recognizes the rights to hold and live in the forest land under the individual or common occupation for habitation or for self-cultivation for livelihood, but also grants several other rights to ensure their control over forest resources which, inter-alia, include right of ownership, access to collect, use and dispose of minor forest produce, community rights such as nistar; habitat rights for primitive tribal groups and pre-agricultural communities; right to protect, regenerate or conserve or manage any community forest resource which they have been traditionally protecting and conserving for sustainable use.
The Act also provides for diversion of forest land for public utility facilities managed by the Government, such as schools, dispensaries, fair price shops, electricity and telecommunication lines, water tanks, etc. with the recommendation of Gram Sabhas.
Funds are released out of Special Central Assistance to Tribal Sub Plan for infrastructure work relating to basic services and facilities viz. approach roads, healthcare, primary education, minor irrigation, rainwater harvesting, drinking water, sanitation, community halls, etc. for development of forest villages.
Under Section 3(1) (h) of the Scheduled Tribes and Other Traditional Forest Dwellers (Recognition of Forest Rights) Act, 2006, the rights of settlement and conversion of all forest villages, old habitations, un-surveyed villages and other villages in forest, whether recorded, notified, or not, into revenue villages have been recognized as one of the forest rights of forest dwelling Scheduled Tribes and other traditional forest dwellers on all forest lands. 
B. GS2 Related
1. Action plan for free treatment of hepatitis patients launched
Context: The government of Maharashtra plans to roll out free treatment for viral hepatitis C and B infected patients.
Viral hepatitis
Hepatitis B and C are blood borne infections,
The transmission of Hepatitis B occurs in early life and of Hepatitis C occurs through unsafe injections, including injection drug use, and medical procedures and sexual contact.
Chronic infection from the viruses can severely damage the liver, leading to cirrhosis and hepatocellular cancer.
The burden of liver cancer is particularly heavy in the developing world. In sub-Saharan Africa, for example, liver cancer is the most common cancer among men and the third most common cancer in women.
According to the WHO estimate, in 2015, infections with hepatitis B and C virus caused 1.34 million deaths worldwide, compared with 1.1 million deaths from HIV in that same year, 1.4 million deaths from tuberculosis, and 438,000 deaths from malaria.
The hepatitis B epidemic affects parts of Africa and the Western Pacific most severely, while the hepatitis C epidemic is more evenly distributed worldwide.
1. EVM is 'information' under RTI, says CIC
Context: According to a ruling by the Central Information Commission an Electronic Voting Machine (EVM) is "information" under the Right to Information Act.
Background:
An appeal by an RTI applicant led to the ruling that the EVM is itself an information under the RTI act under Section 2(f) of the RTI Act.
According to the definition of information under Section 2(f) of the RTI Act "any material in any form, including records, documents, memos, e-mails, opinions, advices, press releases, circulars, orders, logbooks, contracts, reports, papers, samples, models, data material held in any electronic form…"
RTI Act, 2005
Right to Information Act 2005 is an initiative taken by Department of Personnel and Training, Ministry of Personnel, Public Grievances and Pensions which mandates timely response to citizen requests for government information.
The citizens can go for quick search of information on the details of first Appellate Authorities,PIOs etc. amongst others, besides access to RTI related information / disclosures published on the web by various Public Authorities under the government of India as well as the State Governments.
The basic object of this Act is to empower the citizens, promote transparency and accountability in the working of the Government, contain corruption, and make our democracy work for the people in real sense.
This act makes the government more accountable to the citizens and keeps them informed about the activities of the Government.
2. Ordinance clamps down on unregulated deposits
Context: The government through an ordinance has banned unregulated deposit schemes to clamp down on Ponzi and fake deposit schemes.
The ordinance also has a mechanism to penalize the operation and advertisement of such unregulated schemes with jail time as well as monetary fines.
Highlights:
According to The Banning of Unregulated Deposit Schemes Ordinance 2019 any deposit scheme not registered with the government would be treated as an unregulated deposit scheme and would be banned.
This extends to the entire country except Jammu and Kashmir and is to come into force immediately.
The ordinance also stated that no deposit taker shall directly or indirectly promote, operate, issue any advertisement soliciting participation or enrolment in or accept deposits in pursuance of an unregulated deposit scheme.
It has separate penalties for those who solicit deposits for an unregulated scheme, those who accept such deposits, and those who then fraudulently default on repaying the depositors.
C. GS3 Related
1. DNA forensics a vital tool in cracking wildlife crimes
Context: 
In a major breakthrough it was found that a forensic DNA analysis by the Zoological Survey of India (ZSI), Kolkata can identify species and number of individuals killed and thus crack down on wildlife crimes.
Background:
A DNA forensic analysis helped to catch a person accused of killing an Asian Palm Civet (Paradoxurus hermaphroditus), a Schedule II species protected under the Wildlife (Protection) Act, 1972.
DNA forensics are providing a major headway, with investigating agencies facing increased challenges of collecting evidence to ensure convictions in wildlife crimes.
Asian Palm Civet:
Asian palm civets (Paradoxurus hermaphroditus) also known as common palm civets are native to regions within and around Asia, ranging as far east as the Philippines and as far west as Kashmir.
They are widespread but are mostly found in southern China, northern Himalayas, southern India, and islands in the Indian Ocean, South China Sea, and the Philippine Sea.
The Asian palm civet inhabits the tropical jungles and rainforeststhroughout much of Asia.
The main populations of the Asian palm civet however are found in southern India, Sri Lanka, South-east Asia and southern China.
The Asian palm civet is solitary animalthat only comes out under the cover of night to hunt and catch food. These nocturnal animals are primarily ground-dwelling and highly terrestrial The Asian palm civet is a carnivorous animal, and like other species of civet, it survives on a meat-based diet, supplemented by the odd plant or fruit.  
Threats:
Increasing deforestation (and therefore habitatloss) in their native regions has drastically affected the Asian palm civets.
The main reason for such extensive deforestation in the area is either for logging or to clear the land to make way for palm oil
According to the IUCN, Asian palm civets are of little concern because they have a wide distribution, large populations, are highly adaptable, and have a stable population trend.
1. In a first, Air Force commissions aerial surveillance
Context: The Indian Air Force (IAF) has commissioned the development of an aerial surveillance system for monitoring suspicious movements under dense foliage cover along the international border and some parts within the country.
Features:
To locate and identify suspicious movements a hyper spectral imagery programme, a first for the country is expected to be operational in the next two years.
India will have multi-sensor data fusion that will help identify an adversary for the first time.
The programme is meant for data gathering from aerial sources which will be processed within minutes and researchers would be able to tell security forces on the ground of "unwanted" human presence in the area, their numbers and locations, among other inputs.
This unique patent application will help identify the presence of a human below trees, dense foliage, shrubs or inside a structure, whether it is day or night.
Data/images will be captured through optical and infra-red sensors to be most likely mounted on an unmanned aerial vehicle and processed through deep learning algorithms.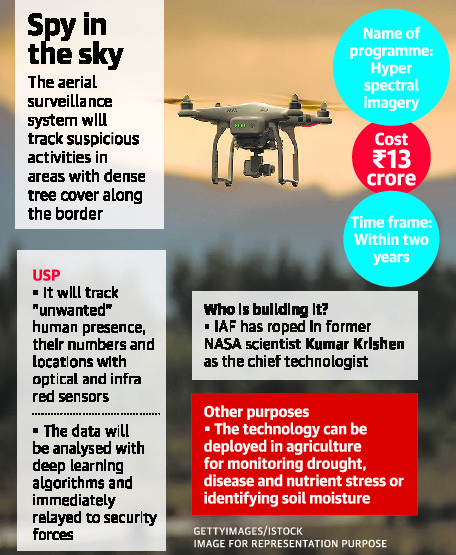 1. ED launches probe into hawala ring
Context: The Enforcement Directorate has launched money laundering investigations into a complex network of domestic and international shell companies, foreign exchange and travel agencies for illegal fund transfers across more than 18 countries.
Hawala system
Hawala is a method of transferring money without any money actually moving. According to the definition of Interpol Hawala is "money transfer without money movement." 
It is an alternative remittance system running in parallel with the established regulated banking system. It is unregulated but legal in some jurisdictions and illegal in others. It is very difficult to detect and yet an effective method of utilizing criminal funds for illicit purposes.
Transactions between hawala brokers are made without promissory notes because the system is heavily based on trust and the balancing of hawala brokers' books.
2. NPS: minimum assured return scheme on the cards
Context: Pension Fund Regulatory and Development Authority (PFRDA) is working on a minimum assured return scheme (MARS) for subscribers of the National Pension System (NPS).
Background:
According to a PFRDA document. The regulator is in the process of designing and developing MARS.
The PFRDA document also mentioned that some aspects, including what kind of guarantee absolute return guarantees or relative rate of return guarantees (sector and benchmark-based) can be reasonably provided by the pension funds with recommendation of suitable proposals, need to be examined.
Pension Fund Regulatory and Development Authority (PFRDA):
The Government of India established Pension Fund Regulatory and Development Authority (PFRDA) in 2003 under the Ministry of Finance, Department of Financial Services.
It was established through a resolution by the Government of India to promote, develop and regulate pension sector in India.
The Pension Fund Regulatory & Development Authority Act was passed on 19th September, 2013 and thus it holds a statutory status.
PFRDA has executive, legislative and judicial powers. It promotes old age income security by establishing, developing and regulating pension funds and protects the interests of subscribers to schemes of pension funds and related matters.
PFRDA is currently regulating and administering the National Pension System (NPS) along with administering the Atal Pension Yojana (APY) which is a defined benefits pension scheme for the unorganized sector, guaranteed by the Government of India.
PFRDA is also responsible for appointment of various intermediate agencies such as Central Record Keeping Agency (CRA), Pension Fund Managers, Custodian, NPS Trustee Bank, etc.
The Authority consists of a Chairperson and not more than five members, of whom at least three shall be whole-time members, to be appointed by the Central Government.
D. GS4 Related
 Nothing here today!!!
E. Editorials
1. Terror timeline: On FATF advisory to Pakistan
Context:
The Financial Action Task Force (FATF) noted with grave concern and condemned the violent terrorist attack that killed 40 Indian security forces in Pulwama.  It has decided to keep Pakistan on its grey list, at its plenary meeting held in Paris and said that the country has not done enough to curb the finances of terror groups like the Jaish-e-Mohammed and Lashkar-e-Taiba.
Background:
Pakistan has been on and off the grey list in the past.
Incidentally, in June 2018, Pakistan was put on the FATF grey list for the 2nd time for failing to curb terror financing, courtesy – a concerted bilateral effort by India with the US, UK, France and Germany all through 2017. The country was lobbying hard to be removed from this list at this meeting in Paris.
Islamabad had reportedly been given a 27-point action plan to implement by September 2019, failing which it would be put on the FATF black list alongside North Korea and Iran post the October 2019 FAFT meeting.
Pakistan had reportedly landed on the grey list between 2012 and 2015.
FATF:
The Financial Action Task Force (FATF) is an inter-governmental body established in 1989 by the Ministers of its Member jurisdictions.  It is headquartered at Paris.
The objectives of the FATF are to set standards and promote effective implementation of legal, regulatory and operational measures for combating money laundering, terrorist financing and other related threats to the integrity of the international financial system. 
It is the global standard-setting body for anti-money laundering and combating the financing of terrorism (AML/CFT).
In order to protect the international financial system from money laundering and financing of terrorism (ML/FT) risks and to encourage greater compliance with the AML/CFT standards, the FATF identifies jurisdictions that have strategic deficiencies and works with them to address those deficiencies that pose a risk to the international financial system.
Jurisdiction subject to a FATF call on its members and other jurisdictions to apply counter-measures to protect the international financial system from the ongoing and substantial money laundering and financing of terrorism risks.
What does getting black listed mean?
The FATF blacklist means the country concerned is "non-cooperative" in the global fight against money laundering and terrorist financing.
A black-list would mean enhanced financial scrutiny of its government, possible sanctions against its central bank, and a downgrade of its financial and credit institutions.
Editorial Analysis:
FATF issued a 10-point advisory to Pakistan if it wants to be out of the "grey list" of countries posing a "risk to the international system".
Pakistan will be required to show compliance or face being "black-listed" by the session in October 2019.
Being on the grey list doesn't come with any sanctions, but if Pakistan continues to remain on this list, it would face the risk of being put on the black list. 
If the FATF blacklists Pakistan, it may lead to downgrading of the country by lenders like International Monetary Fund, World Bank, Asian Development Bank and European Union.
Pakistan getting blacklisted by the FATF will likely hurt its finances and may derail its planned investments and incoming aid, plunging the country into a serious balance of payments crisis from which recovery would be hard.
This is something Pakistan, already facing an acute debt crisis, can ill-afford.
FATF Message:
In the light of stern observations of what it called Pakistan's lack of "understanding" of the terror finance risks posed by groups, such as the Taliban, al-Qaeda, Islamic State, Lashkar-e-Taiba and Jaish-e-Mohammed, FATF gave out a clear message: Islamabad must visibly demonstrate that it has taken measures to crack down on and shut down the infrastructure and finances of these groups.
The first deadline to show results is May 2019, with a review in June.
The message goes even beyond the Security Council guidelines under its 1267 listing that oblige Pakistan to ensure that terror entities do not travel out of the country, or have access to funding or weaponry.
Pakistan's reaction:
Proof that Pakistan took on board the FATF's warnings and potential action came even as the plenary was under way.
Prime Minister Imran Khan held a meeting of his national security officials, and vowed to double down to tackle terror groups in Pakistan and to put two Hafiz Saeed-led LeT offshoots, the Jamaat ud Dawa and the Falah-e-Insaniat Foundation, on its schedule (1) list of banned organisations.
A day later, security forces took over "administrative control" of a madrasa in Bahawalpur believed to be run by the Masood Azhar-led JeM, which was behind the Pulwama attack.
The measures taken so far, by Pakistan do not go far enough or inspire confidence. Mr. Khan's own speech in response to India's demand for action on those responsible for Pulwama was a disappointing mix of denial and opportunism to raise the Kashmir issue. The banning of the JuD and the FIF doesn't appear to have affected the groups in the slightest, and a day after taking over the Bahawalpur seminary, Pakistan's Information Minister announced that its links to the JeM were simply "Indian propaganda".
Way forward:
The FATF must impress upon Pakistan the need to take meaningful action.
The world community must make it clear to the Pakistan government the possible international and financial repercussions of ignoring the FATF's timeline.
1. Safety nets – On Unregulated Deposit Schemes Ordinance
Context:
The President of India promulgated the Banning of Unregulated Deposit Schemes Ordinance 2019, which bars all deposit schemes in the country that are not officially registered with the government from either seeking or accepting deposits from customers.
Background:
The savings of low-income Indian households have traditionally remained unprotected by the government when compared to those of the more affluent economic groups. Popular deposit schemes such as chit funds and gold schemes, which as part of the huge shadow banking system usually do not come under the purview of government regulators, have served as important instruments of saving for people in the unorganised sector. But these unregulated schemes have also been misused by some miscreants to swindle the money of depositors with the promise of unbelievably high returns in a short period of time.
Example: The Saradha chit fund scam in West Bengal is just one example of such a heinous financial crime against depositors. The Centre's latest attempt to curb unregulated deposit schemes through an ordinance reflects a timely recognition of the need for greater legal protection to be offered for those depositors with inadequate financial literacy.
The banning of Unregulated Deposit Schemes Bill, 2018:
The banning of Unregulated Deposit Schemes Bill, 2018 was tabled in Parliament on July 18, 2018, and was referred to the Standing Committee on Finance.
 The committee submitted its Seventieth Report on the bill to Parliament on January 3, 2019.
The Bill was passed in the Lok Sabha on the last day of the budget session by a voice vote after short discussion, but has not yet been passed by Rajya Sabha.
Editorial Analysis:
The proposed ordinance will immediately tackle the deposit taking activities in the country launched by rapacious operators, which at present are exploiting regulatory gaps and lack of strict administrative measures.
Pursuant to this ordinance now any Individual or group of individuals cannot take any deposit or loan from any person other than relatives, whereas partnership firms can take deposit or loan from relatives or partners only.
Among the provisions is a ban on unregulated deposit taking schemes, punishment and repayment of deposits in cases where such schemes nonetheless manage to raise deposits illegally.
The is a "Substantive Banning" clause that bans the deposit from directly or indirectly promoting, operating, issuing any advertisement soliciting participation or enrolment in or accepting deposits in pursuance of an unregulated deposit scheme.
The law provides for attachment of properties or assets and subsequent realisation of assets for repayment to depositors. Clear-cut timelines have been provided for attachment of property and restitution to depositors
The Ordinance also provides for severe punishment ranging from 1 year to 10 years and pecuniary fines ranging from Rs 2 lakh to Rs 50 crore to act as deterrent. 
Benefits of the ordinance:
The ordinance will help in the creation of a central repository of all deposit schemes under operation, thus making it easier for the Centre to regulate their activities and prevent fraud from being committed against ordinary people.
The ordinance allows for compensation to be offered to victims through the liquidation of the assets of those offering illegal deposit schemes.
Challenges in implementation:
The passing of tough laws may just be the easiest of battles in the larger war against illicit deposit schemes.
For one, policymakers will have to make sure that the bureaucrats responsible for the on-ground implementation of the ordinance are keen on protecting the savings of low-income households.
There must also be checks against persons in power misusing the new rules to derecognise genuine deposit schemes that offer useful financial services to customers in the unorganised sector. In fact, in the past there have been several cases of politicians acting in alliance with the operators of fraudulent deposit schemes to fleece depositors of their hard-earned money.
 Another potential risk involved when the government, as in this case, takes it upon itself to guarantee the legitimacy of various deposit schemes is that it diverts depositors from conducting the necessary due diligence before choosing to deposit their money.
Conclusion:
While the intent of the ordinance, which is to protect small depositors, is indeed commendable, the benefits that depositors will eventually derive from the new legislation will depend largely on its proper implementation. New rules on unregulated deposit schemes need to be backed up with proper checks.
Issue:
The World Bank estimates that more than a fifth of all communicable diseases in India (21%) are caused by contaminated water.
It attributes one in ten deaths in India to diseases or infections directly or indirectly transmitted through water.
Over 500 children die every day in India due to diarrhoeal diseases.
Editorial Analysis:
Nitrogen, a growing pollutant:
According to a study by the Indian Nitrogen Group, a task force of scientists tracking the issue, the amount of reactive nitrogen in a bulk of the water bodies in India is already twice the limit prescribed by WHO.
The study found that the Nitrogen pollution from untreated sewage outstrips nitrogen pollution from the Indian farmer's urea addiction.
Swachh Bharat Abhiyan:
Under the Swachh Bharat Abhiyan, toilets are being built in mission mode and there is enough anecdotal evidence to suggest that there has been a measurable reduction in the number of people defecating in the open, which stood at over 500 million or half the population a few years ago. Ironically, India's latest, largest and most significantly scaled attempt at cleanliness  is likely to add to the problem.
Under the mission, in the past four years alone, over nine crore toilets have been constructed. Of these, only 60 lakh are in urban areas, where one assumes they are connected to some sort of sewage system.
A study done by the Centre for Science and Environment in 30 cities in Uttar Pradesh found that only 28% of toilets in these cities were connected to a sewage system. The rest will be generating fecal sludge, sewage and septage which has no place to go, simply getting dumped, polluting land, surface and ground water and killing our rivers and ponds.
According to the Central Pollution Control Board (CPCB), 63% of urban sewage flowing into rivers is untreated.
The CPCB's website admits that the gap between sewage generated in urban areas and capacity for treating that is over 78%.
Up to a third of the installed sewage treatment capacity is fully or partly dysfunctional. Even where the plants are working, many are not working at full capacity, because the infrastructure needed to feed the raw sewage into the treatment plant (a network of drains, sewers and pumping stations) is inadequate or incomplete.
Smart Cities Mission:
Even though it is arguably one of the major health hazards faced by the people — in cities, in particular, sewage and human waste is simply not on the agenda.
Here are the statistics: the 99 cities in the 'Smart Cities' mission, which are collectively spending Rs. 2 lakh crore over five years (from 2015), only 2.4% of the money is going to be spent on waste management.
Storm water drainage (which only removes short-term excess water during heavy downpours and doesn't really add to waste management) gets a higher share of 2.5%.
AMRUT:
Schemes like the Atal Mission for Rejuvenation and Urban Transformation (AMRUT) also fund such schemes.
AMRUT covers a much larger spread — 500 'mission cities' across the country.
Of these, only 217 pitched for a sewage treatment plant as an AMRUT project.
Of these, in the last four years, only four have been completed, according to a reply filed in the Lok Sabha.
Even these numbers are misleading. Of the 212 schemes, as many as 189 are accounted for by just Andhra Pradesh, Rajasthan, Madhya Pradesh, Maharashtra and Gujarat. Only six other States have one or more projects under way. The rest have no plans.
Access to water:
According to NITI Aayog's composite water management index report released in 2018, 75% of households do not have access to drinking water on premises, 70% households lack piped water (potable or otherwise) and as many as 20 cities will effectively use up all available water resources by 2020.
Way forward:
Sewage and waste need to come centre stage in our policy debates. Elections may be fought on 'bijli, sadak, paani' (power, roads, water) but no election is fought over naali (drain). Unless that happens, we run the real risk of eventually either choking or being poisoned by our own waste. The policymakers and governments must be nudged into action. Just like the nation is building toilets in mission mode, civic administrations must build drains and sewers and treatment plants with the same zeal.
F. Tidbits
Context: Images of Ultima Thule the most distant object ever explored by mankind has been captured by the NASA's New Horizons spacecraft.
Just before its closest approach on January 1, the spacecraft pointed the cameras to snap the sharpest possible pictures of the Kuiper Belt object officially named 2014 MU69.
Kuiper Belt
The Kuiper Belt (also known as the Edgeworth–Kuiper belt) is a region of the Solar System that exists beyond the eight major planets, extending from the orbit of Neptune (at 30 AU) to approximately 50 AU from the Sun.
It is similar to the asteroid belt, in that it contains many small bodies, all remnants from the Solar System's formation.
Context: According to scientists humans domesticated foxes, along with dogs, between the third and second millennium B.C.
The scientists also found that the diet of these animals at the time was similar to that of their owners in the Bronze Age.
They came to the conclusion after studying the remains of four foxes and a large number of dogs at sites in Spain.
G. Prelims Facts
Nothing here today!!!
See previous CNA