TABLE OF CONTENTS
A.

 GS1 Related




B.

 GS2 Related


POLITY AND GOVERNANCE
1. Plan to have specific names on Arunachal ST list cleared
2. HC stays ban on online sale of drugs
3. Trade Unions Act to be amended
4. Bill to allow voluntary use of Aadhaar ID introduced
INTERNATIONAL RELATIONS
1. Taiwan's unification with China is inevitable, says Xi


C.

 GS3 Related


ENVIRONMENT
1. Exotic trees eating up Western Ghat's grasslands


D.

 GS4 Related




E. 

Editorials


INTERNATIONAL RELATIONS
1. Powering South Asian integration (India- South Asia)
2. Caught in a crossfire? (Diplomatic Row between Canada and China)
ECONOMY
1. All along the coastline (New Coastal Regulation Zone Notification)


F. 

Tidbits


1. Cess to pay for cowsheds in U.P.
2. China building 'advanced' warships for Pak.: report
3. 'Economy on track to maintain high growth rate'
4. India records 377 mine deaths in 3 years


G. 

Prelims Fact


1. Olive ridleys perishing off A.P. coast
2. Sexual dimorphism
H. UPSC Prelims Practice Questions
I. UPSC Mains Practice Questions

Nothing here today!!!
Category: POLITY AND GOVERNANCE
1. Plan to have specific names on Arunachal ST list cleared
Context
The Union Cabinet on Wednesday approved the Home Ministry's proposal to replace the generic term 'any Naga tribes' with the specific names of the tribes – Tutsa, Wancho, Nocte and Tangsa – that would qualify for recognition as Scheduled Tribes in Arunachal Pradesh.
Who are the Scheduled Tribes?
A tribe is a social division in a traditional society consisting of families linked by social, economic, religious, or blood ties, with a common culture and dialect. A tribe possesses certain qualities and characteristics that make it a unique cultural, social, and political entity.
The nature of what constitutes an Indian tribe and the very nature of tribes have changed considerably over the course of centuries. Constitution of India has recognized tribal communities in India under 'Schedule 5' of the constitution. Hence the tribes recognized by the Constitution are known as ' Scheduled Tribes'.
The Constitution ensures certain protection and benefits for communities deemed as having Scheduled Tribe (ST) status.
Social and political mobilisation has led to the increase of number of STs 225 in 1960 to 700 today.
As the number of communities demanding ST status expands, it brings the criteria of the recognition and the legitimacy of the process under scrutiny. The Constitution only states that STs are specified by the President after consultation with the Governor. It does not define or specify a particular criterion.
According to the Ministry of Tribal Affairs, the criterion includes
Indication of primitive traits
Distinctive culture
Geographical isolation
Shyness of connect with the community at large &
Backwardness
2. HC stays ban on online sale of drugs
Context
A Division Bench of the Madras High Court on Wednesday stayed the operation of a single judge's December 17 order banning online sale of medicines. Though the Centre was yet to notify statutory rules for regulating such sales, imposing a sudden ban would cause grave hardship and health issues to patients relying on e-pharmacies, the Bench said.
Passing interim orders on a batch of writ appeals preferred by e-pharma firms, Justices M. Sathyanarayanan and P. Rajamanickam said the number of people who prefer to purchase medicines online was on the rise because not all patients and their caregivers would be in a position to go in search of the required drugs.
Background
The Madras High Court in November 2018 directed the Union Ministry of Health and Family Welfare and competent authorities under the Drugs and Cosmetics Act of 1940 to immediately stop online sale of medicines that could be sold only in pharmacies on the prescription of a registered medical practitioner.
More than a month after granting an interim stay on the online sale of drugs and medicines, the Madras high court in December 2018 refused to vacate the stay, thereby banning the sales through e-pharmacies.
The next step for the online drug industry, in the light of the Madras High Court judgment banning the sale of medicines online, would clearly be legal – an appeal against the verdict.
Analysis of the issue
The attraction of the online pharmacy, for many, is the fancy discounts that are available, up to 60%, besides free home delivery and sometimes, other value-added services.
It is the Drugs and Cosmetics Act, 1940, that regulates the import, manufacture and distribution of medicines in the country. While it regulates sales of drugs, it was not clear, as the online pharmacy trade emerged, whether the existing rules under the Act would be applicable to the portals selling medicines.
It was in order to address this specific issue, that the Union Ministry of Health and Family Welfare published draft rules in September 2018, seeking to amend the Drugs and Cosmetics rules regarding the distribution or sale, stock, exhibit or offer for sale of drugs through e-pharmacies.
While currently no provisions exist for the registration of any of these online pharmacies, the new rules mandate all e-pharmacy holders be registered with the Drugs Controller General of India (DCGI), and the State drug regulator. Periodic inspection of the premises too will be on the cards.
Online portals cannot sell narcotic drugs, tranquillisers and Schedule X drugs, and cannot advertise their services, as under the Drugs and Cosmetics Act. Under the new rules, complete information on the medicines will have to be provided by the e-pharmacy holders, and a 24/7 helpline should be made available.
The top-level Drugs Technical Advisory Board also recently approved the draft rules to allow the operation of e-pharmacies.
3. Trade Unions Act to be amended
Context
The Centre proposes to amend the Trade Unions Act, 1926, to facilitate recognition of trade unions at the Central and federal level. The Union Cabinet approved the amendment on Wednesday.
Most trade unions, however, vehemently opposed the proposed amendments, saying the government was trying to interfere in, and cripple, their functioning.
Details of the issue
The trade union movement in India, for various reasons, has been characterised by a multiplicity of unions.
Trade unions with a verified membership of five lakh spread over at least four States and four industries as on December 31, 2002 were given the status of CTUOs by the Office of the Chief Labour Commissioner (Central), as per the 2002 exercise, currently there are 13 CTUOs.
The Centre proposes to grant statutory recognition to TUs by amending the Trade Unions Act, 1926 (TU Act), so that other central and state ministries take them seriously.
The amendment provides that in the event of any dispute over recognition by the Central or the State governments, it will be decided by an authority, and by means provided by the appropriate government.
In a pluralistic democracy, various pressure groups of workers and employers' organisations co-exist.
The government engages with them to determine policies and laws. As a member of the International Labour Organisation and having ratified Tripartite Consultation (International Labour Standards) Convention, 1976 in 1978, the government is committed to social dialogue.
Statutory recognition becomes necessary as employers may not wish to negotiate with a trade union of workers' choice.
India having ratified the ILO Convention is bound to "recognise" representative trade unions, anyway (determined voluntarily or otherwise).
In a pluralistic democracy good governance demands consultations with all stakeholders. Thus any legal reform to improve representative processes must be backed by genuine socio-economic intent.
4. Bill to allow voluntary use of Aadhaar ID introduced
Context
Law Minister Ravi Shankar Prasad on Wednesday introduced a Bill in the Lok Sabha that will provide legal backing for voluntary seeding of biometric Aadhaar ID with mobile numbers and bank accounts after the Supreme Court barred mandatory use of the 12-digit unique identifier by private firms.
Background of the issue
The Supreme Court judgment in September 2018 upheld the validity of Aadhaar, however, with certain restrictions
A Constitution Bench had struck down Section 57 of the Act that allows private entities to use the unique number for verification. The Bench also declared that seeking to link it with bank accounts and SIM cards was unconstitutional.
"The initial proposal was prepared by the Unique Identification Authority of India (UIDAI). It submitted that once a child turns 18, he/she will be given six months to decide if he/she wants to withdraw," a senior official said.
In line with the court order, the proposal seeks to appoint an adjudicating officer to decide whether a person's Aadhaar-related data need to be disclosed in the interest of national security.
The court had also struck down Section 33(2), which allowed disclosure of Aadhaar information for national security reasons on the orders of an officer not below Joint Secretary. It had said an officer above Joint Secretary should consult a judicial officer and together take a call.
What is Aadhaar?
The UIDAI allots a unique identifier (Aadhaar Number) to each citizen and deposits their biometric and demographic data in a Central Identities Data Repository (CIDR).
Aadhaar or Unique Identification Number (UID) is a 12-digit number that serves as a unique identifier for Indian citizens.
Aadhaar's database has the records of over 1.12 billion registered users and is rapidly becoming the government's base for public welfare and citizen services scheme.
Aadhaar authentication process validates an identity with a 'yes' or 'no', using one of the six demographic fields (name, date of birth, gender, address, mobile or email) along with either biometrics or One Time Password (OTP).
The process is designed in such a way that neither the purpose of the transaction nor any other context is known to the Aadhaar system in order to ensure the safety of any transaction.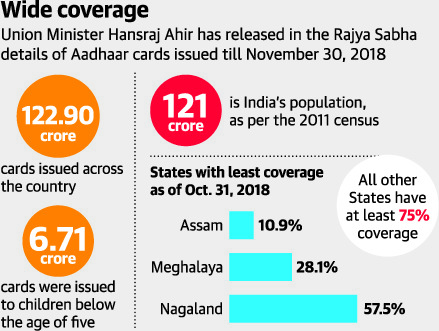 Category: INTERNATIONAL RELATIONS
1. Taiwan's unification with China is inevitable, says Xi
Context
Taiwan's unification with the mainland is "inevitable", President Xi Jinping said on Wednesday, warning against any efforts to promote the island's independence and saying China would not renounce the option of using military force to bring it into the fold.
Xi's comments provoked a swift rebuke from Taipei, where President Tsai Ing-wen said Taiwan's people would never willingly give up the kind of democratic freedoms unseen on the mainland.
Background of the issue – China's One China policy
It is the diplomatic acknowledgement of China's position that there is only one Chinese government.
China insists Taiwan is an inalienable part of one China. So, any country that wants diplomatic relations with mainland China must break official ties with Taipei.
Since, the US established formal diplomatic ties with Beijing in 1979, it had to sever ties with Taiwan and closed its Taipei embassy. This has resulted in Taiwan's diplomatic isolation from the international community.
The 'One-China' policy can be traced back to 1949 and the end of the Chinese civil war.
The defeated Nationalists, also known as the Kuomintang, retreated to Taiwan and made it their seat of government while the victorious Communists began ruling the mainland as the People's Republic of China.
Both sides said they represented all of China. Since then China's ruling Communist Party has threatened to use force if Taiwan ever formally declares independence.
Initially, many governments including the US recognised Taiwan and they shied away from Communist China.
But the mutual need to develop relations with China begun in the 1970s, and as a result, the US and other countries started cutting ties with Taipei in favour of Beijing.
China still sees democratic Taiwan as part of its territory to be reunified, despite the two sides being ruled separately since the end of a civil war in 1949.
Taiwan considers itself a sovereign state, with its own currency, political and judicial systems, but has never declared formal independence from the mainland.
Relations have been strained since the 2016 election of President Tsai, who has refused to acknowledge Beijing's stance that the island is part of "one China".
1. Exotic trees eating up Western Ghat's grasslands
Context
The new year heralds bad news for the high-altitude grasslands of the Western Ghats. Over four decades, the country lost almost one-fourth of these grasslands and exotic invasive trees are primarily to blame, find scientists.
Though grassland afforestation using pine, acacia and eucalyptus ceased in 1996, the exotics still invade these ecosystems, confirms a study published on January 2 in the international journal Biological Conservation.
Details of the Study
When satellite images revealed to a team including scientists from the Indian Institute of Science Education and Research (IISER, Tirupati) grassland loss in Tamil Nadu's Palani hills in early 2018, they decided to study how shola-grasslands (characterised by patches of stunted evergreen shola trees in the valleys and grasslands on hill slopes) across the Ghats – from the Baba Budan Hills in Karnataka to Tamil Nadu's Ashambu Hills – changed in extent between 1972 and 2017.
The satellite images they accessed reveal that 60% of the shola-grassland landscape has changed; almost 40% (516 km2) of native high-elevation grasslands have disappeared.
Most of this loss occurred on the mountain tops of the Nilgiri, Palani and Anamalai hill ranges, which comprise more than half of the Ghat's shola-grassland ecosystems, primarily due to the expansion of exotic trees (pine, acacia and eucalyptus).
Even though no plantations were established between 2003 and 2017, invasion by existing trees increased areas under exotic plantations by 27% in the Palanis and 17% in the Nilgiris. Broadly, shola-grassland ecosystems in Tamil Nadu showed the highest rates of invasion.
The researchers also visited 840 locations across the Ghats to confirm these changes. Despite this, there's some good news: shola forests have remained "relatively unchanged" over these years. The Anamalai-Munnar areas have also remained stable during this time.
Invasive Alien Species
Exotic and non-native basically mean the same thing. An organism is considered non-native or exotic if it is found in an ecosystem where it did not evolve.
The majority of non-native species never causes a problem. Unfortunately, the few that do cause problems more than make up for the rest of them. This small percentage of non-native species causes a tremendous amount of harm to our native habitats and the plants and animals that inhabit them; to natural areas such as forests, lakes, and rivers that we use for recreation; to agriculture; to our economy; and directly to humans. These harmful exotic or non-native species are called invasive.
Alien species become 'invasive' when they are introduced deliberately or accidentally outside their natural areas, where they out-compete the native species and upset the ecological balance. Invasive animal species pose a threat to biodiversity and human well-being.
Common characteristics of invasive species include rapid reproduction and growth, high dispersal ability, phenotypic plasticity (ability to adapt physiologically to new conditions), and ability to survive on various food types and in a wide range of environmental conditions.
Invasive alien species have invaded and affected native biota in almost every ecosystem type on Earth, and have affected all major taxonomic groups.
In economic terms, the costs of invasive alien species are significant. Total annual costs, including losses to crops, pastures and forests, as well as environmental damages and control costs, have been conservatively estimated to be in the hundreds of billions of dollars and possibly more than one trillion. This does not include valuation of species extinctions, losses in biodiversity, ecosystem services and aesthetics.
Shola forests
'Sholas' are patches of evergreen tropical and subtropical moist broadleaf forests.
It is found in Southern India, particularly in the regions of Nilgiri, Palani Hills and Annamalai Hills.
The Western Ghats and associated ranges in the states of Karnataka, Kerala and Tamil Nadu.
The main varieties of Trees in this type of forest are Zenker, bishop wood, Indian mahogany, gular fig tree, etc.
Nothing here for today!!!
Category: INTERNATIONAL RELATIONS
1. Powering South Asian integration (India- South Asia)
Editorial Analysis:
On December 18, 2018, the Union Ministry of Power issued a memo that set the rules for the flow of electricity across South Asian borders.

Experts opine that when evaluated against the turbulent politics around the issue, the new guidelines are a startling departure from India's previous stance.

They further point out that in an atmosphere of regional intrigue and mistrust, it is a rare and recent example of political pragmatism.

Further, it is important not only because it leads South Asian electricity trade in progressive directions but is also a concession to India's neighbours in an area of political and economic importance.
A course correction
The revision is a response to two years of intense backroom pressure from neighbours, particularly Bhutan and Nepal, to drop trade barriers put up in 2016.

The new guidelines meet most of their demands, that were timed to coincide with the recent visit of Bhutan's new Prime Minister.

India has thus signalled that it is serious about working with neighbours on the issues that should undergird 21st century South Asian regionalism, such as electricity trade.

Experts have pointed out that this course correction is a return to a trajectory of incremental, hard-earned progress developed over the decades.

Ideas of tying South Asian Association for Regional Cooperation (SAARC) countries together with cross-border energy flows — that punctuated the early 2000s — began to gain steam with substantial power trade agreements between India and Bhutan (2006) and Bangladesh (2010).

These were driven by India's need for affordable power to fuel quickened growth in a recently liberalised economy.

The highpoint came in 2014 with the signing of the SAARC Framework Agreement for Energy Cooperation and the India-Nepal Power Trade Agreement in quick succession. The new government in New Delhi was keen on regional cooperation, and these agreements imposed few restrictions on trade. Instead, they laid the contours of an institutional structure that would allow private sector participation and facilitate market rationality in electricity commerce.

At the Fifth SAARC Energy Ministers' meeting in the year 2014, Power Minister Piyush Goyal said he dreamt of 'a seamless SAARC power grid within the next few years' and offshore wind projects 'set up in Sri Lanka's coastal borders to power Pakistan or Nepal'. Yet, two years later, in the year 2016, the Union Ministry of Power released guidelines that imposed a slew of major restrictions on who could engage in cross-border electricity trade.

Experts have pointed out that there was a strong undercurrent of defensiveness in the guidelines of 2016. They seemed to be a reaction to perceptions of increased Chinese investment and influence in the energy sectors of South Asian neighbours.
A Closer Look
It is important to note that the guidelines prevented anyone other than Indian generators in the neighbouring country, or generators owned by that country's government, from selling power to India.

Excluded were scores of privately held companies, particularly in Nepal, that had hoped to trade with India.
In restricting access to the vast Indian market, the economic rationale for Nepali hydropower built for export was lost.
Concerns Espoused by Neighbours:
Bhutan was worried about a clause that required the exporting generation companies to be majority owned by an Indian entity.

This created friction in joint ventures between India and Bhutan.

Bhutan also fretted about limited access to India's main electricity spot markets, where it would have been well placed to profit from evening peaks in demand.

Bangladesh had sensed an opportunity to partially address its power crisis with imports from Bhutan and Nepal routed through Indian territory but the guidelines complicated this by giving India disproportionate control over such trade.

Experts point out that after two years of protests from neighbours, the new guidelines resolve all these issues and restore the governance of electricity trade to a less restrictive tone.

Further, the earlier concerns that India was enabling the incursion of foreign influence into neighbouring power sectors seem to have been replaced by an understanding that India's buyer's monopoly in the region actually give it ultimate leverage.

More broadly, India seems to have acknowledged that the sinews of economic inter-dependency created by such arrangements have the political benefit of positioning India as a stable development partner rather than one inclined to defensive realpolitik.
Concluding Remarks:

It is important to note that a liberal trading regime is in India's national interest.

Further, as India transitions to a power grid dominated by renewables, regional trade could prove useful in maintaining grid stability.

Major commitments to renewables, which could amount to half of India's installed power within a decade, have prompted justifiable concerns about stabilising the grid when the sun goes down or in seasons when renewables are less potent.

Harnessing a wider pool of generation sources, particularly hydropower from the Himalayas that ramps up instantly as India turns on its lights and appliances after sunset, could be an important instrument in achieving a greener grid. Nepal and Bhutan have long recognised that their prosperity is tied to the sustainable use of vast hydropower reserves.

In conclusion, the new guidelines are a tentative first step towards the creation of a true regional market in which generators across the subcontinent compete to deliver low-cost, green energy to consumers. Since this would soften the hard borders of South Asia, it is essentially a political vision.

Further, experts point out that the new guidelines are a significant step in this direction because, for the first time, they allow tripartite trading arrangements, where power generated in a country is routed over the territory of a neighbour to be consumed in a third.

This is a crucial move towards the evolution of complex, multi-country market arrangements.
Such markets require the construction of regional institutions that absorb the politics and manage the technicalities of electricity trade.
At present, this function is managed by the Indian state because of its geographic centrality and the ready availability of institutions that manage its domestic power sector.

However, as volumes increase and experience in regional trade grows, South Asian nations might feel the need to build joint, independent regional institutions that proffer clear and stable rules of the road. The political vision to create this — felt in the new guidelines — must be maintained.
2. Caught in a crossfire? (Diplomatic Row between Canada and China)
Editorial Analysis:
There is a major diplomatic row between China and Canada.

This diplomatic row between China and Canada arose over the detention and treatment of Canadian nationals in China. Unfortunately, this has continued to escalate, to the detriment of the bilateral relations between the two countries.

However it is believed that what is more serious could be the implications of the standoff for the ongoing trade war between China and the U.S.

This row between the two countries goes back to the detention on December 1, 2018 of a top Chinese telecom executive in Vancouver, who has since been released on bail, in response to a U.S. request.
The U.S. wanted the custody of Meng Wanzhou, who is the chief financial officer of Huawei and the daughter of the company's founder.
Her arrest was part of the U.S. Justice Department's ongoing criminal probe into the company's sale of telecommunications equipment to Iran, which is a potential breach of sanctions against Tehran.
However, this arrest is also seen in the context of the caution in much of the West against Huawei's potentially winning bids as 5G communication networks are adopted, on grounds of a security threat.
A Closer Look:
Experts believe that what compounds matters is the military background of the Huawei founder, which has raised speculation about the firm's connection to the Chinese defence and intelligence services.
Conversely, the U.S. has invoked a rare national security provision under domestic law to impose punitive tariffs on global steel and aluminium imports.

A similar investigation is under way specifically to determine the risk to domestic security from alleged Chinese intellectual property abuses.

In addition, Beijing's "Made in China 2025" industrial policy has aroused deep suspicion in the U.S. about the persistence of state subsidies to prop up indigenous firms. It is therefore speculated that Washington has its lens trained on Huawei, which has emerged as the world's largest telecommunications equipment maker, surpassing Sweden's Ericsson.
A Note on Made in China 2025:
The Chinese government has launched "Made in China 2025", which is a state-led industrial policy that seeks to make China dominant in global high-tech manufacturing.
The program aims to use government subsidies, mobilize state-owned enterprises, and pursue intellectual property acquisition to catch up with—and then surpass—Western technological prowess in advanced industries.
Released in 2015, Made in China 2025 is the government's ten year plan to update China's manufacturing base by rapidly developing ten high-tech industries.

Chief among these are electric cars and other new energy vehicles, next-generation information technology (IT) and telecommunications, and advanced robotics and artificial intelligence.

Other major sectors include agricultural technology; aerospace engineering; new synthetic materials; advanced electrical equipment; emerging bio-medicine; high-end rail infrastructure; and high-tech maritime engineering.

These sectors are central to the so-called fourth industrial revolution, which refers to the integration of big data, cloud computing, and other emerging technologies into global manufacturing supply chains.
Fears that Canadians Currently Have
There is concern that Canadian residents in China may face retribution for Ms. Meng's detention.

A Chinese court recently ruled that a 15-year sentence against a Canadian convicted of drug-related offences was too lenient.Further, a former diplomat who was arrested has apparently been denied legal representation, although Canadian embassy officials were permitted to visit him. Another Canadian was detained for alleged transgressions of national security.
Concluding Remarks:
Given the climate of mistrust between the U.S. and China, it is hard to dispel the perception that Canada has got caught in the crossfire.

As a matter of fact, the Canadian Foreign Minister has suggested that President Donald Trump should desist from using the episode as a bargaining chip in trade disputes with China.

But it is conceivable that Chinese trade concessions to de-escalate tensions could pave the way for a resolution of the standoff over Huawei. That would likely satisfy a certain section of people in the U.S. who fear that the U.S. is ceding its technological dominance to China.
1. All along the coastline (New Coastal Regulation Zone Notification)
What's in the news?
The Union Cabinet chaired by Prime Minister Shri Narendra Modi has approved the Coastal Regulation Zone (CRZ) Notification, 2018 which was last reviewed and issued in 2011, with periodic amendments to some clauses.

The move comes in the backdrop of a series of representations received by the Ministry of Environment, Forest & Climate Change from various Coastal States/UTs, besides other stakeholders, for a comprehensive review of the provisions of the CRZ Notification, 2011, particularly related to the management and conservation of marine and coastal eco-systems, development in coastal areas, eco-tourism, livelihood option and sustainable development of coastal communities etc.
Possible Benefits:
The proposed CRZ Notification, 2018 will lead to enhanced activities in the coastal regions thereby promoting economic growth while also respecting the conservation principles of coastal regions.

It will not only result in significant employment generation but also to better life and add value to the economy of India. The new notification is expected to rejuvenate the coastal areas while reducing their vulnerabilities.
Editorial Analysis:
What changes will the notification bring?
The Cabinet has approved a significant relaxation of development controls along the coastline through the Coastal Regulation Zone (CRZ) Notification 2018, as part of a plan to encourage construction of buildings and launch tourism activities in areas that are closer to the high tide line. State governments and others had made representations, calling for a review of coastal management policies. Recommendations for changes were then made by the Shailesh Nayak Committee.

The Centre has taken the view that both affordable housing availability and tourism will grow if restrictions on coastal zones are relaxed.

With this objective, a decision has been taken to permit current Floor Space Index (FSI) or Floor Area Ratio (FAR) in urban areas coming under CRZ-II — which governs the size of buildings — as on the date of the new notification.

This does away with the restrictions on construction which date back to the Development Control Rules of 1991. The CRZ-II urban category, as per the CRZ notification of 2011, pertains to areas "that have been developed up to or close to the shoreline", and are legally designated municipal limits already provided with roads, water supply, sewerage connections and so on.
What about rural areas?
For rural areas, the newly approved notification adds a sub-category to CRZ-III. The new provision, CRZ-III A, applies development restrictions to a much smaller area of 50 metres from the high tide line, compared to the 200 metres that was earmarked as the no development zone (NDZ) earlier for densely populated areas.

These are defined as places with a population of 2,161 per sq km as per the 2011 Census. Areas with a population density below that will continue to have 200 metres as the NDZ.

However, for tourism expansion, the new scheme will allow temporary facilities such as shacks, toilet blocks and changing rooms, maintaining only a slim margin of 10 metres from the high tide line.

The system of granting clearances has also been changed. States will have the authority to approve proposals for urban (CRZ-II) and rural (CRZ-III) areas.

The Ministry of Environment, Forests and Climate Change will grant clearances for ecologically sensitive areas (CRZ-I), and areas falling between the low tide line and 12 nautical miles seaward.

The modifications also include demarcation of a 20-metre no development zone for all islands and guidelines to deal with sensitive areas.
What will be the likely impact?
When the draft of the new CRZ notification was published in 2018, concerns were raised that it ignored two major issues: maintaining a well demarcated hazard line and factoring in the effects of climate change on sea levels. The disastrous impacts of periodic cyclones show that coastlines will become even more vulnerable.
Further, Protection of fishers poses a challenge, since the relaxation of development controls could subject them to severe commercial pressures.

The decision to allow construction and tourist facilities closer to the coast may boost employment and grow local business, but without strong environmental safeguards, these could damage fragile ecosystems.
1. Cess to pay for cowsheds in U.P.
To tackle the menace of stray cattle, the Yogi Adityanath-government in Uttar Pradesh has decided to set up 'temporary' shelter homes for cows across the State but the costs will be borne by the public in the form of additional 'cow welfare cess' on excise items.
In a Cabinet meeting on Tuesday, the State government decided to introduce an additional levy of up to 0.5% as 'gau kalyan cess' on more than half-a-dozen public sector infrastructure departments, including excise, to fund and maintain the project.
The government decision comes amid reports that farmers staged protests against the growing menace of stray cattle, which raid fields and destroy their crops. Also, the Opposition parties have also regularly blamed the BJP government for the role of the animals in the vehicle accidents.
In a statement, the government said that it has decided to set up 'asthayi govansh ashray sthal' or temporary cow shelters in both rural and urban areas with a capacity to house a minimum of 1,000 cows and cow progeny.
These shelters would be made financially 'self-sustainable' through sale of milk, dung and compost.
If cattle-rearers and farmers leave their animals in public places, on roads or on the private land of other people, a fine will be imposed on them, the government said. In parts of U.P., there has been a tradition to abandon old or dry cows.
The CM also instructed officials to make functional the 750 kanji houses (cows shelters) set up at the Zilla Panchayat level, and ensure proper fodder, shed and drinking facilities for the bovines.
2. China building 'advanced' warships for Pak.: report
China is building the first of four "most advanced" naval warships for Pakistan as part of a major bilateral arms deal to ensure among other things "balance of power" in the strategic Indian Ocean, the state media reported.
Equipped with modern detection and weapon systems, it will be capable of anti-ship, anti-submarine and air-defence operations, China Daily quoted state-owned defence contractor China State Shipbuilding Corporation (CSSC) as saying.
The under-construction ship is a version of the Chinese Navy's most advanced guided missile frigate, it said.
CSSC did not specify the ship's type but said it is being constructed at its Hudong-Zhonghua shipyard in Shanghai.
China, an "all-weather ally" of Islamabad, is the largest supplier of weapon system to Pakistan. Both countries also jointly manufacturing the JF-Thunder, a single engine multi-role combat aircraft.
Once constructed, the warship "will be one of the largest and technologically advanced platforms of the Pakistani Navy and strengthen the country's capability to respond to future challenges, maintain peace and stability and the balance of power in the Indian Ocean region," the report said.
It will also support the Pakistan Navy's initiative of securing sea lanes for international shipping by patrolling distant waters, the daily quoted CSSC as saying.
3. 'Economy on track to maintain high growth rate'
The Indian economy is projected to be the fastest-growing major economy in the current year and upcoming fiscal 2019-20, the Finance Ministry said on Wednesday, while emphasising that the government has taken several steps to boost investors' confidence.
The average growth of the economy between 2014-15 and 2017-18 was 7.3%, the fastest among major economies in the world, the Ministry said in its Year End Review 2018.
Indian economy is projected to be the fastest-growing major economy in 2018-19 and 2019-20 (International Monetary Fund October 2018 database).
The economy is on track to maintain a high growth rate in the current global environment, it added.
Highlighting various initiatives taken to improve investor confidence and boost growth, it said there were measures to spur manufacturing, comprehensive reforms in foreign direct investment policy, special package for the textile industry, push to infrastructure development by giving infrastructure status to affordable housing and focus on coastal connectivity.
The direct tax-to-GDP ratio of 5.98% achieved during 2017-18 fiscal is the best in the last 10 years, the Ministry added.
It further said there was a growth of over 80% in the number of tax returns filed in the last four financial years from 3.79 crore in 2013-14 to 6.85 crore in 2017-18.
4. India records 377 mine deaths in 3 years
At a time when multiple agencies are involved in the rescue of 15 miners trapped in a rathole mine in Meghalaya, data tabled in the Lok Sabha earlier this week revealed that 377 workers involved in mining of coal, minerals and oil were killed in accidents between 2015 and 2017.
Of the 377 deaths, 129 occurred in 2017 alone. As many as 145 died in 2016, while the figure was 103 in 2015.
Coal mines have accounted for the highest number of casualties due to accidents in mines. Of the 377, more than half, 210, were killed in coal mines.
These figures were provided by the Labour and Employment Ministry on December 31, 2018 in response to a question raised by Laxman Giluwa, BJP MP from Jharkhand.
Jharkhand, which recorded 69 deaths (11 in 2015, 46 in 2016 and 12 in 2017) in the three years, has accounted for the highest death of coal mine workers in accidents inside mines. Goda in Jharkhand witnessed one of the biggest open cast mine accidents in 2016 when 23 workers died in December that year.
Telangana recorded 32 deaths in these three years while Madhya Pradesh registered 29.
During the period, 152 persons died in accidents in metal mines across the country. Rajasthan, one of highest mineral producing States in the country, accounted for 48 deaths (20 in 2015, five in 2016 and 23 in 2017) while Andhra Pradesh recorded 29 deaths. During this period, 15 deaths were reported in oil mines, most of them occurring in Assam and Gujarat.
1. Olive ridleys perishing off A.P. coast
Context
Many of the first batch of olive ridley turtles that chose the Andhra Pradesh coast for the annual breeding season have died before they reached the destination, after being trapped in fishing nets.
The coast, considered a safe breeding zone, is now witnessing deaths among the migrating turtles in recent years. The average lifespan of the turtle is 50.
The prime reason for the rise in the deaths is the absence of the 'Turtle Excluder Device' in fishing operations. The Wildlife authorities have identified 12 locations to set up rookeries (the nests or breeding places) between the Krishna and the Koringa wildlife sanctuaries, which witness a huge turnout of turtles.
Official teams at the rookeries are sent to save them from stray dogs and conserve the eggs. The hatchlings will be released into the sea in a phased manner.
Olive Ridley Turtle
Vulnerable — IUCN Red list
Habitat — warm and tropical waters of primarily in the Pacific, Indian Ocean and Atlantic ocean.
Gets name from its oolive-coloredcarapace, which is heart-shaped and rounded
Arribadas — synchronized nesting in mass numbers.
Operation Olivia — Olive Ridely Turtle protection program undertaken by Indian Coast Guard.
Mating and breeding season — winter.
Mostly carnivorous, feeding on such creatures as jellyfish, snails, crabs, and shrimp. They will occasionally eat algae and seaweed.
Threats -Poaching for their meat, shell and leather, and their eggs, pet trading, accidental killing of adult turtles through entanglement in trawl nets and gill nets due to uncontrolled fishing during their mating season around nesting beaches, predators like feral dogs and pigs, ghost crabs, snakes, etc.
Some important nesting sites in India – Hope Island of Coringa Wildlife Sanctuary (Andra Pradesh), Gahirmatha beach (Odisha), Astaranga coast(Odisha), Beach of Rushikulya River.
This refers to the various prominent differences in the physical characteristics of males and females of the same species apart from just their primary reproductive characteristics.
These differences may include size, colour, shape, cognitive abilities, and various other distinct characteristics.
Sexual dimorphism, which is prevalent across various species, has been attributed by scientists to the process of sexual selection.
It is believed that males or females with certain characteristics may have been favoured

by the opposite sex. This might have caused genes responsible for these characteristics to be passed on to future generations, thus magnifying differences between the sexes.
H. Practice Questions for UPSC Prelims Exam
Question 1. With reference to Money Bill, which of the following statements is incorrect?

It can be introduced only by a Minister.
It can be introduced only on the recommendation of the President.
It can be retained by the Rajya Sabha for maximum period of two months only.
None of the above
See
Question 2. Consider the following statements with respect to impeachment procedure of the 
President of India:
The impeachment of the President is a quasi-judicial procedure in the Parliament.
The nominated members of either House of Parliament cannot participate in the impeachment of the President though they do participate in his/her election.
The elected members of the legislative assemblies of States and union territories do not participate in the impeachment.
Which of the above statements is/are correct?
Only 1
Only 2 and 3
Only 1 and 3
All of the above
See
Question 3. Under what conditions President, if satisfied can declare National Emergency?
When the security of the country is under threat
Internal disturbance
External aggression
Select the correct code:
All of the above
Only 1 and 3
Only 1
Only 2 and 3
See
I. Practice Questions for UPSC Mains Exam
The incident in Meghalaya where miners are trapped in one of the rat-hole mines exposes the issues with this unsafe mining practice. Despite a ban, rat-hole mining remains a prevalent practice in Meghalaya. Explain the process of rat hole mining and the issues associated with it? (12.5 Marks; 200 words)
The progress shown by some of the districts under the aspirational districts programme leads us to harbour belief that sustained focus on the progress of these districts would enable us to bridge the developmental gap. In this context, examine the role of aspirational districts programme in bridging the development gap is vital to social and political stability.  (12.5 Marks; 200 words)
See previous CNA