TABLE OF CONTENTS
A.

 GS1 Related




B.

 GS2 Related


POLITY AND GOVERNANCE
1. Centre plans 10% quota for the poor
2. Yogi faces heat from allies on OBC report
3. 17 chained mentally ill patients freed from faith-based asylum
4. Centre okays Citizenship Bill
5. Leprosy is no longer a ground for divorce
6. SC shocked as Section 66A of IT Act is still invoked


C.

 GS3 Related




D.

 GS4 Related




E. 

Editorials


INTERNATIONAL RELATIONS
1. Still nothing to show for (The Economic Crisis in Pakistan)
ECONOMY
1. Death traps (Meghalaya's illegal mines)


F. 

Tidbits


1. Kerala HC sets 7-day notice period for hartals, strikes
2. 'Pseudo-scientific discourse unfortunate'


G. 

Prelims Fact


1. Animals begin to arrive at Wayanad sanctuary
2. Primordial soup
H. UPSC Prelims Practice Questions
I. UPSC Mains Practice Questions

Nothing here for today!!!
Category: POLITY AND GOVERNANCE
1. Centre plans 10% quota for the poor
Context
The Union Cabinet on Monday approved a Constitution Amendment Bill to provide 10% reservation to the economically backward sections in the general category, a senior government official said.
The Bill will also cover those from the Muslim, Sikh, Christian, Buddhist and other minority communities. The quota will be over and above the existing 50% reservation to the Scheduled Castes, the Scheduled Tribes and the Other Backward Classes (OBC).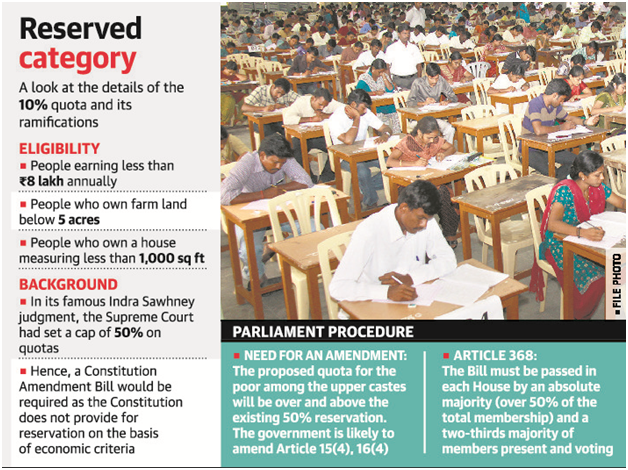 Indra Sawhney case of 1992
In the beginning of 1990s, central government implemented the mandal commission recommendations for reservation of other backward classes. This created a chaos in various sections of the society.
Consequently, PIL was filed, and resulted in one of the most significant judgment namely "Indra Sawhney case". Also known as Mandal Case became the corner stone in the present reservation structure of the country.
It recognized socially and economically backward classes as a category and recognized the validity of the 27 per cent reservation.
The concept of 'creamy layer' gained currency through this judgment. Those among the OBCs who had transcended their social backwardness were to be excluded from the reservation.
It laid down a 50 per cent limit on reservations and observed that economic, social and educational criteria were needed to define backward classes.
Reservation for backward classes (which include OBCs and SCs & STs) should be confined to initial appointments and not extend to promotions.
Reservation Policy after the Indra Sawhney judgment
To circumvent the Supreme Court judgment, parliament enacted 77th, 81st, 82nd, and 85th amendment acts, and inserted the provisions for reservation in promotions and carried forward quota (in case vacancies were not filled in a year).
Cases were filed to judge the constitutionality of these amendments. To name one the most famous is Nagraj judgment of 2006. In this case court upheld the validity of all the four amendments and provided for additional provisions.
In this case court asked to apply creamy layer condition to SC/ST, also asked states to provide quantifiable data if they want to give reservation for certain community.
Recently, In the Jarnail Singh case, the court was requested to revisit the Nagraj judgment.
The court did not strike down the application of the creamy layer concept in the scheduled communities and invalidated the requirement of quantifiable data before making a reservation in promotions for SC and ST.
Reservation based on the economic backwardness and judiciary
A proposed law, which got Cabinet approval on Monday, to provide 10% reservation for upper castes (or the unreserved category) exclusively with reference to their economic backwardness may run into rough weather if challenged in the Supreme Court.
A nine-judge Constitution Bench of the Supreme Court in the Indra Sawhney case of 1992 specifically answered the question "whether backward classes can be identified only and exclusively with reference to the economic criterion."
It categorically held that a backward class cannot be determined only and exclusively with reference to economic criterion. It may be a consideration or basis along with, and in addition to, social backwardness, but it can never be the sole criterion.
The Indra Sawhney judgment declared 50% quota as the rule unless extraordinary situations "inherent in the great diversity of this country and the people" happen. Even then, extreme caution is to be exercised and a special case should be made out.
If the government proposes to bring a constitutional amendment to include the 10% quota for "unreserved economically weaker sections", the 11-judge Kesavananda Bharati judgment may stand in the way. The judgment held that constitutional amendments which offended the basic structure of the Constitution would be ultra vires. Neither Parliament nor legislatures could transgress the basic feature of the Constitution, namely, the principle of equality enshrined in Article 14.
The government, it is reported, proposes to bring the 10% over and above the 49% quota — 7% for Scheduled Castes, 15% for Scheduled Tribes and 27% for Socially and Educationally Backward Classes, including widows and orphans of any caste, which is permitted. But a total 59% (49%+10%) quota would leave other candidates with just 41% government jobs or seats. This may amount to "sacrifice of merit" and violate Article 14.
This proposed Bill finds an echo in an ordinance promulgated in Gujarat in 2016. The ordinance provided 10% quota to upper castes there. Gujarat had justified the ordinance by referring to how Article 46 of the Constitution, which deals with the Directive Principles of the State Policy, required the State to promote weaker sections.
Indra Sawhney started a new era of reservation in India. But actual work of social upliftment is still incomplete.
Reservation to inadequately represented people along with awareness and education of all will build an egalitarian society in India.
2. Yogi faces heat from allies on OBC report
Context
The sub-categorisation of Other Backward Class quota is turning into a hot potato for the BJP in Uttar Pradesh with its allies turning on the heat over the issue amid a clash of interests.
While the Social Justice Committee  report has still not been made public or tabled in the Assembly despite being sent to the government in October, a leaked copy of it suggests the panel has recommended a split of the 27% OBC quota into three categories.
The panel headed by retired Allahabad High Court judge Raghavendra Kumar has listed 79 sub-castes under the OBC category. Of these, nine fall under Backward Class, 37 under More Backward and 33 under Most Backward categories.
Listed under the Backward Class — those who will be restricted to 7% quota — are castes like Yadav, Kurmi and Jat. The panel says that these castes are socially, economically and culturally "strong" and have been recruited in government jobs more than the ratio of their population, while also enjoying political representation.
Sub-categorisation of Other Backward Class
The Supreme Court in its order in Indra Sawhney and others vs. Union of India observed that there is no constitutional or legal bar to a State categorizing backward classes as backward or more backward and had further observed that if a State chooses to do it (sub-categorization), it is not impermissible in law.
At present, there is a single Central OBC list, with entries from each State. People belonging to all of these castes can seek reservation from within the single 27% OBC reservation pie for Central government jobs and Central educational institutions.
Nine States, however, have already sub-categorised OBCs. These are Andhra Pradesh, Telangana, Puducherry, Karnataka, Haryana, Jharkhand, West Bengal, Bihar, Maharashtra and Tamil Nadu.
OBC reservation became a reality after the implementation of the Mandal Commission report, which categorised many castes as constituting backward classes and deserving of quotas. New castes have been added to the list over the years.
Sub categorization of the OBCs will ensure that the more backward among the OBC communities can also access the benefits of reservation for educational institutions and government jobs.
At present, many feel that the more advanced OBC castes corner the lion's share of the benefits and have become influential. Not only will such a move offer more opportunities to the most backward castes among the OBCs but also give the government and the ruling party an opportunity to carve out a new political constituency.
3. 17 chained mentally ill patients freed from faith-based asylum
Context
Solicitor-General Tushar Mehta informed the Supreme Court on Monday that 17 mentally-ill persons, found chained in a "faith-based asylum" in Badaun district of Uttar Pradesh, were admitted there by their own relatives and were freed by the government.
He told a Bench of Justices A.K. Sikri and S. Abdul Nazeer that the institution was not even an asylum, but a place where people believed to be "possessed" were left by their families. They were chained to "…rid them of spirits."
Background
The plight of the inmates was brought to the court's attention by lawyer Gaurav Kumar Bansal, who said shackling them went against the Mental Health Act, 2017, and violated their fundamental right under Article 21.
Supreme Court judge Justice A. K. Sikri recently raised concerns about the rights of persons with mental illness citing an incident of an asylum in Uttar Pradesh where many intellectually challenged persons were chained.
Indian Council of Medical Research's research shows that in Delhi 8%-10% of population suffers from illnesses like depression, anxiety and schizophrenia among others, with only 10-20% getting treatment
Mental health and mental Illness
WHO defines mental health as "a state of well-being in which every individual realizes his/her own potential, can cope with the normal stresses of life, can work productively and fruitfully, and is able to make a contribution to her/his community."
The Mental Healthcare Act, 2017 defines "mental illness" as a substantial disorder of thinking, mood, perception, orientation or memory that grossly impairs judgment, behaviour, capacity to recognise reality or ability to meet the ordinary demands of life, mental conditions associated with the abuse of alcohol and drugs.
However, it does not include mental retardation which is a condition of arrested or incomplete development of mind of a person, specially characterised by sub-normality of intelligence.
Mental Healthcare Act, 2017
The Act seeks to ensure rights of the person with mental illness to receive care and to live a life with dignity. The key features of the Act are:
Rights of Persons with Mental Illness – Right to Access to Healthcare– Every person shall have a right to access mental health care and treatment from mental health services run or funded by the appropriate government. It also assures free treatment to those who are homeless or below the poverty line. The Act also requires insurance policies to place mental health treatment at par with physical health.
Right to live with dignity – Every person with mental illness shall have a right to live with dignity
Right to Confidentiality – A person with mental illness shall have the right to confidentiality in respect of his mental health, mental healthcare, treatment and physical healthcare
Advance Directive – The Act empowers person with mental illness to make an advance directive that states how he/she wants to be treated for the illness and who his/her nominated representative shall be.
The Act mandates the government to set up Central Mental Health Authority at national-level and State Mental Health Authority in every State.
Further, every mental health institute and mental health practitioners including clinical psychologists, mental health nurses and psychiatric social workers will have to be registered with the Authority.
A mentally ill person shall not be subjected to electro-convulsive therapy without the use of muscle relaxants and anaesthesia. Further, electroconvulsive therapy cannot be used on minors. Sterilisation will not be performed on such persons.
They shall not be chained in any manner or under any circumstances. They shall not be subjected to seclusion or solitary confinement.
Decriminalization of Suicide: Until recently suicide was a punishable offence under IPC Section 309. The Act decriminalizes suicide stating whoever attempts suicide will be presumed to be under severe stress, and shall not be punished for it.
4. Centre okays Citizenship Bill
Context
The Joint Parliamentary Committee (JPC) on the contentious Citizenship Amendment Bill, 2016 recommended that the Assam government should help settle migrants "especially in places which are not densely populated, thus, causing lesser impact on the demographic changes and providing succour to the indigenous Assamese people".
There has been a strong resistance to the Bill in the BJP-ruled Assam as it would pave the way for giving citizenship, mostly to illegal Hindu migrants from Bangladesh, in Assam who came after March 1971, in violation of the Assam Accord of 1985.
The Union Cabinet cleared the redrafted Citizenship Amendment Bill on Monday, and it is likely to be tabled in Parliament on Tuesday. The Research and Analysis Wing (RAW) expressed its concern before the committee.
The Citizenship (Amendment) Bill, 2016
The Bill, introduced in the Lok Sabha on July 15, 2016, seeks to amend the Citizenship Act, 1955 to provide citizenship to illegal migrants, from Afghanistan, Bangladesh and Pakistan, who are of Hindu, Sikh, Buddhist, Jain, Parsi or Christian extraction.
However, the Act doesn't have a provision for Muslim sects like Shias and Ahmediyas who also face persecution in Pakistan.
The Bill also seeks to reduce the requirement of 11 years of continuous stay in the country to six years to obtain citizenship by naturalisation.
According to the Citizenship Act, 1955, an illegal immigrant is one who enters India without a valid passport or with forged documents. Or, a person who stays beyond the visa permit.
5. Leprosy is no longer a ground for divorce
Context
The Lok Sabha on Monday passed a Bill seeking to remove leprosy as a ground for divorce, stating that this was a "discriminatory" provision for a disease that is now curable.
"Leprosy is being removed as a ground for divorce as it is now a curable disease as against the earlier notion of it being incurable," said Minister of State for Law P. P. Chaudhary moving the Personal Laws (Amendment) Bill, 2018, in the Lok Sabha.
The Bill has sought to amend five Acts — the Divorce Act, 1869, the Dissolution of Muslim Marriage Act, 1939, the Special Marriage Act, 1954, the Hindu Marriage Act, 1955, and the Hindu Adoptions and Maintenance Act, 1956 — on provisions related to marriage, divorce, and separation of Hindu and Muslim couples.
Each of these Acts prescribe leprosy as a ground for seeking divorce or separation from the spouse. The Bill cleared on Monday removes this as a ground for divorce or separation.
Leprosy
Leprosy, also known as Hansen's disease, is a bacterial disease which affects the skin and nerves which can lead to physical deformity and disability if left untreated.
Despite a centuries-long stigma, it is not hereditary, it is completely curable, and is only mildly infectious – more than 85% of cases are non-infectious and over 95% of the population has a natural immunity to the disease.
Initially, infections are without symptoms and typically remain this way for 5 to 20 years.
Symptoms that develop include granulomas of the nerves, respiratory tract, skin, and eyes.
This may result in a lack of ability to feel pain, which can lead to the loss of parts of extremities due to repeated injuries or infection due to unnoticed wounds. Weakness and poor eyesight may also be present.
Leprosy is one of the World's oldest diseases with India accounting to 60% of the annual new cases.
In 2005, it was officially declared eliminated as a public health concern in India. This was when the new cases fell to less than 1 per 10,000. Yet India accounts for the largest number of leprosy affected people in the world.
Related Personality – Baba Amte (1914-2008)
Baba Amte, (Murlidhar Devidas Amte), Indian lawyer and social activist, devoted his life to India's lower-caste Dalits and especially to the care of those individuals who suffered from leprosy (Hansen's disease).
His work earned him numerous international awards, notably the 1971 Padma Shree, the 1988 UN Human Rights Prize, a share of the 1990 Templeton Prize, and the 1999 Gandhi Peace Prize.
Amte was born into an affluent Brahmin family and acquired the nickname Baba as a child. He trained as a barrister but, influenced by Mahatma Gandhi's nonviolent fight for justice, abandoned his legal career in the 1940s.
He settled with his wife in a labour ashram, then studied leprosy at the Calcutta (now Kolkata) School of Tropical Medicine, and in 1951 founded Anandvan, an ashram dedicated to the treatment and rehabilitation of leprosy patients. Amte, who suffered from cancer, died at the Anandvan Ashram and was given a Maharashtra state funeral.
6. SC shocked as Section 66A of IT Act is still invoked
Context
Over three years after it struck down Section 66A of the Information Technology Act as unconstitutional, the Supreme Court on Monday said it was shocked to hear that authorities still continued to book people under the now-extinct draconian provision.
A Bench led by Justice Rohinton F. Nariman, who wrote the judgment in March 2015 upholding online free speech against Section 66A, said "strict action" would follow if the claims in the petition filed by the People's Union for Civil Liberties (PUCL) were found true.
The court ordered the Centre to respond to the petition in four weeks.
The PUCL said Section 66A, which restricted free expression online, continued to survive and occasionally found a place in the FIRs registered by the police in complete contravention of the Supreme Court judgment in the Shreya Singhal case.
The judgment had found that Section 66A was contrary to both Articles 19 (free speech) and 21 (right to life) of the Constitution. The entire provision was struck down by the court.
The petition said the judgment rendered Section 66A extinct from the very date of its insertion into the IT Act, i.e. October 27, 2009.
About Section 66A of IT Act
Section 66A provides for punishment for sending offensive messages through communication service, etc.
It says that any person who sends, by means of a computer resource or a communication device,—
any information that is grossly offensive or has menacing character; or
any information which he knows to be false, but for the purpose of causing annoyance, inconvenience, danger, obstruction, insult, injury, criminal intimidation, enmity, hatred or ill will, persistently by making use of such computer resource or a communication device,
any electronic mail or electronic mail message for the purpose of causing annoyance or inconvenience or to deceive or to mislead the addressee or recipient about the origin of such messages,
shall be punishable with imprisonment for a term which may extend to three years and with fine.
Shreya Singhal vs Union of India Case 2015
SC held that Sec 66A is unconstitutional and void on the ground that it was excessively vague, open-ended and undefined.
It did not give clear direction, either to the users of internet or to the law enforcement agencies on what acts performed on internet would amount to defamation.
Court held that vagueness of Sec 66A, took away the freedom of speech and the right to descent. It had an intimidating effect on free speech.
Nothing here for today!!!
Nothing here for today!!!
Category: INTERNATIONAL RELATIONS
1. Still nothing to show for (The Economic Crisis in Pakistan)
Editorial Analysis:
In October 2018, Pakistan Prime Minister Imran Khan in a public address stated that Pakistanis should stop worrying, "Ghabrain nahin, hausla rakhain (do not worry, have fortitude)."

However, experts have pointed out that after five months of waiting for the government to deliver on its numerous promises, perhaps it is now time to really start worrying.
Political Transitions in Pakistan:
Experts opine that in each of the three recent elections in Pakistan, in 2008, 2013 and last year in July, 2018, a different political party won and formed the government.

As a matter of fact, the Pakistan Peoples Party in 2008, following Benazir Bhutto's assassination, had two Prime Ministers in its five-year tenure; however, during this period, with Asif Zardari as President of Pakistan, this five-year tenure is better known as Mr. Zardari's government.

Similarly, after 2013, the Pakistan Muslim League's Nawaz Sharif made a remarkable reappearance in Pakistan's political scene and became Prime Minister for the third time, only to be debarred and removed from office, and subsequently imprisoned, and was replaced by one of his party members as Prime Minister. The 2013 government, even with Mr. Sharif behind bars, was known as his government.

The third transition, or 'experiment' as it has been called since last year well before the elections took place, was for Pakistan's military and judiciary, the so-called 'establishment', to work together and ensure an electoral victory for the third political party in as many elections, with Imran Khan winning.

The electoral results in 2008 and 2013 were not unexpected.

After Benazir Bhutto's killing, a sympathy wave led to her party winning enough seats to form a coalition government, but with its particularly poor performance in its five-year tenure, Mr. Sharif's victory was also not unexpected.

Despite the incarceration of Mr. Sharif and the multiple cases against him in 2017 and 2018, the general perception was that his party would probably get re-elected, albeit with a smaller majority.

It is important to note that Mr. Imran Khan's victory followed on a multi-month strategy by the establishment to ensure that he would win, with ample evidence suggesting that he was ushered in with much help from behind the scenes.

Some experts opine that his shell-shocked victory speech a few hours after the elections suggested that even he was taken aback when victory was handed to him.
The Past Five months
Some experts suggest that the previous five months is long enough time to be able to assess what a new government has done and the direction it intends to follow.

As a matter of fact, both the Zardari government of 2008 and the Sharif government in 2013 quickly went into taking numerous decisions soon after being elected.

In 2008, with support from the Opposition led by Mr. Sharif, Mr. Zardari and his government worked together to jointly address issues concerning the economy, and to remove the then President of Pakistan, Pervez Musharraf, by initiating a process to have him impeached, leading to his resignation.

Differences emerged between Mr. Sharif and Mr. Zardari over issues about an amnesty granted to political leaders and about the reinstatement of members of the judiciary dismissed while General Musharraf was President.

Nevertheless, the main purpose apparent from the beginning had been served and was clear from the start, to reclaim popular political space from the military, and to reassert the sovereignty of the law.

Experts point out that

Mr. Sharif, when he was elected in 2013, from the very first moment, started work on addressing Pakistan's biggest problem at that time, the electricity crisis which was crippling the economy

. After taking several decisions within days of assuming power, he started to put the economy on some track, and agreed to an International Monetary Fund programme.

Critics of the present administration in Pakistan allege that the most noticeable demonstration of Mr. Khan's government over the last five months has been best reflected in its ineptitude and indecision. They further point out that

for the past five months, one has been waiting for some major policy direction, vision, but none so far has emerged.

Critics point out that other than the 'we will put all the corrupt politicians in jail' mantra, the present administration in Pakistan has been lacking in foresight and a sense of purpose.

Crucially, it is not inexperience which is the cause for this. Most of  Mr. Imran Khan's Ministers and advisers have been in government with one political party or another. In fact, many worked with General Musharraf when he was President.
The Economic Crisis in Pakistan
Perhaps the most urgent and pressing problem facing Pakistan today is that of an economy quickly going into a crisis state, largely on account of inaction and uncertainty created by the Finance Minister.
Pakistan's growth rate in the fiscal year ending in June 2018 was 5.8%, the highest in 13 years.
For the current fiscal year the expectations are that it will be closer to 3%.

Inflation today is the highest in six years, and interest rates have been driven to double-digit levels with the Pakistani rupee depreciating 34% in 12 months.

There is a growing balance of payments crisis, with exports stagnant and imports still rising, along with a fiscal deficit of more than 6% of GDP.
The stock market has fallen, as have investor confidence and ratings of the economy.

Foreign direct investment has fallen drastically since early 2018.

The China Pakistan-Economic Corridor (CPEC), which was touted as Pakistan's 'Marshall Plan', seems to have completely gone off the radar for now, as the Chinese rethink their strategy for Pakistan.

Experts suggest that knowing all this, Mr. Khan and his finance and economic team have done little to stabilise Pakistan's economy, to draw a strategy to address these exacerbating problems.

Further, other than begging for loans from the only three friends Pakistan is left with — Saudi Arabia, China and the UAE — there has been an absence of ideas about what to do.
The populist promises of the election manifesto of Mr. Khan, of making Pakistan a model welfare state on the lines of the Prophet's Medina, of providing millions of jobs and houses to Pakistanis, will all come undone unless the economy is first fixed.
Concluding Remarks:
The single most prominent feature of Mr. Khan's five months has been his repeated pronouncements that he and his government are 'on the same page' with Pakistan's military and judiciary.

Experts point out that unlike Mr. Zardari and Mr. Sharif, who are both fairly astute and experienced politicians,

Mr. Khan probably doesn't realise the consequences of what this means and how being on the same page with dominating and powerful unelected institutions undermines and stifles the agency of elected governments.

Finally, critics point out that rather than having used the short breathing space following his electoral victory by taking some resolute decisions, Mr. Khan's inactions may not only reflect his inability to understand how to run a government but might simply be because he expects others on this 'same page' to do his bidding.
In many ways, with a media that is strangulated, and politicians of the Opposition being hounded in the name of 'accountability', Pakistan may be back to its tried and trusted model of controlled democracy.
1. Death traps (Meghalaya's illegal mines)
Editorial Analysis:
Experts opine that the Meghalaya government must urgently ensure that all illegal mines are shut down.

Critics have pointed out that the tardy response of the Centre and the State of Meghalaya to the plight of at least 15 workers trapped in a rat-hole coal mine since mid-December 2018 has exposed the extraordinary indifference in government to labour welfare and the law.

Two workers have been found dead in a second mine in the East Jaintia Hills district.
It is important to note that the primary responsibility for the operation of illegal mines lies with the State government, and it should be called to account for ignoring the directions of the National Green Tribunal to close them and levy punitive royalties on those that extracted the coal.
Experts point out that currently, several appeals are before the Supreme Court in connection with a ban ordered by the Tribunal on rat-hole mining and the transport of already mined coal. It should be possible at least now to put an end to it.
What has the Meghalaya State Government done?
The Meghalaya government has unfortunately been evasive on the issue of the continued operation of the illegal mines, in spite of the adverse findings of the Justice B.P. Katoki committee appointed by the NGT.

Experts point out that it avoided taking action even after a similar mine-flooding accident that claimed 15 lives in 2012 in South Garo Hills, and the subsequent ban.

Further, although the NGT has ordered the State to deposit ₹100 crore with the Central Pollution Control Board for environmental restoration in the wake of the recent disaster at Ksan in East Jaintia Hills, the first-order priority is to close the rat-hole mines.

It is the responsibility of the Centre and the State to rehabilitate the workers from impoverished communities, reportedly including some child labourers, who are ready to undertake the risky labour because of the higher-than-average wages paid.

Experts point out that this should not be difficult, considering that the value of extracted coal stored in Meghalaya was officially estimated at over ₹3,078 crore four years ago, and mineral resources should be treated as state property.
A Note on the The Mines and Minerals (Development and Regulation) Amendment Bill, 2016:
The Mines and Minerals (Development and Regulation) Amendment Bill, 2016 was introduced in Lok Sabha on March 16, 2016.  The Bill amends the Mines and Minerals (Development and Regulation) Act, 1957.

The Mines and Minerals (Development and Regulation) Act, 1957 regulates the mining sector in India and specifies the requirement for obtaining and granting leases for mining operations.

Transfer of mining leases:  The Act allows for the transfer of mining leases which have been granted through an auction process.  The holder of these mining leases may transfer the lease to any eligible person, with the approval of the state government, and as specified by the central government.  If the state government does not convey its approval within 90 days of receiving the notice, the transfer shall be considered as approved. No transfer shall take place if the state government communicates, in writing, that the transferee is not eligible.

The Bill allows for the transfer of mining leases which have been granted through procedures other than auction, and where the minerals are used for captive purpose.  Captive purpose has been defined as the use of the entire quantity of mineral extracted in the lessee's own manufacturing unit. Such lease transfers will be subject to terms and conditions, and transfer charges as prescribed by the central government.  These transfers will be in addition to the existing transfers that are allowed.

According to the Statement of Objects and Reasons of the Bill, this provision will allow for merger and acquisition of companies with captive mining leases.

Leased area:  The Bill adds a definition of leased area, as the area within which mining operations can be undertaken.  This will also include the non-mineralised area required for the activities defined under mine in the Mines Act, 1952.  The 1952 Act defines mine as any excavation where any operation for searching or obtaining of minerals is being carried out.  It includes (i) borings, bore wells, and oil wells, (ii) all opencast workings, (iii) all workshops and stores within the precinct of a mine, and (iv) any premises being used for depositing waste from a mine or where any operations in connection with such waste is being carried out.
Concluding Remarks:
Experts point out that the scales are high: as interpreted from satellite images and reported by the Katoki panel, it could be of the order of 24,000 mines, many of them illegal.

If illegal mines continue to operate in flagrant violation of rules under the Mines and Minerals (Development and Regulation) Act, the responsibility lies with the State government.

Chief Minister Conrad Sangma has said a ban on coal mining is not the solution, given the economic conditions in the region.

Yet, unfortunately, the State government has done little to implement reforms and diversify employment away from dirty mining under primitive conditions over the years, in spite of judicial orders.

In fact, authorities in Shillong continue to ignore such directions, as the accident at the Lumthari mine in East Jaintia Hills shows.

As a matter of fact, as recently as in December 2018, Parliament was informed that 22 States had constituted a task force to review illegal mining and act on it, but Meghalaya does not figure in that list.

Thus, in light of these developments, a clean-up is overdue.
1. Kerala HC sets 7-day notice period for hartals, strikes
The Kerala High Court has set a seven-day notice period for political parties and individuals to call a hartal and general strike in the State.
A Division Bench of Chief Justice Hrikesh Roy and Justice A.K. Jayasankaran Nambiar said here on Monday that the notice period would enable citizens to approach the court with their objections and examine the legality of the strike call.
It will also provide an opportunity for the State to safeguard the interests of the citizens, the court held. The order was issued by the court while considering a batch of petitions.
Referring to an earlier decision of the Kerala HC against bandhs, the court said: "What was said about the bandhs in 1997 squarely applied to hartals and general strikes."
While the court recognised the fundamental right of those who call for strike to demonstrate their protests, the same cannot be exercised in violation of the fundamental rights of other citizens. The fundamental right of the citizens to life and livelihood would outweigh the fundamental right of persons calling for strikes and hartals, the court said.
"While we recognise the fundamental right of those who call for strike and hartal to demonstrate their protests, the same cannot be in violation of the fundamental rights of other citizens as mentioned in the Constitution," the Bench held.
Those who call for hartals will be held responsible for the loses suffered due to the event, the court held.
2. 'Pseudo-scientific discourse unfortunate'
Responding to the pseudo-scientific discourse at the ongoing 106th Indian Science Congress (ISC) in Punjab, India's Principal Scientific Adviser, K. Vijay Raghavan, in a blog post, said a formal complaint should be lodged against the speaker, and India's science academies must voice their objection.
Vijay Raghavan was referring to a speech last Friday by Andhra University Vice-Chancellor, G. Nageshwar Rao, who said that the Kauravas of the Mahabharata were born due to stem cell and test tube technologies, and that India possessed knowledge about guided missiles thousands of years ago.
Vijay Raghavan, a biologist and former Secretary of the Department of Biotechnology, listed out examples of how pseudo-science, when it made its way into policy, had caused harm. For instance, when former South African President Thabo Mbeki and his Health Minister Manto Tshabalala-Msiang advocated that HIV did not cause AIDS, this led to an unnecessary loss of life.
Vijay Raghavan, however, emphasised that the proceedings at the ISC weren't "emblematic" of Indian science.
"The talks reflect the speakers. A few are superb, some good, and a few preposterous. The last group receives disproportionate attention in the national and global media, which also lingers till the next Congress, and assigned to the #pseudoscience bin. It is a fascinating reflection of our mindset that this bin is taken to be emblematic of scientists," his note added.
1. Animals begin to arrive at Wayanad sanctuary
Context
With the rise in mercury in the Nilgiri Biosphere, the seasonal migration of wild animals from wildlife sanctuaries in Karnataka and Tamil Nadu to the Wayanad Wildlife Sanctuary (WWS) has begun.
Mammals such as elephants and gaurs migrate to the sanctuary from the adjacent Bandipur and Nagarhole national parks in Karnataka and the Mudumalai National Park in Tamil Nadu in search of food and water.
Wayanad Wildlife Sanctuary
Wayanad Wildlife Sanctuary is an animal sanctuary in Wayanad, Kerala. It is bounded by protected area network of Nagarhole and Bandipur of Karnataka and by Mudumalai of Tamil Nadu.
Established in 1973, the sanctuary is now an integral part of the Nilgiri Biosphere Reserve.
Vegetation – It is part of the Deccan Plateau and the vegetation is predominantly of the south Indian moist deciduous teak forests. Also, the sanctuary has pastures of the west-coast semi-evergreen trees. The wildlife sanctuary comes under Project Elephant.
Wayanad district has the largest population of Adivasi in Kerala. Scheduled tribes here include Paniyas, Kurumas, Adiyans, Kurichiyas, Ooralis and Kattunaikkans.
Wayanad Wildlife Sanctuary is one of the safest havens for different species of vultures like the White-rumped Vultures and the Red-headed Vultures.
Chrysilla vollupe – Recently, a rare spider Chrysilla vollupe was rediscovered after 150 years, which was believed to be extinct. The Spider belongs to the family of jumping spider (Salticidae). The spider has eight black eyes.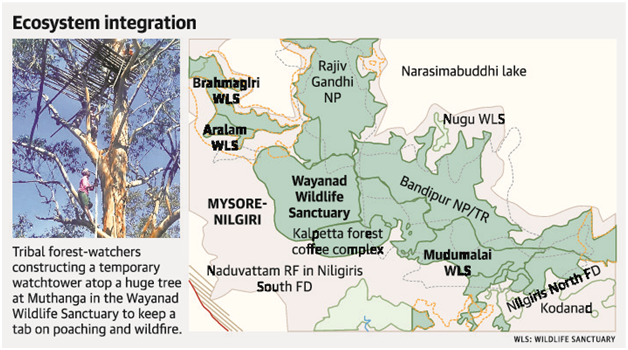 This refers to a hypothesis regarding the origin of life on earth.
It states that life on the planet originated around 4 billion years ago through the combination of abiogenic material on the earth's surface and some form of external energy.
This natural reaction led to the birth of the most primitive cells that are the building blocks of life.
It is believed that, over time, these primitive cells gradually evolved into a huge variety of complex living organisms.
The hypothesis was first proposed by Soviet biologist Alexander Oparin in 1924 and later independently by English geneticist John Haldane in 1929.
H. Practice Questions for UPSC Prelims Exam
Question 1. With reference to 'leprosy', which of the following statements is/are correct?

Leprosy, also known as Hansen's disease (HD), is a long-term infection by the bacterium Mycobacterium leprae or Mycobacterium lepromatosis.
This may result in a lack of ability to feel pain, which can lead to the loss of parts of extremities due to repeated injuries or infection due to unnoticed wounds.
Select the correct answer using the code given below:
1 only
2 only
Both 1 and 2
Neither 1 nor 2
See
Question 2. Consider the following pairs:
Seismic waves                       Nature
P-waves          Transverse
S-waves          Longitudinal
L-waves          Surface waves
Which of the pairs given above is/are correctly matched?
Only 1 and 2
Only 2
Only 2 and 3
Only 3
See
Question 3. Article 371 to 371-J of the Indian Constitution contain special provisions in relation to 
States of:
Maharashtra
Gujarat
Assam
Karnataka
Correct answer code is:
Only 1 and 2
Only 2, 3 and 4
Only 1, 2 and 3
All of the above
See
I. Practice Questions for UPSC Mains Exam
All India judicial service is the panacea to cure the chronic vacancy crisis plaguing the Indian subordinate judiciary. Critically evaluate the statement. (10 Marks; 150 words)
Delhi government's draft e-vehicle policy differs from similar policies of other state governments. Discuss the salient features of the policy and compare and contrast it with policies of other state government. (12. 5 Marks; 200 words)
See previous CNA